Candide Thovex's Ski The World – Behind The Scenes, Episode Four, The Great Wall Of China.
November 13th, 2019
Mountainwatch | Video
This is the fourth episode of Candide Thovex's web series, Ski the World BTS, a behind the scenes look at the filming of his 2018 release, Ski the World.
As the title suggests, the Ski The World  documents Candide skiing at different locations all around the world, none of which have snow. The film crew traversed the globe during production and the  countries where Ski The World was filmed include Jamaica, Peru, Iceland, Iran and China, where this segment was obviously shot.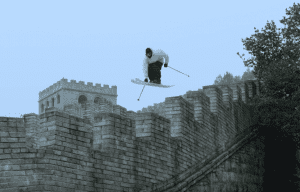 Skiing down stairs and concrete is not as easy as Candide makes it looks and as this edit shows it was a lot of hard work.   No doubt Candide suffered plenty of bruises along the way.
Ski The World was a creative but massive project, and it's worth checking out the intro to this web series again as a reminder of just how crazy a concept it was. As for Candide, he's the most-watched skier on the planet for good reason and is definitely one-of-a-kind. Can't wait to see what he does next.