Chillfactor Magazine's Guide To The Best Women's Skis For Australia
July 13th, 2017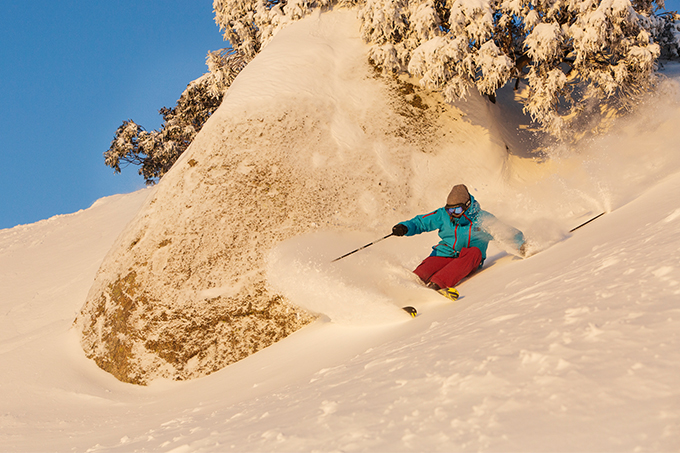 Katya Crema finding a pocket of sweet Aussie snow at Perisher. Photo:: Dom Keiler
Mountainwatch | Reggae Ellis and Matt Wiseman
As promised here are the women's ski's best suited to transport you over the ever-changing Australian snow that is now finally blanketing resorts.

Sego Gnarwhal (from Blackbird Bespoke Skis)
Dimensions: 134-98-124
Lengths: 157, 165, 171, 176
RRP: $ 1,249 (including free delivery in Australia)
The Gnarwhal is a versatile ski that can handle almost any snow condition, regardless of whether you're on hardpack or soft snow. The Gnarwhal generates power from its 4mm of camber and its flat rockered tail, yet it floats like a dream with the low rise rockered tip. With a full length vertically laminated Poplar core and dampening rubber, combined with progressive shaping, the Gnarwhal offers superior flotation for a 98mm underfoot ski. The Gnarwhal is a one ski quiver for skiers who are looking for an engaged feeling both on and off piste with its edge to edge quickness that can only be offered by a sub 100mm underfoot ski.

Black Crows Captis Birdie
Dimensions: 120-90-111
Lengths: 171.1, 178.3, 184.2
RRP: $529.95 (Euro)
Medium width, rapid and vivacious – the captis is ideal for resort skiing. A relatively narrow ski, the captis is very responsive and has quick edge-to-edge transition making it both tolerant and a very nice ski to ski.


Dynastar Legend 84W
Dimensions: 123-84-107
Lengths: 149, 156, 163, 170
RRP: $999.00 (including binding)
The kick ass sister to the gung-ho brother. The women's Legend has a 5 point sidecut for ultimate grip, a super lightweight Powerdrive construction for ease of control and slight tip & tail rocker to give you float when needed and maneuverability across the whole mountain. Intermediate to advanced skiers will love this model.

Elan Ripstick 94W
Dimensions: 134-94-109
Lengths: 156, 163, 170 177
RRP: $999
This women's specific ski, features a special construction that reduces weight without sacrificing performance. It performs well in all types of snow and terrain making it the perfect choice for ladies who want to explore the whole mountain without limitations. TNT technology, our Amphibio profile, and SST sidewall construction combine to offer exceptional maneuverability, a smooth ride with powerful rebound and amazing edge grip.


Faction Heroine
Dimensions: 120-90-110
Lengths: 154/158/162/168cm
RRP: $849.00
It's great to think about having 4 or 5 skis in the lodge or the back of the car, but really?? You want a ski that's going to do it all, all the time. The Heroine is your all mountain best friend. A poplar / beech wood core makes for a light and snappy feel, whilst a super modern tip and tail shape will give you the necessary float in Pow and grip on the hard pack. This ski's built to perform.


K2 Alluvit 88
Dimensions: 128-88-110
Lengths: 156, 163, 170
RRP: $949.00
With the same Bioflex Konic genes as its bigger sisters, the AllLuvit 88 slims down and bridges the gap between versatile freeride and confident all-mountain skiing. We don't throw the term "women's-specific" around lightly – the AllLuvit 88 was built for the lady shredder who stuns the slopes in deep powder, over fresh cord, and through wily bumps alike.

LINE Soulmate 92
Dimensions: 127-92-115
Lengths: 151, 158, 165
RRP: $849.00
The LINE Soulmate 92 is the perfect combination of wild child behavior and refined, graceful carving – it turns out opposites do attract, and make for some pretty incredible skiing! This all-mountain ski's symmetric flex and thoughtful geometry make for a steady ride. Its light yet strong Maple Macroblock core construction will give you the lightweight energy you need underfoot to take the whole mountain by storm.


Roxy Dreamcatcher 85
Dimension: 118-85-108
Lengths: 152, 158, 164cm
RRP: $899.00 (inc binding)
Roxy introduced the Dreamcatcher a couple of years ago and it's still regarded as a fantastic all-mountain go getter! Slight tip rocker and full camber give this ski its versatility in all sorts of terrain from early morning groomers to pow, crud or slush. It's light and easy and won't cost you the earth.

Volkl Kenja
Dimensions: 127-90-110
Lengths: 149, 156, 163 & 170cm
RRP: $1099.00
This ski is a perfect blend between front side carver and versatile all mountain blaster. With one sheet of Titanial, moderate taper and tip and tail rocker, the Kenja can handle the hard pack terrain and is equally comfortable shredding some fresh turns.