Climbing Mount Blanc – Part 2 The Summit
November 19th, 2009
Follow Flip Byrnes as she sets out on a mission to summit Western Europe's highest peak – Mount Blanc.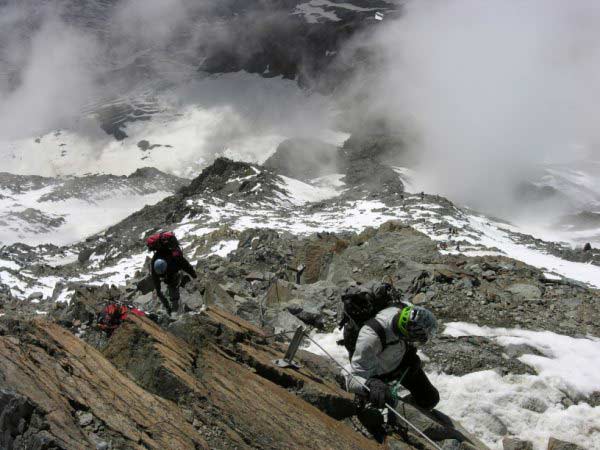 "You snored", Gary tells me. I'm delighted, at least it means, somehow at 3800m with 42 strangers, I slept. It's 2am and it looks like an outdoor camping shop has been bombed. Gear is thrown around in the darkness, strobe lit by head lamps as everyone struggles to don boots and crampons. We want to be first, to negotiate the ridge to the summit. "Dai Flip, sprigati", Enrico urges me to hurry.
No problem there, I've waited for this moment for months and am so utterly excited I hardly notice as we rope up and head into a new, cold, airless world. The night is fresh and tingles with silence, the only sound the crunch of snow under spikes, the only vision the reflection of metal from Enrico's crampons ahead. It's a night tinged with discovery and promise.
There are two false summits before the actual peak. First the Dome de Gouter. In the night the top of the Dome is invisible, but climbers' headlamps bob like fire flies above, zig zagging what seems to be ten stories up. Could the Dome be this large? It is.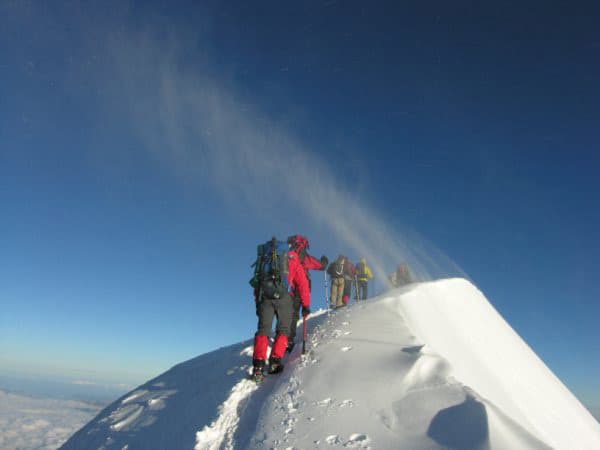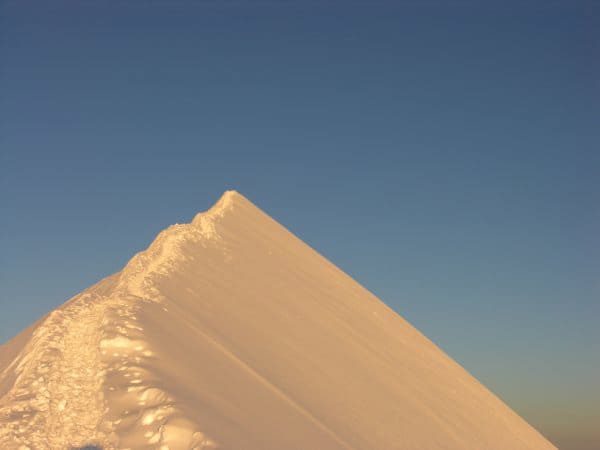 Over the Dome, we reach the Refuge Vallot, a metal emergency shelter at 4362m. Stars twinkle in the pre dawn and I use the light to look into Enrico's eyes. He points above. The arete? Really, are we there? I look up and there it is. The ridge, the final challenge. There is one catch. There is only room for one person on the ridge track, with fatal free falls either side and we hit the first group of climbers descending. It's an awkward dance at 4600m as we gingerly step around descending climbers, back packs catching, eyes down. In my periphery vision the world is awaking from a violet slumber, peaks blanketed in soft purple, laced in wisps of pearl. It's beautiful, mind numbingly beautiful. We're lucky, the weather is perfect. Ten metres, suddenly, there we are, a long platform, the summit. There is nowhere higher to go. We've done it. We've made it, but I tell myself, we have only made it halfway.
Thirty minutes later, under the arête is where I find my real summit. For the first time in 29 hours I relax. My heart soars; a volcanic eruption of delayed happiness explodes within. "We made it!" We hug, hard, my face raw against Enrico's beard, who is just as happy as me. Maybe just to see so much joy in one small person. I recall the midnight escape like thieves from the refuge, the crampon dance on the way to the summit and feel that demon, that fear of heights, slide gently from my shoulder and melt away like sunrise smoke.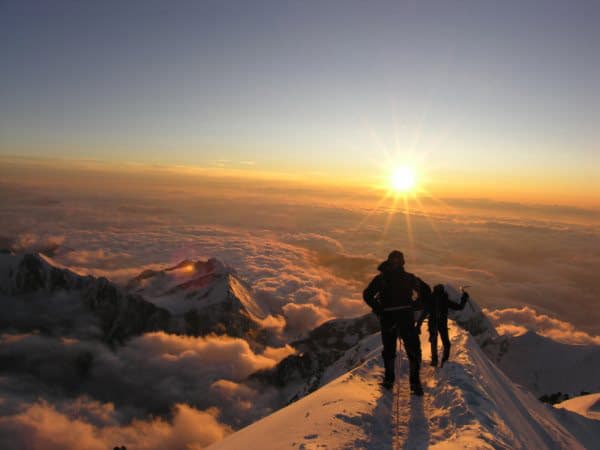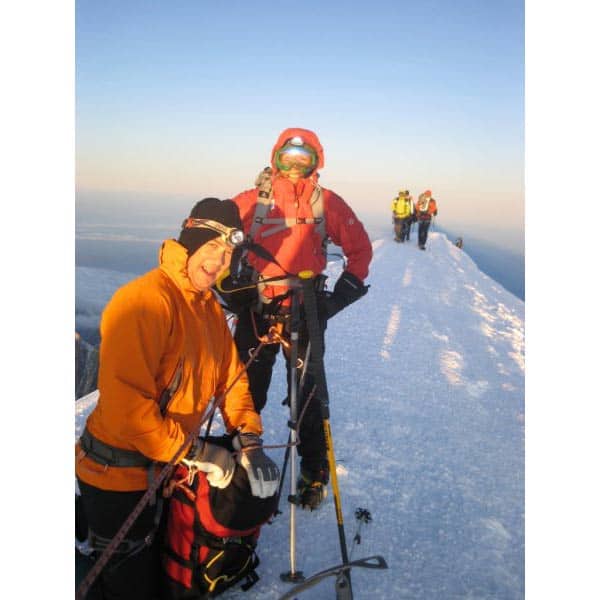 The sun has altered the world and the day shines with new hope and golden rays. Below me peaks watch as I easily descend, an audience of silent sentinels. Four of six of us made it to the summit, the other two close and at the Refuge Gouter we swap stories before heading down the Rocks of Death which I skip down merrily without a care in the world, feet still walking on clouds.
Somehow, at the bottom, I'm just as fresh and energized as when I began. The mountains have turned from foes to friends and the Mt Blanc Massive now looks like a chain of climbing possibilities that are waiting to be enjoyed. "Cosa e la promissima?" Enrico asks me what's next with twinkling eyes.
When choosing a new adventure you can climb physical mountains, or personal mountains and sometimes both of them simultaneously. It won't be easy, but nothing worth achieving ever is.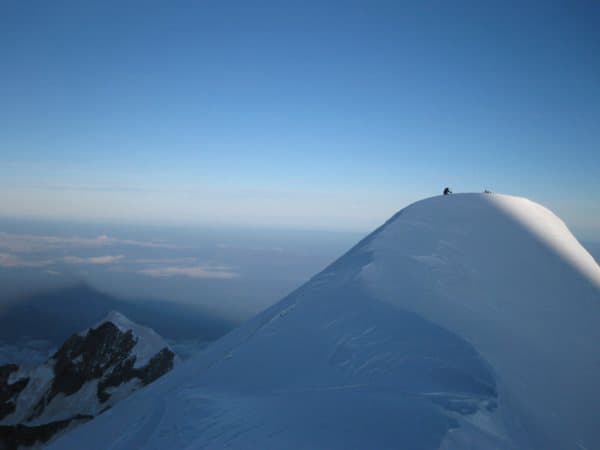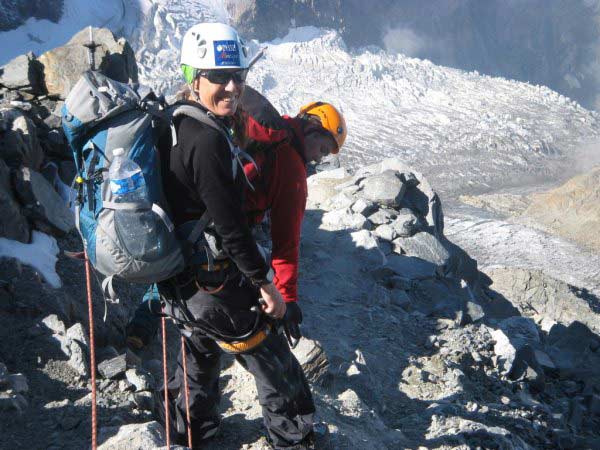 Facts:
What:
The UTracks Mont Blanc Classic self guided walk runs every Monday and Saturday from June 19 to August 30 2010. $1050 (dormitory), $1240 (double room). utracks.com or PH 1300 303 368.
Suggested Reading: Lonely Planet , France.
Getting There:
Thai Airways has flights to Zurich for Earlybird prices of $1964 between Aug 16 and September 19 2010.
For more details Thai Airways or PH 1300 651 960