Cody Townsend's The Fifty, Episode 24 – Mt Shuksan, Washington
March 19th, 2020
Mountainwatch | Video
In this episode of The Fifty, Cody Townsend's project to climb and ski all the lines named in the book, The 50 Classic Ski Descents of North America, Cody and filmer Bjarne Salen head back to Mt Shuksan, which at 2783 metres towers above the Mt Baker ski area in Washington state.
It is Cody's second attempt on Shuksan after 90mph winds and serious wind-loading forced him to pull the pin on the first attempt last year.
The goal on Mt Shuksan is the Northwest Couloir, described by Cody, "As close to an Alaskan face you can get this close to a ski area." Cody and Bjarne are joined by pro skiers and fellow Salomon team athletes Alex Godbout and Stan Rey, Cody looking forward to taking them out of their element, "into something massive and it's steep, exposed."
Stan Rey, dropping in. Photo: Jason Hummel @jasonhummel

"We're looking at pretty steep lines, 45, 50 … maybe a little but more and sustained. Almost 3000 vert of skiing. This is truly a dream line."
It may be a dream line, but the steepness, exposure and variable snow at the top of the couloir require the crew to call on all their skills – and to settle their nerves. At 45 to 50 degrees the Northwest Couloir is not for the faint-hearted, hence the sub head, "Pucker Factor 100"
Filmed on February 20 this year, skiing Shuksan's Northwest Couloir is something Cody has been thinking about for a long time, and his social post about this episode gives a little insight into why he's undertaken a project as huge as The Fifty:
"There is something special about staring at a line, dreaming about it for years and years and then following through on that dream. No matter how steep or gnarly, big or small, just the feeling of checking off the thing that has plagued your brain for years is unparalleled."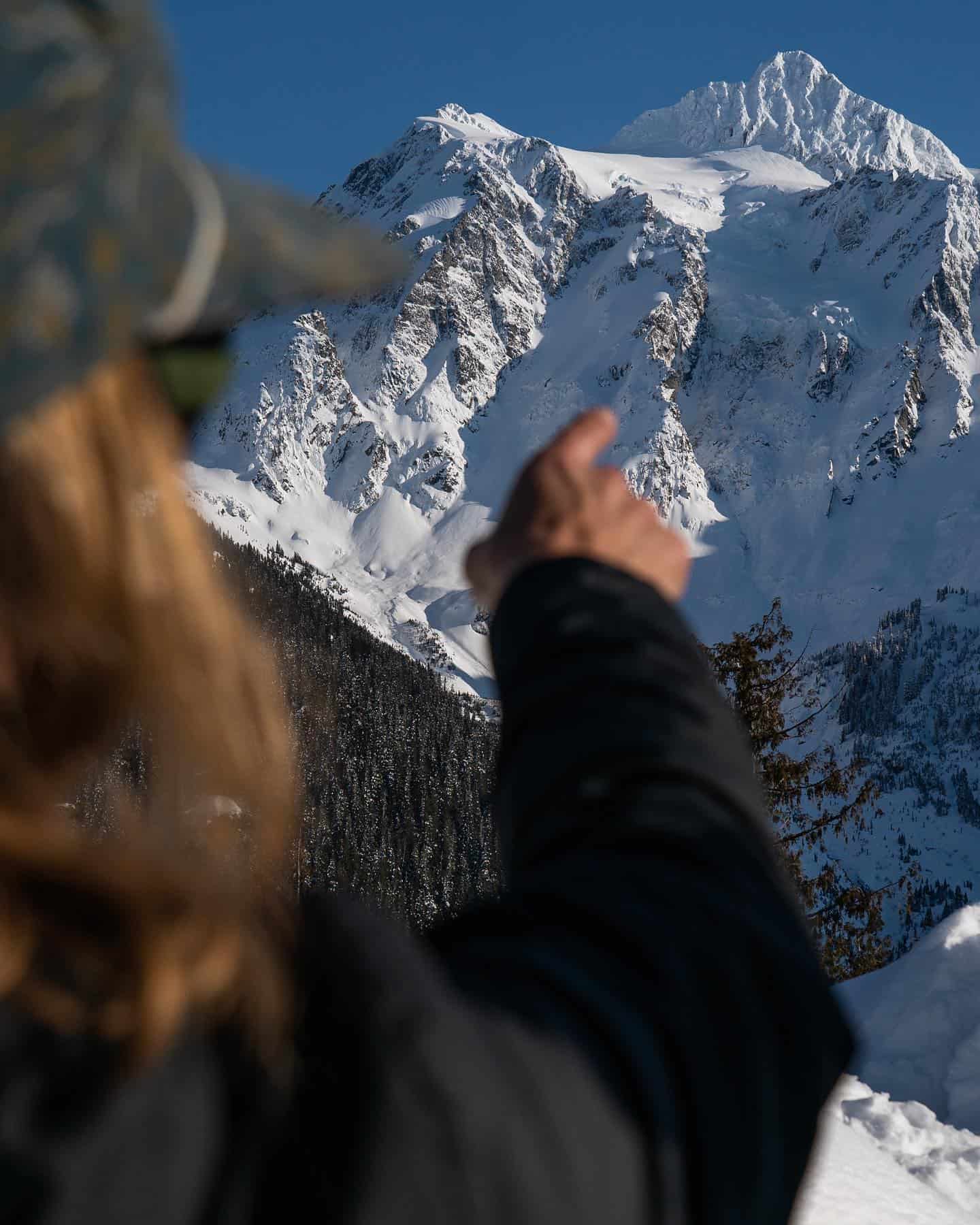 The Fifty documents Townsend's journeys, travels, challenges and each line and mountain listed in the book, The 50 Classic Ski Descents of North America. It's a journey through the most majestic mountains and ski lines in North America along with a unique insight into how skiers make decisions in the backcountry, how they plan, navigate and safely move through the mountains and the people that dedicate their lives to the mountains. Stay up to date on Cody and filmmaker Bjarne Salen's progress on The Fifty Instagram page.