EDITOR'S BLOG – Don't Hedge Your Snow Bets
January 12th, 2012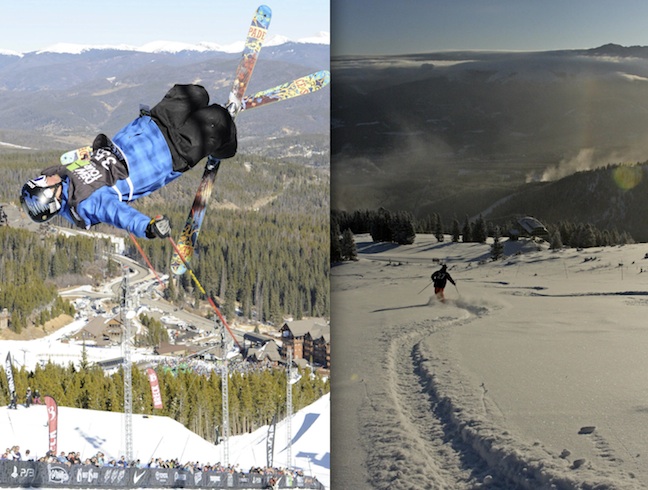 You want column b, not column a… Breckenridge in December looking rather bare and then again in early January. Images:: Breckenridge
Editor's Blog | Tessa Cook
One more Powder Alert press release in my inbox may see me hurl my computer out the window. All credit to the conscientious PR teams; keeping the world's snow media informed of each new, effervescent inch of perfect powder but it's hard news to handle when the view out your own (aforementioned) window is of an overcast Sydney sky.
So I hope you're reading this somewhere more promising. Fernie perhaps, where a 90cm 18 hours has set a new snowfall record, or St Anton, where the approach road is carved into a four metre snowbank, Whistler where it's minus 24 or somewhere in the North West of the USA – like Stevens Pass, where it seems to be averaging two fresh metres every seven days.
Are you? If so, is your present location the result of some sheer good luck, timing a long-booked holiday with some epic snowfalls, or is it an exhibition of the kind of snow-nous that ensures you don't lock yourself into a snow trip without some kind of assurance it'll be worth your while.
If the later – good for you. And to the rest of us – poor form, because these days very few excuses for not doing so will fly; between cut price airfares you can book online in minutes, last minute accommodation deals and the overabundance of snow-forecasting information if you're serious about scoring powder there's no reason your trip should be bereft.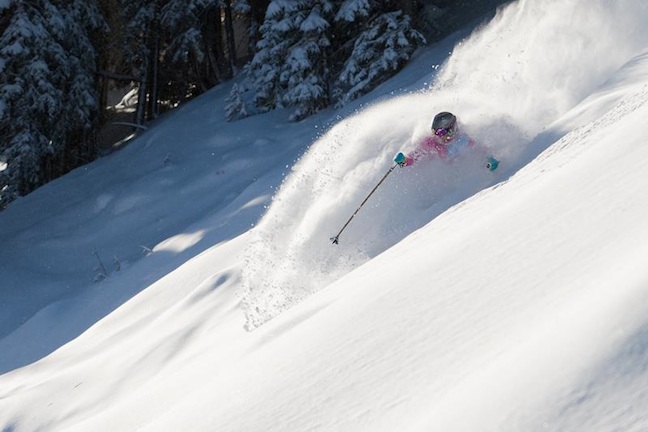 Images like this one, from Vail 18 January, don't help when you're mourning your own failed powder search. Image:: Vail
Having just returned from what can only be described as a mediocre three weeks in North America (powder wise at least, to everyone I travelled with/visited – good times!) I'm well placed to lecture. Working around a school holiday timetable, thanks to a 16 year old travelling companion, saw us spend the first half of the trip in a completely dry California. A last minute change of plans punted us north to Whistler where things were better but cost us some non-refundable accommodation and pre-purchased lift tickets.
Lesson: don't lock things in.
There's no way around school holidays and unless you're the kind of parent, or student, willing to forsake the first weeks of school for some life experiences in the real world, you're travelling in January. This is a legitimate excuse – difficulty securing annual leave is another. BUT pre-determined travel dates do not mean pre-determined travel destinations.
Yes, things are often cheaper if booked early, but last minute deals can be pretty impressive and if you're paying all that money to fly across the other side of the world, isn't it worth paying a little more to ensure you're going somewhere good? Besides, if you wind up with no snow, your credit card will be working overtime on ice-skating, movies, sleigh rides, unnecessary shopping and overnight trips to watch NHL/NBL/NFL matches/games at nearby cities to fill the time you might otherwise have spent getting endless faceshots.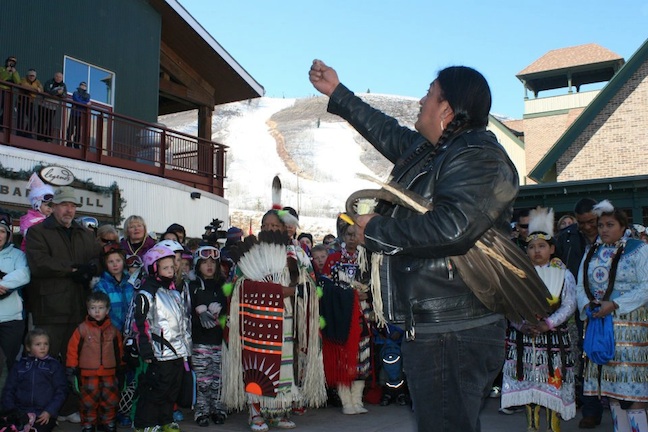 A snow blessing ceremony in Park City, 14 January – notice the bare hills behind… but it must have worked, PC is in the middle of a snow storm. Image:: Park City_
I should temper this diatribe by admitting if you're not a committed powder-searcher, if you're simply hoping for a pleasant holiday, perhaps a family-friendly trip, some nice turns and good times in attractive mountainous locales you're likely going to find what you're looking for even if you book in June. You'd be unlucky to encounter the kind of bafflingly bad conditions California experienced in December and January.
But if the thought of having to spend the entire trip, or a whole week, or even just a full day on groomed blue runs makes you feel a tinge of panic this tirade is for you.
So, how can you learn from my mistake?
1. Minimal travel bookings. At most, lock in your major flights – put yourself in a major hub like LA, Zurich or Vancouver and the hold off on the connecting flights and travel arrangements.
2. Become your own travel agent. The internet is an endless travel resource for those willing to do the leg work. Find yourself a range of accommodation options. Perhaps make tentative bookings at places with cancellation policies, be aware of last minute websites and resources like vbro.com – vacation rentals by owner, where you can find great prices by dealing directly with owners rather than booking agencies.
3. Monitor your chosen resorts for last minute offers. In the past 24 hours I've received four ticket deal notifications from different resorts – from stay and ski for $107 per night in Squaw to save 50% on accommodation and tickets at Whistler. Sometimes booking last minute can save you more than booking early.
4. Leave part of your trip time open ended. Have somewhere to crash on arrival and plans for the first couple of days and then be adaptable. Excepting key dates like the holiday week, finding accommodation will never be that hard even if you're booking only days before. So have a willingness to travel and go where the snow falls. This doesn't necessarily mean being ready to jump from Canada to Italy with a day's notice, but perhaps being amiable to driving from Aspen to Telluride or Chamonix to St Anton.
5. Know your forecasting services. Keep up to speed with where the snow is falling, where it will fall and what kind of condition it's really going to be in when it settles.
Remember Mother Nature is notably fickle and she never signed any kind of accord; snow will fall when and where it will and you can only do the best you can to be there when it does.