FIS Australia New Zealand Cup – Day 3 Photos, Video & Results.
August 20th, 2009

The slalom hund out performs the pack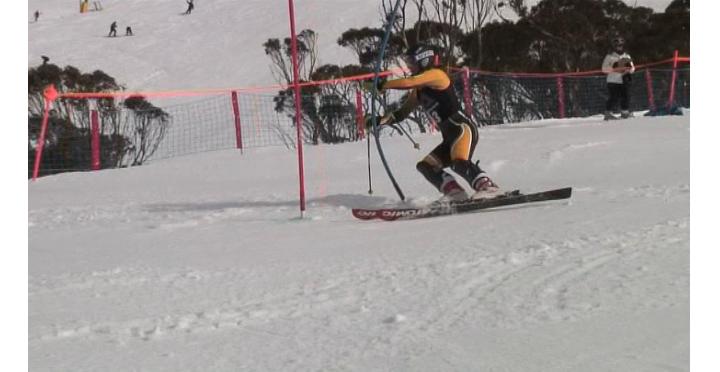 Womans winner Emily Bamford
Kilian ALBRECHT is no stranger to the slalom turn, having spent many years on the Austrian A team racing world cup where he had no less than 18 top ten world cup slalom finishes, two being on the podium in second. Fair to say he knows how to turn'em. He showed exactly that skill today on Mt Hotham's Snake Gully race track showing the field a very clean set of heels with a convincing win. In fact it is the 20th best FIS point result of his long carrer, and long it is at 36 years of age he is the oldest man racing world cup.
Now racing for Bulgaria after a falling out with the Austrian federation he is confident he is strong and still quick enough to medal at the coming winter Olympics in Whistler Feb 2010.
Loosing no speed, 3 turns in 2 seconds. That's modern slalom.
While the weather and skiing in general was pretty good at Hotham today the racing was about as tough as it comes. A pretty good overnight freeze promised a hill in good shape for racing, as in the harder the better. However it took only a few of the men hitting the race line for it to rapidly deteriorate. With each skier generating over 200kgs of pressure to the ski and snow through G force its no wonder. A pretty tight set compounded the issue and the first run saw the field cut from 78 to 38, and for the women from 46 starters to 29.
The second run saw a similar attrition rate only this time higher for the women with only 18 getting a across the finish line twice for a final result. With the biggest win of her young career Australian Emily BAMFORD skied steady and solid to finish nr1 gaining a huge boost to her FIS world ranking. Second was Swiss skier Giannina CAVIEZEL and third, with a barn storming second run through a flash snow storm that threw down sheep skin size snow flakes was Florine DE LEYMARIE jumping from 13th to 3rd.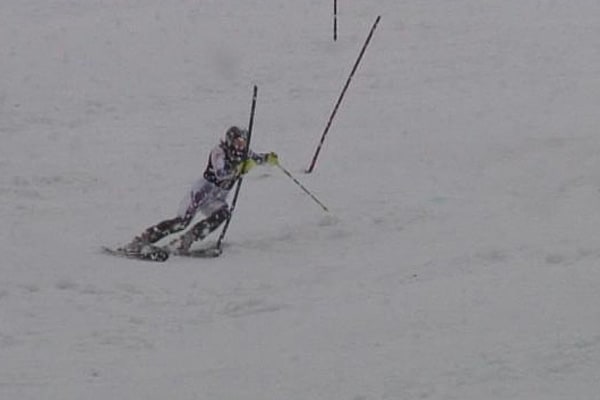 Florine DE LEYMARIE, the fastest woman in the second run.
The Men's competition, was started earlier with Kilian ALBRECHT's easily winning by over two seconds and out classing a fairly classy field of skiers. Second was last years Continental cup mister Bjoergvin BJOERGVINSSON third was Swede Magnus ANDERSSON.
More slalom racing and the final day of the ANC cup at Hotham will happen tomorrow (August 21). After that look out for some skier X madness over the weekend, which is also the highest level racing on the tour in Australia (ANC cup).
Steve Lee.
For a full list of results follow this link.