GALLERY – Red Bull Ultra Natural 2013
February 19th, 2013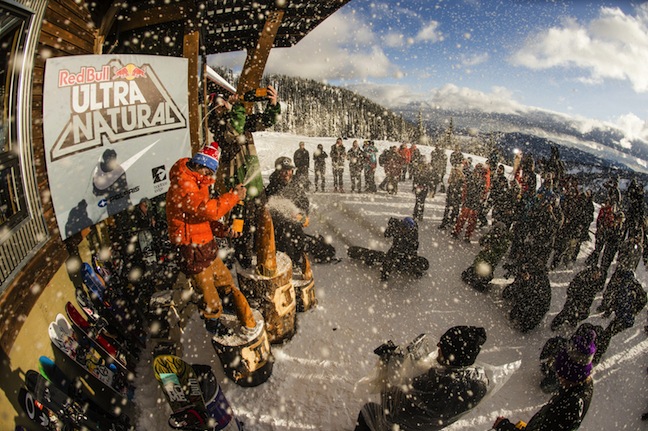 Gigi Ruf, Nicolas Mueller and Bryan Fox celebrate their 1st, 2nd & 3rd place wins at the Red Bull Ultra Natural at Baldface Lodge in Nelson, BC Canada on February 17th, 2013 Image:: Tim Zimmerman/Red Bull Content Pool
Transfer | Photo Gallery
The biggest and most anticipated freeride snowboard event on the calendar took place yesterday at Baldface Lodge, B.C, Canada under less then ideal grey sky conditions. The event debuted last year as Red Bull Super Natural, after a slight hiccup with naming rights the event returned for 2013 under the guise "Red Bull Ultra Natural".
The brain child of international snowboard superstar Travis Rice, the event invited sixteen of the world's best snowboarders to Baldface Lodge to session the custom course created on the "Scary Cherry" face.
The Euro riders reinforced their reputation as the best backcountry snowboarders in the world with Gigi Rüf taking the top spot and the highly coveted 1st place trophy. Switzerland's Nicolas Müller took second place and was also presented the Best Trick Award with a huge mute air over a tree, sending himself nearly 100-feet down the 45+ degree course. Rounding out the podium was Southern California's Bryan Fox, a first-timer at Red Bull Ultra Natural and a late addition to the event as a wildcard entry. Fox really earned his spot by being the only rider to successfully negotiate the course without a single fall.
FULL RESULTS:
1. Gigi Rüf (AUT)
2. Nicolas Müller (CHE)
3. Bryan Fox (USA)
4. Terje Håkonsen (NOR)
5. David Carrier-Porcheron (CAN)
6. Mark McMorris (CAN)
7. Eero Niemela (FIN)
8. Pat Moore (USA)
9. Lucas Debari (USA)
10. Travis Rice (USA)
11. Jussi Oksanen (FIN)
12. Bode Merrill (USA)
13. Jake Blauvelt (USA)
14. Wolfgang Nyvelt (AUT)
15. Torstein Horgmo (NOR)
16. Mikey Rencz (CAN)
Click on any image to open a gallery from the event…