Gear Guide – Zen And The Art Of Ski Maintenance
May 27th, 2021
Mountainwatch | Watkin Mclennan,
Anton Grimus And Watkin Mclennan Share Their Ski Tuning Tips. 
Maybe it's COVID hardship, maybe it's an objection to consumerism or maybe you'd rather buy a new pair of skis for someone other than yourself. There are a lot of good reasons to look after your ailing skis, none better than that your skis are what make skiing skiing. Skis in bad condition probably won't ruin your day like a bad pair of goggles, but in the right nick, they have the potential to transform your day from ordinary to epic.
I caught up with Anton Grimus, our cover skier and Olympian to talk ski care and repair. Anton cares for his skis better than anyone I know. His maintenance philosophy is a little different to mine. He strives for precision and ultimate performance with his gear. I look for robustness and functionality. He polishes, I tidy. I have blown countless edges, in fact I think there are very few skis I own that don't have a blown edge. Anton's skis are like racing cars. My skis are like Landcruisers.
ANTON'S WORDS OF WISDOM
If your skis aren't in good nick to begin with, you first need to bring them up to scratch. The only way to do this is by having them ground by a machine at a shop. This resets the ski base and edges so that they are flat. Without machine treatment any hand tuning you do will be ineffective.
Do a little bit, more often. Make the diamond file and waxing iron your best friends. As soon as you prolong minor tuning your skis will fall out of shape and you will be back at square one needing a machine grind.
Look after your skis on the hill. Avoid rocks. Avoid low snow areas. On main runs people tend to ski in the middle of the run thereby pushing snow to the edges. You will find that you're less likely to hit rocks on the edges, where all the snow gets pushed.
If the snow cover is dubious below, let your mates go first.
WATKIN'S WORDS OF WISDOM
When on snow remember skis are not people. There is no need to be nice. Ski with passion and furious disregard for your equipment.
Off the snow your skis are princesses. Store them inside in a dry place and stack them neatly. Your bedroom is a great place for storing skis. It is cosy, and you can perve on them while you sleep.
Rock hopping is too much fun to restrict to just one pair of skis. All my skis are rockhoppers.
If you blow an edge or get a core shot, it's not the end. As soon as possible dry them thoroughly then seal up the wound. Avoid, at all costs, water getting into the core.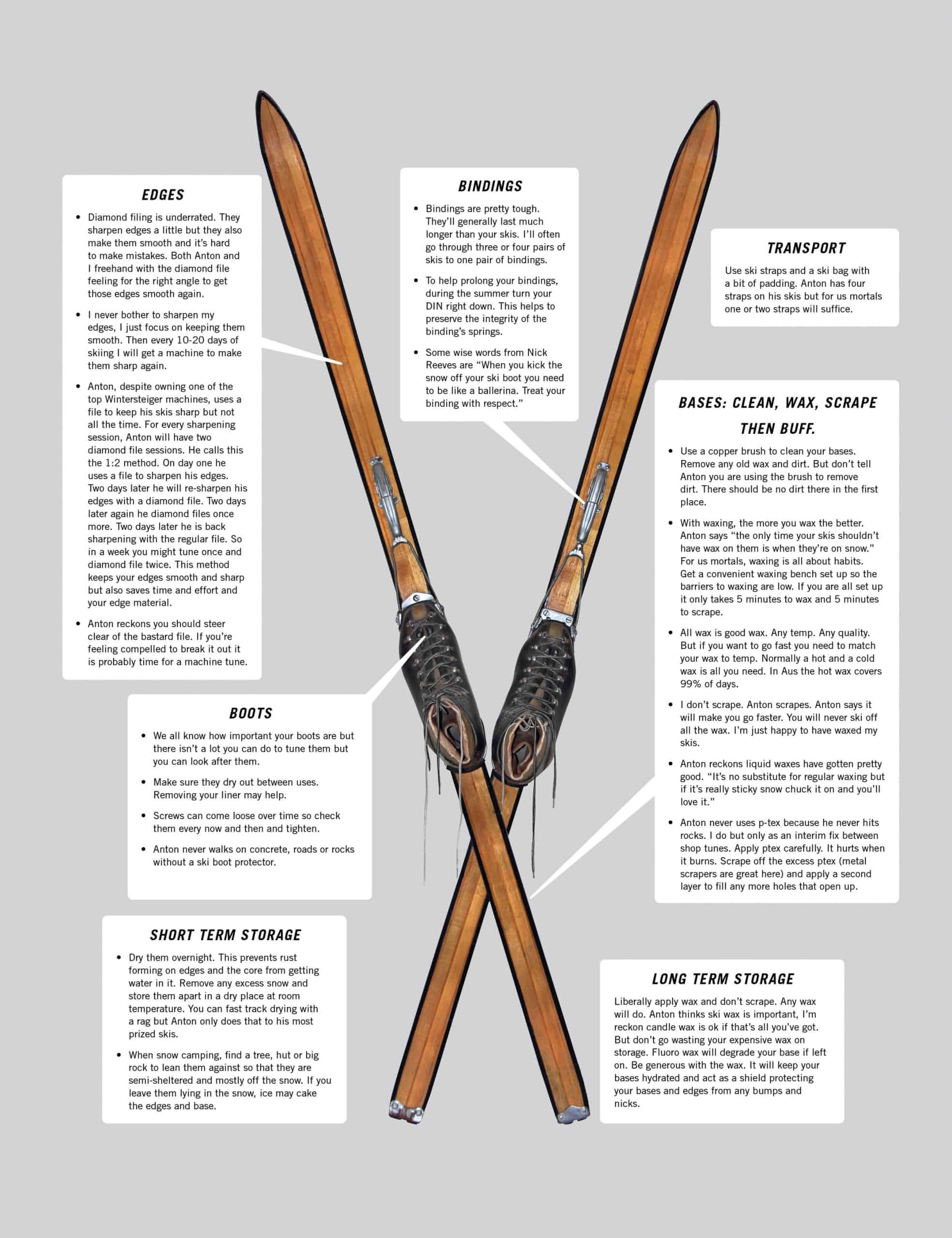 First Published in the 2020 issue of Chillfactor magazine. The 2021 issue has just been released and you can be purchased at all good newsagents or at chillfactor.com