Grasshopper's Weekly North American Forecast, Feb 3rd – B.C. Still in the Firing Line & Sierras will Cop it Big Time this Weekend
February 3rd, 2023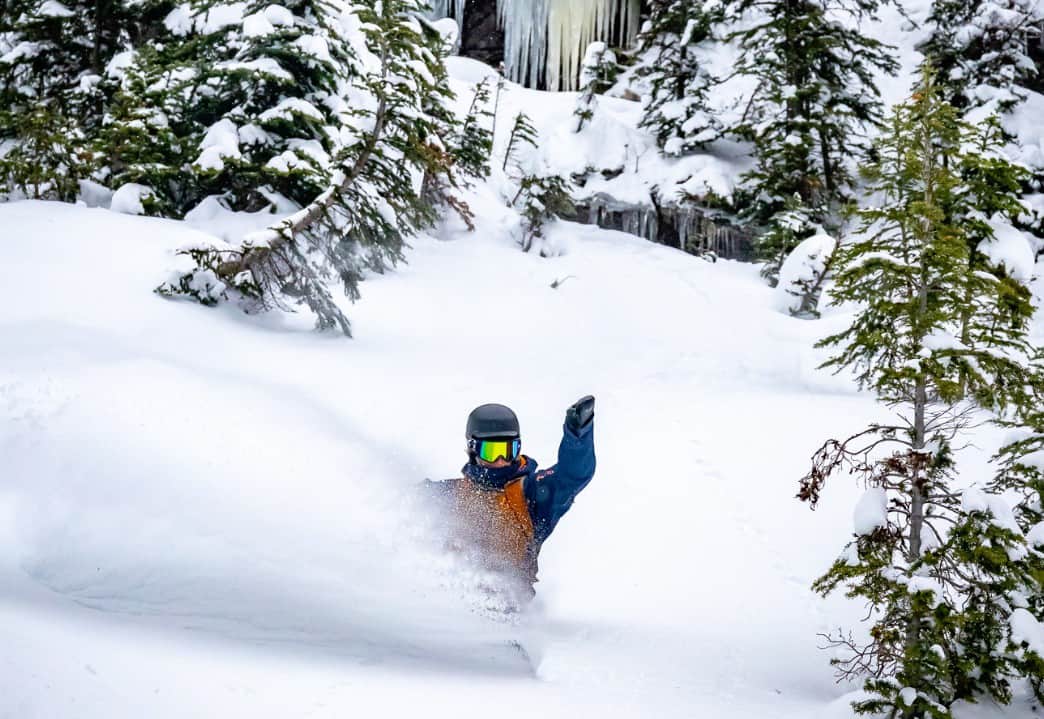 Mountainwatch | The Grasshopper 
Written Thursday 2ndFebruary (Pacific Standard Time)
It's been a great couple of weeks for the north with some deep totals showing up in B.C. over the last 10 days. This pattern looks set to continue over the next seven-day period with more consistent and heavy falls.
The Sierras will also get in on the action with some hefty snowfall this weekend expected to be within the 25-60cm range. There'll also be light-moderate falls showing up through Alberta and the U.S. Rockies as a couple of frontal system manage to push all the way down south and inland, providing more of the same excellent conditions for resorts there.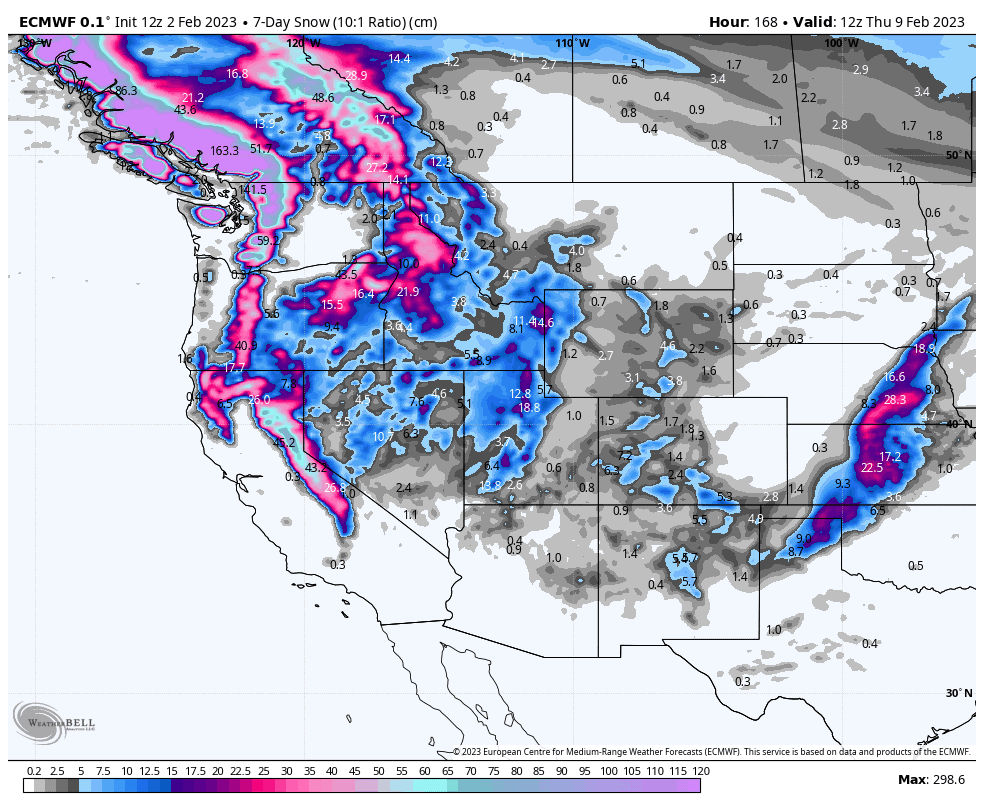 ThursdayFeb 2nd
With sunny high pressure over the western US, all the weather action is restricted to Canada today. A strong, mild S-SE flow has snow falling over the Coastal Range and northern half of the Canadian Rockies, but snow levels are sitting a little high, so it'll be wet at base levels.
The southern reaches of these areas will just see light falls, but it'll quickly become heavier as you look northwards, with moderate-heavy falls for the likes of Shames and Powder King.
Friday Feb 3rd
A low-pressure system will push into the Pacific NW from the west, extending heavy falls from the Canadian Coastal Ranges down over Whistler and into the Washington Cascades, with lighter falls also reaching further south into northern California and inland to Idaho and Montana.
It'll remain settled and sunny over the central and southern Rockies.
Saturday Feb 4th – Sunday Feb 5th
A strong front pushing inland from the Pacific will bring snow to most resorts this weekend with heavy falls in the Sierras and mostly light-moderate falls elsewhere.
The storm system will only reach Colorado Sunday night, and won't have quite reached and Arizona and New Mexico, and by which time will have cleared the Sierras.
Monday Feb 6th – Tuesday Feb 7th
The storm system mentioned above will briefly touch Arizona during Monday before entering New Mexico, while also lingering in Colorado where we could see some moderate accumulations before it leaves the West for good early Tuesday.
Meanwhile, yet another frontal system will bring heavy falls to the Canadian Coastal Mountains and Washington Cascades during Monday and Tuesday, with moderate-heavy falls also ramping up in the Canadian Rockies.
Wednesday Feb 8th
The frontal system will continue to push southwards and inland during Wednesday, with mostly moderate falls for most resorts, including those in the Sierras and the Rockies down to Utah and Arizona, but not quite reaching Colorado and New Mexico by the end of the day.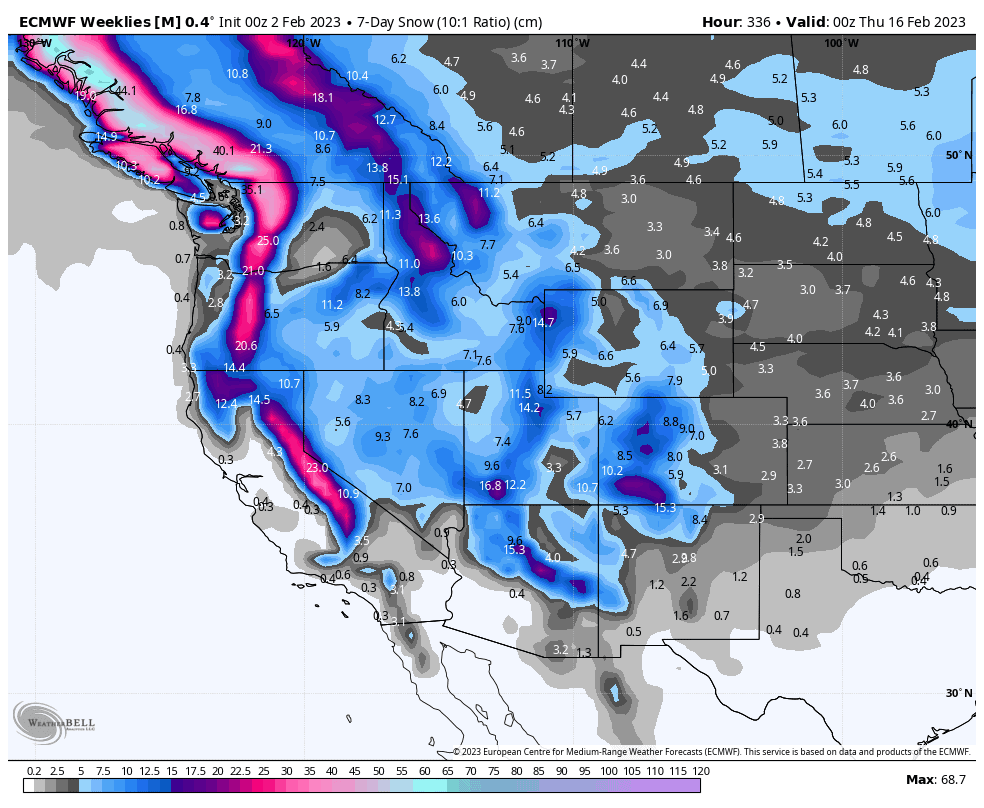 Next Thursday Feb 9th & Beyond
The next seven-day period is expected to be a chilly one, with snowfalls expected everywhere at some point, with the largest accumulations along the Pacific Crest.
Well, that's all from me this week guys, see you next week.