Grasshopper's Weekly North American Forecast, January 10 – Mega Storm Cycle To Bring Massive Snowfalls And Cold Temps
January 10th, 2020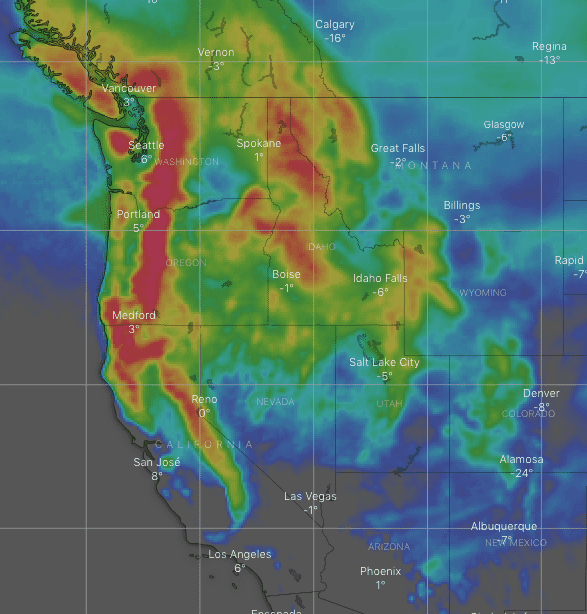 Mountainwatch | The Grasshopper
It is going to be a stormy, snowy week in North America as series of storms roll in from today with some big snow totals for the next week.
Valid Thursday 9thJanuary to Thursday 16thJanuary
Canadian Coast Mountains – A hefty snowstorm rolls down on Thursday, with heavy falls through Friday, eventually clearing up Saturday, before the next storm brings moderate falls during Sunday.
Monday through next Thursday will be absolutely freezing, with artic air piling in from the northeast, although skies will mostly be crisp and clear.
Sierra Nevada – Storms rolling in from the northwest will dump five loads of high quality powder and bring cold temps this week. Each dump, more or less, will grow in intensity, with the northern Sierras copping most of it.
The fifth storm will be the largest and more widespread, bringing heavy snowfall from late Wednesday or next Thursday.
The Rockies – Almost the entire length of the Rockies will see massive accumulations this week. Barring Arizona and New Mexico, wave after wave will powder the mountains with light-moderate snowfalls almost everyday. There'll also be pockets of heavier falls thrown in, especially in Idaho and Montana.
Arizona and New Mexico won't entirely be left out of the loop. They'll get a tidy top-up Thursday into Friday, with a few lighter dustings over their northern mountains by the end of the forecast period.
That's all from me folks. See you next week