High in Himalayas – Falling in love with Kashmir
January 4th, 2022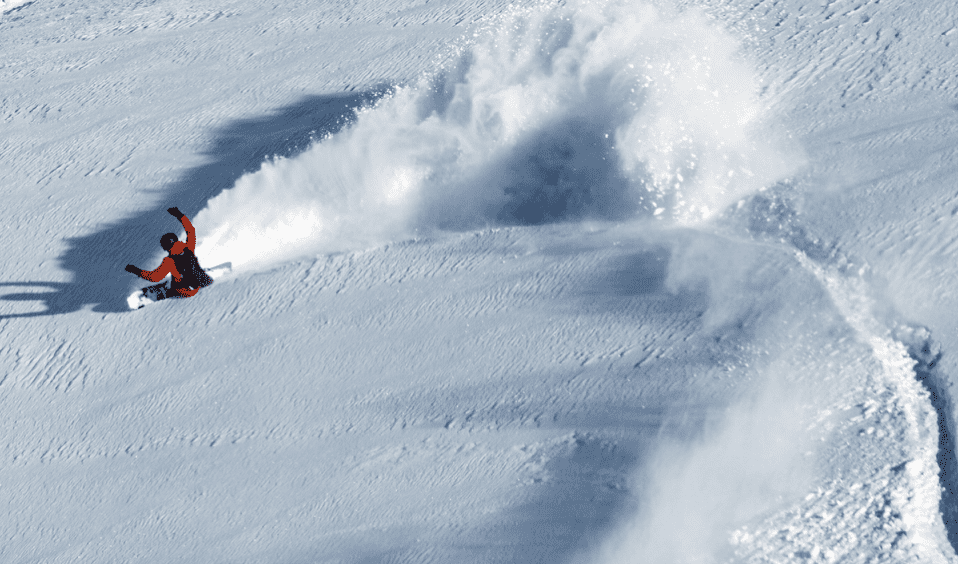 Mountainwatch | Words and photos by Tim Schiphorst
Do you ever come back from a snow trip and still feel that high for weeks after you returned? I was still making floaty turns in my head while being back behind my desk, daydreaming. But then reality hit me: a news story of a "terror" attack in Kashmir. And I instantly got worried for the country I fell in love with just a few weeks earlier.
I remember walking around Srinagar airport, kind of clinging on to my camera bag (silly me). The travel advice to avoid this area made me weary, but also excited. I have always been interested in conflict journalism / photography, as a way to test myself. As far as conflict goes, there wasn't much to photograph. Sure, Indian forces were armed and ready. But besides us tourists, no Kashmiri seemed too intrigued by their presence.
Then, Bashir showed up. Bashir was our taxi driver. But besides that he stepped up as our city guide, translator, tour operator and I can now honestly say I call him a friend. But we didn't know that at the time. We just saw a new face appear, take our luggage, and run off into the crowds. While we were waiting in line for the one ATM to take out our allowance for the week, it all of a sudden hit us. Has anybody seen our bags? Bashir was waiting for us at the car park with another driver and… all our bags "securely" tied to the roof of his 4×4.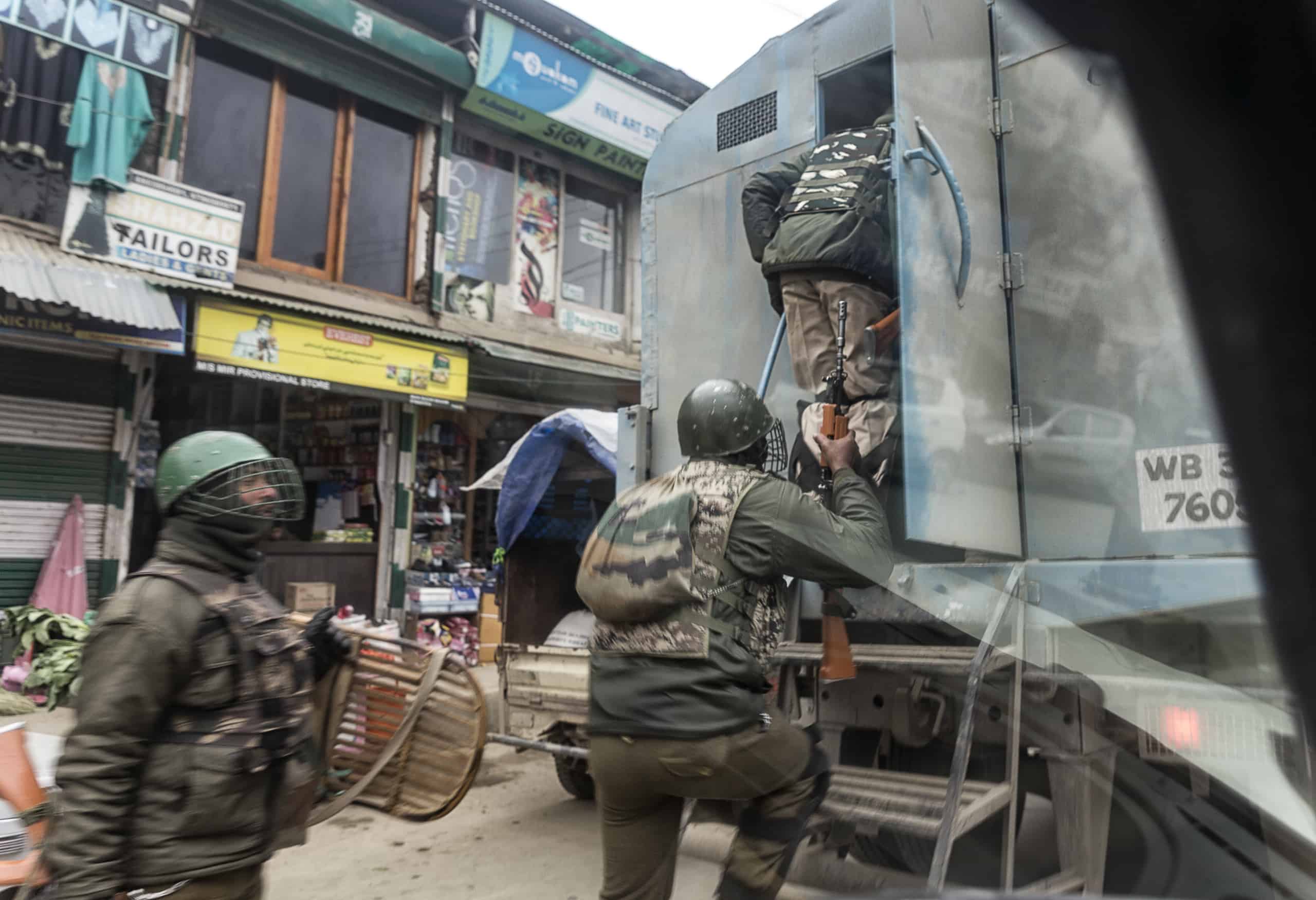 Popular belief in many middle-eastern countries is that all westerners are drunk all the time while on holiday. So a liquor store was the first thing on Bashir's list. Like in many muslim states, alcohol is illegal here. So I couldn't help but chuckle when I saw the liquor store he drove us to. After leaving the city centre, driving into backstreets until it seemed the streets couldn't get any smaller, we drove onto a muddy back lot. We told Bashir what we needed, he would pass that info on to a shady figure behind a fence, who would then come back three minutes later with our order of beer and vodka "magic moments". The money got stuffed through a hole in the fence, and off we were! A quick stop at the market for some fresh fruit, and 1.5 hour later we arrived in the Himalayas.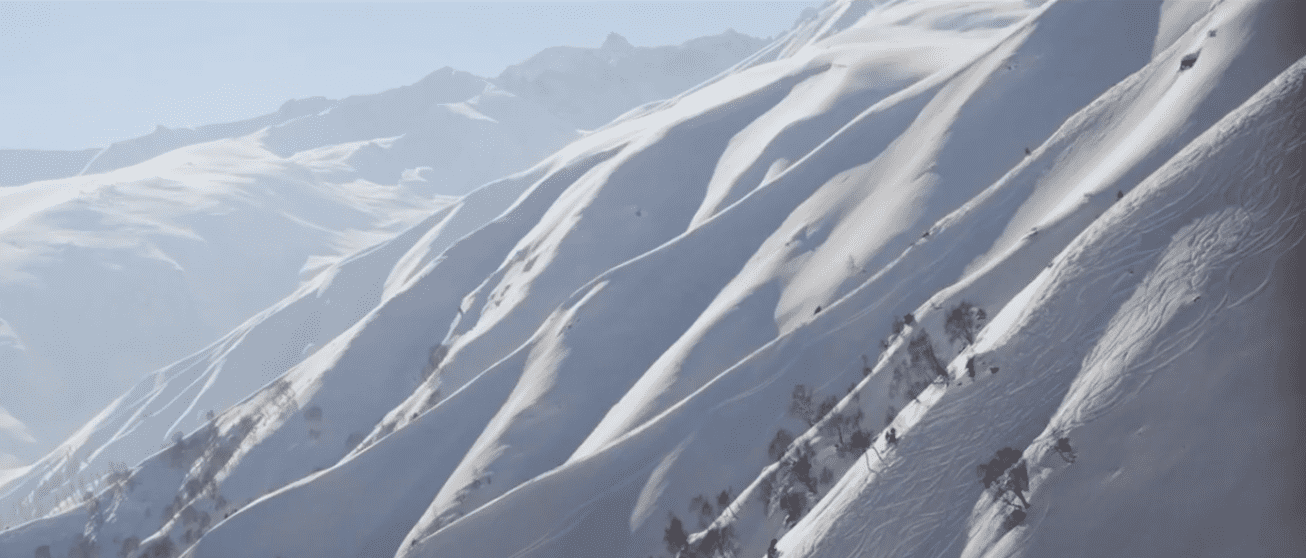 It was quickly apparent that tourism is the area's mean to survival. This is made clear by the abundance of merchants that walk up to the taxi, selling socks and candy while the taxi's wait for the local peace force to allow us up the mountain road towards Gulmarg. Still skeptical about the safety of my luggage, I stayed in the taxi watching the monkeys play in the snow. In the next 30 minutes, the windy roads got snowier and snowier. When we finally arrived near the hotel, even our 4×4 couldn't make it through the deep snow. The road was too narrow, too steep, and too snowy. We had to walk the rest of the way. If anything, it was a good promise for our first day on the mountain!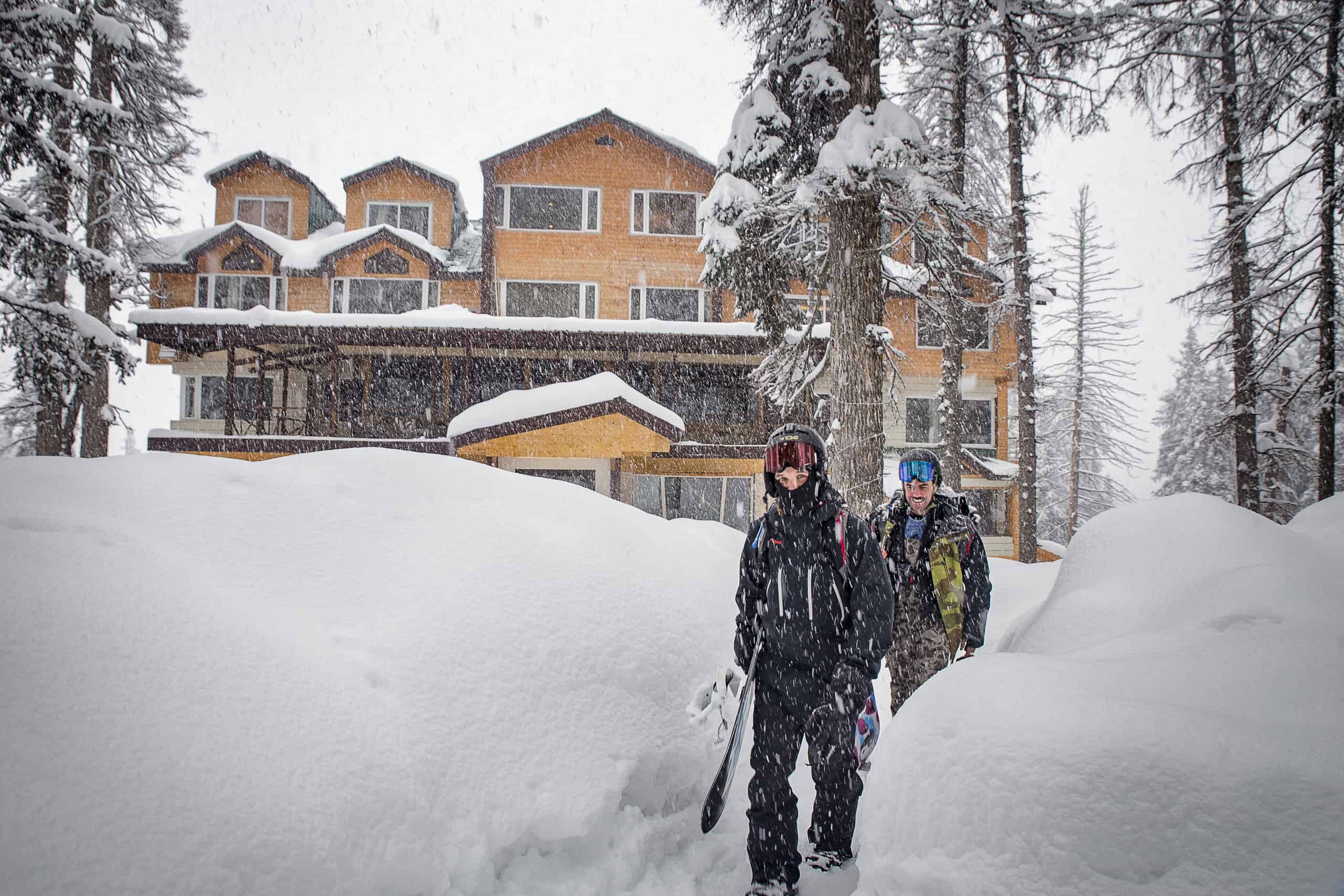 Gulmarg has two gondolas, phase one and two, and one charlift. It was immediately clear why it was so important to wait for our guides in the morning – the terrain is endless and marked slopes are nowhere to be found.
The weather was misty and it was dumping. I mean dumping!! I have never seen it come down this hard. I had heard before that Gulmarg sometimes gets "too much" snow, but experiencing it first hand is something else. On our first run, it was so deep, that even straight-lining didn't stop me from sinking in. This is when I was really glad the guides were here to show us where to go.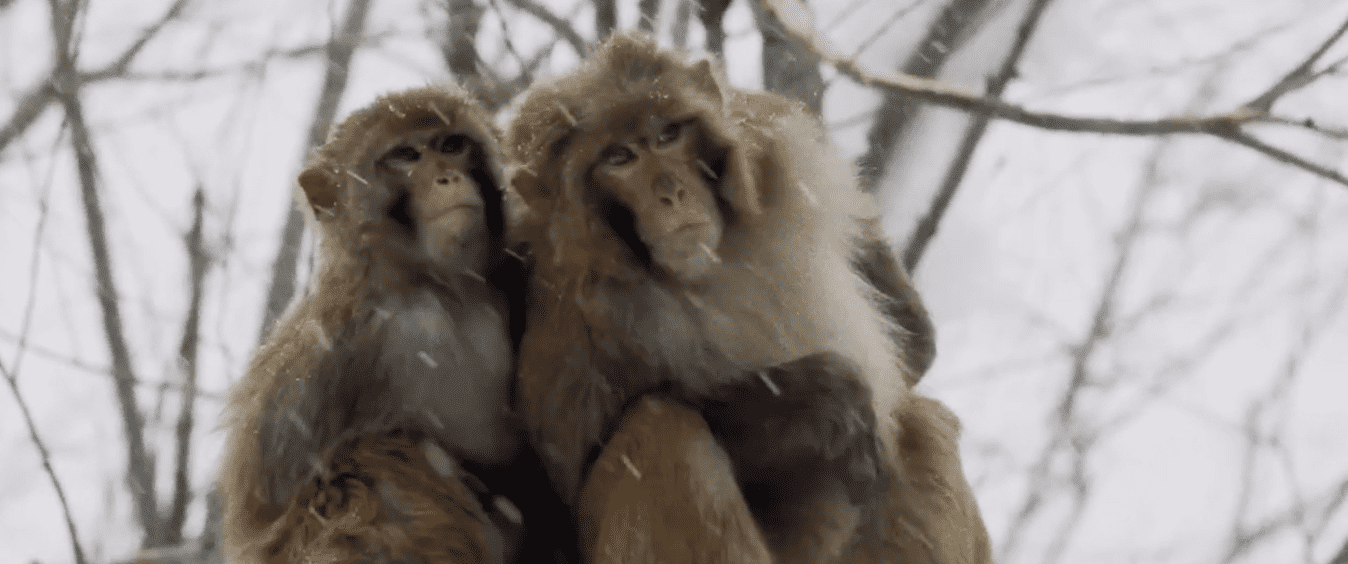 Because of the weather, the upper part (phase 2) of the gondola was closed, so we stayed in the trees. Bottomless snow got a new meaning and we were plowing through it when, out of nowhere a road loomed up out of the mist. The guides had a tough job trying to tame our impatient arses, we wanted more, but the only lift we knew about was way up there at the beginning of our run. Another reason why I was glad we had two local guides with us.
The solution? During the run our guides would contact local taxi drivers and two taxis were waiting for us after every run. The driver would strap our snowboards and skis onto the roof, blast Hindi music over the speakers, and drift with snow chains on only one wheel through the analogous coloured landscape onto the next run. Kashmiri Cat Skiing we called it and we were loving it!

It wasn't until the weather eased and the upper gondola finally opened that we had a true sense of the beauty of this region. At an altitude of over 4000m we had a view of what seemed like the entire Himalayas. 8000m high peaks reached over the other.
The Phase 2 gondola brought us up to  mountain, a big wall, and the station was right in the center of that wall. You can drop down anywhere you like: walk up a couple hundred metres and you get access to endless powder fields and steep couloirs. Traverse down from the lift for runs of about 2000 vertical metres. Heaven!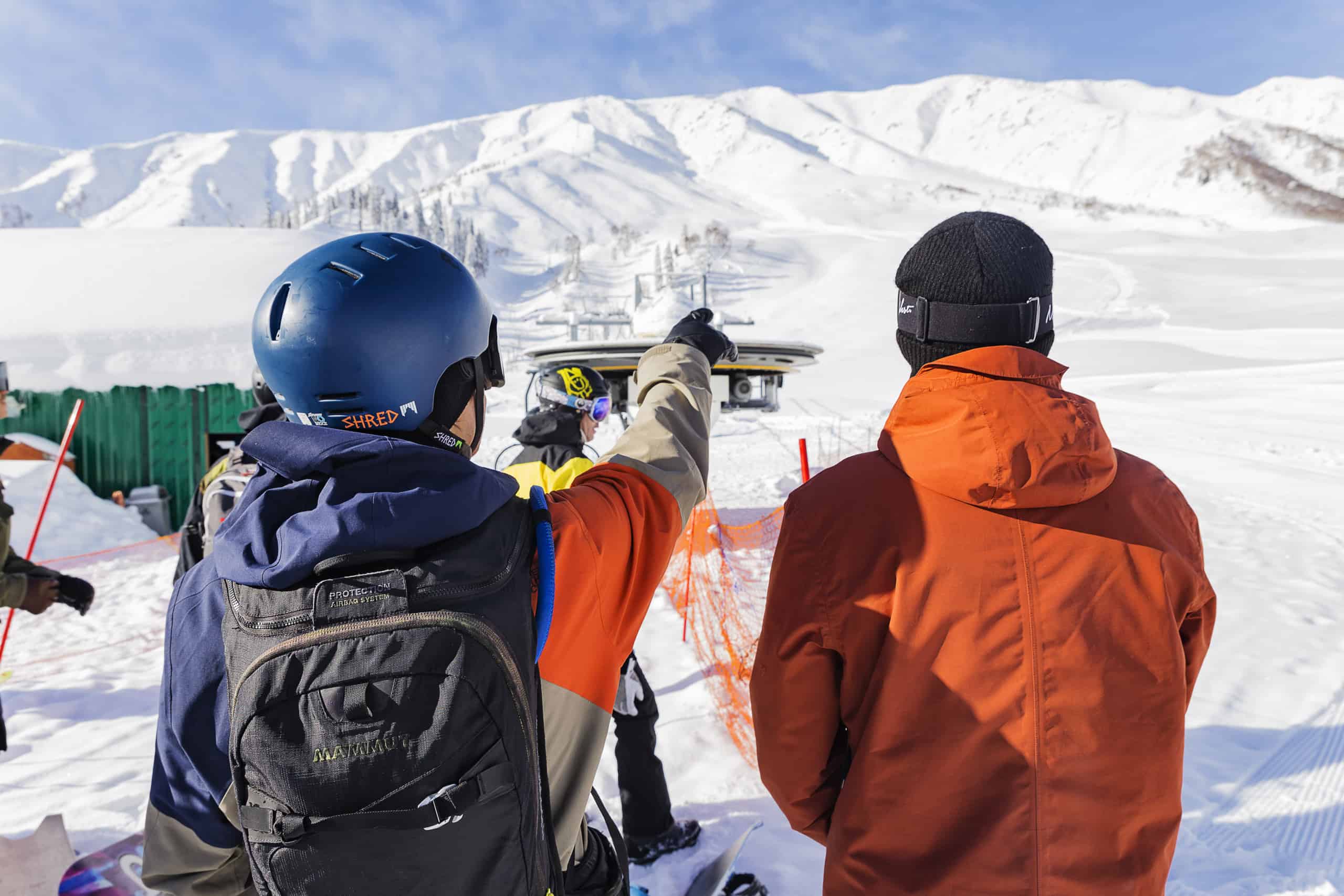 For our warm-up lap we stayed under the gondola, the only patrolled area and I am not exaggerating for the sake of this article when I say that I instantly made the best turns in my life!
As the guides started to get a sense of our group's level, they were more comfortable showing us more of the backcountry and taking us to more challenging terrain. We met up at a viewpoint and I spotted a photo opportunity and told the whole gang to slam down the biggest turn right in the sweet spot, one by one. And one by one, everybody did, and everybody cheered, and wowed – it was awesome.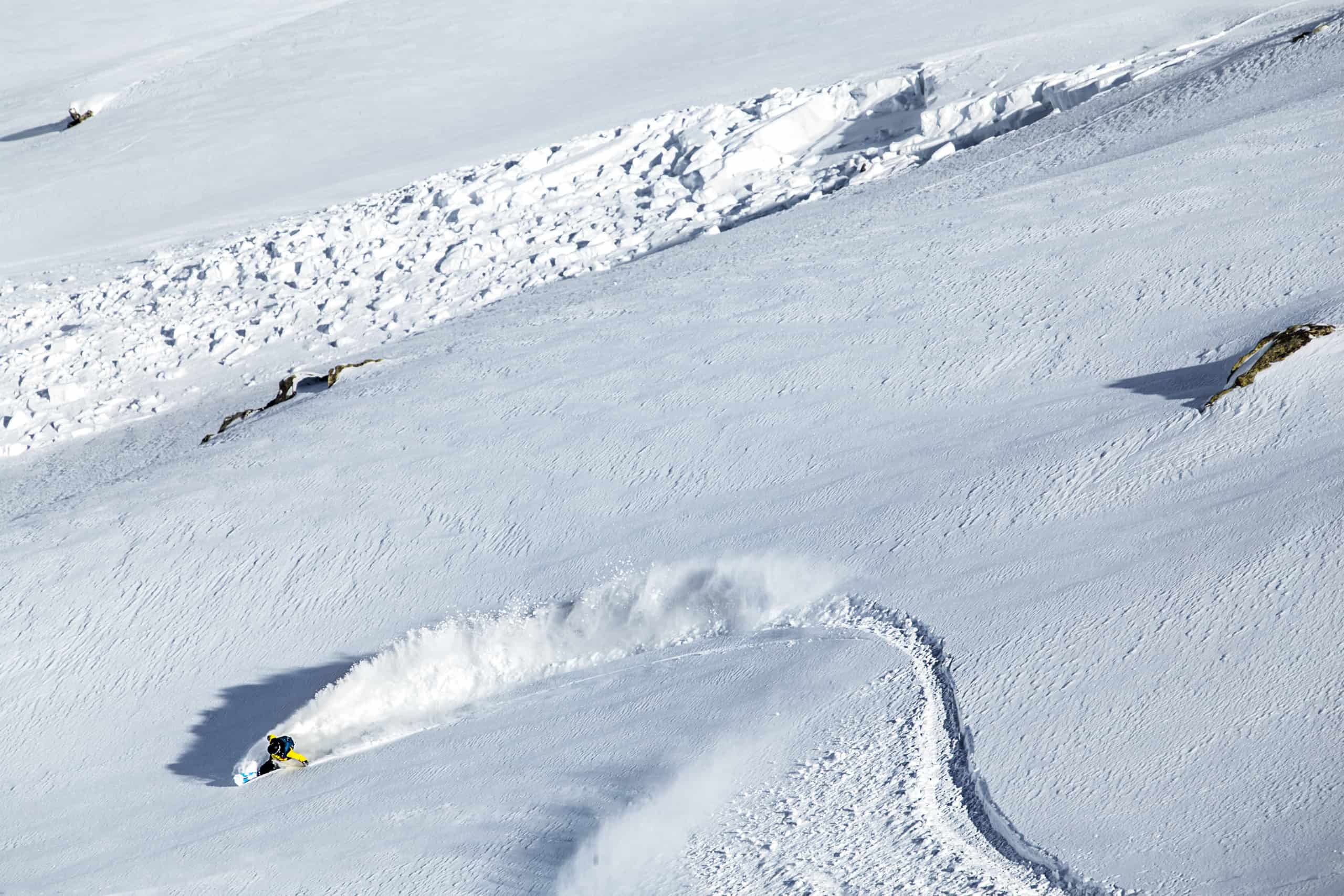 The guides finally deemed us worthy for "Shark Fin"-  the highest peak that is accessible from the gondola and also the steepest. Being the only one in the group without a split-board or snow-shoes, I gladly stayed behind half-way with my video camera. There was a great vantage point to film from, and earlier I spotted an untracked field that I kept secret to myself.
I watched through my camera as the rest of the group stood at the top of a big cornice, looking over the lip and not really seeing anything, nerves building. Then the comforting words of the guides came over the radio: "ok go". Seeing everybody race down one by one did something, I felt the stoke I get after watching a good snowboard movie. In a heightened state of mind I rode my secret line.
The lift didn't bring us up fast enough, I wanted more! But I was only thinking about one thing – I'd left my phone in the gondola. Trying not to be too judgemental, I simply assumed my brand new iPhone would make a local Kashmiri very happy. However, back at the bottom station of the gondola, one of the locals came running towards me and gave me my phone back. Why was I so worried about my luggage all this time?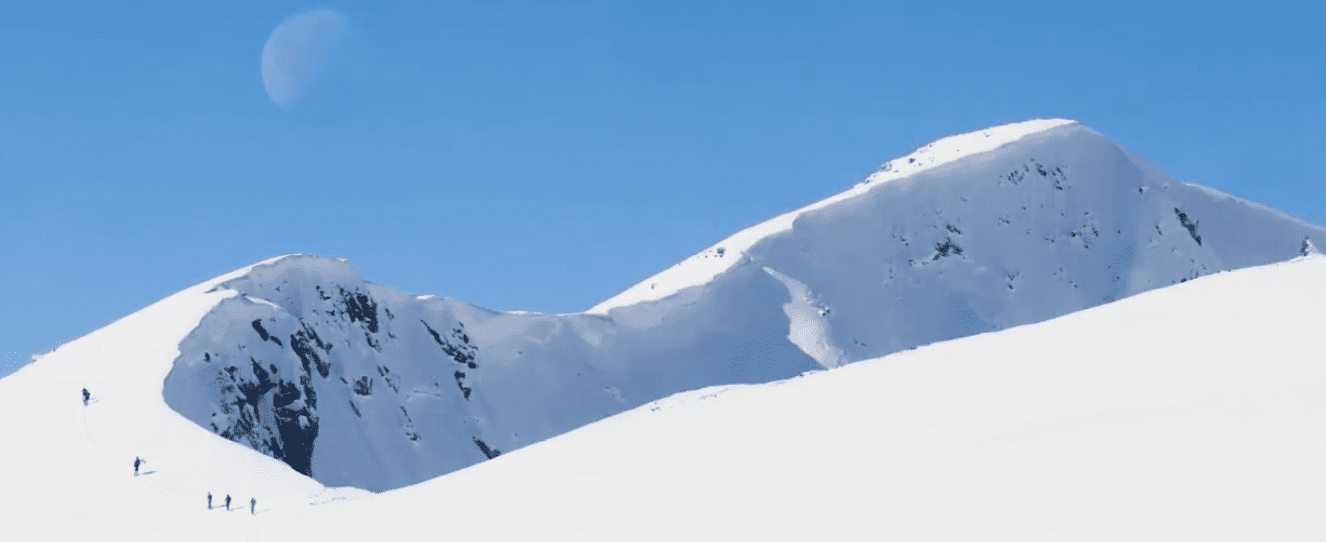 The guides saved up the longest run they could find for our last day, which started around 4200m, descending all the way down to  the village of Tangmarg at around 1500m. 
The descent went through endless fields, over windlips, views over the Himalayas,  past army bases, through forests, and finally ended up in the "forbidden valley" where the army was patrolling. Seeing a regiment armed with automatic weapons while you're riding the best snow of your life is kind of off-putting. But after a friendly wave and posing for a photo, they let us ride on without even mentioning it.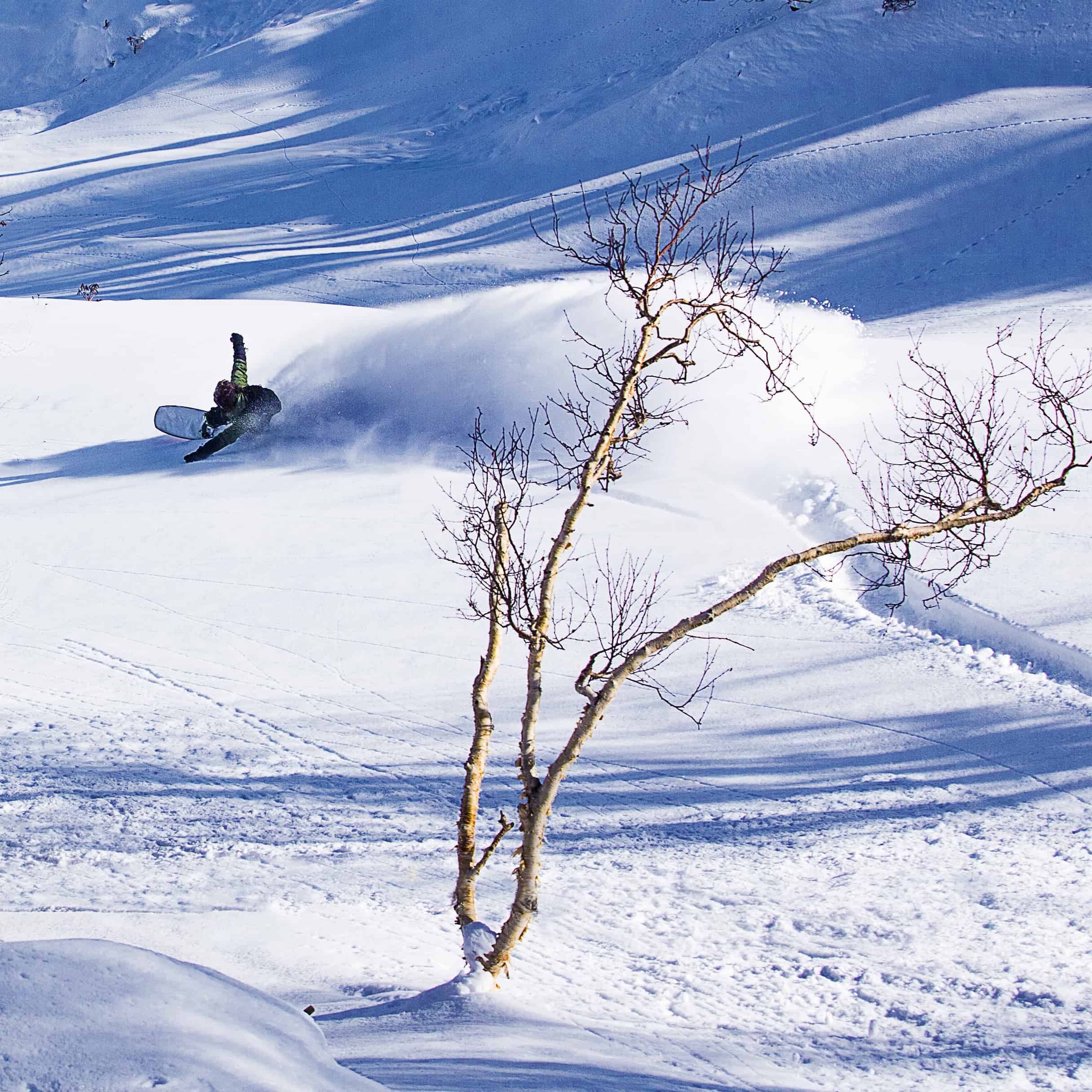 Dinner time was quite the ordeal. This was our farewell party. It was the last night with these wonderful waiters. They explained to us how most tourists here are from India and in general these tourists treat them pretty badly. That's when I realised: these guys actually view us as friends. We were happy, we laughed, and we shared our good times with the people around us. 
When we left the next day, the entire staff  were waiting for us to say good bye. The security, Mohammed, went as far as to give Casper a kiss, and wiped off a tear as we drove off. No joke.
Kashmiris are the friendliest people I have met in my life. Not once did any of us feel unsafe or not welcome. We were welcomed by strangers into their house for tea, had the privilege to meet so many wonderful people who want nothing more than to show the world how beautiful and peaceful their mountain is.
While Bashir was driving us back to the airport, I made some final attempts to get shots of the local military forces in action. I noticed Bashir started speeding up past the military, and slowing down next to the more positive views of his country. I realised that Bashir wasn't too happy with me only being interested in photographing machine guns. The initial scepticism I arrived with was partly due to what I read about Kashmir in the news. And that's the same reason why the waiters in the hotel often get treated so badly by guests.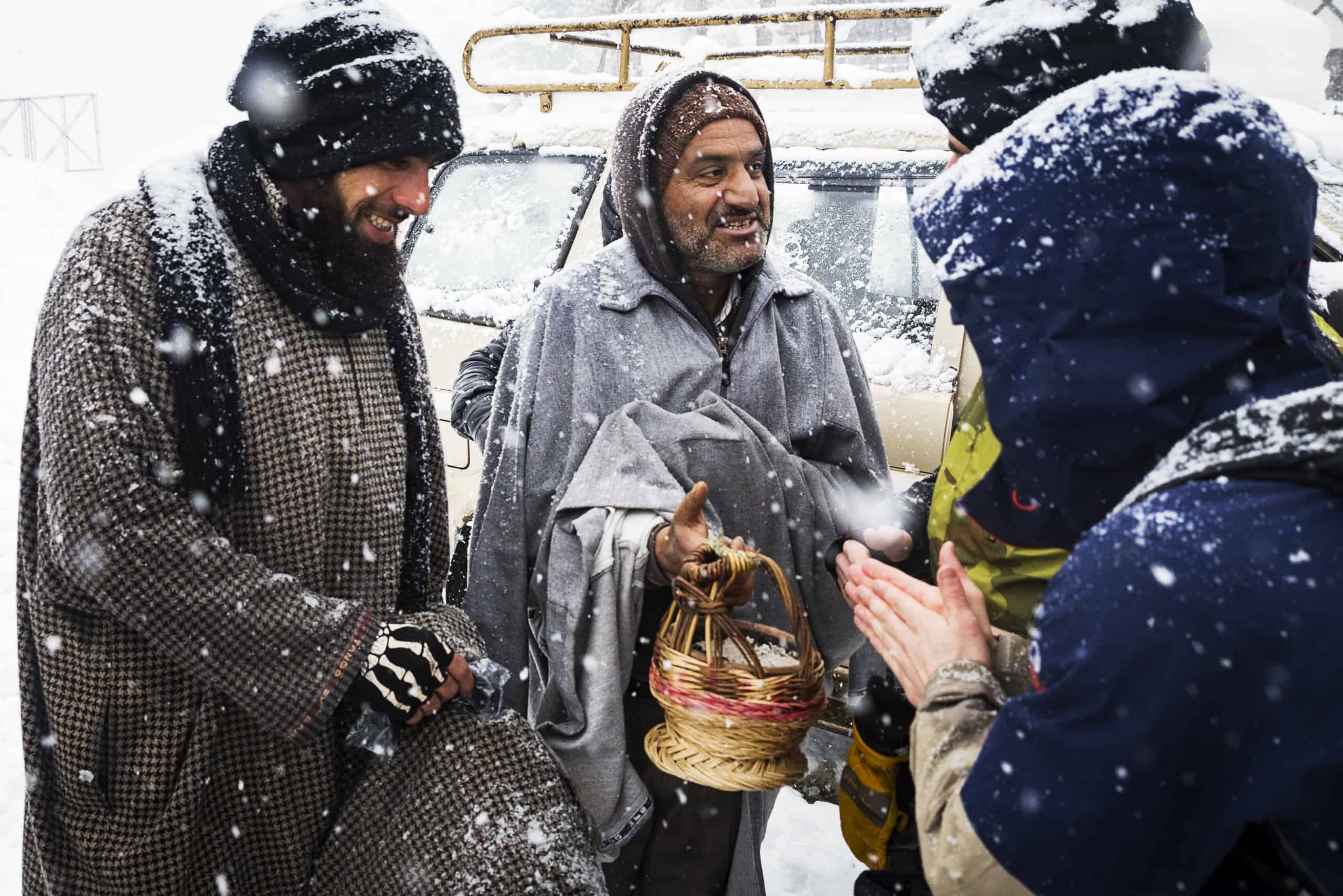 At home, all of our phones kept buzzing with messages from Bashir, our guides send snow updates, and security Mo telling Caspar when he's coming back. They sent us pictures of themselves, and the Himalayan flower fields that start blooming in the spring time.
Kashmir has had it tough the last few years with very strict laws, a total communications blockade and being closed off from the rest of the world. Then, just when things started to look up again and the region was able to welcome back guests, COVID was wreaking havoc around the world.
Now things are finally starting to clear again, India has welcomed back international travellers with good PCR testing facilities at the airport and direct flights from Australia. The people in Kashmir really look forward finally being able to welcome international guests again with no local cases.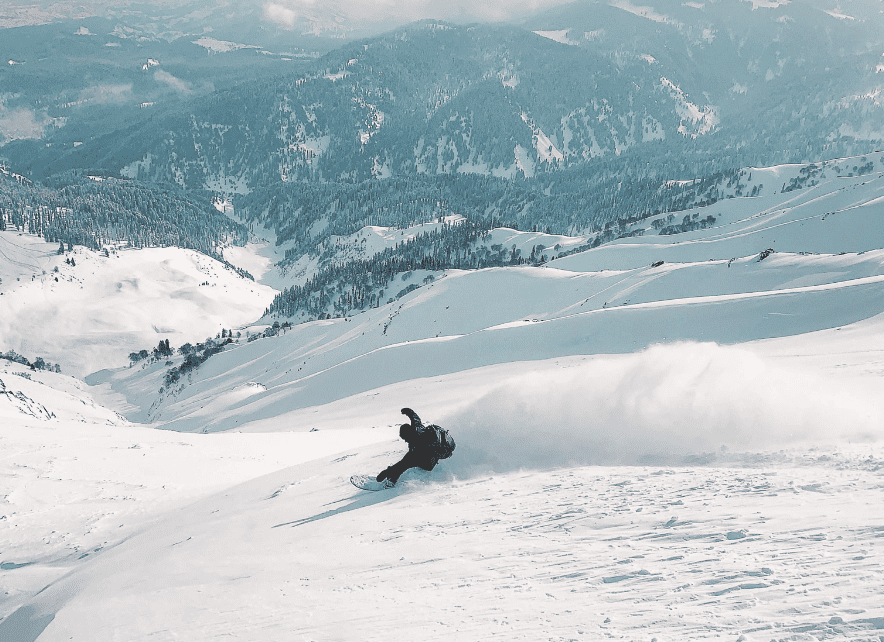 I wish everyone would go experience Kashmir for themselves, and have themselves convinced by the overwhelming lovingness of the local people, the natural beauty of the Himalayas, and most of all, those floaty turns I can't stop dreaming about. All I know is, I can't wait to head back there again, and again.
If this sounds like you, and you want to experience everything Gulmarg has to offer, we can accommodate any groups (min 2) throughout January, February and March – find more info here.