JAPAN SNOW WRAP – The Beginning
December 3rd, 2017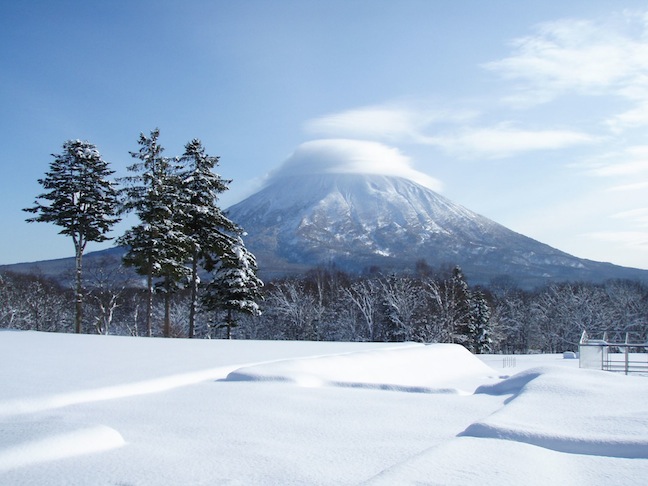 Mt Yotei on the weekend Image:: Niseko Photography
Japan Snow Wrap
The land of the 'Long Deep Snow Fall' more than deserves its on snow wrap… With a plethora of resorts large and small all over Japan this wrap could grow very long very quickly so here are a selection of the better known resorts, and their conditions are indicative of what can be found everywhere.
Here we are, another winter in beautiful Japan. This year we have really seen evidence of the markets confidence in Japan as a viable and reliable destination, Marcus Williams, SkiJapan.com's Australian Skipper said, "…we have had a 15% increase in customers this season compared with the same time in 2010 and about 80% increase compared with this time last year". The reason for the market rallying behind Japan over other traditional destinations is clearly due to the epic amounts of cold siberian pow that blankets the country from November right through to Springtime in March. This year has so far been no different, Niseko was able to open as planned on 23 November and over the past couple weeks most other resorts have begun to get their lifts into gear. Here is a synthesis of conditions across the majors…
Hokkaido
Niseko
Recent snow: Only a few cm's in the last 24 hours, although Sunday was amazing with 20-25 cms falling across the end of last week.
Coming snow: Things are about to pump with Niseko overtaking Whistler on our 7-Day next snow widget. Niseko should see about 100 cm's of new snow by the end of the week.
Conditions generally: It is still early season in Niseko although its becoming less and less obvious with about a 200 cm base in the alpine and 100 cm at the bottom lifts. Only 10 days into the season that is pretty impressive. The sun was out today and the resorts have had their grooming teams out in force to get every thing ready for the arriving guests.
Furano
Status: Open
Recent snow: Nothing significant overnight, although they did quite well out of a storm Fri/Sat. About 30-40 cm fell setting up the resort nicely.
Coming snow: 20 – 30 cm's are expected by Thursday night
Conditions generally: Early season although there is starting to be the opportunity to get away from the groomers, care is needed at this stage though
Rusutsu
Status: Open
Recent snow: Rusutsu received about 70 cm from the storm that came through late last week, this prompted the resort to open a bunch of new terrain today.
Coming snow: Much like the rest of Japan, heavy snow is expected from tomorrow through to Thursday night, pow days ahead!
Conditions generally: An excellent early season base with plenty of pow on offer…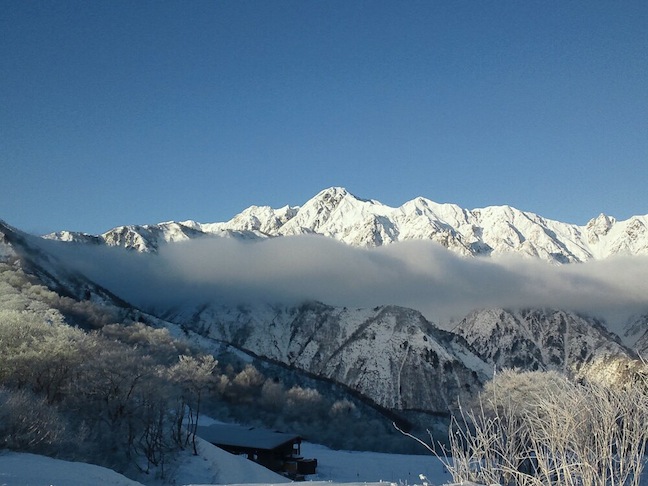 hakuba 47, the alpine areas are looking good, a little more snow is needed to open more terrain mid mountain and below Image:: Phoenix Hakuba
Honshu
Status: Open, limited terrain on offer
Recent snow: About 40 – 60 cm of new snow fell at the end of last week. Only about 5 cm last night.
Coming snow: hakuba should see about 40 cm of new snow over the next 7-Days. Freezing levels are a bit jumpy so it may be wetter then usual.
Conditions generally: Very early season, things should improve by the end of the week and we should see more terrain open.
Shiga Kogen
Status: Part-Open
Recent snow: Not too much to report, a little on Friday night but nothing significant
Coming snow: Possibly some snow over the next few days, although it may be a little too warm
Conditions generally: Early season with very little open.
Nozawa
Status: Higher areas are now open
Recent snow: Quite heavy snow fell on thurs/fri/sat with totals coming at about 60 cm.
Coming snow: This storm is moving through and is likely to bring more snowfalls, freezing levels are looking a little sketch so hard to tell how much will fall, will likely be quite a bit higher up the mountain. Wait and see I guess!
Conditions generally: Quite good in the upper mountain. More snow needed lower down.
Zao
Status: Open (just)
Recent snow: 25cm on Saturday and a little more on Sunday – though that fell as rain lower down.
Coming snow: Some snow coming this week, will depend on what the freezing level does as to how much, playing the waiting game for now.
Conditions generally: Not good! Too early for Zao at this point…