Lessons in Lenses – Mountainwatch Review A Rainbow Of Goggle Lenses – Oakley PRIZM Tech
July 5th, 2019
Mountainwatch | Matt Wiseman
It's no secret ski brands have been searching for the mythical 1-ski to ski everything. What is less appreciated is the fact goggle companies are doing the very same when it comes to lenses.
A friend recently asked me, "Hey mate, weird question but what's the best coloured lenses for Aussie snow?"
While 'Aussie snow' might be something of a misnomer – Aussie snow is as white as any after all… except when it's green – the point was valid in that we sure see some variable lighting conditions here in the Australian Alps. While we see an abundance of bluebirds, there's still plenty of storm days that require a lighter lens tint and when the shadows lengthen in the afternoon across the likes of Thredbo's High Noon or Perisher's Mount P, you're going to want a lens that can define a mogul or a sheet of ice a few turns prior to being on top of it – harder than it sounds.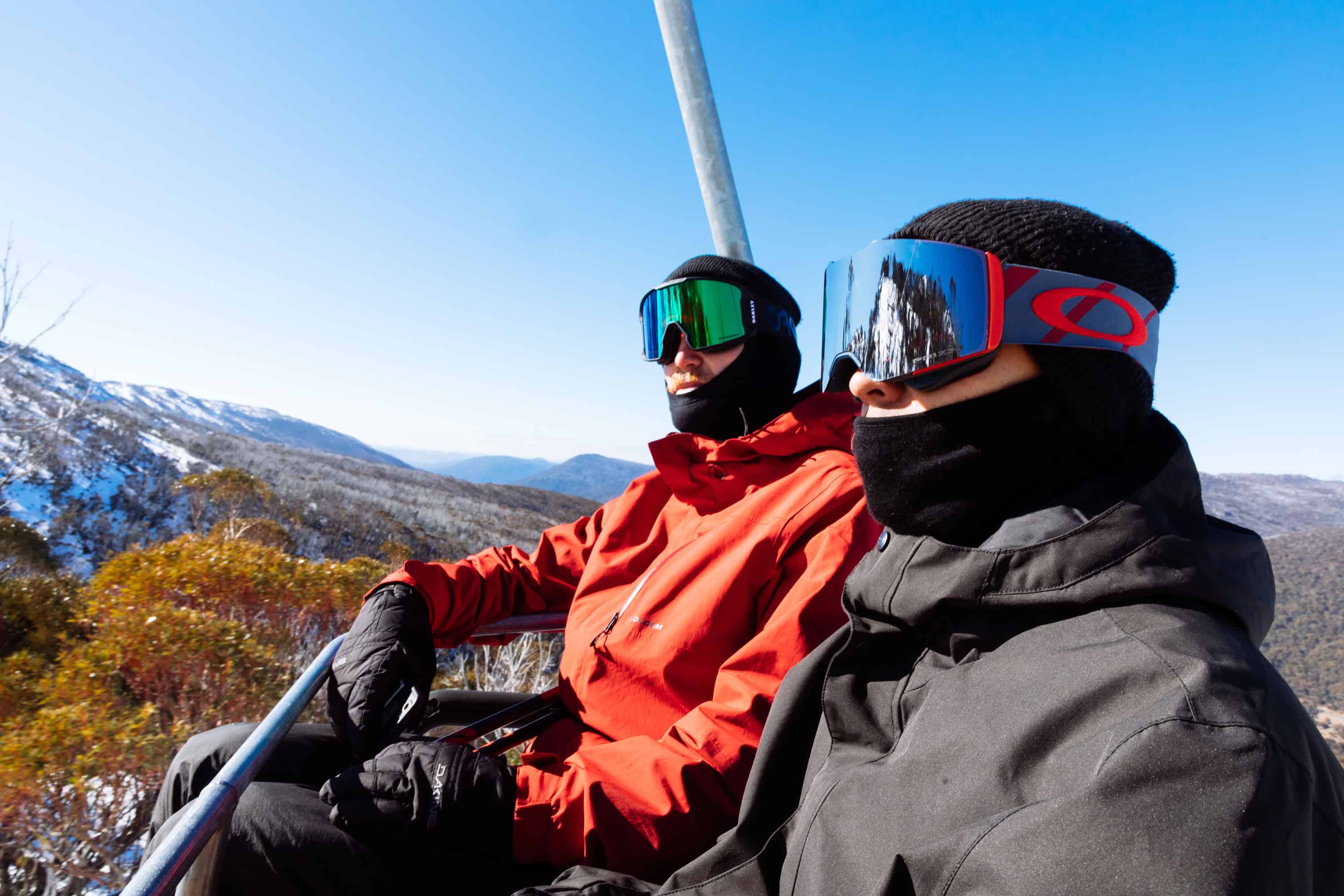 I had the pleasure of experiencing every condition we get in our Snowy Mountains while skiing at Thredbo and Perisher the past week. I also had the pleasure of putting various lens tints, tones and tinctures through the wringer to see if I could find an answer to aforesaid friends question…
Short answer: there is no one lens colour for every condition.
Long answer: read on…
I took Oakley's impressive fleet of PRIZM lenses as my case study. Oakley being a long time market leader when it comes to lens tech.
Before getting into how each lens held up in both bluebird and cloudy conditions, there's some requisite knowledge to be aware of.
PART 1 – THEORY
What kind of goggle lens? 
The first thing to realise is amongst the veritable rainbow of lenses flooding the goggle market nowadays there are two structurally distinct kinds of lenses – cylindrical and spherical.
Cylindrical lenses are vertically flat, but curved horizontally. You'll find this kind of lens in a more entry-level goggle. In our view, spend a little more for a spherical lens, which is curved both horizontally and vertically. The effect of this is you don't witness any distortion around the edges of the lens and peripheral vision is markedly enhanced.
What's the deal with all the colours?
You're not alone if you've been bewildered by the array of different coloured goggle lenses on the store shelf or in the lift queue on any given day. The first thing to note is their function goes well beyond being able to mix and match them with your outerwear – although we admit this can be a deciding factor in a purchase, for better or worse.

The best indicator of how a lens will perform and its target lighting condition is what's known as its Visible Light Transmission (VLT). VLT is conveyed as a percentage – the smaller the percentage, the smaller the amount of light can penetrate through the lens and thus the darker the lens looks. Think of it as a sort of reverse of sunscreen's SPF.
As a general rule…
Low light conditions:
Somewhere between 60-90% VLT and will typically come in a rose, yellow or blue tint. Clear lenses take VLT a step further and can be almost 100% VLT making them suited to night riding – but not much more as contrast can be sacrificed as a result.
Sunny/bright conditions:
Somewhere between 5-20% VLT, expressed as dark grey, black or gold lenses and more often than not they're ultra-reflective, with a mirror finish.
In between conditions:
Everything else… somewhere between 20-60% VLT. These lenses are a safe bet for a one-lens quiver but don't specialise in any given light condition.
*These percentages operate as a guide and the Oakley PRIZM snow lenses that we tested max out at around 38% VLT – light enough to ski in white out conditions. Perhaps more important than VLT then is the level of contrast evident through a lens and Oakley have been making moguls pop for a number of years now.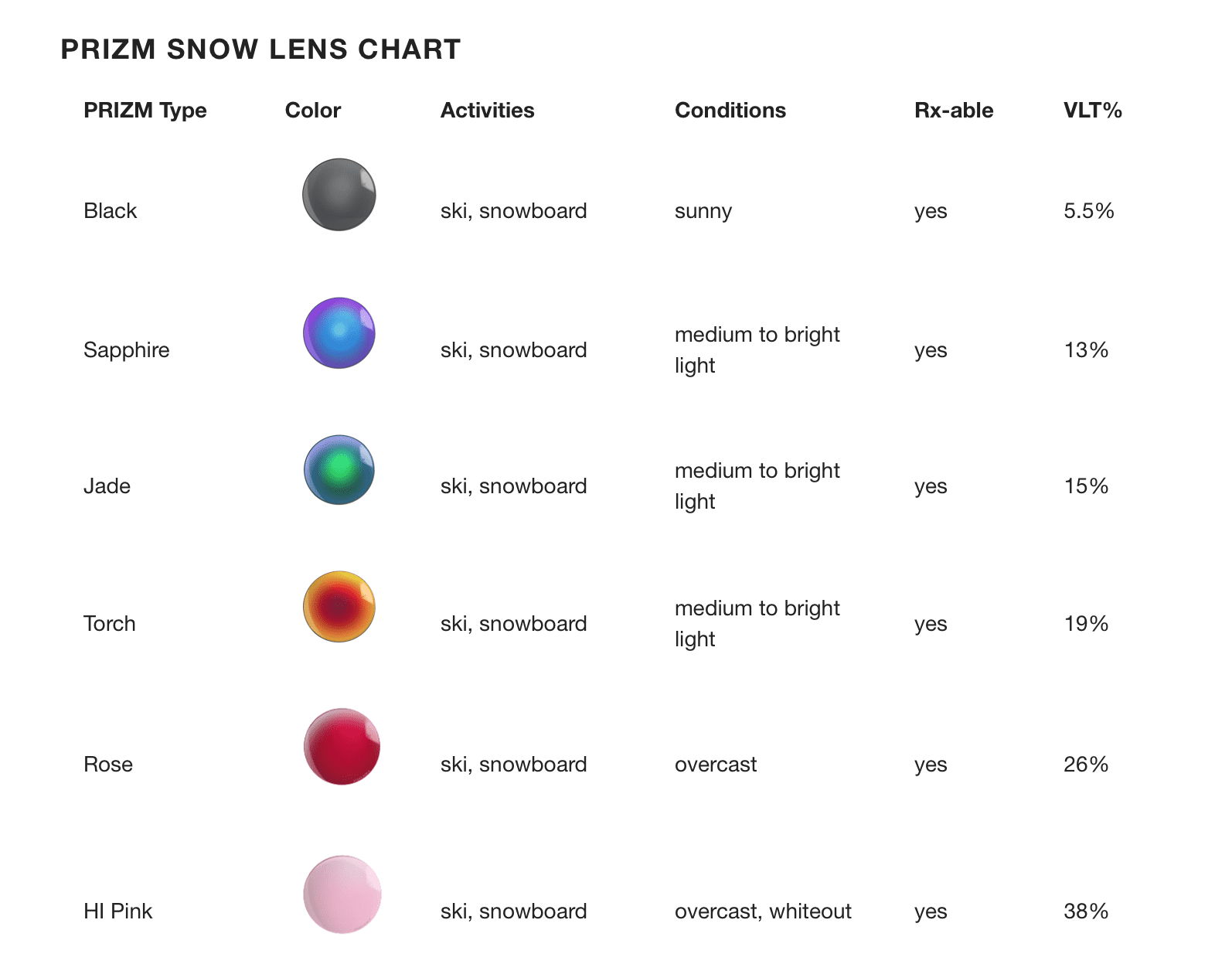 What are PRIZM lenses?
Put simply, PRIZM provides increased contrast and colour saturation that makes seeing bumps and contours in the snow far easier. Put less simply, Prizm achieves this by emphasizing and boosting certain wavelengths along the colour spectrum. It breaks light into individual colours and boosts certain ones while filtering out others to achieve the perfect balance in snow.
Oakley category manager, Hans Arnesan confirmed this, saying of the PRIZM lenses, "we can leverage specific colours that give important visual queues for better reading the mountain."
"Unlike traditional lens dyes that filter all colours equally, PRIZM lens dyes are unique in that they enable us to strategically manipulate the light coming through a lens."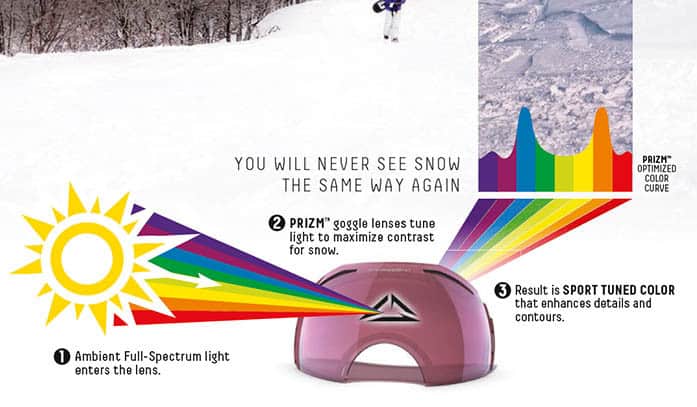 All PRIZM lenses are made of plutonite, Oakley's proprietary lens material. It's a high grade, highly impact resistant polycarbonate. While many goggle manufacturers are producing similar proprietary tech, think; Spy's Happy Lens, Giro's Vivid and perhaps the best known of the bunch, Smith's ChromaPop, the PRIZM's remain in my eyes the cream of the crop.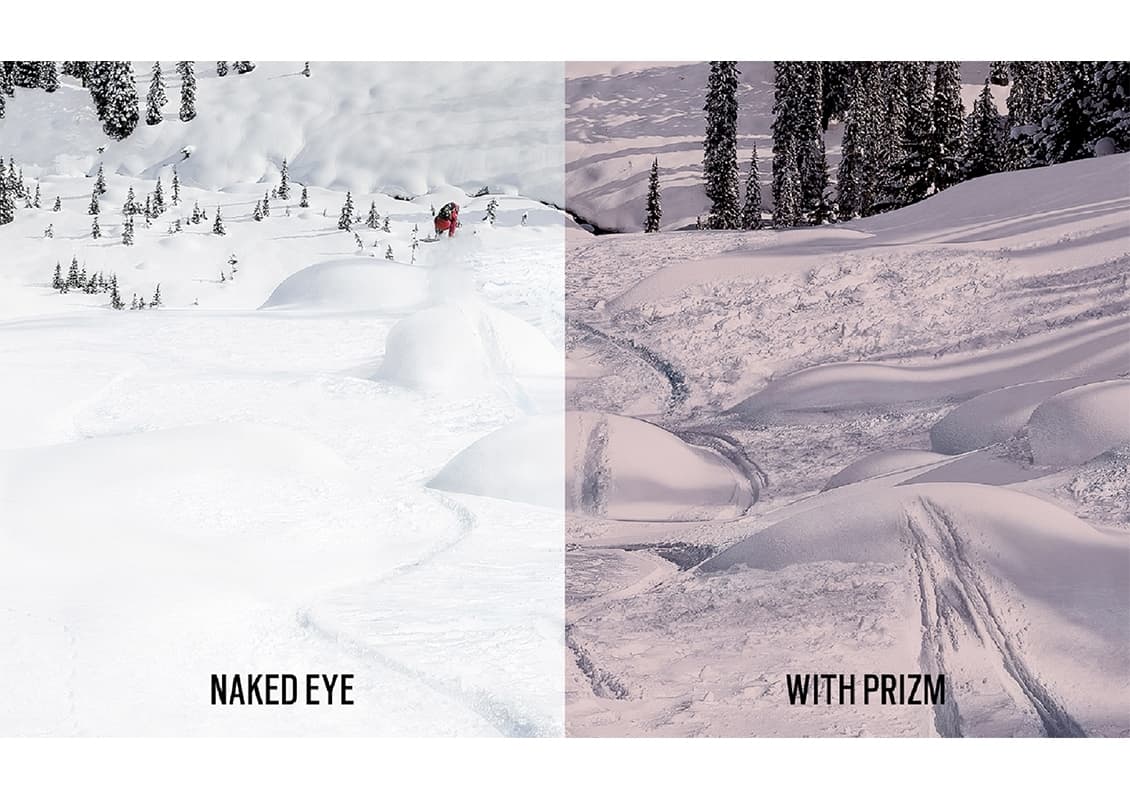 I had four different prizm lenses at my disposal throughout my week of riding and selected each pair according to the forecast. VLT in these lenses ranged from a 5.5% VLT black iridium lens to the lightest lens of the bunch in a 19% 'torch iridium (orange/red colour).
PART 2 – IN PRACTICE/REVIEW
Test Day 1 – Tuesday 2nd June – Sunny/Partly Cloudy/Afternoon Shadow
The first day of lens testing saw me stuff a backpack full of all four goggles/lenses and compare the pair(s) so to speak.
First off the rank was Oakley's Black lens (prizm black iridium) – a highly reflective, mirrored lens built for full sunny conditions. While I expected to stay in these just a few hours before the clouds rolled into Thredbo, I didn't swap them out until 3:30pm, after the shadows matured across High Noon and the bumps had well and truly formed. The swap wasn't strictly necessary either, as they were doing a very respectable job in the low light, but after replacing them with the 13% Sapphire lens, and with the benefit of 20/20 hindsight, I realised these new lenses could certainly make a strong case as a 1-lens quiver.
They had no trouble being pointed directly into the setting sun as I lapped High Noon via the northwest facing Gun-Barrel Express Quad Chair, nor did they have any difficulty discerning the bumps and ice made via heavy ski traffic.
I rode past a handful of skiers and boarders whose goggles had been relegated to the top of helmets and beanies in favour of their unobstructed eyes, but after testing how my own eyes compared with the PRIZM's I was in no rush to take them off.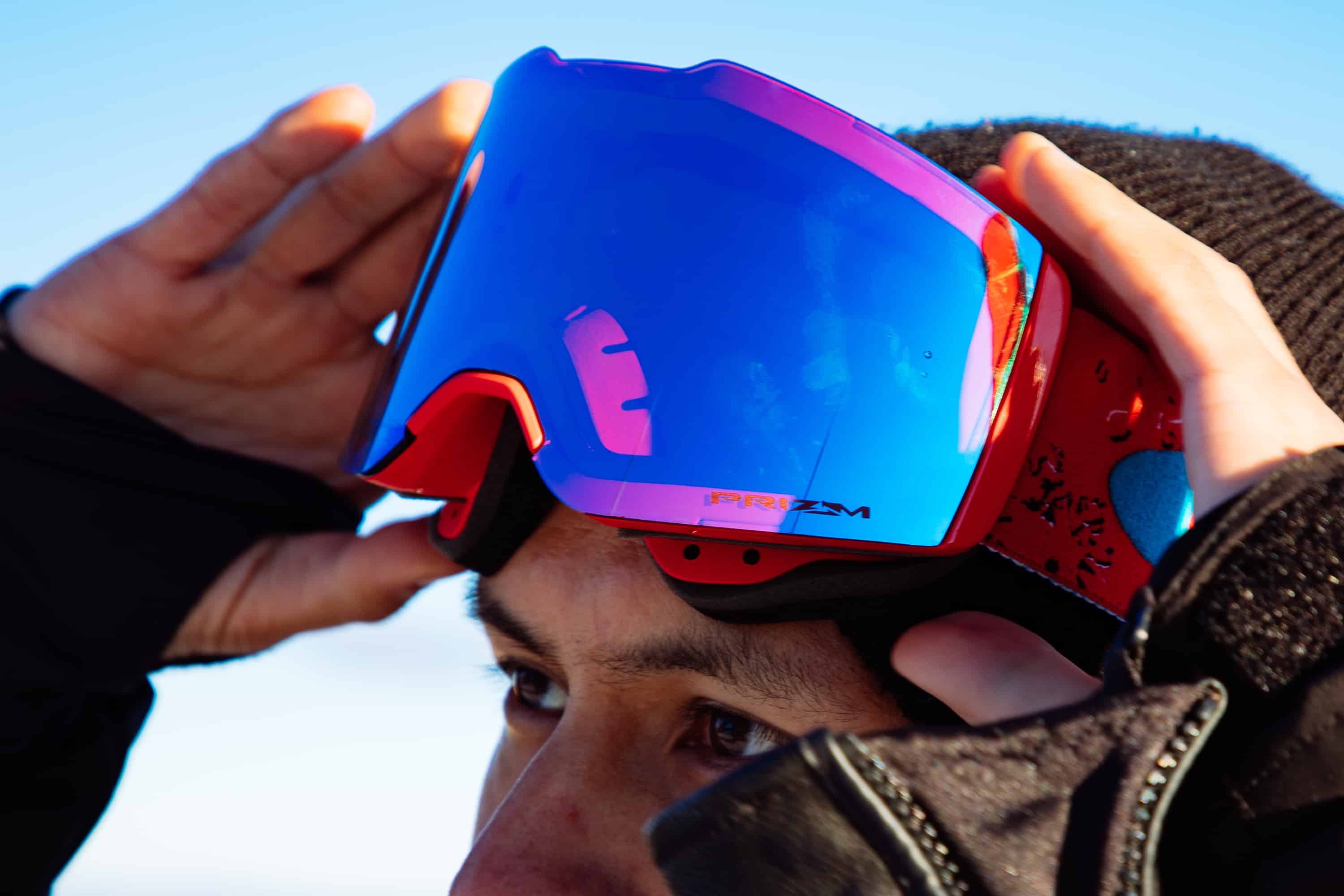 Test Day 2 – Wednesday 3rd June – Bright Bluebird
It was a no-brainer reaching for the black lens on the sunniest of days as the mirror cut out any headache inducing eyestrain – something that's plagued me in previous goggles, and equally made the piste pop with contrast.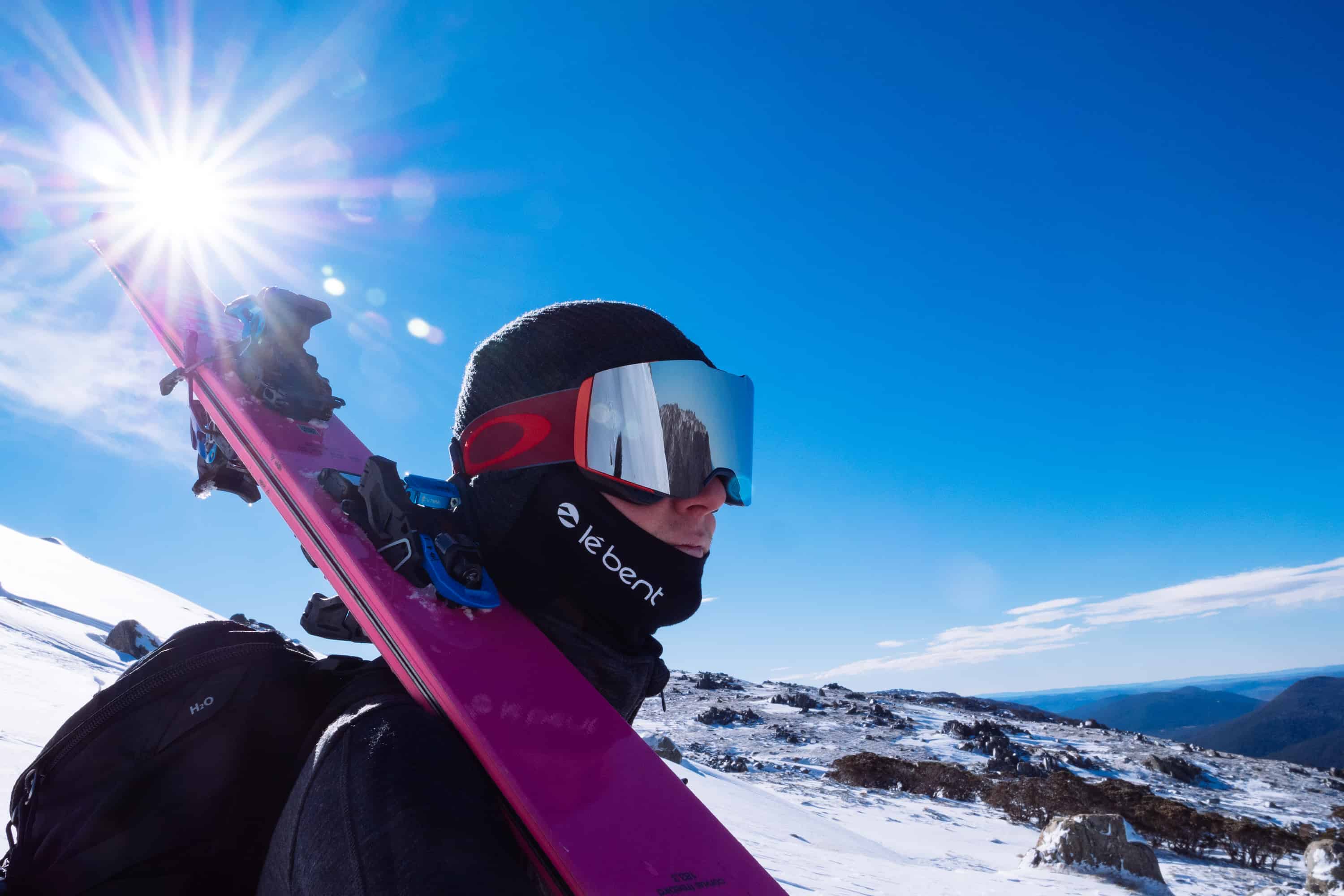 Test Day 3 – Thursday 4th June – Low Cloud/Fog/Partly Sunny
The biggest test of the week weather wise came at 12:30pm yesterday at the top of Mount Perisher, where some low cloud sat like an overcast blanket of fog.
I don't often look forward to such lighting conditions – unless it's followed closely by snow, but this allowed for the perfect conditions to test what are marketed as medium to bright lenses in some lower light conditions.
I strapped on a Jade lens and gave a friend the Torch lens to try also. Despite being described as 15% and 19% VLT respectively, this was more than enough to cut through the flat light. While I didn't have the luxury of trying either of Oakley's rose or Hi Pink lenses – the latter of which deals best with overcast, white out conditions – the more partly cloudy/sunny Jade and Torch lens would be your best bet for an all-conditions Aussie lens.
Conclusion:
As the adage goes, seeing is very much believing and that was my experience with PRIZM tech. As someone who has typically had a pair of transition Zeal goggles strapped to my head on the hill, I'm more than ready to give them up in favour of any of the PRIZM lenses tested. Whilst light transmission might not be as seamless as a transition lens for obvious reasons, I would happily sacrifice this for the increased contrast I found with the PRIZM's.
So what am I going to tell my friend who wanted to know which lens to opt for in Australian snow?
I'd say a dark, mirror lens like the black PRIZM's is a must for the amount of sunshine we see on the slopes down under and I'd throw in one of the 'medium to bright light' lenses as well – my favourite of the three trialled being the Sapphire's.
If you want to get yourself a pair of Oakley goggles you can check out the latest range on the Mountainwatch Store here.