Lets Split – 2019 Victorian Backcountry Festival At Mt Hotham
June 10th, 2020
Mountainwatch | Amine Yasmine
The 2020 VIC BackCountry Festival has now been given the green light to run at Mt Hotham, which is great news.  Lets Split will again be involved in this festival (scheduled Sept 4-6), running our "Extended AST1 Course" there with Alpine Access.
So … I figured it was a good time to finally post the 2019 Let's Split TRIP 5 Video – which ran at the 2019 VIC BackCountry Festival:
Let's Split was fortunate enough to be involved with the second annual Victorian Backcountry Festival – hosted by Mount Hotham during Sept 2019.  The snow gods delivered big time the night before the Festival started, and also kept delivering most of the first day of the event!  And as much as snow quality was amazing, the accompanying stormy weather made Backcountry Safety on backcountry tours that weekend a very real challenge.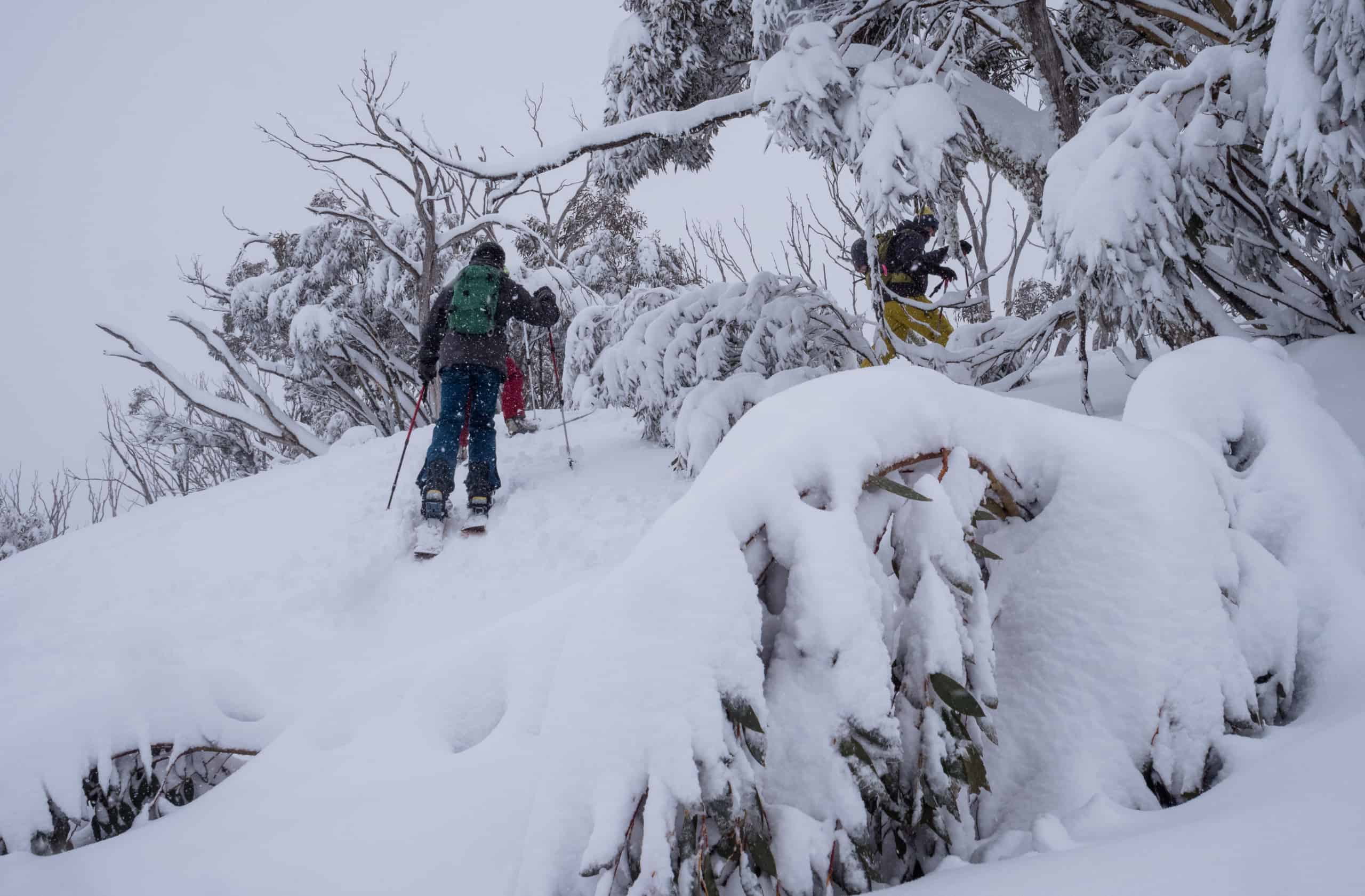 The Let's Split crew spent a few hours the day before the event scoping the snow pack and our intended touring area.  And we found that the prefrontal temps were ideal for the amount of snow we ended up getting over the next 24-36 hours.   The fresh snow started falling nice and wet, then gradually went to light dry powder over the next few hours, with no sudden freeze incident.  The main concern for snow stability was actually that temps rose considerably during the night – which saw a 5cm layer of very wet (heavier) snowfall on top of 12cm of dry snow.  And then the temps dropped again putting another 10cm of light dry snow on top of that new wet snow.   As a result, the high volume of new snow hadn't bonded very well through these layers, and thus our decision making for our Trip had to be very cautious, to say the least.  Avalanche danger was a lot higher than we would have liked.
Our initial intention was to show our group some of the fantastic (and easy to access terrain) of the Razorback Ridge – but after meeting at the trail head (Diamantina Hut) at 8am, we decided that the snowpack instability and stormy weather meant that we needed to re assess this Trip Goal.  So off to some of the resort's famous sidecountry we went – re assembling the group for some touring in the Women's Downhill area.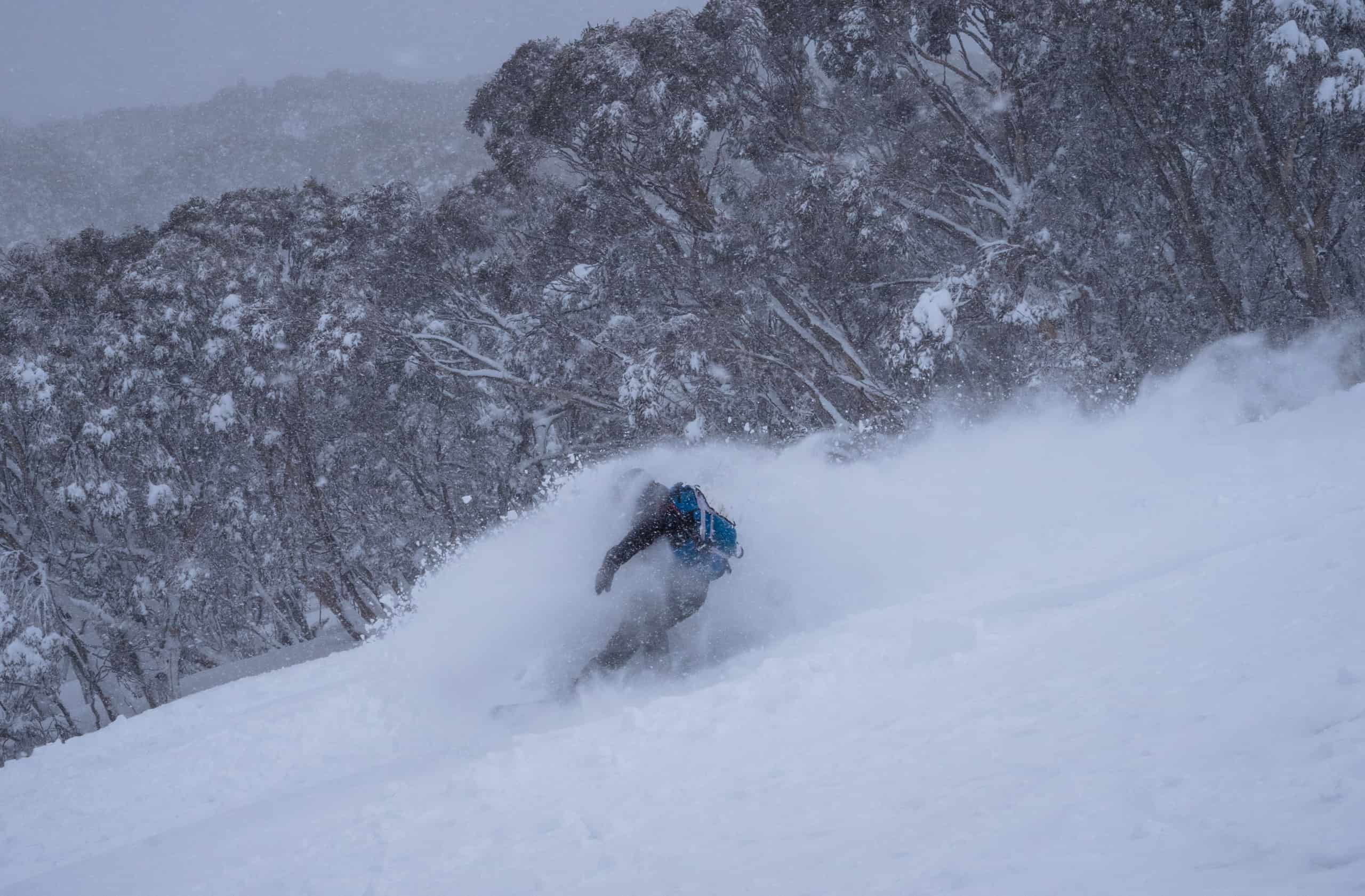 Although this area of resort was quite busy on this Festival weekend, we still found great snow, uncrowded turns, and peaceful skin tracks throughout the day.  After our first run, our group broke up into two smaller groups, and proceeded to lap out some great (low angle) tree runs.    Between runs we practised beacon exercises, making sure all members of our group had a refresher on basic search protocol.  And after we had our last runs, it certainly took a while to thaw out – but thankfully the Festival Speakers Program was still humming along nicely when we got back to 'Home Base' (ie. The General) at about 3pm.
Overall a great day out in the elements, and a VERY successful Victorian BackCountry Festival that we were honoured to be a part of.  Well done Cam Walker for pulling off such a huge task and having it all run like clockwork.  Looking forward to this year's Victorian BackCountry Festival already.
And a big thanks to everyone who helped out with this Lets Split Trip – Flynn Medson, Nick Esser, Adrian PIzzey, and Ben McCarthy.
See You Out There.
Amine Yasmine
Lets Split (Founder)
Video: Phootstep Films
All bookings and enquiries for Lets Split can be made though http://slidepath.com.au/lets-split/ or hello@slidepath.com.au.
Head here for  more info on the 2020 Victorian Backcountry festival