Madarao Kogen – A Powder Mecca In Its Own Right And A Perfect Base To Access The Best Of Nagano – Travel
November 20th, 2018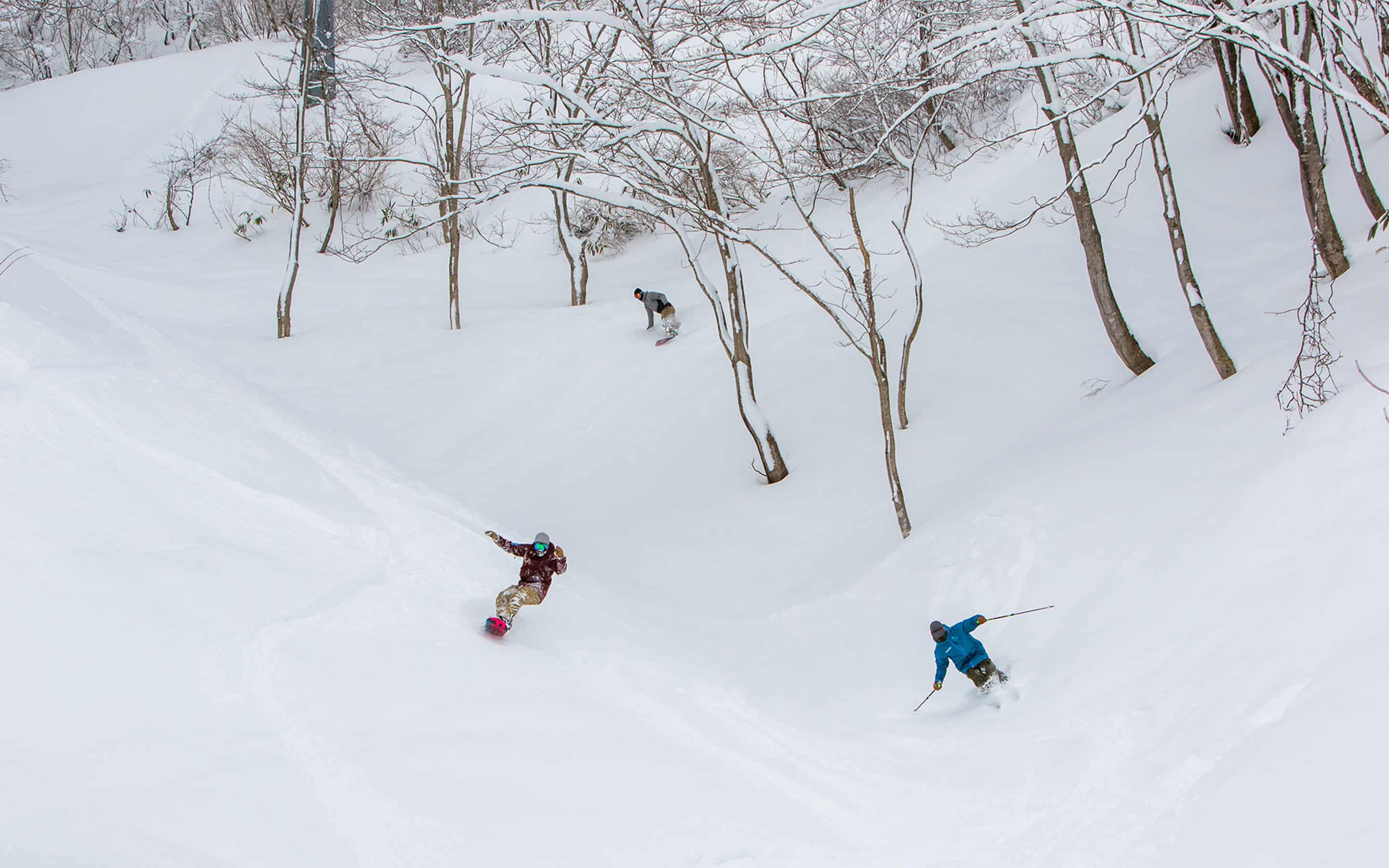 Mountainwatch | Matt Wiseman
Madarao, or rather 'Madapow', as the nickname suggests, has plenty of pow to go round. Enough, in fact, that one certainly wouldn't need to stray from its slopes for the duration of their trip – content in the 10-13m of annual snowfall and fun bowl-like terrain offered there.
But that's not to say they shouldn't nor couldn't! The resort sits between the better-known ski resorts of Nozawa Onsen and Myoko Kogen– just 40 minutes to each – in the north-eastern part of the Nagano Prefecture.
With three of Japan's top resorts right at your fingertips, Madarao is the place to be if you like the idea of driving to wherever it's snowed the most overnight on a whim!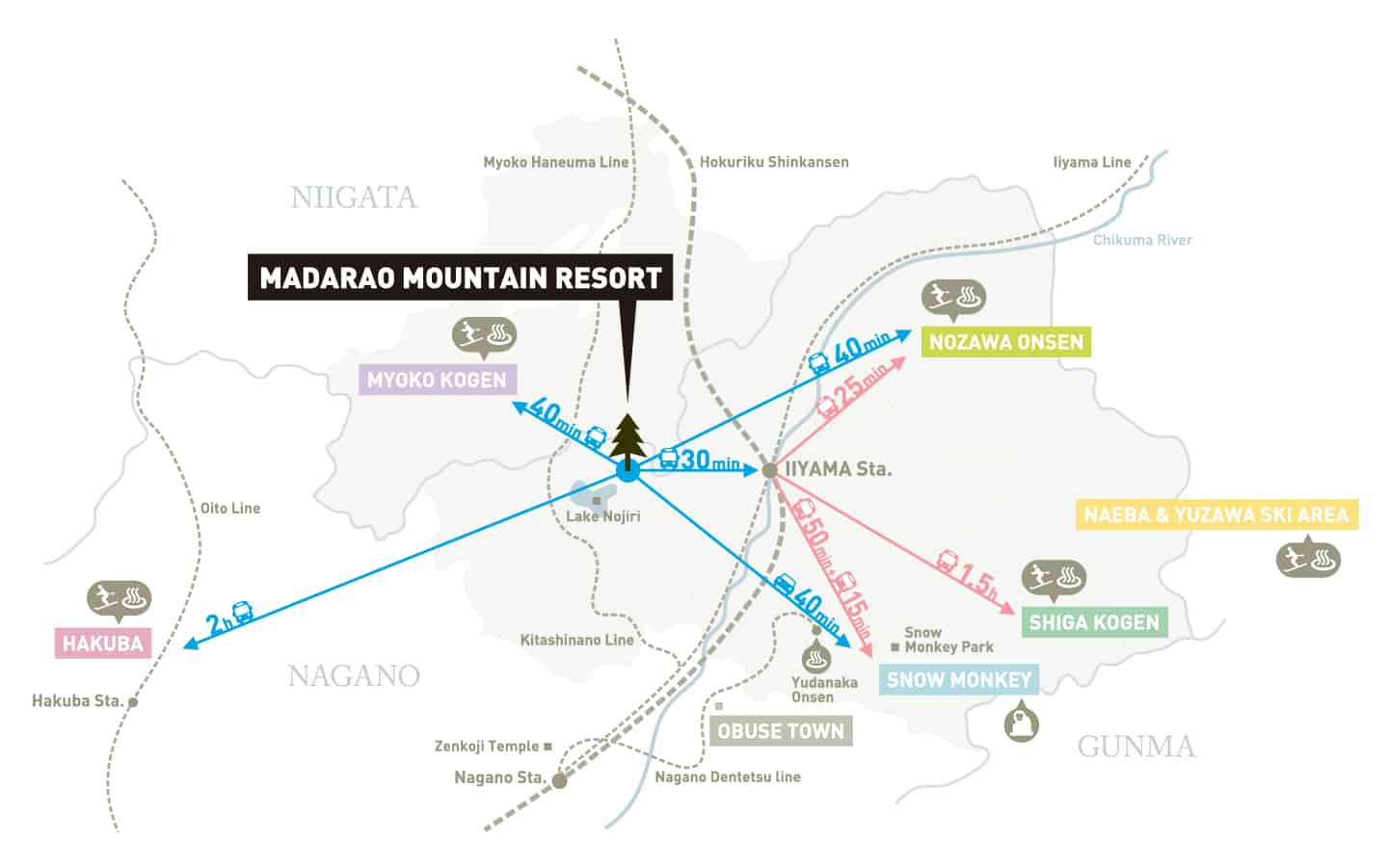 While centrality is admittedly one of Madarao's greatest attractions, as mentioned earlier, there's a fair chance you'll get there and simply not see a need to ski anywhere else. As the saying goes… if it ain't broke, don't fix it!
Madarao itself is by no means small, perhaps best described as a medium sized Japanese resort. It offers over 30 designated trails, 15 lifts and tops out at 1382m.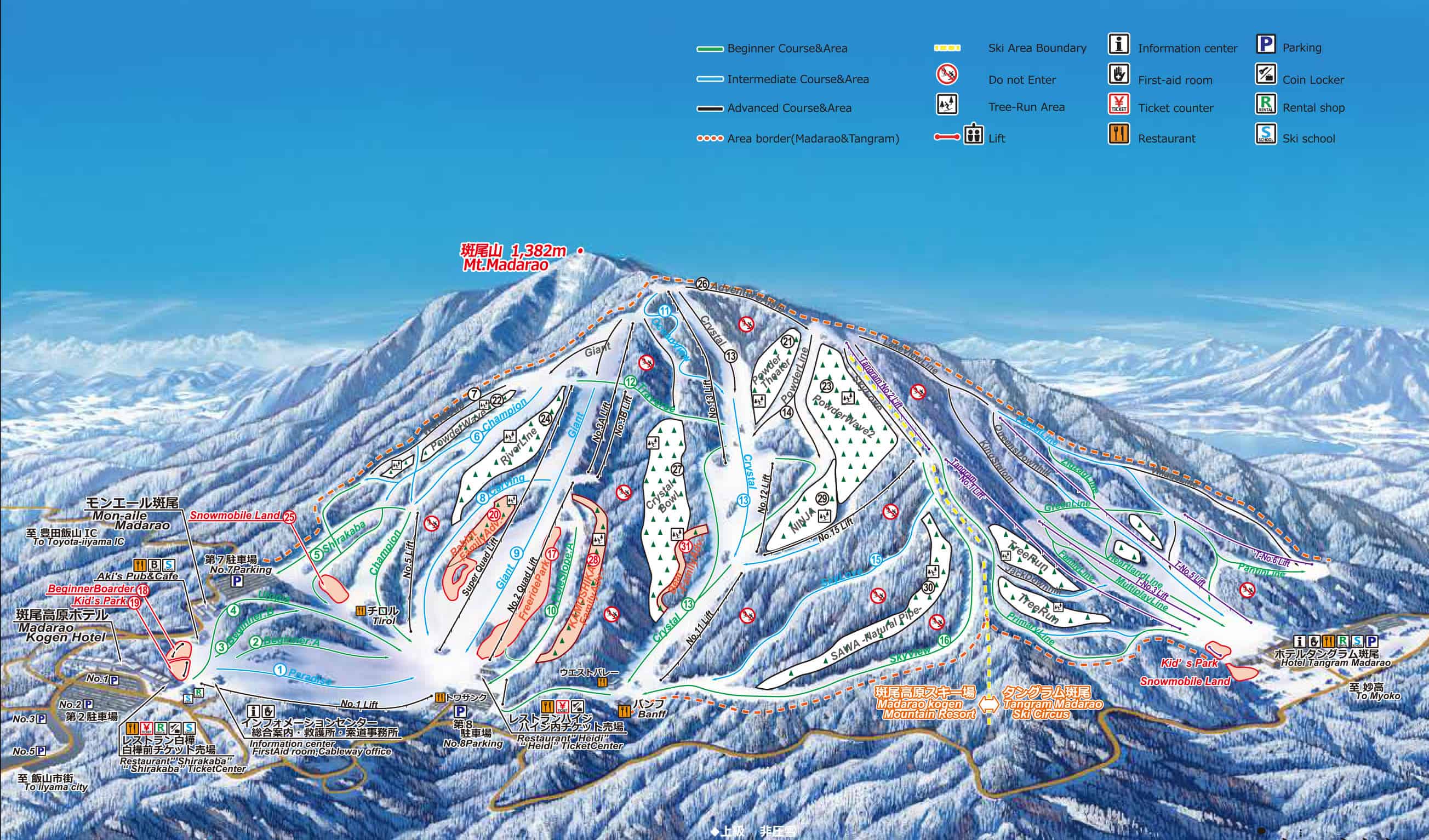 Its best feature?
A whopping 60% of trails remain ungroomed…
We're certainly not the only ones who've rejoiced at some overnight snowfall, be it 5cm or 50cm, just to see a fleet of grooming machines swiftly compress our favourite kind of confetti into corduroy. Don't get us wrong, we appreciate some quick, condensed piste as much as the next skier, but it surely doesn't get much better than riding a foot of fresh on top of an open groomer with a good, consistent pitch!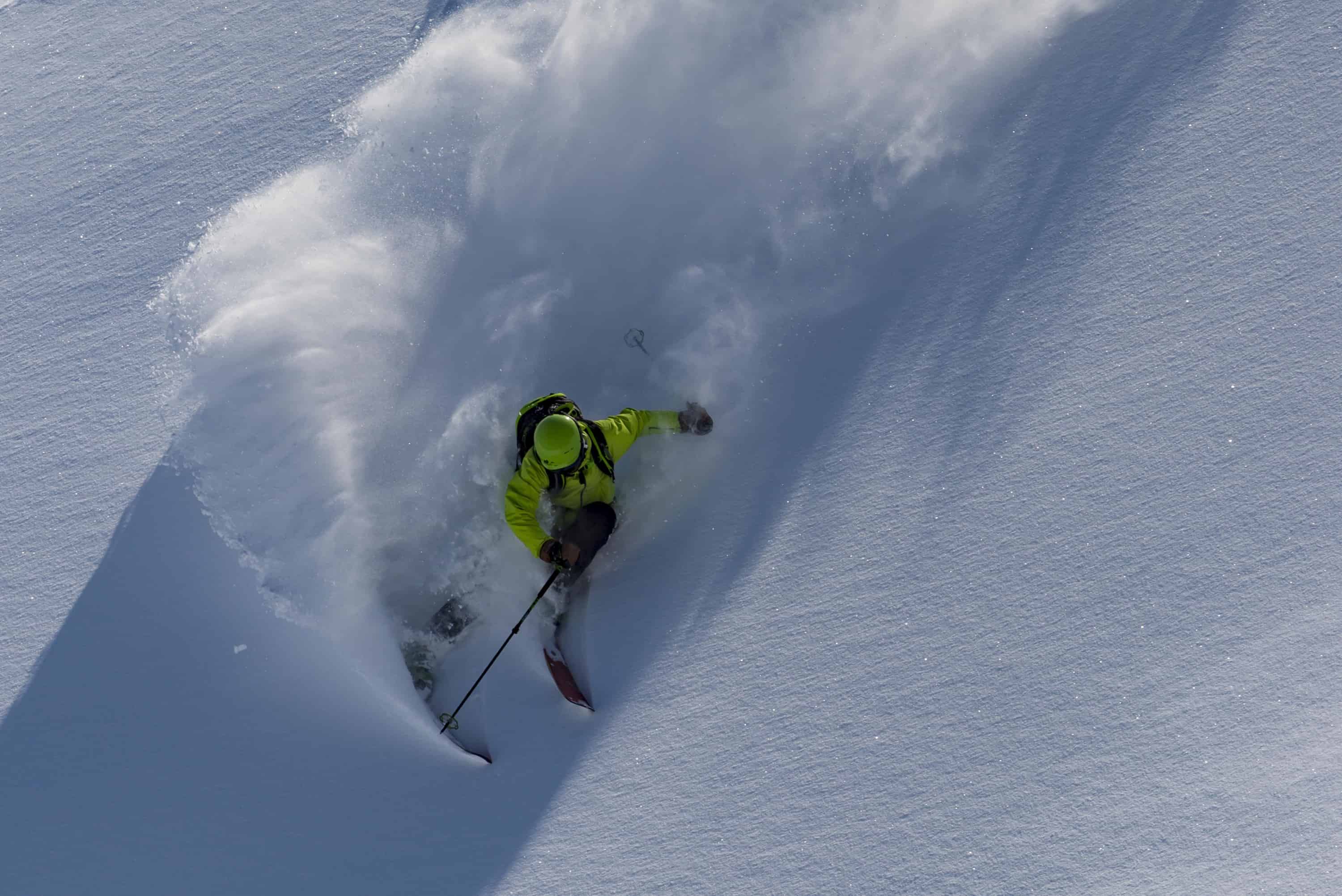 To match the resorts freeride heavy approach to grooming, the hill itself features a playful bowl-shape and resort management have gladed (thinned out) a number of in-bounds tree-runs and even championed, "make your tree run debut," as one of its slogans!
Whilst intermediate skiers can find their feet in one of the 13 official tree runs, the effect of the glading means more advanced riders can rip some truly fast pow turns like the ones below as well.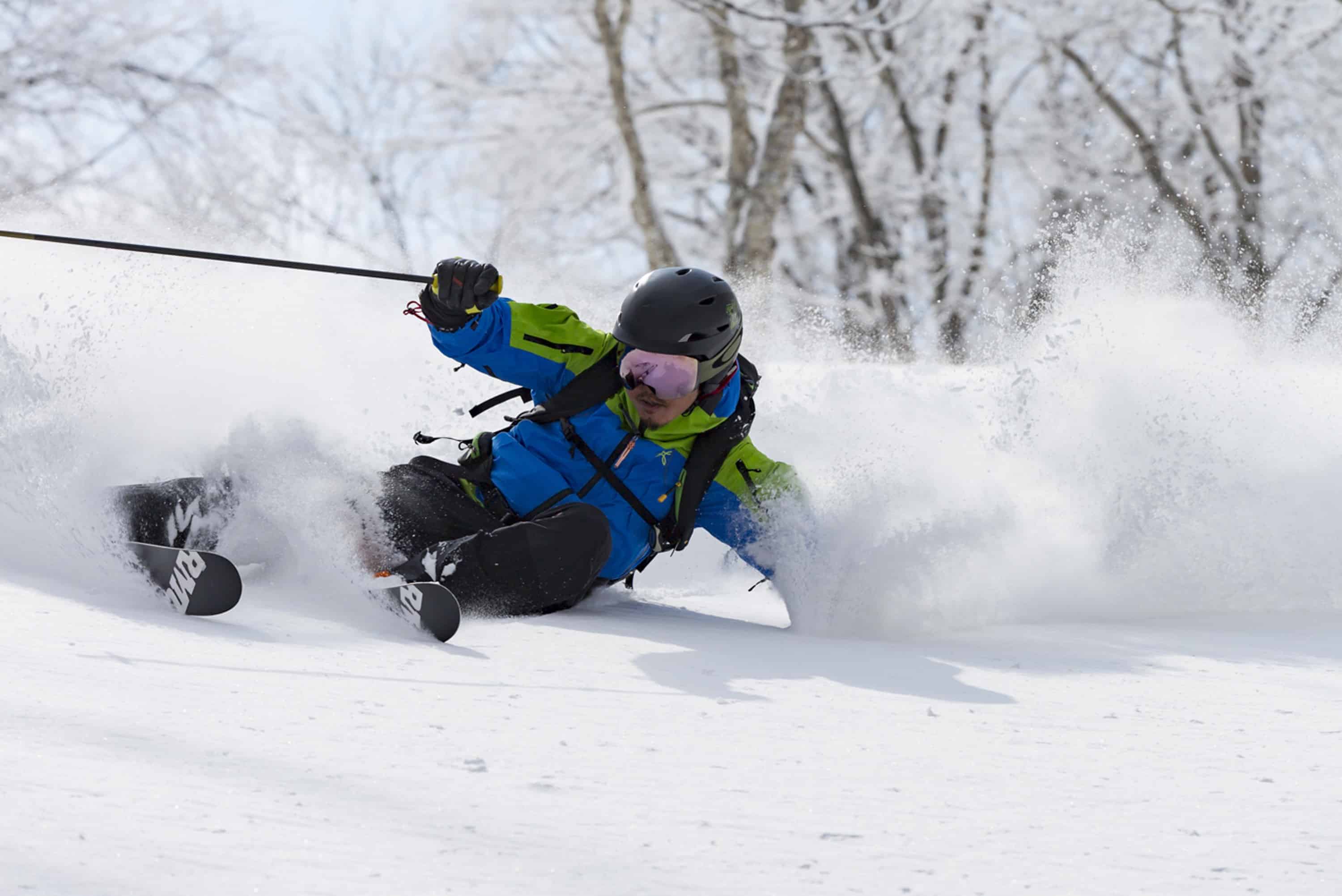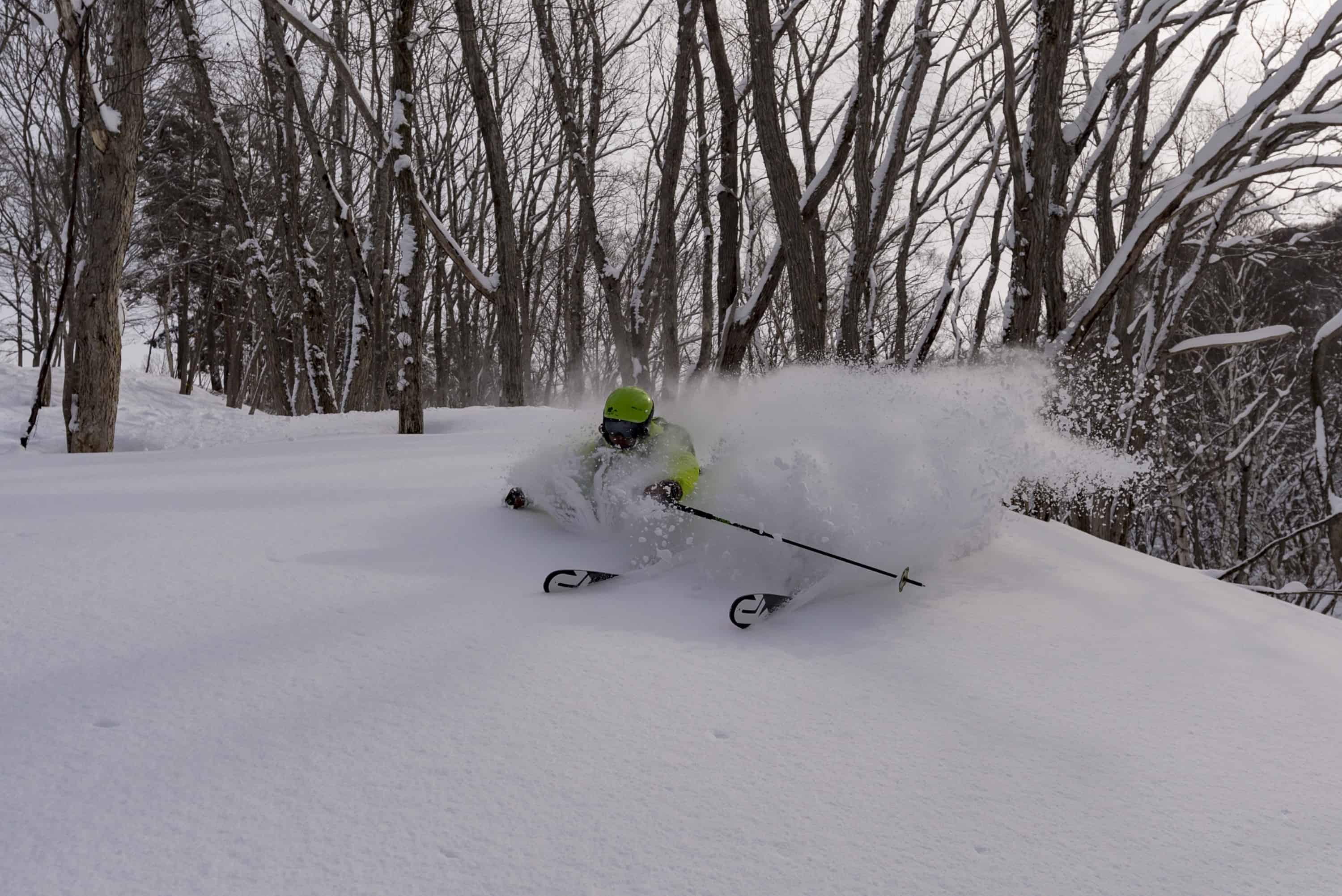 Skip to around the 1-minute mark for an insight into the kind of tree skiing you can expect at Madapow! Video:: Madarao Kogen
Not only can you ski surrounding Nagano resorts as previously mentioned, Madarao also adjoins the ski resort called Tangram Ski Circus at its peak, and you can ski or snowboard at both under one pass. While you won't come across any clowns at Tangram Ski Circus, you'll be just as happy with the 15 runs it offers in addition to all those on the Madarao side, and combined they make for a decent sized resort with 40+ runs.
Although neither ski area is particularly high in elevation, topping out at just 1382m, the northerly aspect ensures excellent snow quality. Whilst Madarao has a very lax approach to off-piste skiing and boarding – especially by Japanese standards, going so far as to encourage the act – the folk at Tangram have certainly been slower to accept its place in 21stcentury resort skiing.
Whilst a few gladed tree-skiing zones have been established in Tangram, on either side of a black run to the left of the ski area, the rest of the resort still precludes off-piste proclivities. Indeed, one might infer from this that there are plenty of fresh turns to be had if you can remain unseen, but you didn't hear that from us…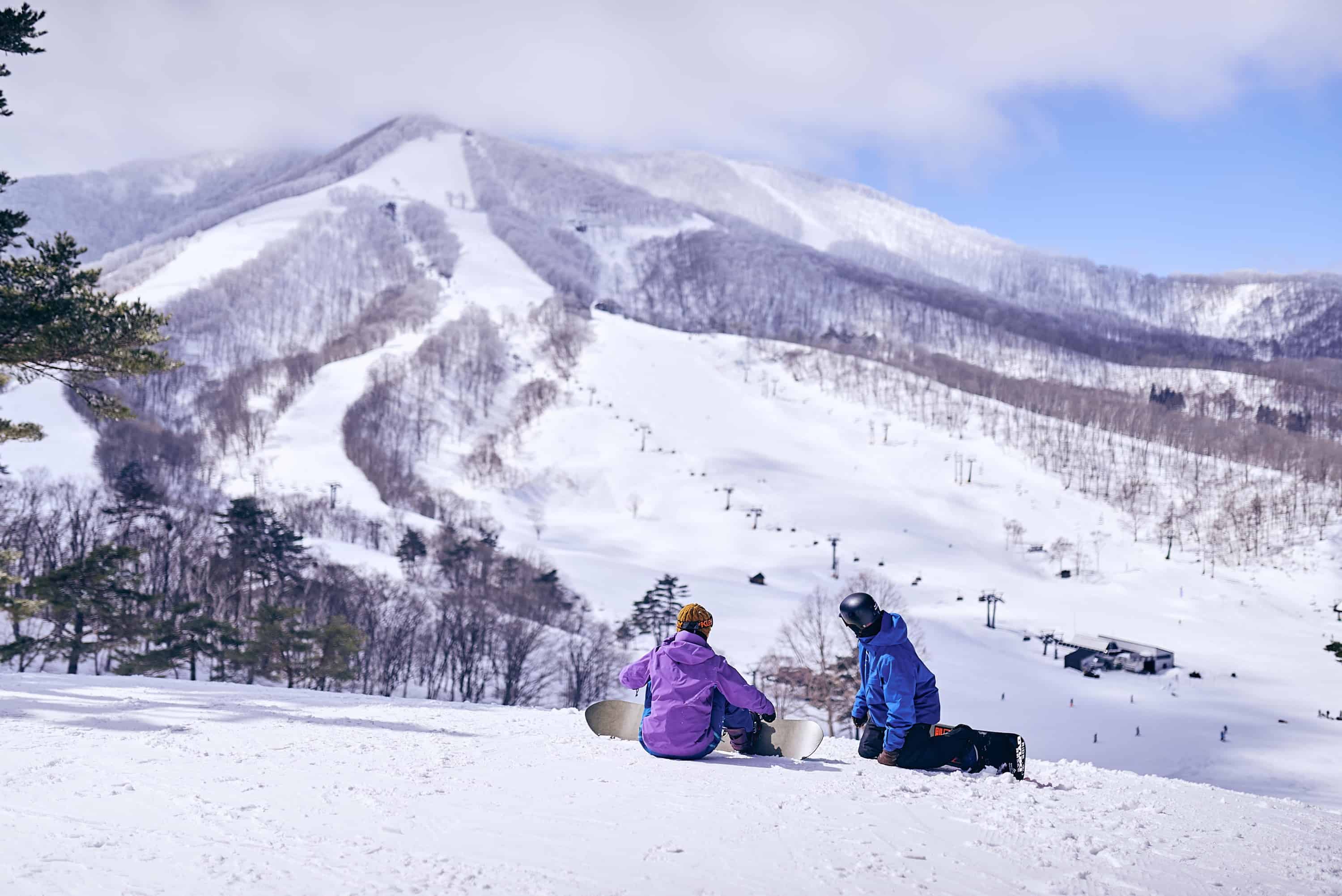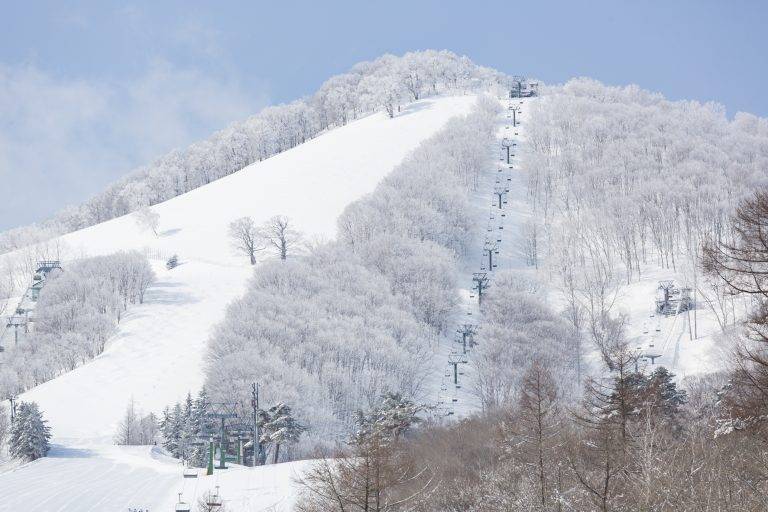 Getting There
Madarao is located 38km to the northeast of Nagano, on the border of the Niigata Prefecture.
Getting there is now speedier than ever thanks to the opening of Iiyama Train Station. A 110-minute Shinkansen (bullet train) ride from Tokyo to Iiyama, and a 30-minute bus/car ride will see you to Madarao. The Shinkansen also makes visiting Kyoto via Kanazawa a pretty simple exercise.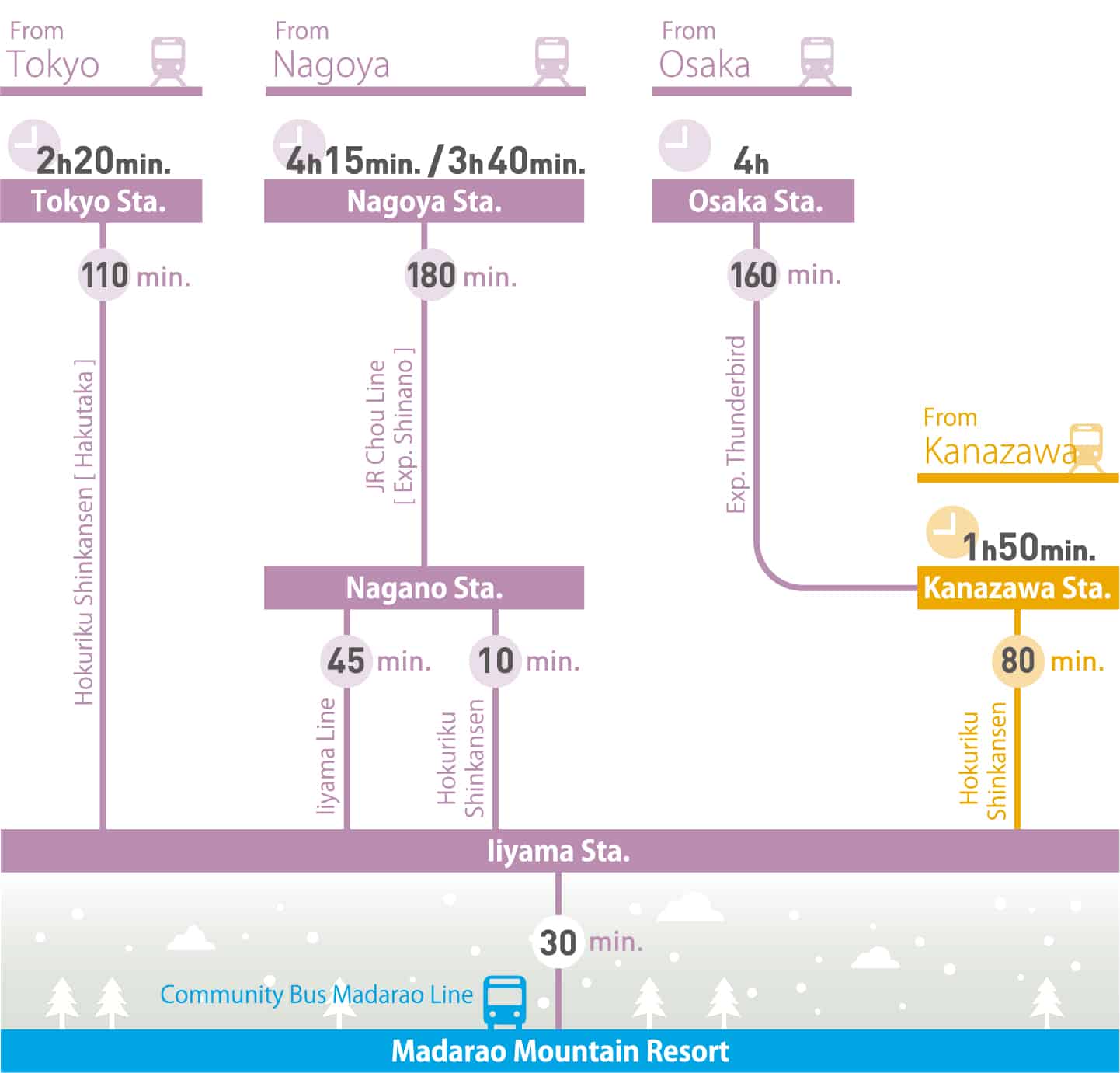 Alternatively, bus transfers exist directly from both Haneda and Narita airport going straight to Madarao and take around 5 hours. Fares per person/one way are in the realm of ¥12,000 – 12,750, and the Nagano Snow Shuttle service runs from 18 December – 17 May. You can book here.
Accommodation
Madarao Kogen offers a range of accommodation options, the most obvious being the resort run Madarao Kogen Hotel at the base of the resorts beginner slopes.
Located 3 mins walk (240m) from the Madarao ski lifts, exists Xplore by Active Life, also one of the biggest hotels in Madarao but newly renovated in 2018. To celebrate, Active Life is therefore offering up a special discount of 20% (coupon code: X20). There you'll be offered a choice of modern western style rooms or authentic Japanese rooms.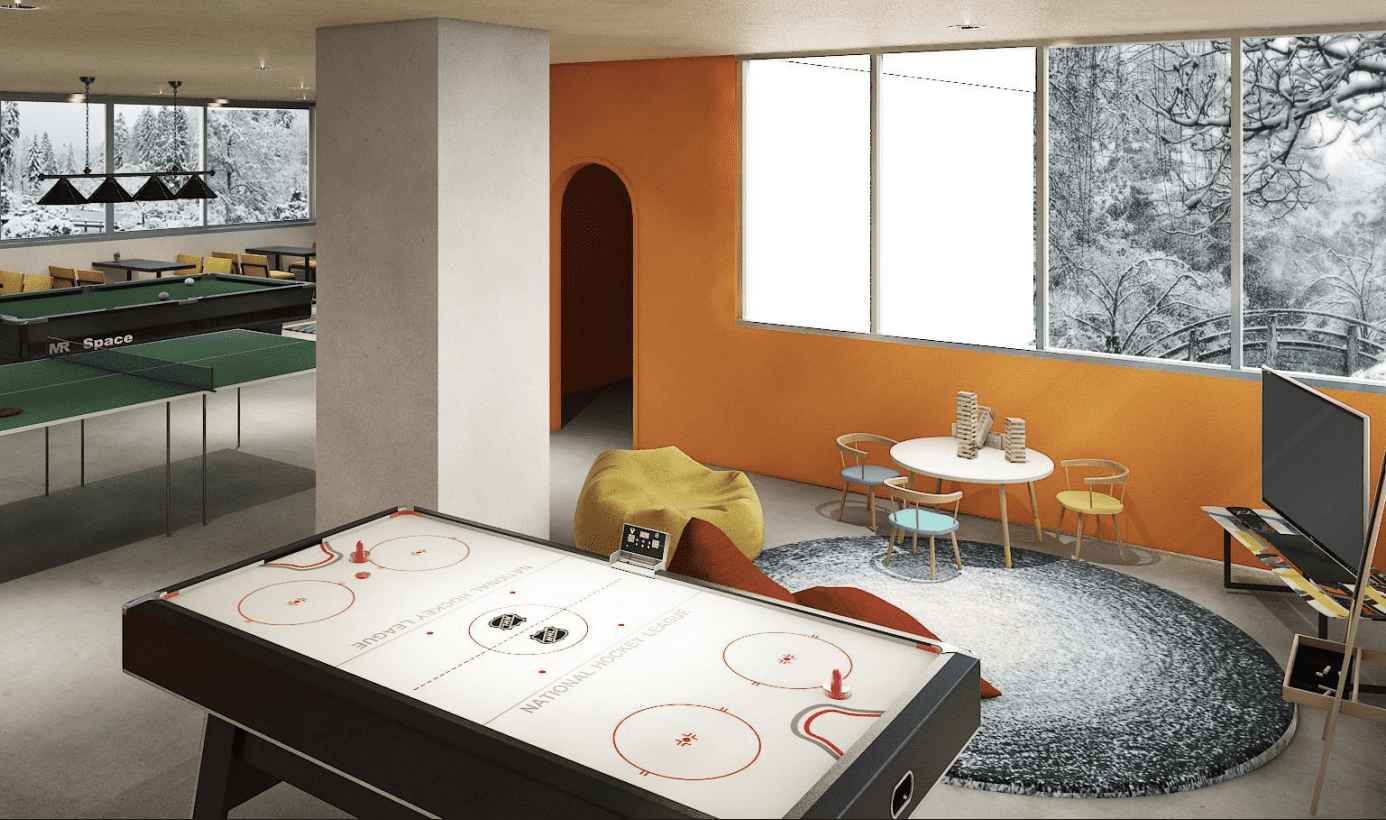 Other picks close to the skiing action include Active Life Madarao, Hakken or further down in the village a number of pensions and even a few self-contained lodges exist.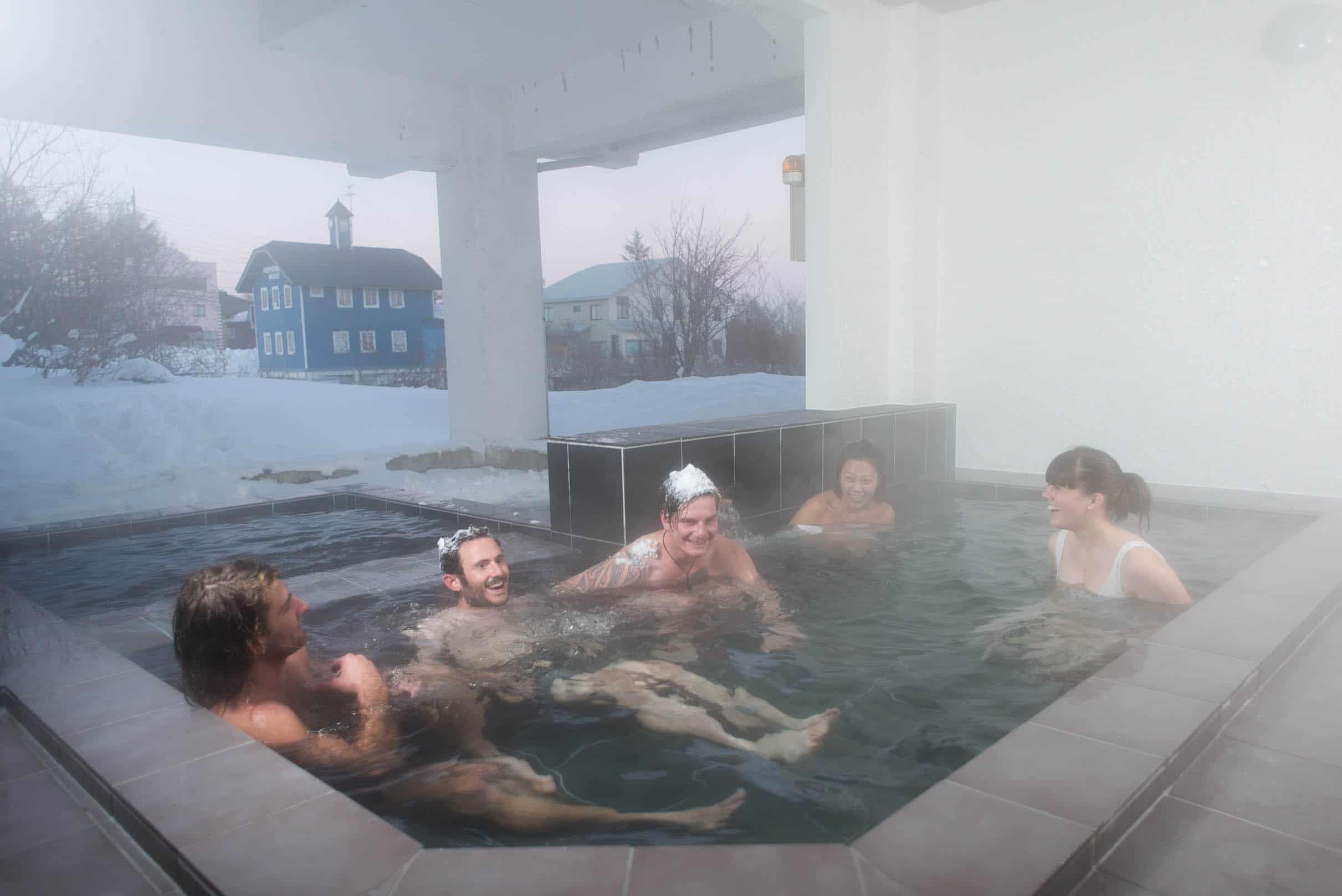 The best part of the Active Life range of accommodation has to be the extras that come with staying within their walls.
If you don't want the burden of driving yourself to some of the other Nagano resorts we mentioned at the start, the folks at Active Life will take you every day for free!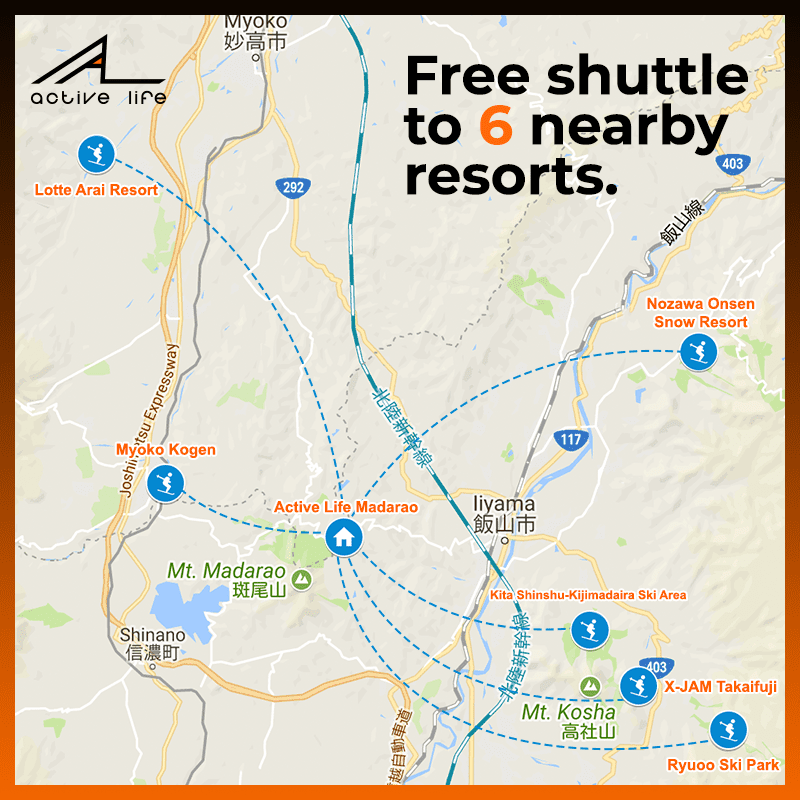 Moreover, Snow Club (ALSC) offers free an unlimited ski and snowboard lessons exclusively to guests who stay a minimum of 4 nights in any of the above-mentioned Active Life hotels. The hotels also offer discounted lift tickets to the tune of around 10% per day, purchased at the hotel front desk or online.
Non-skiing Activities
 Being in the heart of Nagano, Madarao offers all the non-skiing activities as the other big-name resorts in the area – if not even more easily accessed.
An undeniable fan-favourite is a visit to the Snow Monkeys at Jigokudani hot springs, which is only 50-minutes away.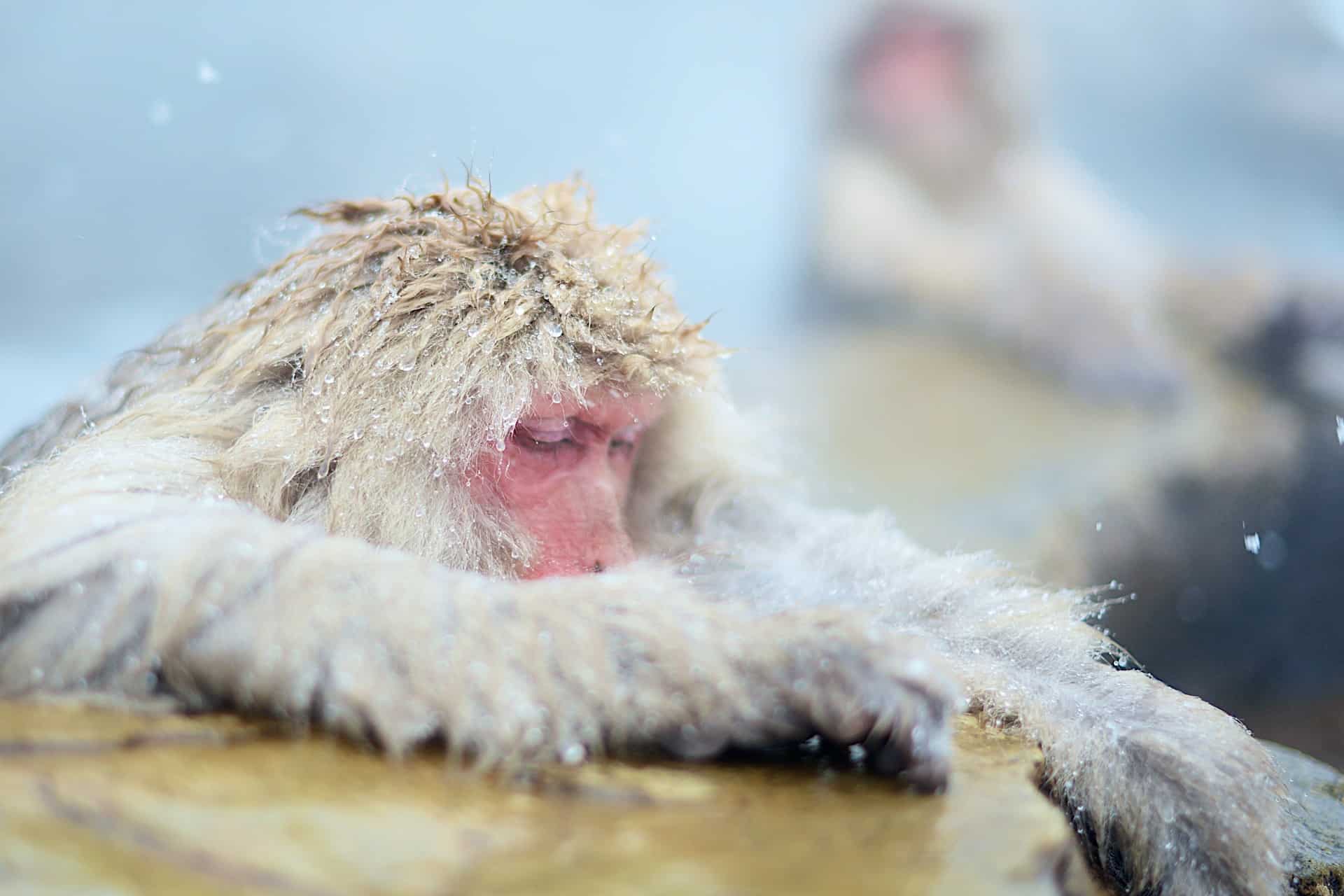 If you'd prefer to reconnect with civilisation a trip to Iiyama Town just 20-minutes away could be more to your liking. Iiyama is known as one of the snowiest places in Japan – which by default probably makes it one of the snowiest places on Earth!
In winter the city landscape is transformed under a white blanket, allowing for postcard looking photographs and if you're visiting in February you might be treated to the annual Iiyama Snow Festival, which runs on the 2ndSaturday and Sunday of the month.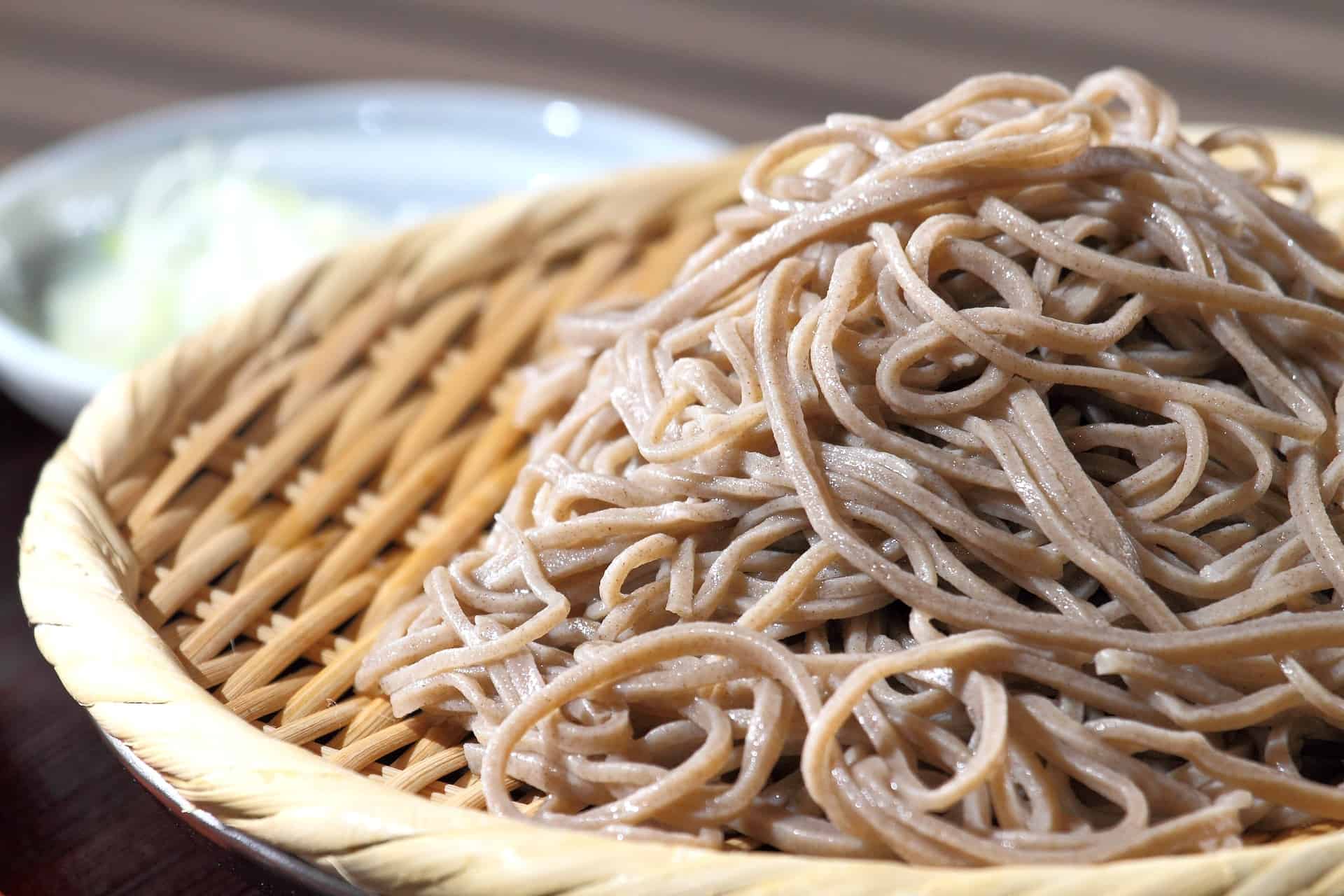 50-minutes drive from Madarao is the Togakushi-Soba Museum "Tonkururin" which allows visitors to not only eat Togakushi soba but to also try their hand at making it. Under the esteemed guidance of so-called 'Soba masters', visitors can enjoy making, cutting and ultimately eating their own Soba from start to finish.
The museum also displays a range of soba noodle making tools making it more than a simple cooking exercise and more a lesson on the history and culture of soba in the region.
Indeed, Japan is a nation characterised by culture and tradition. So it's no surprise ancient temples are scattered liberally across the island.
Nagano's Zenkoji Temple is perhaps one of the countries most esteemed and popular temples – which is nothing to be shirked at considering, by last count in 2013, a total of 77,394 temples were registered with the Agency for Cultural Affairs, and that's not even mentioning 'shrines'.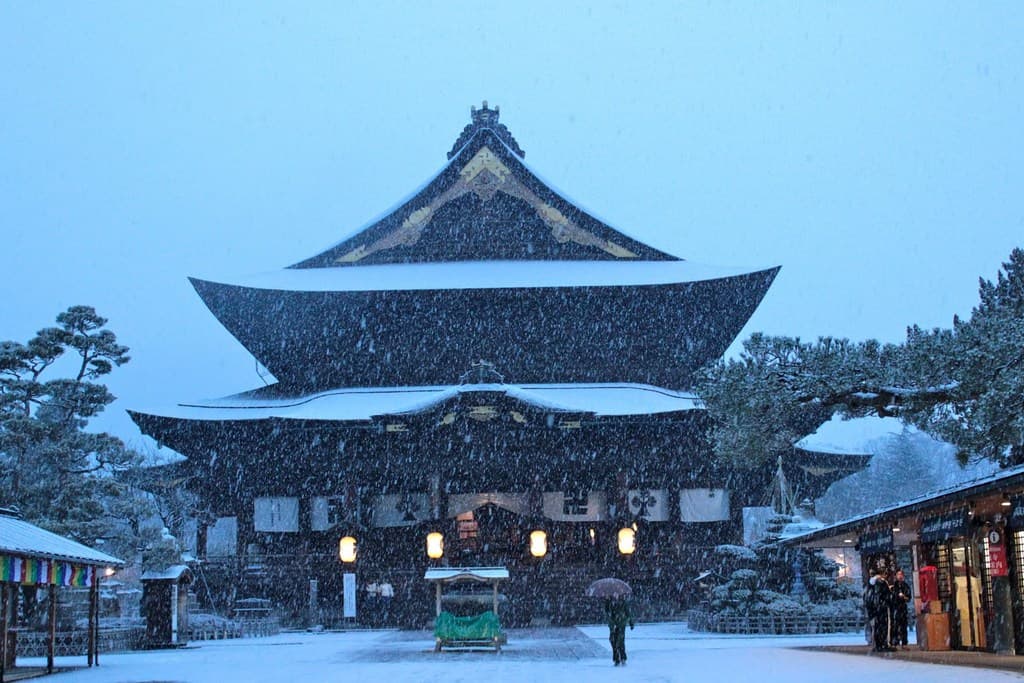 Founded in the 7thcentury, the temple stores the first Buddhist statue ever to be brought into Japan. However, before you get excited about seeing it, the statue is hidden away for safety and every six years a copy of it is put up for display instead. This certainly should not dissuade you from visiting, however, and the temple and surrounds still have plenty to offer.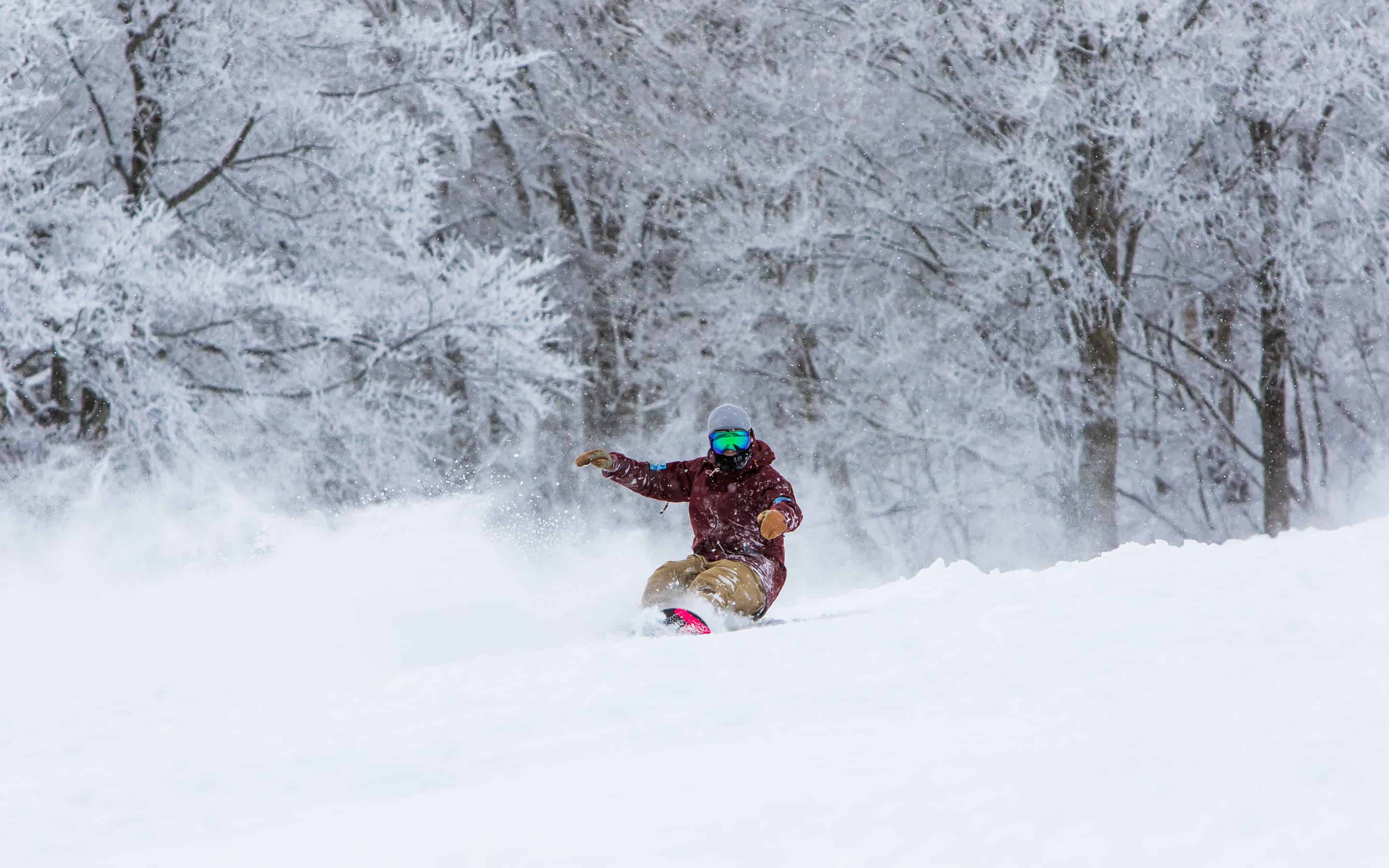 Mountain Statistics
Ski Season:
Early December to April 1
Summit Elevation:
1,382 metres
Snowfall Average:
12 metres
Number of Runs
40 (incl. Tangram)
Longest Run:
2.5 kilometres
Vertical Rise:
520 metres
Number of Lifts:
20 (incl. Tangram)
Terrain:
Beginner: 30%, Intermediate: 35%, Advanced: 35%