MAIN RANGE TOURING – Spring Skiing Adventures
October 13th, 2011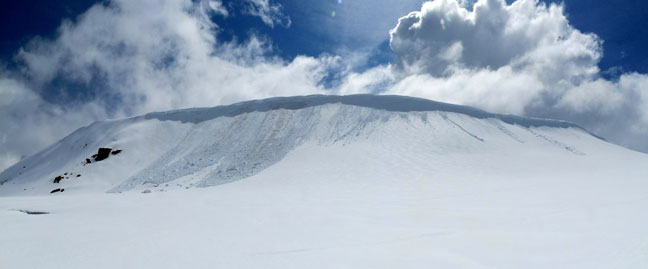 The Kosciuszko Cornice. Image:: Steve Lee
Spring Touring | Steve Lee
The Main Range is one of the Aussie snow scene's fantastic assets; big, open, easy to access and offering loads of riding options to those who venture out there.
Despite an average snowfall year the Main Range spring touring season kicked off with pretty much perfect conditions with a very good snow pack, both depth and condition wise – being clean and fresh – and the weather was spot on after the October long weekend winter snap.
Those in the know do know there's loads of great riding to be had post official snow season across all the alpine areas of Australia, with conditions holding out through October and often into November. The Main Range, with its altitude and loads of options over 2000m, is always solid for snow that time of year. And when I say easy to get to, the Kosciusko express out of Thredbo runs year round and deposits you right at the Range, so you can take the chair and kick off a day trip or extended stay already on the snow pack. A second easy option to drive to the edge of the Range via Charlotte Pass where a short walk, and chilly river crossing will see you on the snow in no time.

Afternoon sun on the Main Range. Image:: Steve Lee
Touring out to the top of Mt Kosciuszko from Thedbo is a great day trip and not a hard one to tour; standing on the top of Australia is a cool thing to do. There are lots of nice riding options (including the infamous Kosi cornice) on the way there and back, or you can follow the path and just meander across the top to the summit and back.
Out of Charlotte Pass you have easy access to Kosi but also all the lakes areas, which are famous for their challenging terrain, and a great collection big open spaces, step shoots and faces to ride.


Looking towards Mt Kosciuszko. Image:: Steve Lee
Gear wise, skiers need ski-skins and touring bindings while borders need snowshoes and poles. A good day pack with water, food and a few safety items is mandatory. I use my iPhone for maps, weather, and directions – All very important aspects, as things can change quickly out there – and of course you have to have some idea of how to use all your navigational tools.
But touring on the Main Range isn't just for experts, there's plenty of terrain for intermediate skiers to enjoy and even just walking out and about on touring skis can be enjoyable.


Heading towards Blue Lake. Image:: Steve Lee
We enjoyed just two days, one to Kosi on Friday 7 October, where amazingly we did not see one other person. The following day we headed from Charlotte Pass out to Blue Lake with a steady flow of traffic about.
Enjoy the pics and if you are still hungry for some lines, you have several weeks of opportunity to do so.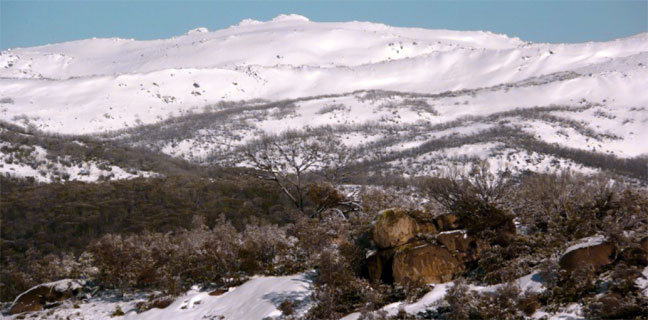 The Main Range. Image:: Steve Lee
Charlotte Pass forecasts,
snow reports and
live snow cams.
Thredbo forecasts,
snow reports and
live snow cams.