Michaela Davis-Meehan – A Big Season Ahead as the Aussie Snowboarder Chases a World Title on the Freeride World Tour
December 4th, 2019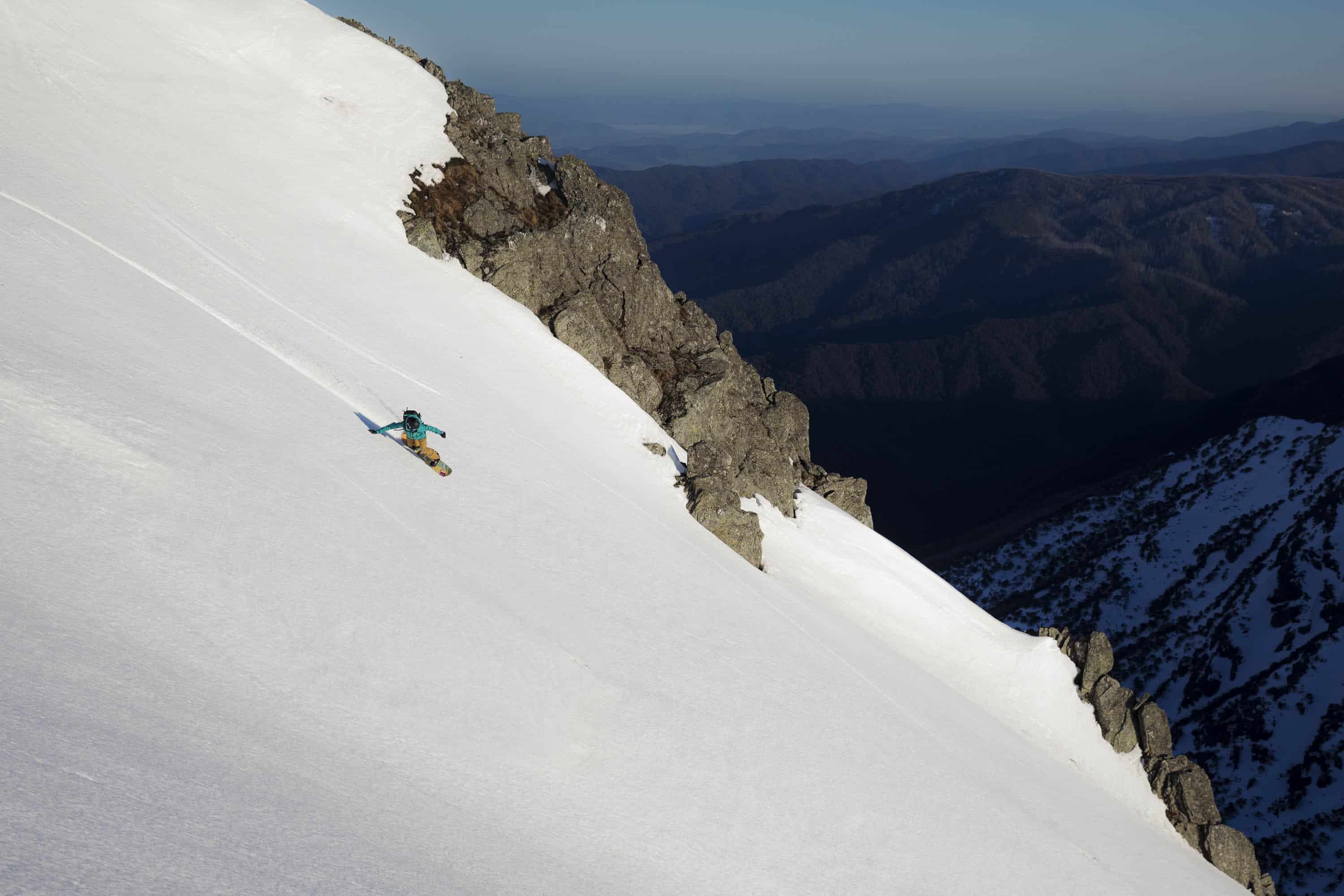 Mountainwatch | Reggae Elliss
Michaela Davis-Meehan is about to begin her first year competing on the elite Freeride World Tour, the Newcastle-bred snowboarder qualifying after winning the 2019 Qualifying Tour. Michaela grew up riding Perisher and was one of our leading slopestyle riders, but given her sense of adventure it is not surprising that Michaela's focus turned to big mountain freeriding. Michaela's summer base is Kingscliff on the NSW North Coast and Mountainwatch recently caught up with the her (in between surfs) as she prepares for the 2020 tour.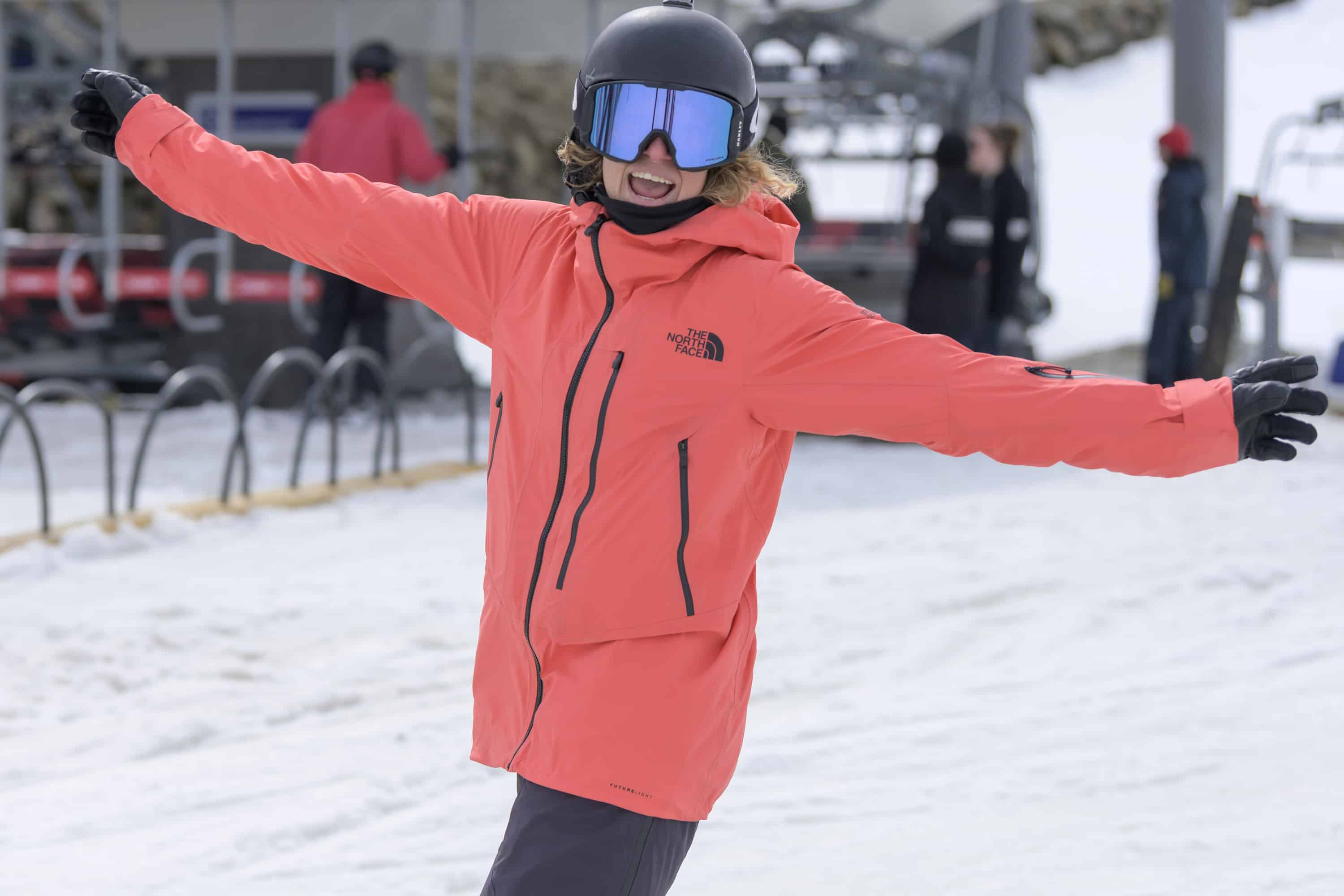 MW: First Michaela, congratulations on the making the FWT – that is a big deal, competing on the elite big mountain world tour with the best snowboarders in the world.  It is a long way from when you were first introduced to the snow by your parents at a young age at Perisher. How often did you head to the Snowy Mountains as a kid?
 MD: It started out as a weekend here and there, then turned into school holidays and escalated to every weekend which was a huge deal seeing we lived a seven-to-eight hour drive away from the snow. In year 9 I went to boarding school in Jindabyne for the winter – just so I didn't have to make the drive. Once I finished school I started doing seasons and then chased the snow between Australia and the Northern Hemisphere.
When did you get hooked on snowboarding? 
Seeing I started at a young age and am still loving it today, it must have been from the beginning. I started on skis, but it wasn't long before I followed my brother Pat into snowboarding.
What is it about snowboarding that kept you into it? What is your favourite thing about snowboarding?
Besides the obvious of snowboarding being super fun, it's probably the lifestyle that keeps me coming back year after year. When you take the most amazing people that share the same love of snow and adventure as you and put them all into a small town you're bound the have a great time. The people, the snowboarding, the travelling and of course the partying … it's been the best times of my life and that's what keeps me coming back.  My absolute favourite thing about snowboarding is going out riding with a bunch of mates, cheering each other on, pushing each other to hit features and just having fun. For the cherry on top, make it a powder day.
How did you get into competitive snowboarding?
I grew up riding with the Perisher Winter Sports Club doing some local competitions which I did really well in. I started winning, so I kept competing.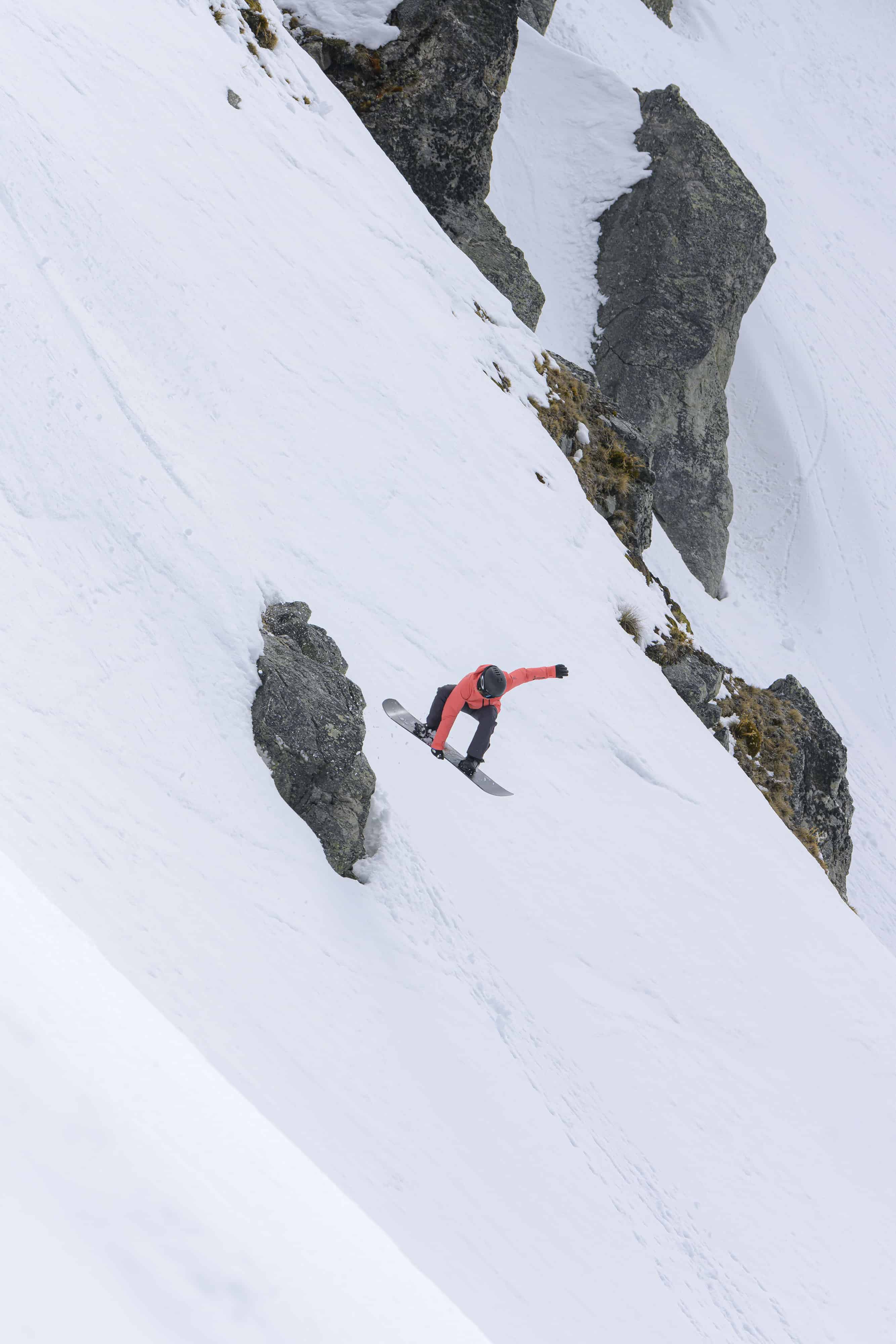 You were a serious slopestyle competitor and we're on the shadow team for the 2014 Olympics. Why the switch from park to freeride? 
Once I started freeriding I just wanted to keep doing it. I finally had found my niche. For me freeride events have a much more fun, relaxed vibe to them. I had also been doing slopestyle for many years and was excited to try something new. I just want to have fun and do my thing and I think the Freeride World Tour (FWT) is the perfect place for that.
Yeah, it looks relaxed and obviously a lot different to competing and training in terrain parks. Did it take much to adjust from competing in parks to the rawer nature of big mountain events?
 I was on a splitboarding trip with Aline Bock (former Freeride World Champion) in Livigno, Italy, and she said I should try competing in a freeride comp. I didn't know much about it, so I looked it up, entered, and won my very first event!! And just like that, I was hooked! Of course, my mum was on the ball as per usual and had mentioned it to me before. Then, slopestyle kind of faded into the back ground and I just wanted to freeride. It's a very different sport to slopestyle, I think the hardest adjustment is switching from jumps with a man-made ramp and landing to cliff drops which have no set take-off, no set landing, like the name suggests, you just drop! I still love cutting laps through the park, but It's just as awesome to go explore the rest of the mountain. You have to start in Freeride World Qualifier (FWQ) in the 2-star events and work your way up through the seedings, so you can get a start in the 4-star events. It's a good system – it makes sure that competitors have some experience under their boards before they take on the bigger, gnarlier faces.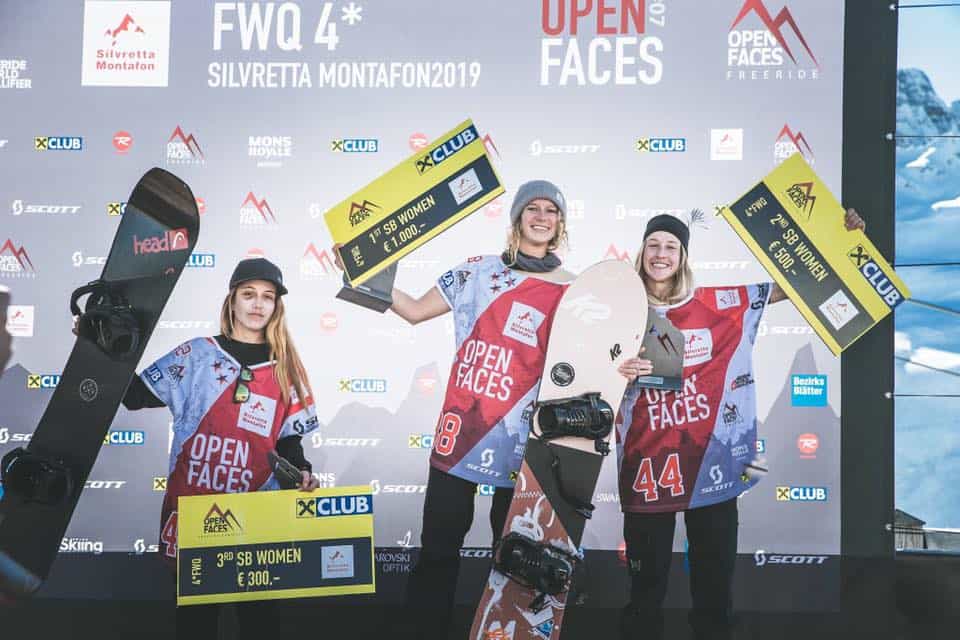 When did you decide to chase the FWQ tour seriously? Was qualifying for the FWT a big goal?
The saying goes, "In it to win it!" At first it was more just having a go and having a good time. However, as I started to appreciate how technical the comps were, and I started having more successes than crashes, I began to think that making the FWT was something I'd love to achieve. The more I competed, the more it became a reachable goal and the more I wanted it. There are only six snowboard women on the FWT and only the winner of the FWQ gets promoted to the FWT.   2016 was my first year on the FWQ. My first event was in NZ (The North Face Frontier), then I went over to Europe and did a few comps to see what it was all about. It was epic. The following year I got my best mate Amber Arazny involved and we hired a car in Europe to follow the tour for a couple months where we earned ourselves the nick name of the 'crazy Aussies'. It would have to be one of my favourite trips of all time.
I can imagine. You had a pretty solid year in 2017, finishing fourth on the QS rankings, but then in 2018 you had a pretty major setback.
In 2018 I tore my ACL and had a knee reconstruction. Not wanting to go back too early and risk of re-injury, I took the whole year off. In 2019 I thought I'd give it another crack and see how I went. Not knowing how my knee would hold up, although I had done all the right rehab, I thought I'd ease back into it this season; but something clicked for me … I don't know if it was the time off or having a couple seasons of the FWQ's under my belt, but I just started winning everything and next thing I know, I've made an amazing comeback and made the World Tour baby!
Yep, on the world tour which is awesome. When you sat out the 2018 tour with the knee injury did you ever think about doing something else or was qualifying for the FWT a motivating goal to overcome the injury?
Every off season I think I should get a "real job", but then I go snowboarding again and think Nah!  I was still pretty new to the FWQ when I did my knee, so I wasn't ready to stop just yet. I do always wonder what I'll do after snowboarding, but until I figure that out, I'll continue to be the best snow bum I can be.
You had a big season last year , winning a couple of four-stars. How did you feel when you knew you had qualified for the 2020 world tour?
 I was hiking up to the start of the comp at Obergurgl forwhat was meant to be the last event of the Qualifier Tour. However, it got cancelled due to terrible conditions that were really unsafe. Someone rode down from the top to tell us the news and that I've made the World Tour. I was a bit sceptical at first because I didn't know if it was official or not, then more people rode down and confirmed it. I was amazed and excited and a little bit in shock. I honestly could not believe that I had done it. I was happy and proud of myself. I had to keep pinching myself all week. Like holy shit, did that really just happen?
Not many Australians follow the big mountain tour. The last snowboarder was Tasmania-born Amber Scheuker who did well and placed fourth in the overall rankings in 2014 and also Nat Segal who was on the women's ski tour in 2013. How hard it is for an Australian to do? What obstacles have you had to overcome to be make it to the FWT?
A big one is that we don't have the big mountain terrain here in Australia so unless you're going overseas or to a couple spots in the Aussie back country you don't get to ride it. The other major things are time and money. The majority of the athletes are European and can go home in-between competitions. It's a bit harder to come home to Australia so I spend three to four months in Europe following the tour and riding in-between.
There is still a lot of travelling involved and the associated expenses – accom, hire cars, airfares etc. Do you just work your butt off in summer in the lead up to heading overseas? What work are you doing now – in between surfs?
There's no government funding available for freeriding because it's not on the Olympic pathway. So, I keep people hydrated by pouring beers at the pub and saving as much as I can. I've found bartending has been the best and most lenient job I can do with my travel/sporting habits! I also do a little bit of snowboard guiding with Mint Tours. I'll be guiding for them leading up to the first event in Japan for their Freeride week in Lotte Arai alongside fellow Freeride World Tour rider Erika Vikander. I also have set up a go fund me page for people to donate and support me on this epic journey.
That's cool, people can donate and help you become Australia's first FWT world champion, so don't be shy people! Now, the comps are held in some gnarly terrain and people push it. Did you have much experience in big mountain terrain when you started to compete in the freeride events?
No, not really. I've ridden some side country and gone over the back at resorts, but had never done faces like some of the events and still to this day haven't really done much outside of the freeride qualifiers. But I think that's why I am loving it so much because it's all new to me! I'll definitely be out of my comfort zone on the World Tour but I'm excited to learn more and it's fun finding out what I can do!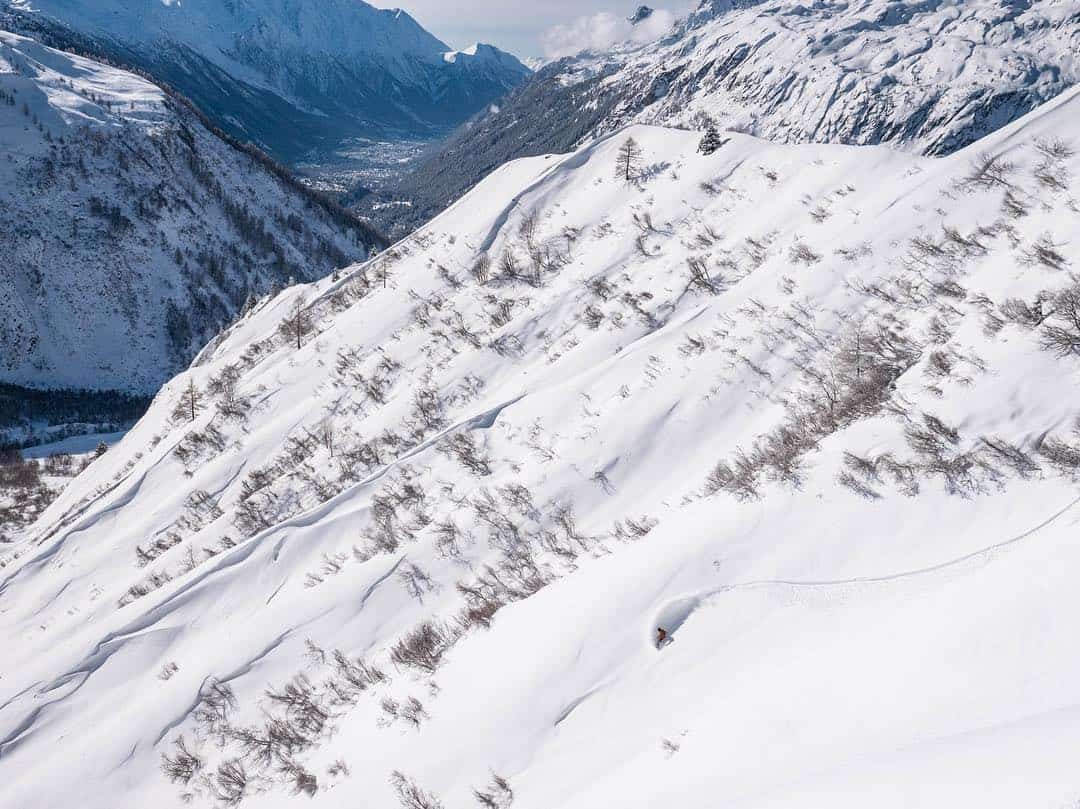 Hitting a 70-foot big air or riding the Bec De Rosses – what's scarier?
That's a tough one! Because I haven't hit big jumps for a while I would say a 70ft kicker. I did the Bec De Rosses for the first time last year in the worst snow conditions, so coming down that crazy steep run on hard, rutted out snow definitely got the heart pumping, once I start hitting some of those drops, Bec De Rosses will definitely take the cake!
It's fair to say you have an adventurous spirit and like adrenalin.  I saw that you even had a couple of boxing matches – how was that?
I'm always trying new things to get my adrenalin fix! I love surfing and I just learnt to paraglide. My friends are always asking what crazy thing I'm doing now. I recently did a 10-week boxing challenge, and at the end of it had my first ever boxing match. The adrenalin for that whole day was amazing. I was so excited and nervous. They put us on right before the Pros, so we had the full experience. 1500 people, smoke machines and a walk out song; mine was 'can't be touched' – Roy Jones. Even my parents came up to watch. I won by a technical knockout which makes me undefeated. It's also great motivation to keep you working out as you don't want to get beaten up. I would do it again, but only ever as an amateur. I've given myself enough concussions snowboarding, I don't need any more.
You grew snowboarding up with Amber Arazny and the two of you have done some interesting things, including snowboarding in Iran for the film Persian Powder. An awesome film by the way How was that?  I know Iran has good mountains and can get quality snow, but it was a hard-core trip for two young women – how was it? Did your parents freak out when you told them the plan?
Iran has to be one of the coolest places snowboarding has taken me! We stayed with Iranian snowboarder Mona Seraji which definitely helped with the language barrier. The culture, the mountains and the people are incredible!! I would love to make another trip there someday. Amber and I decided to keep it a secret and didn't tell anyone we were going there until we arrived, my mum and dad made plenty of guesses, but couldn't pick it. They were very amazed and excited when I told them we were in Iran. They always encourage living on the edge.
The first event is in Hakuba in January. What is your pre-season training/preparation?
Off-snow training has always been a struggle for me, I get over the gym quickly so I'm always looking for something different and fun that keeps me fit like surfing. Now that I've made World Tour I really want to step up my game and be the best I can be. On top of surfing I'm doing Muay Thai (a martial art) a few times a week and I have finally found a PT that works for me and knows his stuff. We do a lot of balance and strength training. I know I'll stick to it till January and hope I can feel the difference when riding!  The saying on the Tour is "Legs of Steel" … that's what you need to land those big drops.
Another positive thing to wrap up a pretty good year is you've just joined The North Face – a big international mountain brand with an amazing team of athletes. How is that going and how did it come about?
It is amazing! I'm so excited to be a part of such a huge and well-respected brand. Being a part of The North Face family has already given me so many great opportunities including snow camping for the first time in the Australian backcountry and also a trip to NZ for the product launch of Futurelight. They are doing some great things and I'm excited to be a part of it. They are so professional and supportive, and the gear is next level.There were some people I know talking to The North Face and putting in a good word for me, but I think what kicked things off is that Amber Arazny and I applied for their adventure grant. We were not successful, so I sent them an email to get some feedback … the conversation continued from there and they were looking for an Aussie female snowboarder to join their team … budda bing, budda boom, I now ride for The North Face.
Awesome and it caps off a big year. Congratulations again for making the world tour. Thanks for talking to us and we hope you smash the tour. See you in Hakuba.
Yep and 2020 is going to be even bigger. Thanks heaps for sharing the stoke. A huge shout out to my sponsors, The North Face, NFPD Brand, K2 snowboarding and Twelve Board Store for the continuous support. J-pow here we come.
If you want to support Michaela and help get success on the Freeride World Tour hit the link:
https://asf.org.au/athletes/michaela-davis-meehan-freeride-world-tour-2020/