New Zealand Forecast, Monday Sept 4th –  Head Up Today Before Strong, Mucky Northerlies Get Going
September 4th, 2023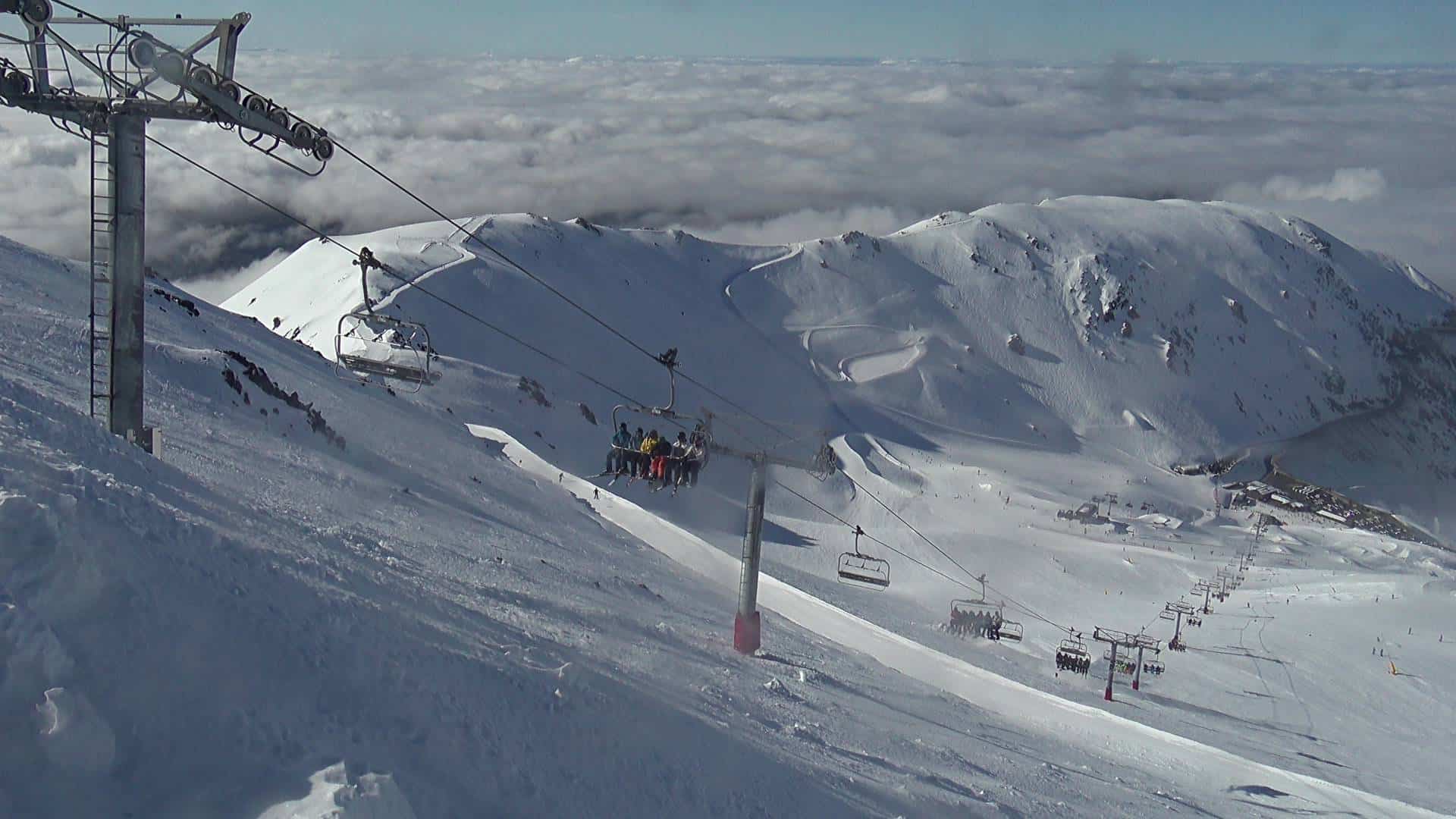 Mountainwatch | The Grasshopper
Written early Monday 4th September, valid to Thursday 7th September
Today is the pick of the bunch here in NZ. The following few days will be much less pleasant under the influence of a strong and warmish N-NW flow as a couple of fronts pass over from the Tasman. These fronts will bring mostly rain, with snow only falling up high. However, colder air on Thursday will see snow falling to lower levels, before clearing out later in the day as winds settle down and pressures rise one again.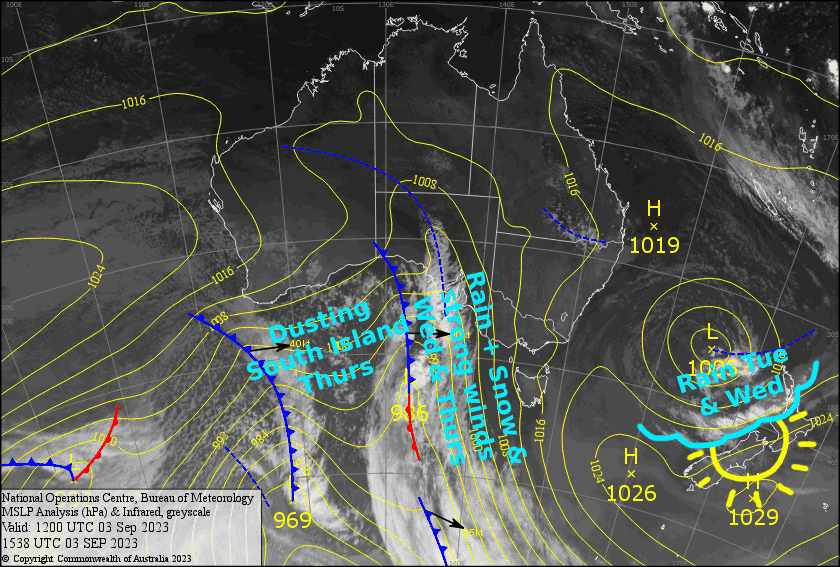 Monday 4th
There is extensive low level cloud throughout the South Island, which may affect the lower slopes of some resorts in Canterbury where there could also be a little drizzle about Mt Hutt and Porters Pass. Otherwise, it'll be clear and sunny. NE winds, light for the Southern Lakes.
Another mint day up on Ruapehu with just some high cloud overhead and a NE breeze.
Tuesday 5th
Plenty of cloud over the South Island. Showers will kick off on Treble Cone and Canterbury club fields from late afternoon, falling as snow up high, then becoming more persistent and spreading elsewhere at night. Northerlies picking up, becoming strong up high in Canterbury.
A much grottier day for Ruapehu where there'll be rain and times and strong northerly winds in exposed areas. However, snow should fall about the upper slopes.
 Wednesday 6th
Strong N-NW winds over the South Island will have rain spilling onto Treble Cone and the Canterbury Club fields, with a few showers making further east to the other resorts. The precip will back off later in the afternoon and we should see snow falling up high at times as snow levels fluctuate. Winds will be blowing a gale in exposed areas of the Southern Lakes, but severe gale in Canterbury.
More rain for Ruapehu as northerly winds gradually bend to the NW. Snow only falling up high again.
Thursday 7th
Snow will be falling on Treble Cone first thing, with light flurries reaching the other resorts in the Southern Lakes. That'll clear up pretty pronto, but snow flurries will return for a time during the afternoon south of the Crown Range. Strong, chilly NW winds gradually easing while turning SW.
In Canterbury, remaining snowfall about the club fields will clear during the morning for a fine day. Gale NW winds gradually ease while turning SW.
A period of heavy rain on Ruapehu during the morning, with snow likely reaching mid-slopes, followed by clearing skies as strong NW winds gradually ease.
Extended Forecast
High pressure will keep the sun shining over NZ during Friday, although NW winds will pick up over the Southern Lakes. Those NW winds will blow a gale before a cold front passes over the South Island during Saturday, giving resorts there a dusting of fresh snow.
The South Island will see a few more light flurries between bouts of sunshine from Sunday through early next week, while temperatures remain freezing as NW winds gradually turn to the SW. The snow guns will get a good stretch to work their magic.
Up north meanwhile, the cold front will pause over the central North Island during Sunday, bringing a mix of rain and snow to Ruapehu before cold southerlies likely arrive next Tuesday, with a possible dump to low levels on the cards.
That's all from me today, folks. I'll see you again Friday.
Grasshopper