New Zealand Forecast, August 24th – Quiet And Calm Today And Friday Before Light Icy Southerlies Bring A Dusting Of Powder This Weekend
August 24th, 2023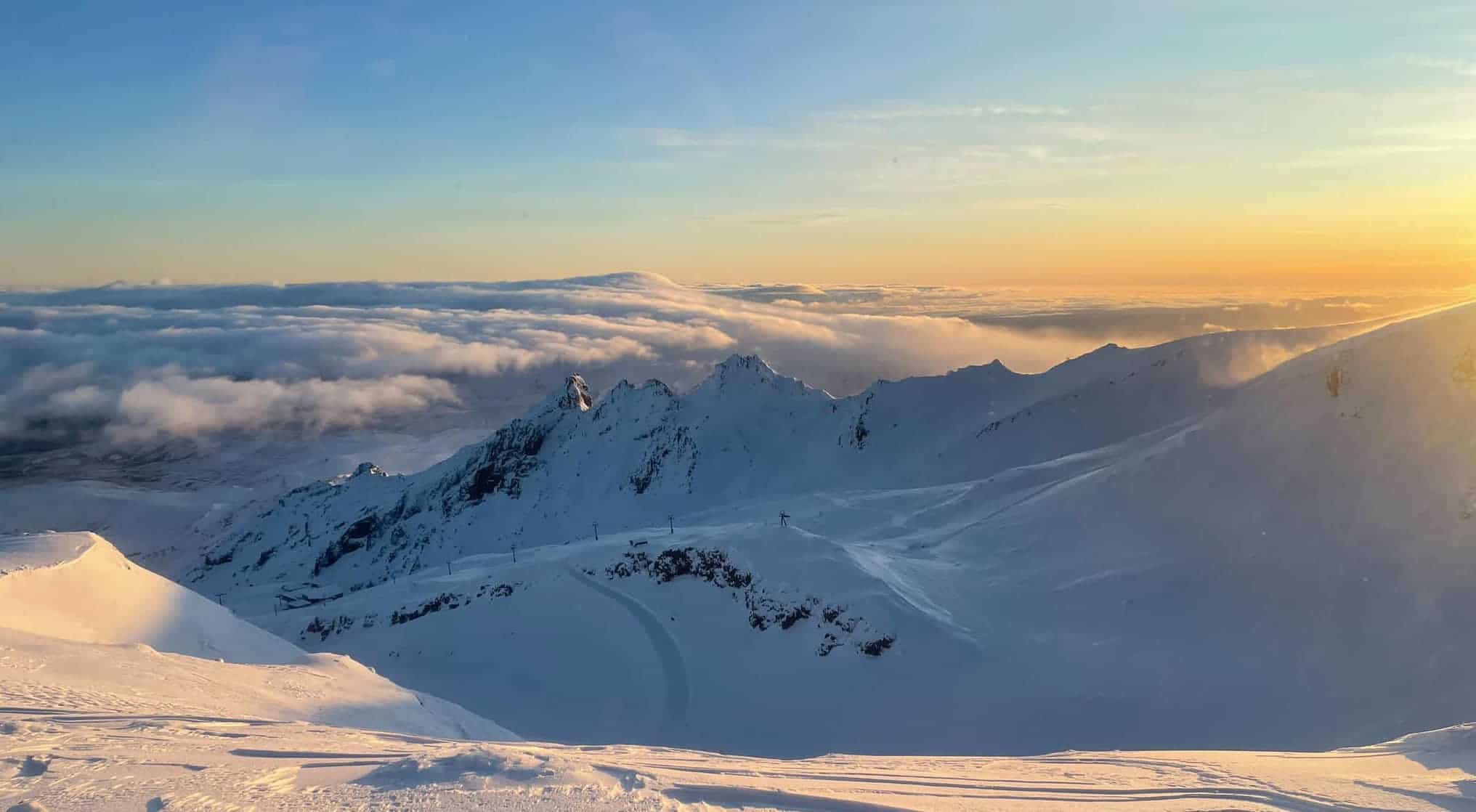 Mountainwatch | The Grasshopper
Written early Thursday 24th August, valid to Sunday 27th August
A ridge of high pressure will keep the weather under control today and Friday, with light winds and plenty of sunshine providing great conditions to head up the hill.
This weekend, a light, but icy cold southerly will work its way up the country, giving the Southern Lakes a light dusting late Saturday before dropping a neat pile of powder over Canterbury of up to 4-8cm deep during Sunday. Ruapehu will also see snow falling during Sunday, but temps will be marginal on the lower slopes as the cold airmass won't arrive until late in the day.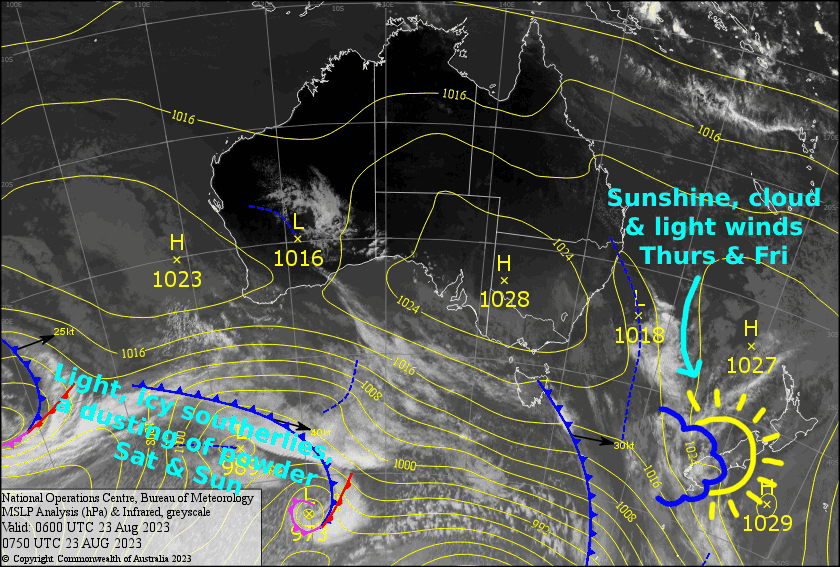 Thursday 24th
A mostly fine day for the South Island above any low level cloud, although there will be scraps of high cloud flying by well overhead. Light S-SW breezes tending SE.
Another mint day for Ruapehu, with a little afternoon cloud and super light SE breezes.
 Friday 25th
Another mint day for the South Island with light winds. There'll be a little high level cloud, mostly over the Southern Lakes.
A calm day for Ruapehu, but cloud will build over the Manga and there could be a light snow flurry or two during the afternoon.
Saturday 26th
A bit of cloud over the Southern Lakes with gusty NW winds and one or two snow showers reaching Treble Cone. Then, a cold SW change will bring a dusting of up to a few centimetres from late afternoon through the evening.
Canterbury will have blue, sunny skies during the day as NW winds pick up. A cold southerly will arrive at night bringing mostly light snowfall.
Resorts on Ruapehu should be in the clear, above any low level cloud, while a light SW breeze develops.
 Sunday 27th
Icy cold southerly winds (not too strong mind you) will push in a bit of cloud over the Southern Lakes, but there'll be plenty of sunshine sneaking through with freshies to be had.
Snow will continue to fall over Canterbury throughout the day and icy southerly winds should remain light, so it'll be a great powder day, but take your rose tints as the visibility will likely be low. Snow will clear at night, leaving up to 4-8cm of fresh powder.
Snow will start falling over Ruapehu during the morning although it could turn to sleet/rain about the lower slopes for a time. Snow will ease during the evening as SW winds drop off, leaving about 1-5cm in total.
 Extended Forecast
Come Monday, the cold southerlies will have arrived at Ruapehu, and snowfalls there during the day will see resorts receiving a nice top-up to low levels. Down south meanwhile, brisk, icy SW winds will bring more snow showers to the Southern Lakes.
Winds will gradually bend around to the NW during Tuesday and strengthen, and by Wednesday they'll be blowing their guts out while heavy snowfall spreads up the South Island. However, temps will be marginal on the lower slopes where we're likely to see a tonne of either rain, sleet or wet heavy snow falling. The wind, rain and snow will continue through Thursday before a cold airmass arrives sometime on Friday or even Saturday, bringing what could be a decent dump of powder. It'll be a rough few-several days for the southern resorts, and operations will likely be limited during this time. However, during this time, Ruapehu won't be quite so bad with brisk, persistent westerly winds pushing cloud and showers or rain/snow.
That's all from me today, folks. See you again Monday.
Grasshopper