New Zealand Forecast, Sept 18th –  Wild And Extremely Windy, But Potential Big Snowfall Later In The Week
September 18th, 2023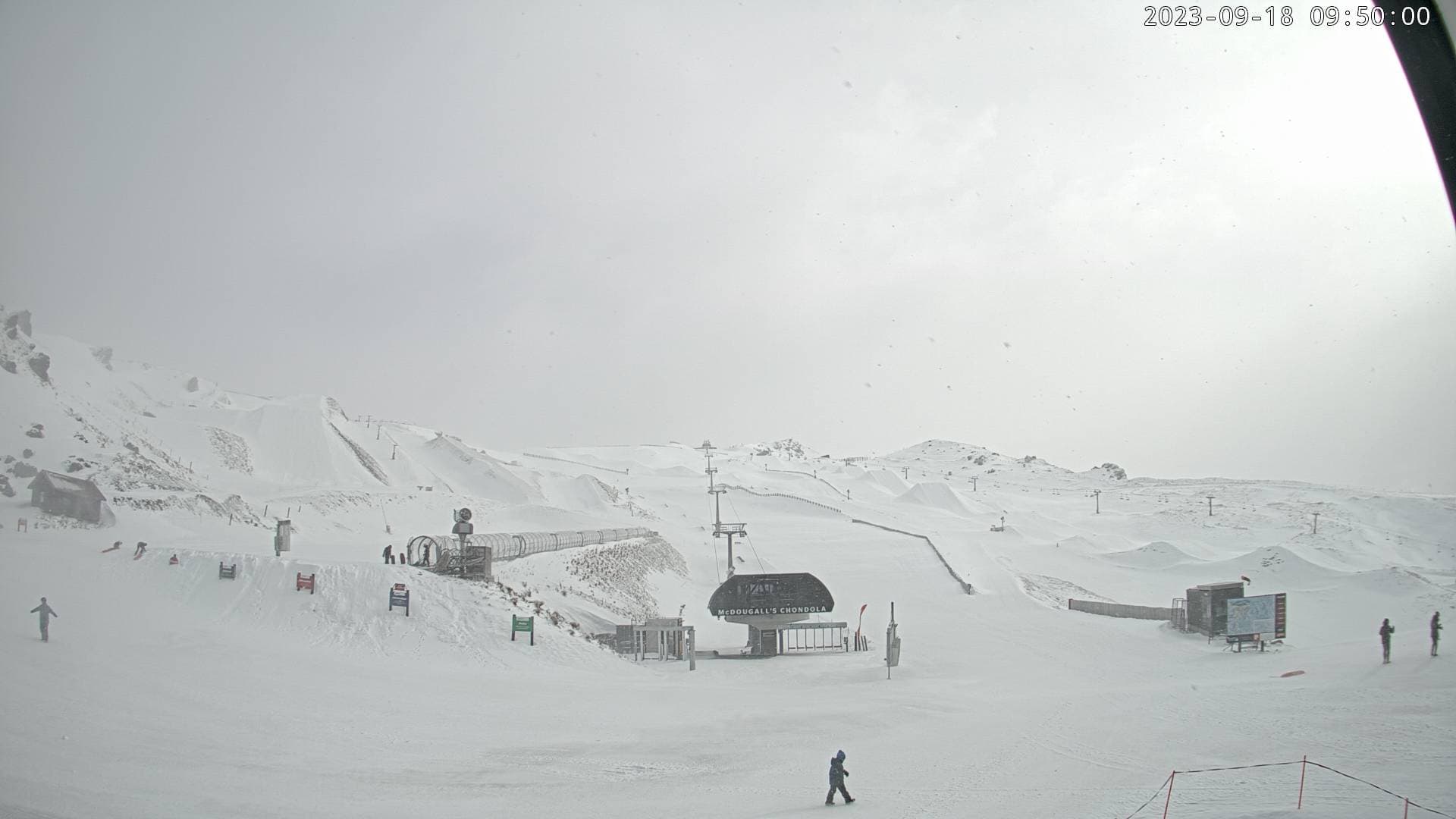 Mountainwatch | The Grasshopper
Written early Monday 18th September, valid to Thursday 21st September
It was a rough and windy weekend here in Aotearoa, with most resorts having to close their doors. Mt Hutt was recording some phenomenal wind speeds yesterday, and a record was broken at the top of the aptly named Nor'west Express chairlift – so that's saying something!
The isobars remain tightly bunched over the country and severe gale westerlies will see very few, if any, lifts operating today (at the time of writing, only Coronet Peak indicated they would try to get something going). The Southern Lakes managed to pick up about 5cm of snowfall last night, which has been stripped from some areas and piled up in others, and a further 5-10cm should fall today.
The winds will let up a little during Tuesday, although they will still be blowing a gale over Canterbury and Ruapehu, before picking back up to severe gale again Wednesday as warm air arrives from the NW.
NW winds will still be humming during Thursday, while heavy rain falls over the Southern Lakes as a cold front painstakingly inches up the bottom of the South Island ever so slowly. Fortunately, cold air will arrive that night, and the heavy rain will turn to heavy snowfall.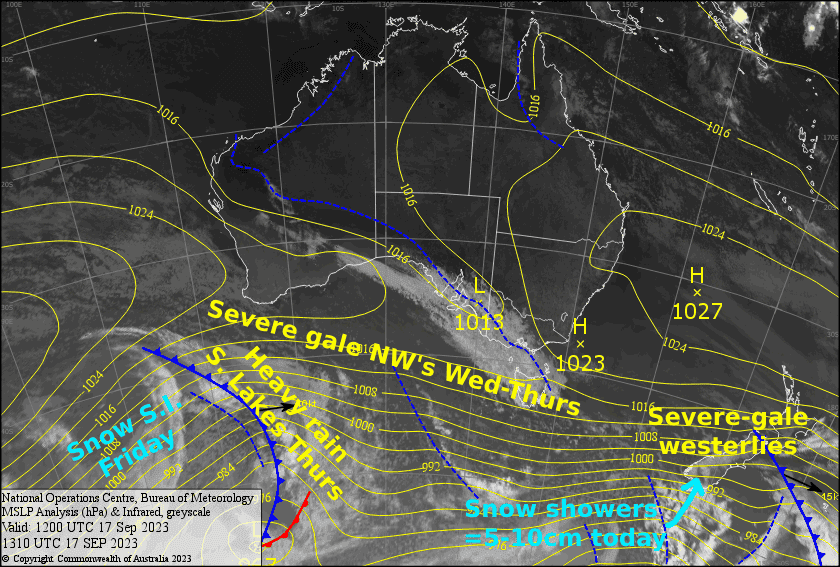 Monday 18th
Severe westerly gales continue to blow over the South Island, likely hampering lift operations, but will ease a touch this afternoon. Snow showers will persist over the Southern Lakes throughout the day, with about 5-10cm likely accumulating. In Canterbury, snow showers about the club fields will clear this morning for a fine afternoon.
Clagged in, drizzly conditions on Ruapehu will brighten early this morning for a partly cloudy day. However, severe westerly gales will be a limiting factor here too.
Tuesday 19th
A sunny morning for the South Island, but cloud will fill the sky during the afternoon. The Southern Lakes will cop a little rain during the evening too. W-NW winds will be blowing a gale in Canterbury, while also strengthening over the  Southern Lakes.
Mostly cloudy for Ruapehu, with a spot of drizzle through the middle of the day before skies clear during the afternoon. Strong westerlies, gales in exposed areas.
Wednesday 20th
Another windy one for the South Island, with northwesterlies up at severe-gale force in exposed areas. Partly cloudy skies for the most part, but there'll be one or two early rain showers about the Southern Lakes and the odd one may manage to reach the Canterbury club fields from time to time. Heavy rain developing over the Southern Lakes overnight.
Not too bad a day up Ruapehu with just a little high cloud overhead, and SW winds will ease as they turn to the west.
Thursday 21st
A horrible day for the Southern Lakes with heavy rain and strong NW winds again, which will be blowing at gale to severe-gale force in exposed areas. However, temps plummet at night and there'll be heavy snowfall to low levels.
Another day of severe-gale northwesterlies for Canterbury, with rain on the club fields and overcast skies over Mt Hutt.
Much nicer on Ruapehu where there'll be just a little high cloud again, along with NW winds.
Extended Forecast
The heavy snowfall over the Southern Lakes could persist through Friday before petering out on Saturday as low passes over the country. There are many if's and but's in this scenario, but if all goes to plan, we could be looking at the biggest dump of the season there.
Canterbury should also pick up some snow, and there is a chance that they could be the one to score it big time if the focal point of the storm changes by a couple of 100kms to the north. Ruapehu is likely to just cop a whole heap of rain as the front passes over during Saturday, the atmosphere quickly drying up by the time the cold air arrives, unfortunately.
A ridge of high-pressure should bring relatively settled conditions to the Southern Lakes during Sunday, so clear your schedule for this one – it could be one heck of a powder day. A low dropping down from the north could see rain returning to Ruapehu late Sunday in a strong E-SE flow, although this remains uncertain. Meanwhile, an onshore flow could see light snowfall in Canterbury.
That's all from me today, folks. I'll see you again Friday.
Grasshopper