New Zealand Seasonal Outlook August Update – Fresh Snow Setting the Stage for the Remainder of the Season
August 18th, 2021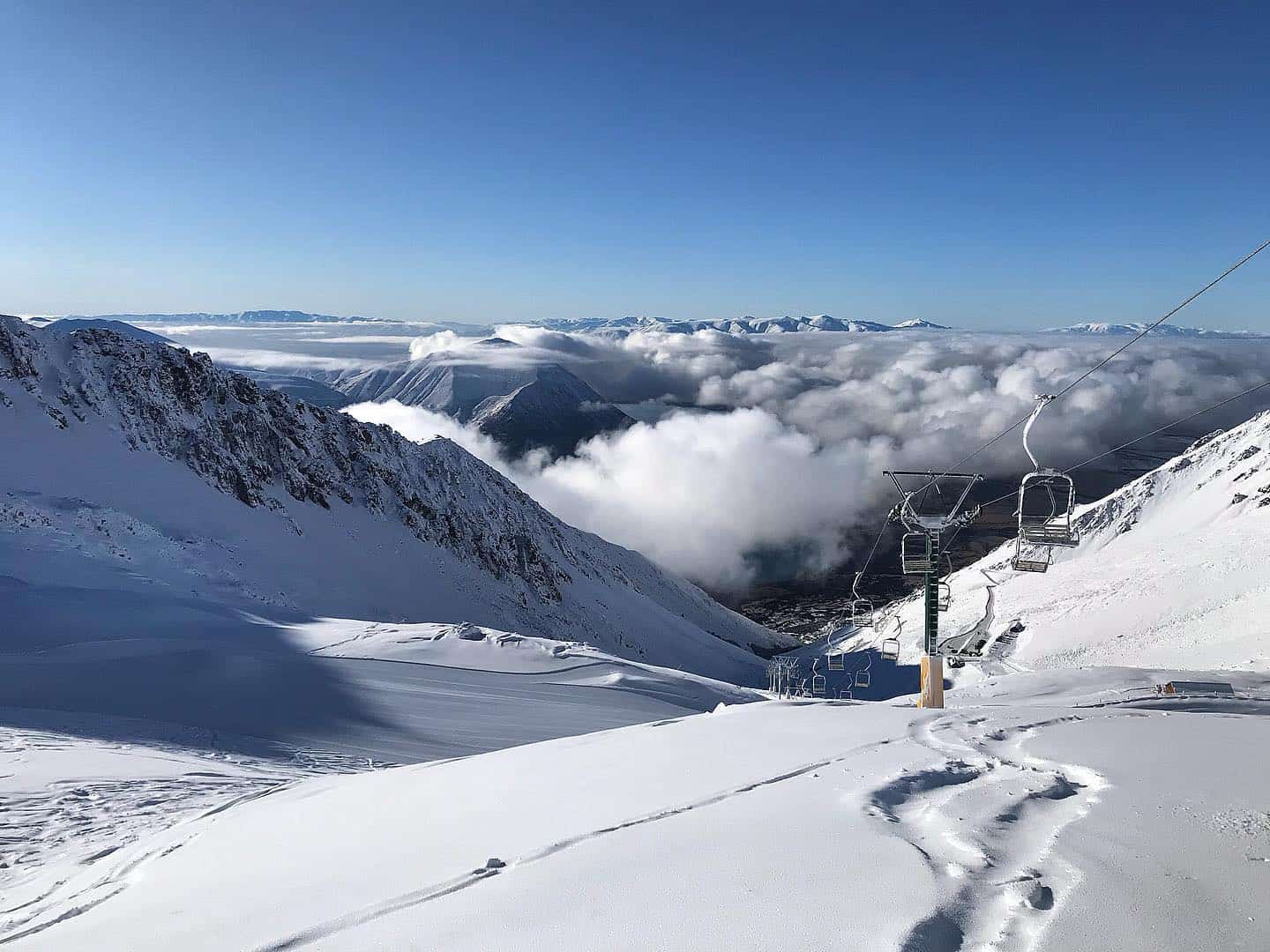 Mountainwatch | The Grasshopper
As the storm clears today, many are looking at webcams of places they would rather be as the deep fresh snow coincides with the yesterday's news of New Zealand's snow resorts plunging into level 4 lockdown for three days.
Thanks to the storm earlier this week we have just seen great snow accumulations around the country, offering some of the best conditions so far this season. Ohau reported a metre up top in 24 hours to Tuesday morning and other locations around the Southern Alps reporting around the half a metre mark in the past 48 hours. However, other than this storm and a couple of earlier snow falls, it has been quite warm around the country with the NIWA (National Institute of water andAtmospheric Research) research showing that New Zealand has just experienced its warmest June and July on record.
Over the past few weeks we have seen some snowfalls with a similar recurring pattern: high-pressure systems off the southeast of Australia have been peeling off into the Tasman, north of the country, while low pressure approaches in the south. This has induced a southwesterly flow, delivering fronts up and along the length of the country, most recently with great success.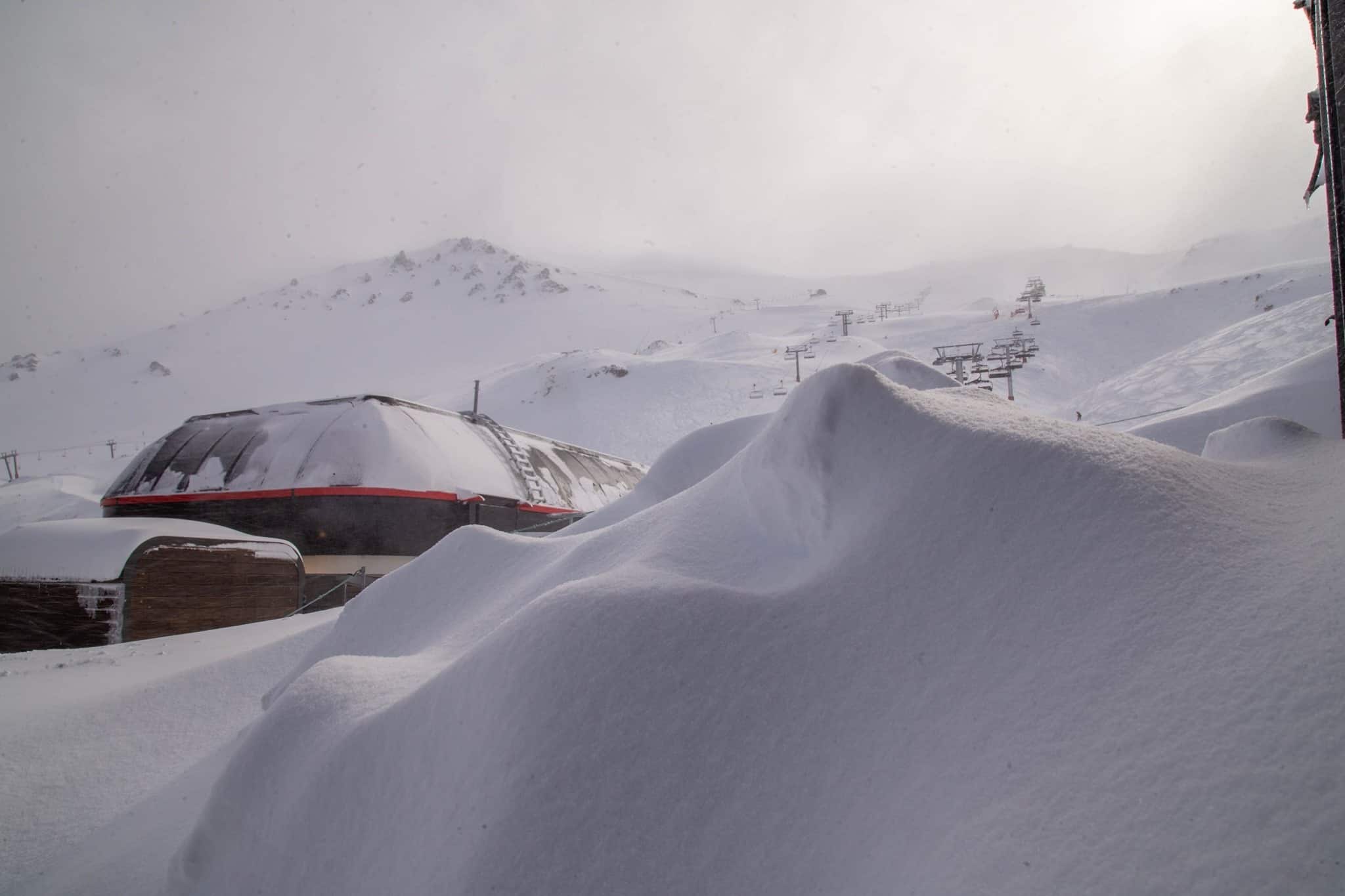 Driver Status
At the moment we are in the midst of a negative IOD event with projected Indian Ocean sea surface temperatures returning to neutral levels until the end of the year. A negative IOD means warmer waters available to the northwest of Australia which in turn creates more available moisture which then funnels down to the mid-latitudes through troughs. This moisture can then be carried past southeastern Australia and onto New Zealand, giving fronts an extra kick.
Another negative event in La Nina is also looking likely to occur as we move closer to the end of the year. This means a similar result for New Zealand as La Nina promotes the collection of more warm water north of Australia around the maritime continent. Once again, this moisture often makes its way down to the mid-latitudes of Australia through troughs, increasing the chances of precipitation mainly in southeastern Australia. However, for New Zealand we usually see a reduced impact for precipitation around the south and an increase in moisture and precipitation around the north. A La Nina promotes more northeasterly winds with higher pressure off the east, lowering rainfall predictions for southern areas especially as it warms up towards the end of the year. The figure below shows global sea surface temperature anomalies, and we can see the possible beginning of a La Nina signal in the central equatorial Pacific.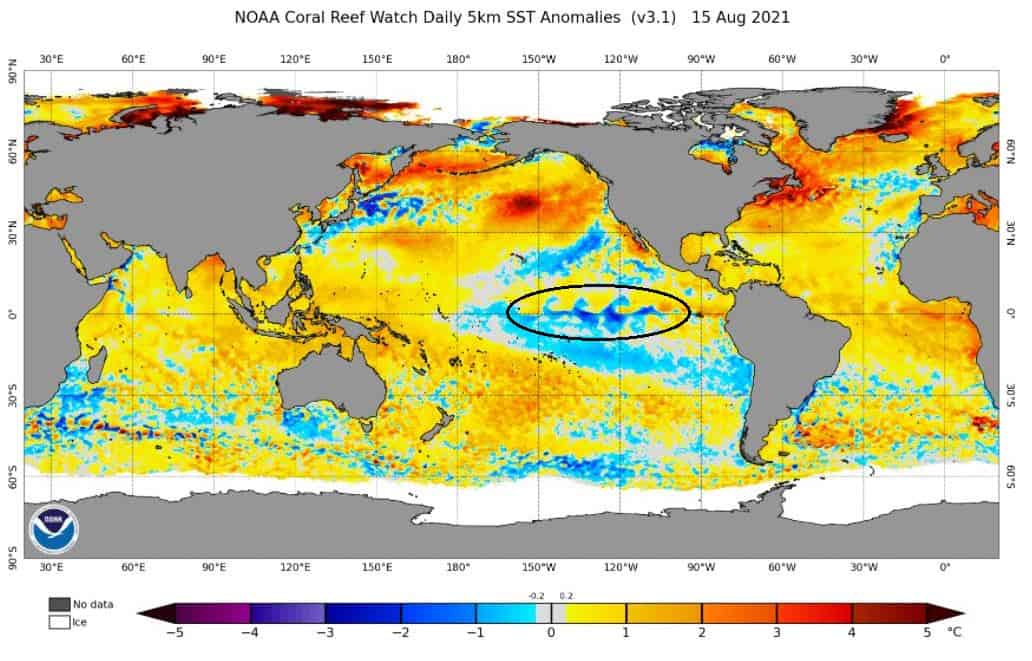 Finally, the last driver I'm going to mention, which is also negative right now coinciding with the most recent storm, is the SAM (Southern Annular Mode). Negative SAM is positive news as it means we are more likely to see precipitation-bearing systems raised up a little higher in the mid-latitudes rather than sliding underneath the country closer to the South Pole. A negative SAM also means we are more likely to have anomalously low pressure and stronger westerlies, all being good ingredients for snowfall. Events typically last about a fortnight and are notoriously hard to predict so making seasonal prediction with the SAM is difficult, but on the shorter timescale expect negative events to align with promising storm cycles.
Temperature and Rainfall
NIWA has released their August to October three-month forecast and the results are above average temperature all around the country and average or below-average rainfall for everywhere except the southwest, where we may see above average precipitation.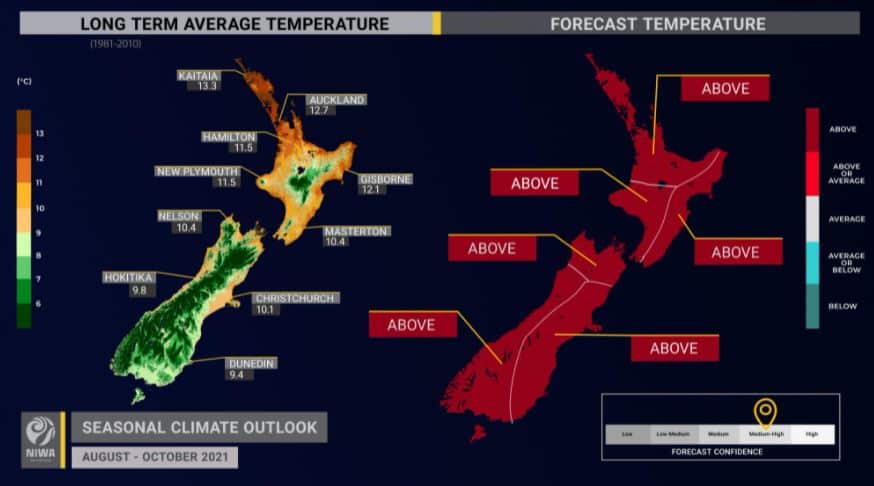 The temperature forecasts have not really altered much this season. Since these are three-month forecasts it is not going to prevent us from having individual cold-weather events like what we saw last week with a polar air mass giving some very cold temperatures. However, it does mean that these events are less likely with NIWA predicting a 60% chance of warmer than average temperatures over this three-month period.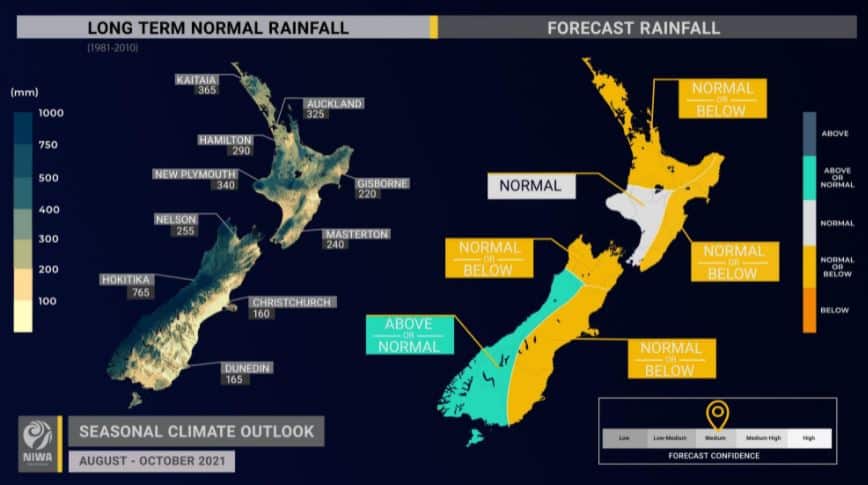 The precipitation outlook is interesting with above or normal precipitation forecasted for the southwest, which could be more snow for the Southern Lakes. This slight increase makes sense with the current state of the drivers, but notice the forecast confidence in this plot is medium. We will have to wait and see if the chance of more precipitation eventuates, and which drivers take charge of the climate.
What's Cooking?
We did have a relatively slow start to the season around parts of the south, but once the season got going it hasn't been too bad at all. We have seen some warm temperatures get in the way with some rain at times and looking ahead we may see more of this again before the season is over. The coming weekend is set to bring more precipitation to New Zealand beginning Sunday running through to the middle of next week and then more on the way after that.
For the system at the end of the week, models are predicting a good chance of some rain mixed in with snow. Initially we should see snow on Sunday in many places, but temperatures are looking marginal as we move into the beginning of next week temperatures. I'll be sure to give you more updates on this in my daily forecasts but for now expect decent precipitation totals all over the next fortnight, for which snow will favourhigh elevations.
Overall, the storm over the past few days has done well to set the stage for what is to come. Images show the closed resorts are looking pristine right now and I know many are itching to get out, hopefully we see a triumphant return sooner rather than later.
That's all from me folks. If you've got a different theory on what's going to happen this winter, or just want to provide feedback, then please hit me up with a message and follow updates on Facebook.   
Grasshopper