NSW & VIC Enjoying Epic Spring Snow Conditions
September 21st, 2009

With a deep soft snow pack and no crowds and cheap tickets – spring is the best time to get to the mountains.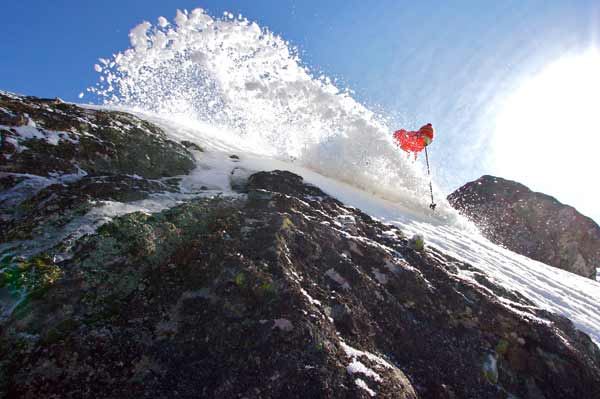 Mac Taylor slashing the soft spring corn snow at Falls Creek Sept 15, 09. Photo: Chris Hocking
NSW Resorts
Report by Reggae Ellis – September 18, 2009
The past couple of weeks have seen some of the best spring snow in a long time – firm, fast runs on the groomed in the morning, before the snow softens into spring corn by late morning – all under a lengthy run of sunshine.
While the warm days have been taking their toll on the snow, particularly on the lower slopes and the exposed ridges, there is still plenty of depth on the upper faces. On Thursday Sept 17, the snow depth at Spencers Creek (1830M) as measured by the Snowy Hydro was 121cms.
Given that the top of Perisher and Thredbo are both over 2000 metres and Charlottes is at 1954 metres, there is plenty of snow in all the resorts. The exception is Mount Selwyn which given it's more northerly location, missed out on some of the snow the other NSW resorts enjoyed in July and late August and has now closed for 2009.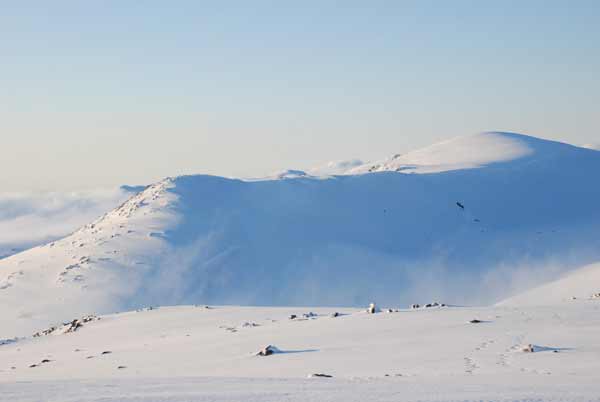 Well over a metre of snow sits on the NSW mountains up high. Perfect time for backcountry adventuring. Photo: Mandy Lamont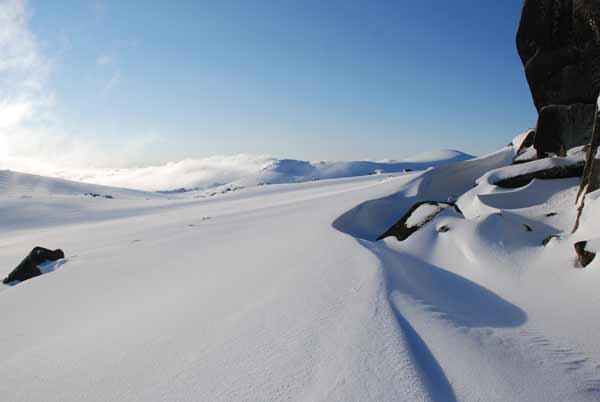 The Snowy Mountains is waiting for you with perfect spring snow. Photo: Mandy Lamont
More than 2 weeks left to take advantage of spring skiing
Charlottes Pass is closing this Sunday September 20, but Perisher and Thredbo are don't close until 4.30pm on Monday October 5.
>Perisher
Perisher has closed Smiggins, Guthega and Blue Cow, the latter two due to a lack of people rather than a lack of snow. Two terrain parks and the half-pipe are still in full swing in Perisher while Mount Perisher has been turning on some sensational snow, including the soft moguls on International. Also Perisher are holding the Coca Cola Spring Carnival till the long weekend with load of on hill entertainment.
Thredbo
In Thredbo the snow around the top T-bar areas and Merritts is still very good with a deep base. The Supertrail is getting very thin down low, but with a bit of creative pushing and "snow harvesting" should last until the long weekend. High Noon may be another story as it is pretty thin down at the very bottom, which is a bummer as there is plenty of snow all the way down to the bottom of the steeps.
The tide has run out at Friday Flat beginners; area and that is closing on Sunday Sept 20. The ski school will then move up to Merritts for the final two weeks of the season.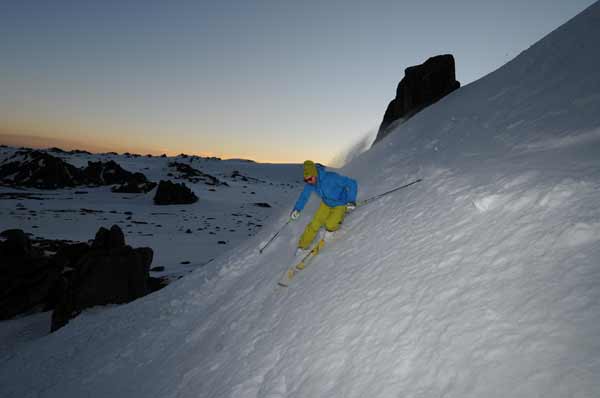 Will Clifford powering through some Thredbo Spring Corn snow on his Telemark skis. Photo: Randy Weiman

Thredbo's annual Memorial Cup brings all the locals out to shed the worries of the winter season by dressing up and having some fun racing. Photo: Tom Elkington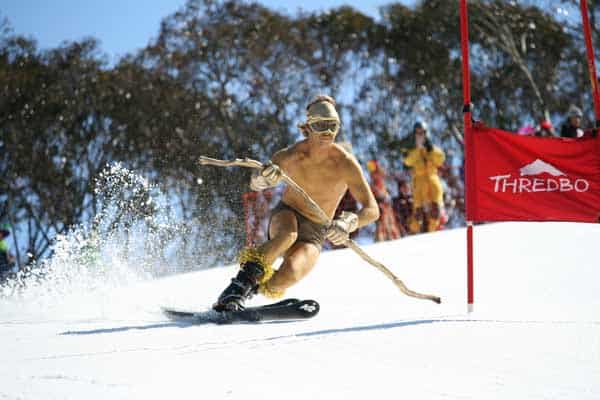 Thredbo's annual Memorial Cup brings all the locals out to shed the worries of the winter season by dressing up and having some fun racing. Photo: Tom Elkington
Lift Ticket prices slashed in NSW
Both Perisher and Thredbo are offering reduced lift tickets for the rest of the season and there are some value packages available, it is well worth the effort for few late season turns.
Perisher: 1-Day Adult pass $85; Child $47
Thredbo: 1-Day Adult pass $75; Child $42
Victorian Resorts
Victorian resort spring wrap By Steve Lee – September 18, 2009
Perfectly on queue the weather switch flicked from bad to good on September 1 and spring was here. Victorian resorts had suffered through one of the more brutal Augusts' on record with way to many wind, fog and rainy days, it was tough to keep a smile up. Finally we copped a break and on September 1 as spring kicked off conditions were all of a sudden epic. Some how there was still a good cover of snow to be topped up by a few nice dumps of fresh, lots of sun and with that the angst of winter 09 dissipated
Good set-up weather for spring in Victoria
The spring weather trend has mostly continued, sure we have had the odd average days as you would expect in the mountains, however for the most part it has been all good. Early on in September, in fact day one and two saw epic powder conditions. That translated into good spring snow, and then two more decent dumps delivered a pretty solid base cover and set September 09 up for a good month of fun ripping.
Photos by Charlie Brown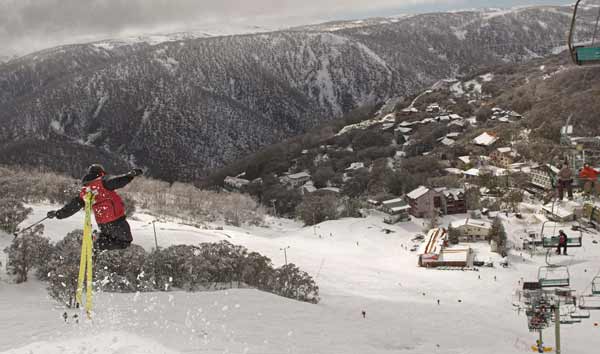 Falls Creek local and patroller Craig Mogul goes old school with a big Mulley.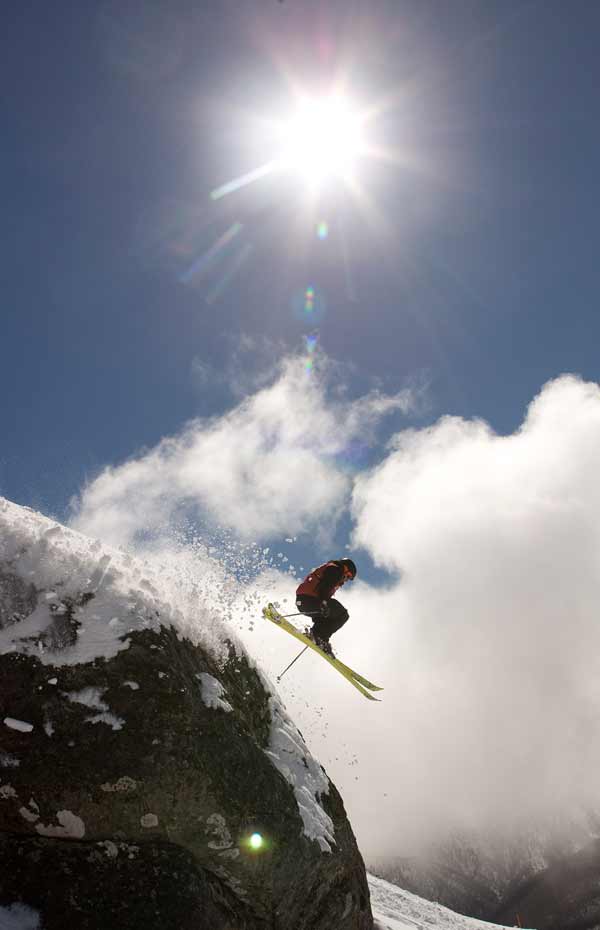 Craig Moegel takes a nice drop in the spring Pow on Cabbage patch at Falls Creek.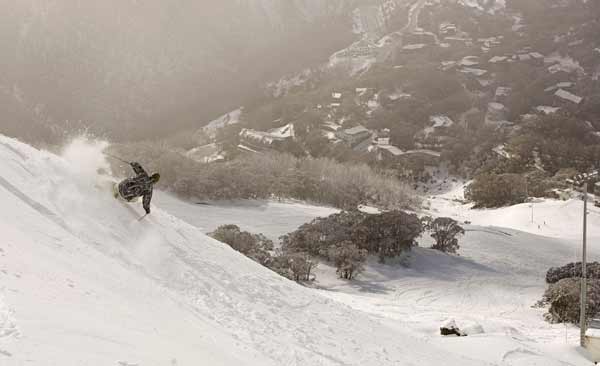 Steve Lee power carves the pow of Summit cornice bowl September 1, Falls Creek.
Victoria's Backcountry is going off
While Victorian resorts enjoyed a purple patch both snow and business wise, the backcountry was going off. For Victorian Water Minister Tim Holding September 1 I imagine was the best day of his life, found alive after spending two very cold and wet nights lost on Mt Feathertop. Most agree he was foolish for ever being out there alone, however as an accomplished hiker he was certainly a very lucky man after taking a fall and sliding 100 metres down the mountain then becoming disorientated in the foul weather. Patrollers from Falls Creek were on standby to fly in to the peak by police chopper and ski the south shoots as part of the search. While a very serious job, the chance to get a Heli lift into Victoria's second highest peak is probably a once in a lifetime opportunity. The patrol boys were understandably very excited, and then equally disappointed that he was found before take off, of course for very selfish reasons. Hotham patroller Billy Barker skinned out to Feathertop and skied the chutes of Feathertop saying they were superb.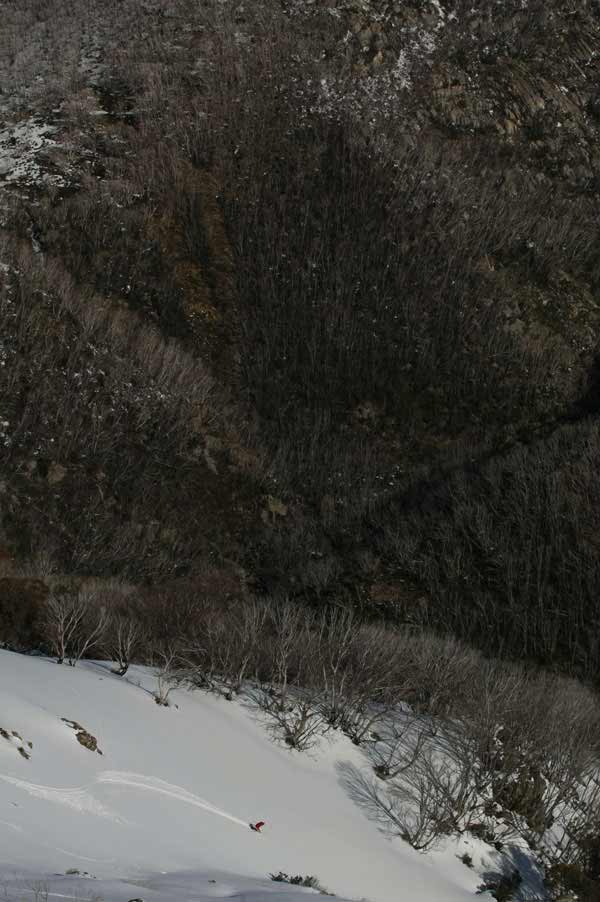 Steve Lee ripping a high speed line down Mt Mckay, Falls Creek. Photo: Charlie Brown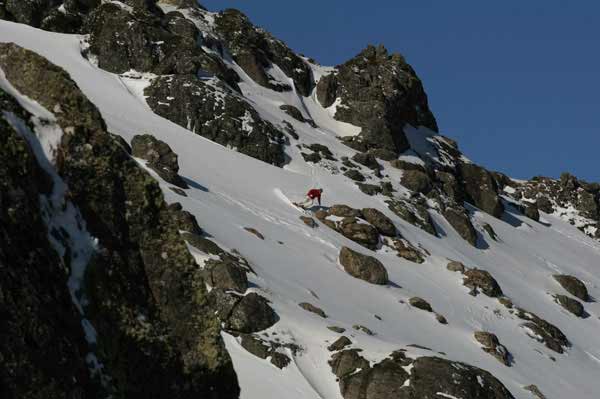 Photo: Charlie Brown
Victorian Resort Closing Dates?
Looking ahead to the end of the season, that could be anywhere between 10 and 17 days depending on the resort things look set to either hang in or remain pretty decent for those looking at partaking in a spring bash.
Mt Buller has announced closing day will be the 27th. No major events left but plenty of end of season skiing, boarding and parties. The have a Talk like a pirate day on the 19th and the always fun ski patrol party on the 27th. Little Buller Spur to midway and summit are still is in decent shape. Summit park jumps are in good shape and getting plenty of use as are the rail parks which are still open and fun.
Mt Hotham is also done on September 27 and is winding down for the season. Still good snow cover across many main runs, Orchard areas closed about a week ago as lower slopes just ran out of snow. Hotham along with all Victorian resorts (Falls Creek, Lake Mountain, Mt Baw Baw, Mt Buller/Mt Stirling and Hotham) are hosting a CFA & SES Volunteer Recognition Day. The resorts take this opportunity to thank the many volunteers right across Victoria for their work supporting and protecting our communities, particularly in emergency situations.
Falls Creek is open till October 4 and fairing the best snow wise with 13 of 15 lifts running and about 85% of terrain open. Summit is certainly getting patchy and will not take to much more warm weather before it succumbs. Over the back, well you can only say it is still in great shape. Cover is good across all lifts, terrain parks and in particular the big jumps on Ruined are awesome.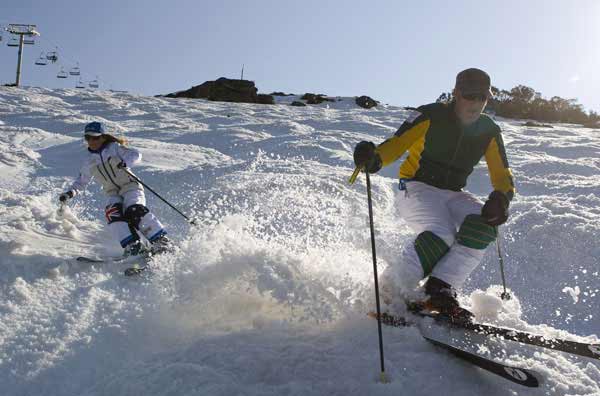 Soft spring bumps for those well-trained knees. Photo: Charlie Brown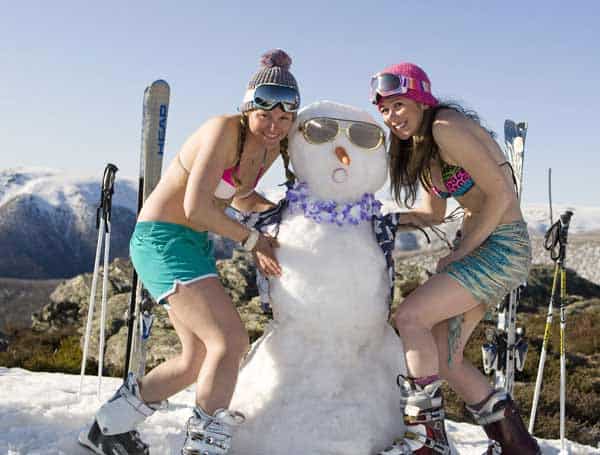 Everyone gets a bit crazy in the springtime. No different at Falls Creek with 80's day celebrations – any excuse! Photo: Charlie Brown
Falls Creek Backcountry is amazing right now
If you want to walk Mt McKay is still offering amazing turns. I was lucky enough to take a group out there yesterday for some snowmobile assisted runs, something we sold as a special package at the race club auction night earlier in the season.
Photos By Charlie Brown.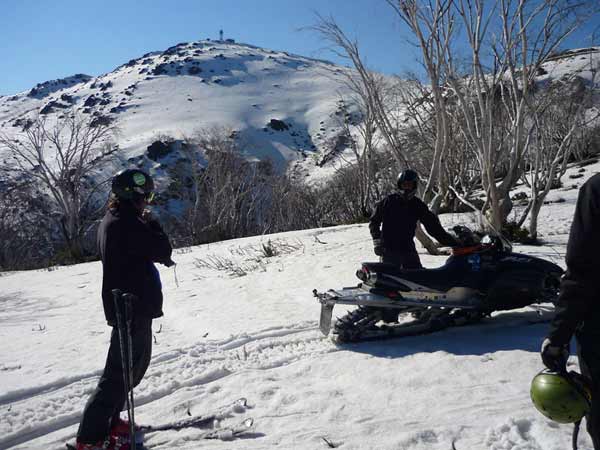 Mt McKay still looking the goods.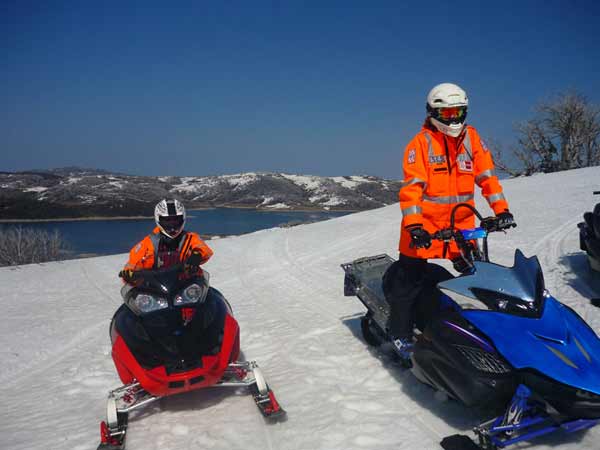 Falls Creek SES on patrol training ride.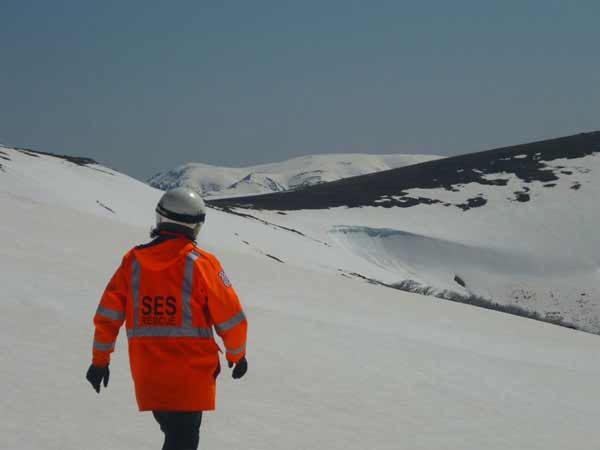 Bogong and a monster cornice in Mt Nelse area.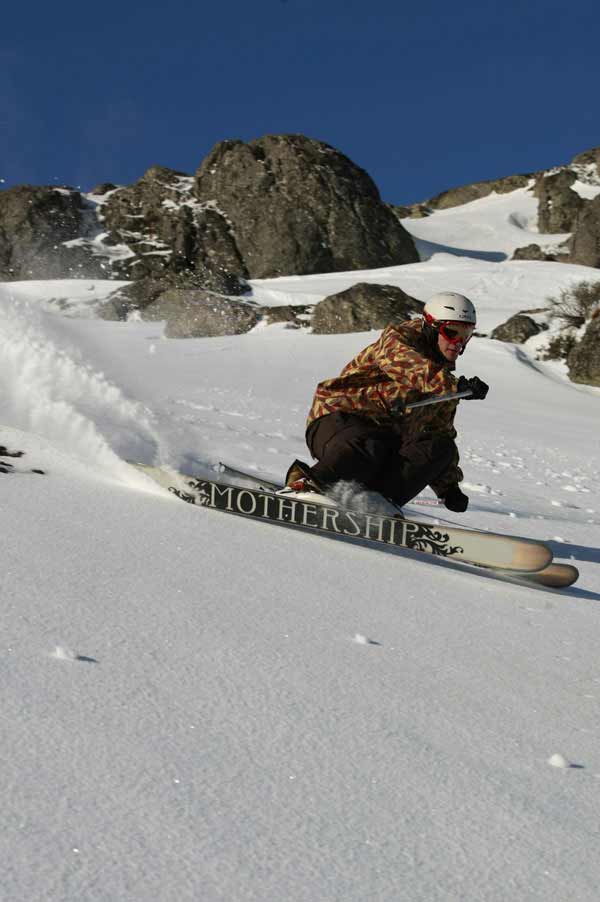 Ripping spring snow while the masses melt in the September sun in the cities.