NZ Weekly Weather Blog – Extreme Snow
July 25th, 2011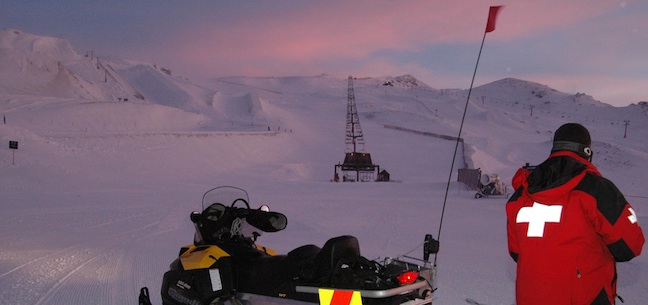 Sunrise over Cardrona 26 July. Image:: Cardrona
Snow Journal | Matt White
Kia Ora from across the ditch, where it's full blown winter with extremely cold temperatures over the past week and some snow falling to sea level around Queenstown, Christchurch and even in the capital of Wellington!
Snow lovers have been revelling in excellent snow conditions across the country, with most fields boasting record bases for this time of the season. The World Heli Challenge is set to kick off this week with competitors from around the world converging on Wanaka to see who can take out the title.. looks like they will be getting treated to the best of the best conditions out there, quite jealous actually!! Not to worry though, for the rest of us there still looks to be a good mixture of fine weather and a few top ups of fresh snow also.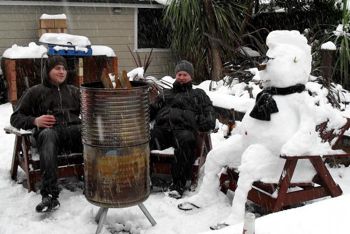 (right)Heavy snowfalls have covered Christchurch this week. Image:: Matt White
Weather outlook for this week…
There is a front coming in from the SW and should bring snow to most areas across the country.. let's break it down into what this means for the different regions.. If you're a weekend warrior it looks good for you!
NORTH ISLAND
Whakapapa/Turoa/Tukino – Snow forecast all week with gusty and sometimes gale force SW winds turning W midweek and clearing by the weekend to clear calm and sunny!
Manganui- Light snowfalls up until Wednesday evening with gusty SW-W winds, gale force at times.. clearing by Thursday with sun and light W winds forecast for the rest of the week
SOUTH ISLAND

Rainbow- Snow forecast through to the weekend, with SW winds turning to strong W winds and a freezing level of 1000m, expected to clear for a lovely sunny weekend.
Hamner Springs/ Mt Lyford- A fine day for Tuesday, with snow showers on Wednesday/Thursday leading into rain showers on Friday and back to clear and sunny for the weekend.

Mt Hutt, Porter Heights, Mt Olympus – A mixed bag of weather beginning with fine conditions on Tuesday progressing to snow showers and rain until Friday and clearing for a sunny weekend.
Temple Basin, Broken River, Cragieburn, Cheeseman – A fine start to the week, switching to SW and snow/rain showers will continue through until Friday night, breaking into a fine, clear weekend.

Fox Peak, Mt Dobson Round Hill, Ohau – Fine with heavy frosts for Tuesday/Wednesday and SW Winds – gale force at times with snow/rain showers for Thursday/Friday but clearing for the weekend with a light NW wind

Treble Cone, Cardrona, Snow Park/Snow Farm, Remarkables, Coronet Peak – Looking like a fine day for Tuesday with the weather packing in again Wednesday-Friday with snow showers and maybe some rain expected, should sort itself out for the weekend however… Sun will be out by Sunday!
Events coming up this week…
26 – 27 July Club Penguin mini X Games, Whakapapa
26 July – 11 Aug: World Heli Challenge
29 July: NZ Snowboarder Banked Slalom, Treble Cone
30 July: Electric 1/4 pipe, Snowpark
30 July: Junior Slalom, Treble Cone
1-2 August: Wanaka Tech FIS series, Cardrona
3-4 August: FIS Series, Treble Cone
Here's how the Mountain snow bases are shaping up to date.. (cm)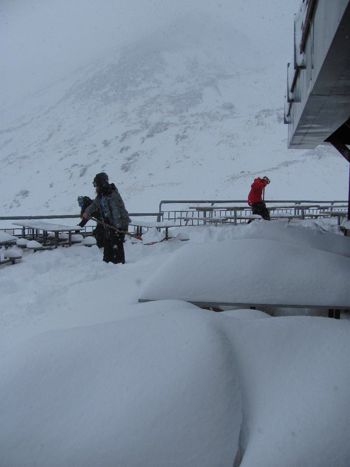 Whakapapa 134
Turoa 179
Tukino 325
Manganui 160
Rainbow 120
Hamner Springs 125
Mt Lyford 107
Mt Hutt 50
Porters 50
Mt Cheeseman 180
Mt Olympus 165
Cragieburn 153
Temple Basin 216
Broken River 150
Fox Peak 80
Mt Dobson 29
Roundhill 80
Ohau 135
Treble Cone 200
Cardrona 82
Snow Park 70
Snow Farm 150
Coronet Peak 100
Remarkables 60
(right) Shovelling snow at the Remarkables last week
Picks for the week…
-Heli skiing (obviously!!!)
… however if that is a little out of reach…
-Roundhill, I have been hearing good reports coming from here..
-Turoa/Whakapapa, so much snow!!
-Treble Cone, no queues and lots of vertical..
-The Remarkables, just look at the photo.. freshies galore!
Well thats all for this week, make sure to get amongst all the new snow around and lets hope it keeps on coming!!! Have fun out there and stay safe!