Opening Weekend Outlook – The Grasshopper – UPDATED
May 25th, 2015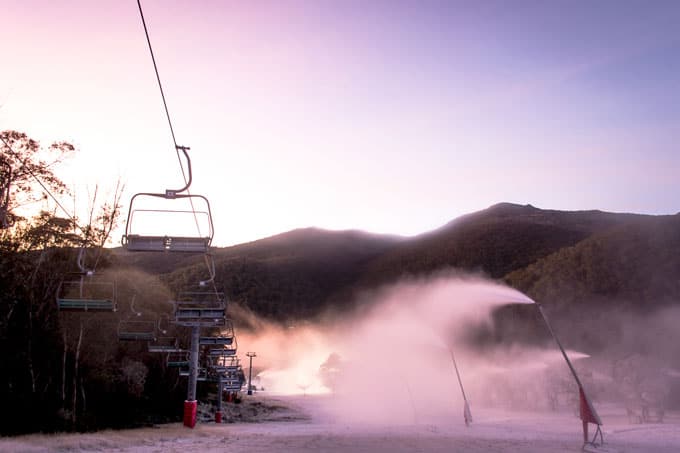 The nights are cooling down and most resorts have commenced snowmaking, but is there natural snow on the way? The Grasshopper investigates Image:: Thredbo
Mountainwatch | The Grasshopper
Season 2015 is nearly here. On the 1st of June we'll fire up our world famous daily detailed forecasts for the Australian Alps and bring those to you seven days a week until October. To tide you over until then, here's a little teaser for what we can expect when opening weekend kicks off on June 5…
Two weeks ago, with 10 to 20cm of slush falling across the Aussie Alps, I think everybody knew it was just a little too early and not quite enough to last until opening weekend. A quick scan of the snowcams confirms those doubts. Sure, there are a few little pockets of snow hanging about, Perisher have been doing their best on Front Valley, and Kozi is representing. But you're still going to get downhill faster on a mountain bike than you are on that sexy new kit you're hoping to break out this winter. If we're going to make any serious attempt to ride on June 5 or shortly after, we're going to have to get very lucky.
UPDATE 28/5/2015:
Earlier this week, we talked about a promising southerly change coming on Sunday that had potential to drive some decent snow early next week. Unfortunately the best moisture gets shunted eastwards into the Tasman Sea by an incoming high, so we'd now only expect 5 to 15cm on Sunday/Monday.
So the weather for opening weekend is still up in the air. Come back Monday for our first detailed forecast of 2015 and we'll nail this down.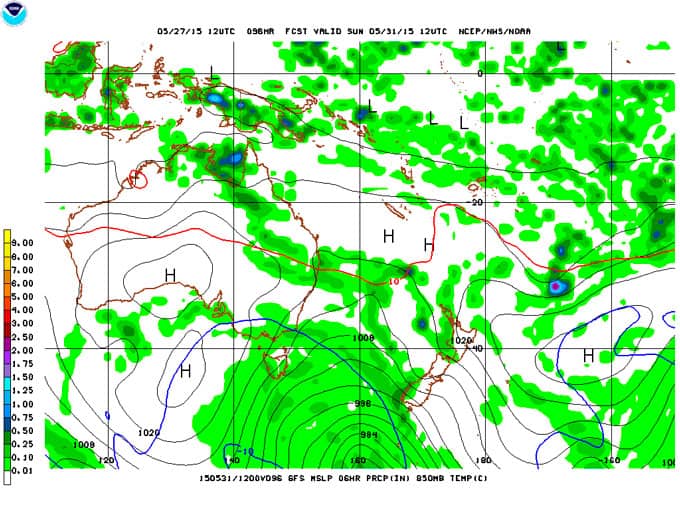 Source:: NOAA
The incoming high is a wee beastie, so cold temperatures and clear skies should allow for a solid snowmaking effort in the lead up to opening weekend. The big question at this stage is whether a low pressure feature moving through the Bight late next week will have the strength to push up towards the Alps. There's a chance the ridge of high pressure lying across Australia could prove too strong, but if the rain does make it there's also a chance of some snow in behind.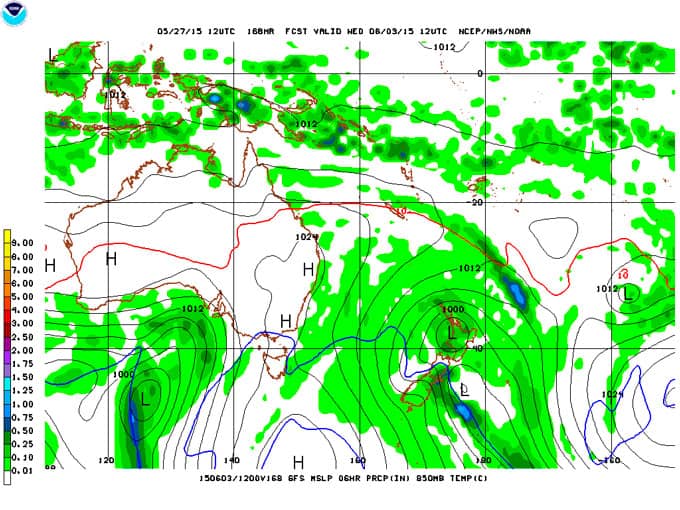 Will that rain in the Bight manage to spread across the south-east? Source:: NOAA
MONDAY'S OUTLOOK:
We start this week under a big high that's leading to some frosty temperatures at lower elevations, while the resorts sit in warm air above the inversion. Not much good for snow-making in the lead-up.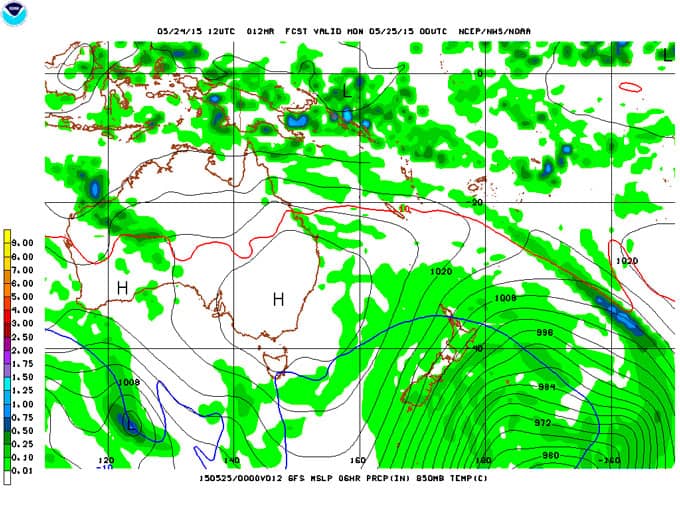 Source:: NOAA
By Wednesday that high is slipping eastwards into the Tasman Sea, and by Thursday a north-west airstream is generating rain.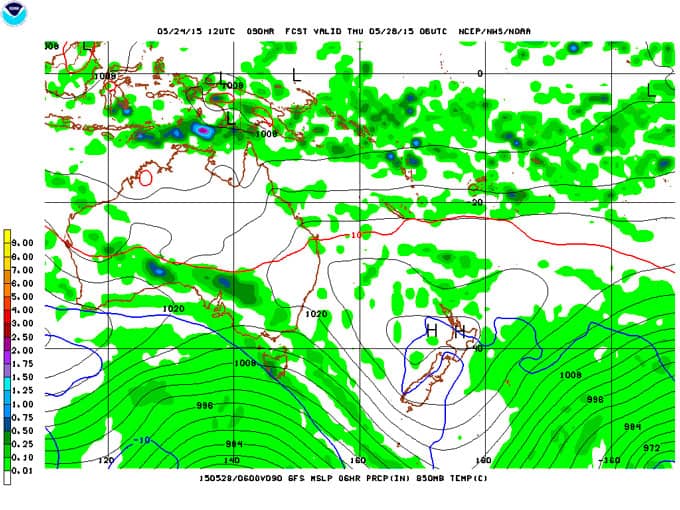 It's still way too warm for any snow by this stage. Source:: NOAA
On Friday, some colder air makes a half-assed attempt to bring some snow, but the next high coming in from the west appears likely to hold the coldest air south and force it quickly east.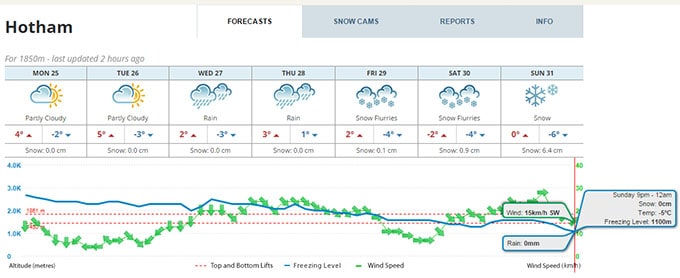 There's a decent chance it will get cold and snowy on Sunday/Monday.
Hello winter
Things get fuzzy from Saturday. That high is giving the signal that it's going to set up camp in the Bight and dig southwards, setting the scene for a lovely and cold southerly flow to race up over south-eastern Australia. The image immediately below is only one possibility of many, but it conveys the general picture well, and this aligns with the forecast of snow from our own model on Sunday.

The blue line is indicating a freezing level around 1500m and outlines a mass of even colder air flowing up from the south. Source:: NOAA
Assuming the cold air makes it north to the Alps – there's a chance it will get pushed too far east – and assuming it brings some moisture with it – it might just be flurries – we'll get 5 to 20cm laid down as low as 1500m across the Alps during the first few days of June and the week is also looking very promising for some hard-core snowmaking.
READ THIS: WHAT IS AN EL NINO ANYWAY?
Why do I gots to give you the bad news all the time?
There's potentially a fly in the ointment for opening weekend though. That slow-moving high is a doubled-edged sword: if it's big enough and slow enough to drive southerlies over the Alps for several days when it's sitting west of us, then by the time it's sitting east of us it has the potential to slap us with several days of northerlies, with rain arriving just in time for opening weekend. I'm not going to show you a map, because it's getting faintly ridiculous to show any individual synoptic forecast more than a week out. But as you watch the forecasts evolve over the next few days and follow what's in store for the first week of June, just be aware that there might be a price to pay for all of that cold air, and Mother Nature always collects.
That's all from the Grasshopper.
NOW WATCH: SHAUN WHITE'S PRIVATE FACILITY