Perrine Wins Her Second Bronze
March 15th, 2018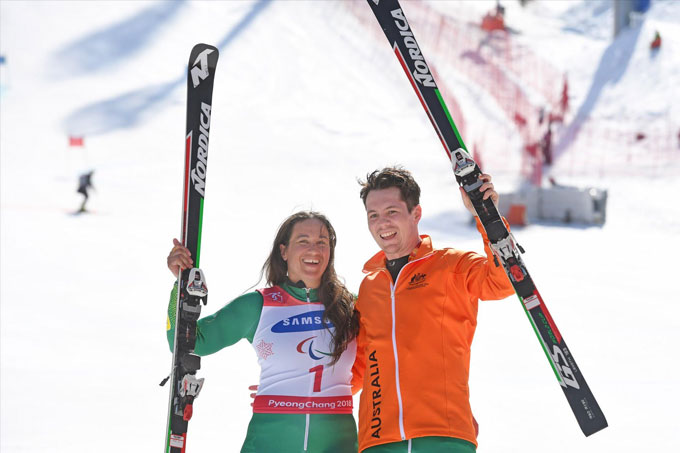 Melissa and Christian Geiger, her sighted guide and coach, celebrating on the course after winning the bronze medal. Photo: Australian Paralympic Committee
Mountainwatch | Reggae Elliss
Australia's Melissa Perrine won her second Paralympic bronze in two days when she and her sighted guide and coach Christian Geiger finished in third place at Giant Slalom at the Jeongseon Alpine Centre yesterday. A day earlier Perrine and Geiger won bronze in the Super Combined.
Perrine put in two very strong runs and finished 0.47 seconds behind silver medalist Menna Fitzpatrick (Great Britain). Henrietta Farkasova (Slovakia) took the gold – her fourth for the women's vision-impaired class here at the 2018 Games.
Perrine's two medals, combined with Para-snowboarder Simon Patmore's gold brings the Australian medal tally to three.
Over the past eight years Perrine has won 35 World Cup medals and eight World Championships medals. Winning two Paralympic medals to add s to an impressive collection.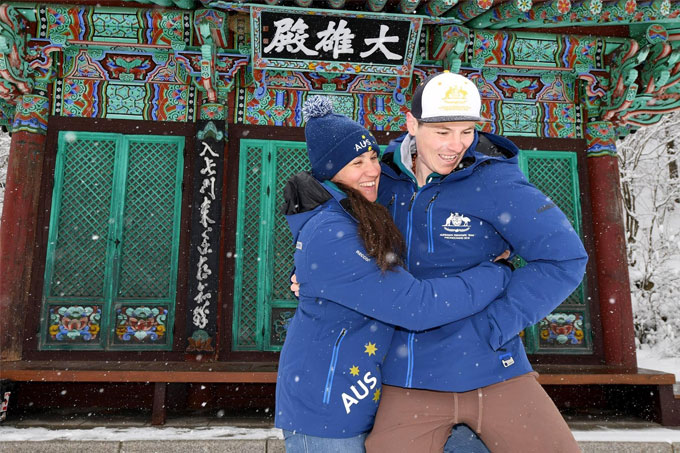 Melissa and Christian have been working together for a few years, and the consistency and understanding is paying off. Photo: Australian Paralympic Committee
In an interview after the race with Australian Paralympic Committee media said she felt a sense of relief in finally winning medals in her third Paralympics.
"I love this sport, it's an amazing sport. I wanted to relax and have fun out there today and I managed to do that."
I'm really relieved that the work we've done on consistency over the past couple of years has paid off," she added. "This time I've been able to transition my World Cup form into the really big major competition form."
All eight Australian Para-alpine skiers competed in Giant Slalom yesterday. Of the eight, there were three top-10, four top-20 and one top-25 finishes. Perrine and Mitch Gourley (8th) were joined by sit-skier Tori Pendergast (8th) in the top-10.
Men's sit-skiers Sam Tait and Mark Soyer finished 17th and 18th respectively, while Patrick Jensen finished 11th and Shaun Pianta, 14th, in the vison-impaired division