Profile – Boen Ferguson
October 7th, 2010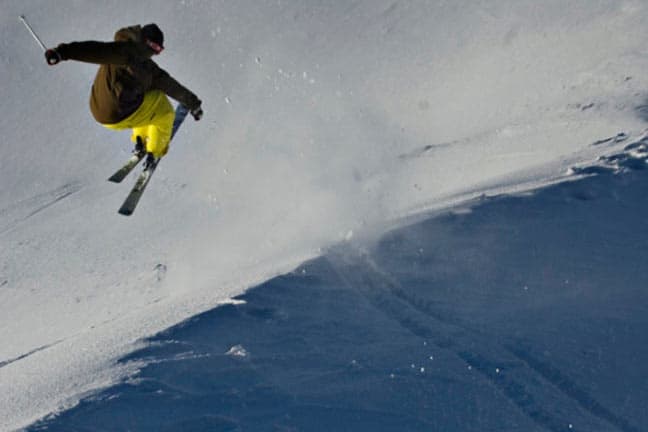 Boen in 2009
Interview & Images | Ben Hansen
Boen Ferguson, The now 21 year old Jindabyne local has been a fixture in the Australian freeski world since he was a very small grom. This year an early season knee injury forced him off skis for two months but with the arrival of September he slipped back into the terrain parks that are his natural habitat so seamlessly fellow pro skier Chris Booth was inspired to describe him thus:
"Boen has a bizarre strain of genius that seems to enable him to do things in total absence of effort, it can therefore be concluded that he is in all probability a spaceship in disguise."
Fellow Jindabyne grom and lensman Ben Hansen sat down with the Spaceship to chat about knee surgery and getting behind the lens.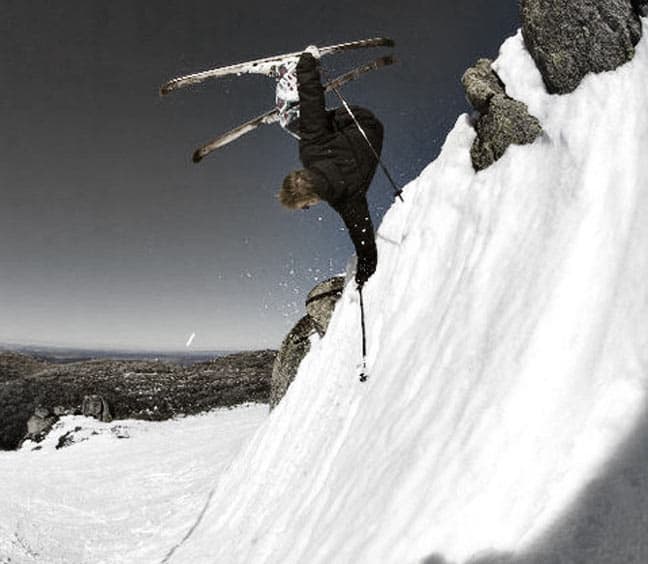 Boen, pre accident
Hi Boen, how are you?
I'm good Ben happy to be here.
This Australian winter you spent most of your time on the couch resting or at the gym building strength back in your knee. Before the injury what were you up too?
The start of the season was really lively, I was doing a lot of park skiing and had just signed with Liberty Skis then two days later I was in the hospital.
Can you run us through what happened the day you blew your knee and the injury? What was running though your mind when the doctors told you skiing this winter was out of the question?
It was slushy and raining, Chaz (Charlie Timmins) and I were cutting laps through Thredbo Park. I hit the second jump a little fast with a 720 and washed out on the landing. It wasn't overly painful but when I tried to stand my knee collapsed. I was trying to convince myself there was nothing wrong so I skied down to the village on one ski. Walking down the stairs to the car park my knee gave out again and I was pretty certain I had blown it. The next day the Doc told I had torn my ACL, he also told me about the new LARS procedure with a shorter recovery that would have me skiing again this season. So it wasn't all bad news… I guess.
LARS is a synthetic ligament augmentation and reconstruction device designed to mimic normal ligament fibres.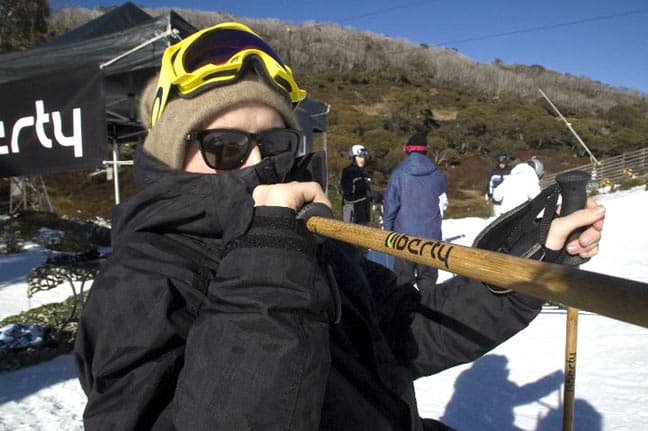 Boen did his knee just two days after signing with Liberty Skis
So you had the LARS procedure then recovery started. What did that involve?
I had three days of kicking back. Then I started physio twice a week and going to the gym five days a week.
A pretty tough circumstance, especially when skiing is such a hard thing to put aside living in Jindabyne. The first time you got back into the lifestyle was down in Mt Buller for SoO Airtime, you were one of the filmers for the NSW team.
SoO airtime was the best. An Australian event has never created such a perfect atmosphere. There was absolutely no pressure on the riders, we could hit whatever features we wanted, party whenever we felt like it and eat free burgers from Burgerhaus!
Kudos to Watkin (McLennan), Joey-Jo-Jo (Joe Cocoran) Oska (McLennan) and everyone involved.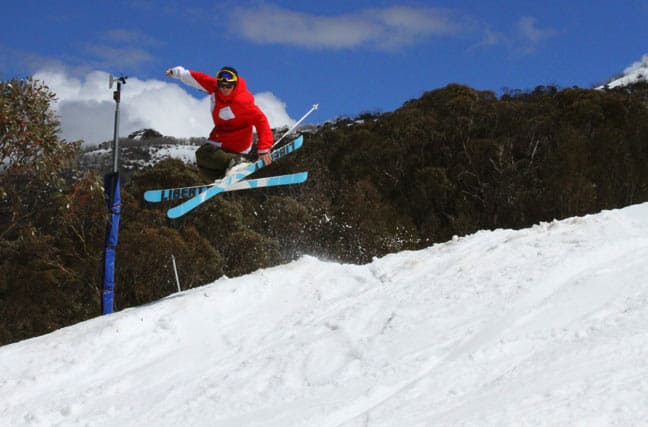 Boen's back! Getting in some last minute Spring snow in Thredbo early October
How was it being involved in the competition but not skiing?
I had a lot of fun. I just bought a new DSLR so I spent a lot of my time taking photos and hanging with (Sean) Balmer and Lucas (Wilkinson) (the NSW film crew) chucking my two cents in even when they weren't asking for it.
It's the last weekend of the season, you have been skiing a few times getting you knee back in action but taking it easy. What are your plans for the Northern Hemisphere winter, you must be eager to get back on the slopes?
I am still planning out what to do this summer. Hopefully going to France for a while then maybe Alaska to ski some big lines. But I am looking forward to skiing again. My knee is feeling great and I would like to get as much time as possible on snow this NH Winter.
Thanks for the chat. Can't wait to see how everything goes overseas this year.
Thredbo forecasts,
snow reports and
live snow cams.