Reflections of a Hot Dogger – The Dawn of Freeskiing
July 25th, 2019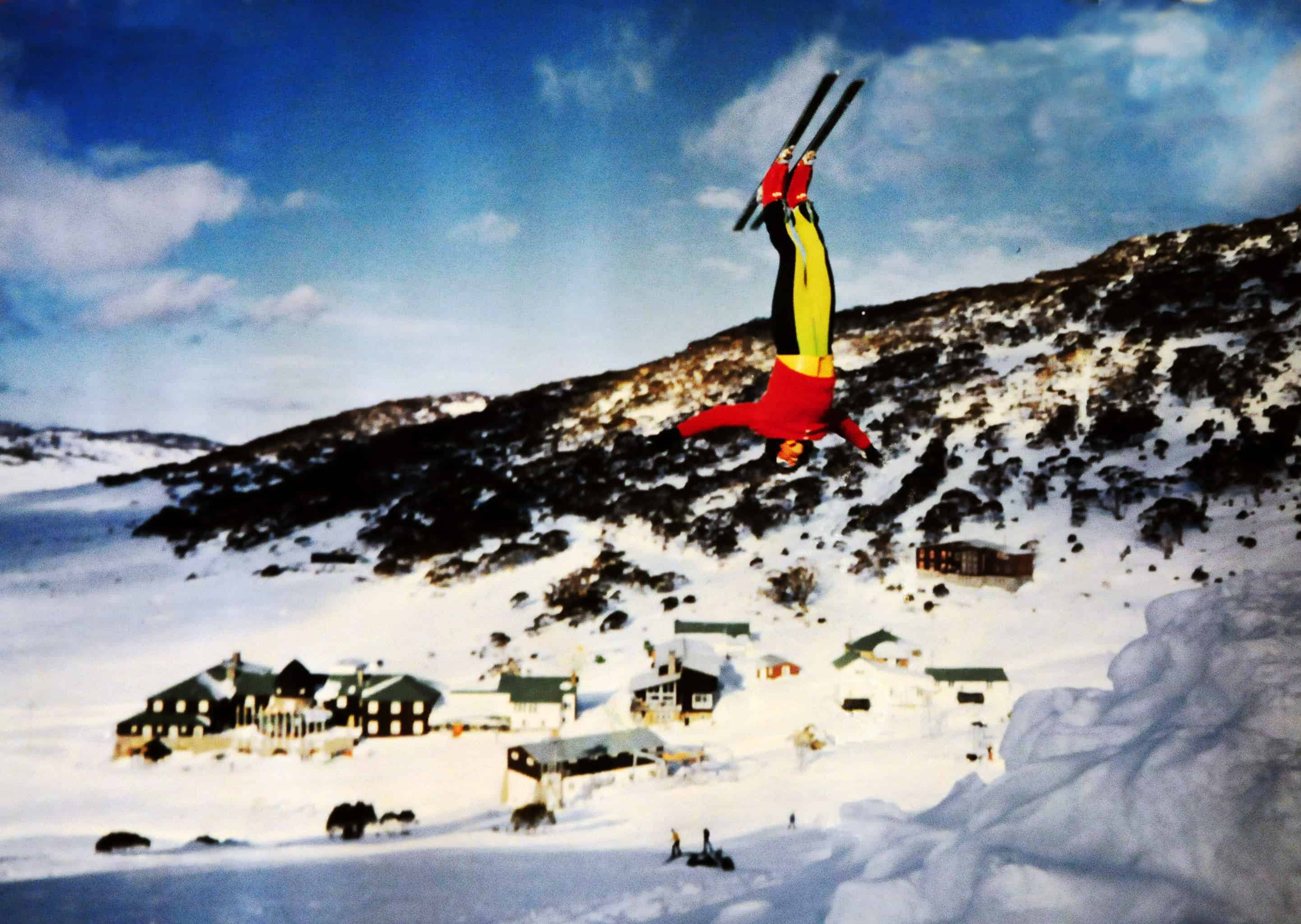 Mountainwatch |  by Randy Wieman & Photos: Randy Weiman Collection
Randy Wieman is a long-time Thredbo local who ran Hot Shots photography in the village for 25 years. Born in the US, Randy was one of the original hotdoggers of the early'70s, competing in the US and Europe before moving to Australia in 1975.  He  quickly became an integral part of the fledgling freestyle skiing scene in Australia, not only competing but was also the freestyle coach in Thredbo. Randy is also a photographer with an amazing archive, making his story a classic look back at the wild beginning of freestyle skiing.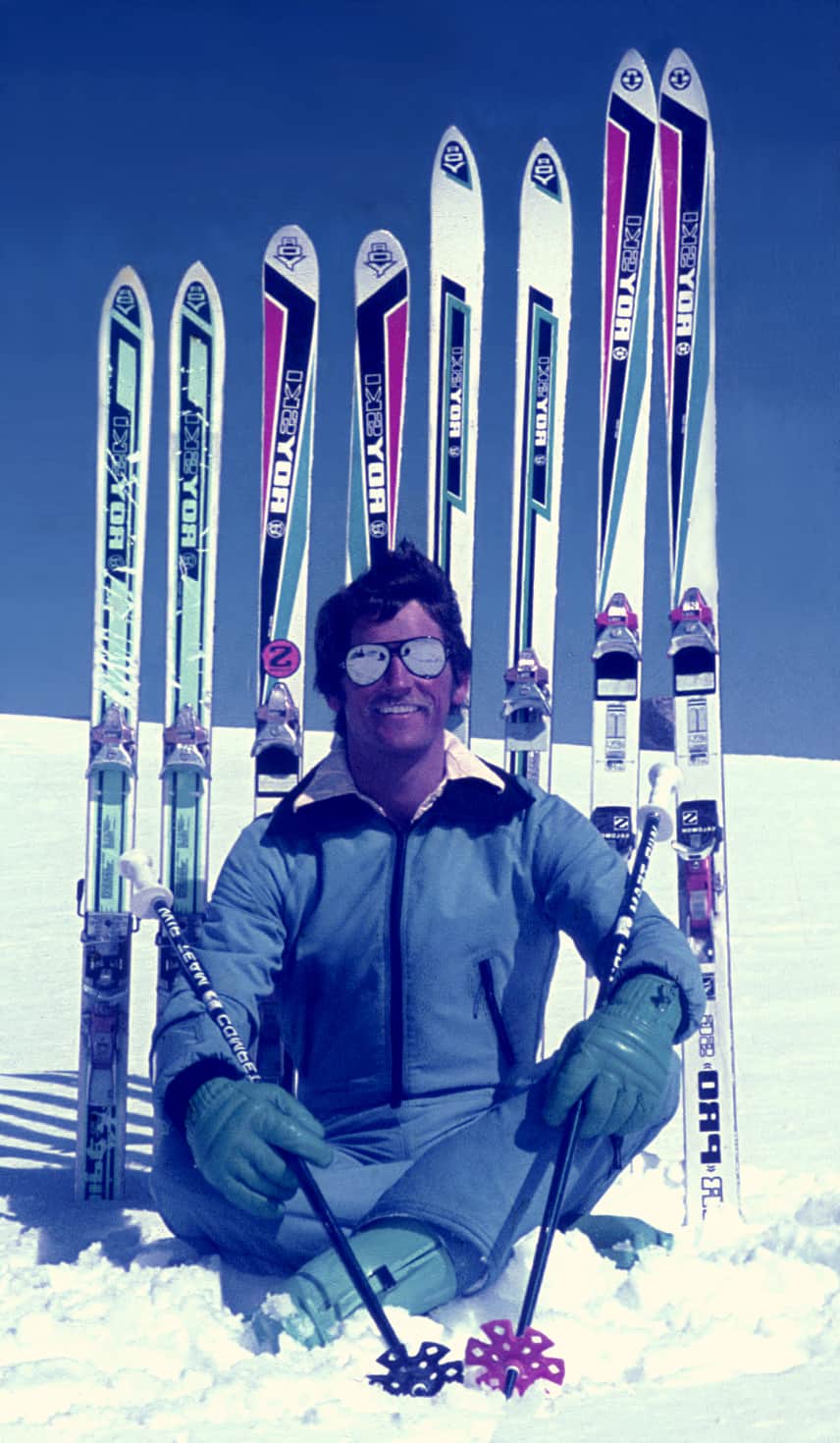 The story goes that the term "Hot Dogging" came about when at the top of a bump run a hotdog sausage slipped out of its bun and wiggled its way down the slope with a hungry skier chasing after it. Not sure if that's true, but it's an entertaining visual.
The '60s and '70s were times of unprecedented freedoms. Anti war protests, free love, long hair, bell bottomed jeans, rock n roll and hippies. For skiers, these winds of change brought about a fresh new flavor of skiing – 'Hot Dogging'.
It's been a big part of my life so let me take you down a bit of a Hot Dogging memory lane.
In 1968 a film called Ski the Outer Limits featured a front somersault into Jackson Hole's Corbet's Couloir with Herman Gollner and Tom LeRoy performing various tricks including a Mobius, (a full twisting flip) and even a triple tuck. Art Furrer rolled out new tricks like the Reuel Christy, Javelin turn, and Charleston that was the start of Ballet Skiing. The Worm Turn and Wong Banger were still to come.
In 1971, K2 The Performers, a film by Dick Barrymore, unveiled the first Hot Dog competition on the steep bumps of the Ridge of Bell in Aspen, followed by a wet T-shirt competition, The film also documented the freeskiing spirit of the time and it is amazing to thinks the progressive skiing by the K2 Demo Team was nearly 50 years ago!
These were the days before grooming, so the hottest and flashiest skiers in any resort were great bump skiers. By 1975, Hot Dogging was named Freestyle Skiing with US$275,000 prize money and international competitions popping up. Moving on from that wet T-shirt competition, it was the first sport to offer equal prize money for men and women. Mark Stiegemeier took home $31,369 and Genia Fuller pocketed $29,912 in that year.
Skiing was transformed with bright coloured clothes and shorter, easier skis. Unfortunately, the professional days of Freestyle in the USA were soon to end as injuries, mainly in aerials, created such a public liability risk resorts banned it. Events continued in Europe and then the Peter Stuyvesant Freestyle Tour and the Volvo Shows brought the best competitors down to Australia from 1979 to 1983.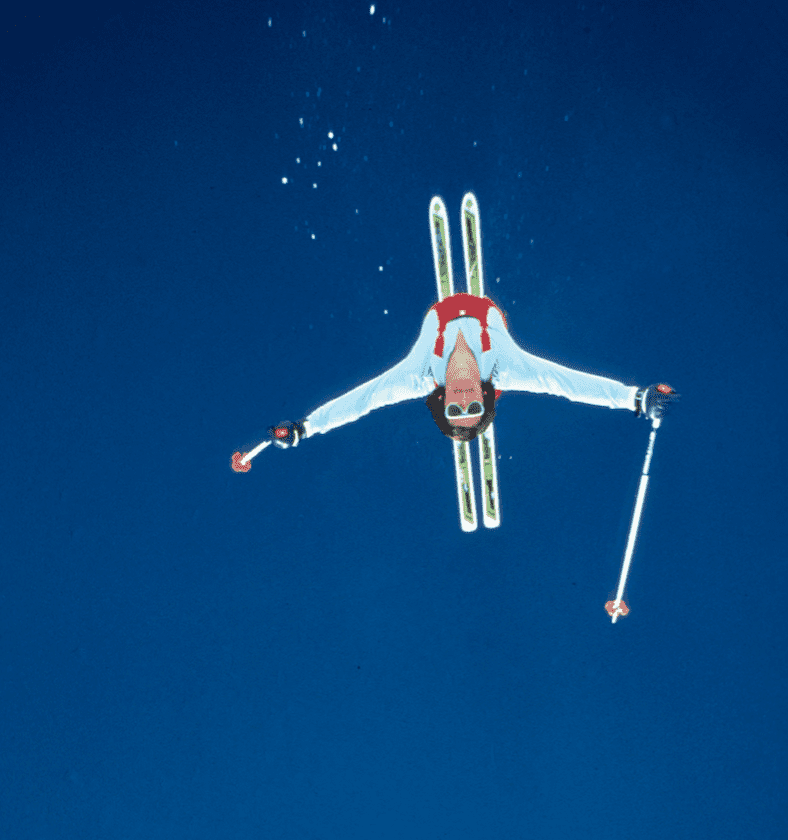 Growing up skiing and ski racing, I embraced Hot Dogging at one of Europe's first events in 1974 in Switzerland. I won 50 francs for a double daffy. Getting paid to ski! What could be better! I bought my first pair of short 170cm skis and started practicing. Come 1975 I got my first ski sponsor and qualified for the first World Freestyle Championships in Cervinia, Italy where the biggest names in Freestyle performed in front of 5000 spectators. Scott Brooksbank and Marion Post won and had to smuggle their winnings – over 1million lire each in cash  – stuffed in a shoebox.  A bunch of us stayed on to teach the Italian instructors how to freestyle, and were paid in skis. Skiing back towards Zermatt a customs official pulled us up stating duty had to be paid bringing new equipment into the country!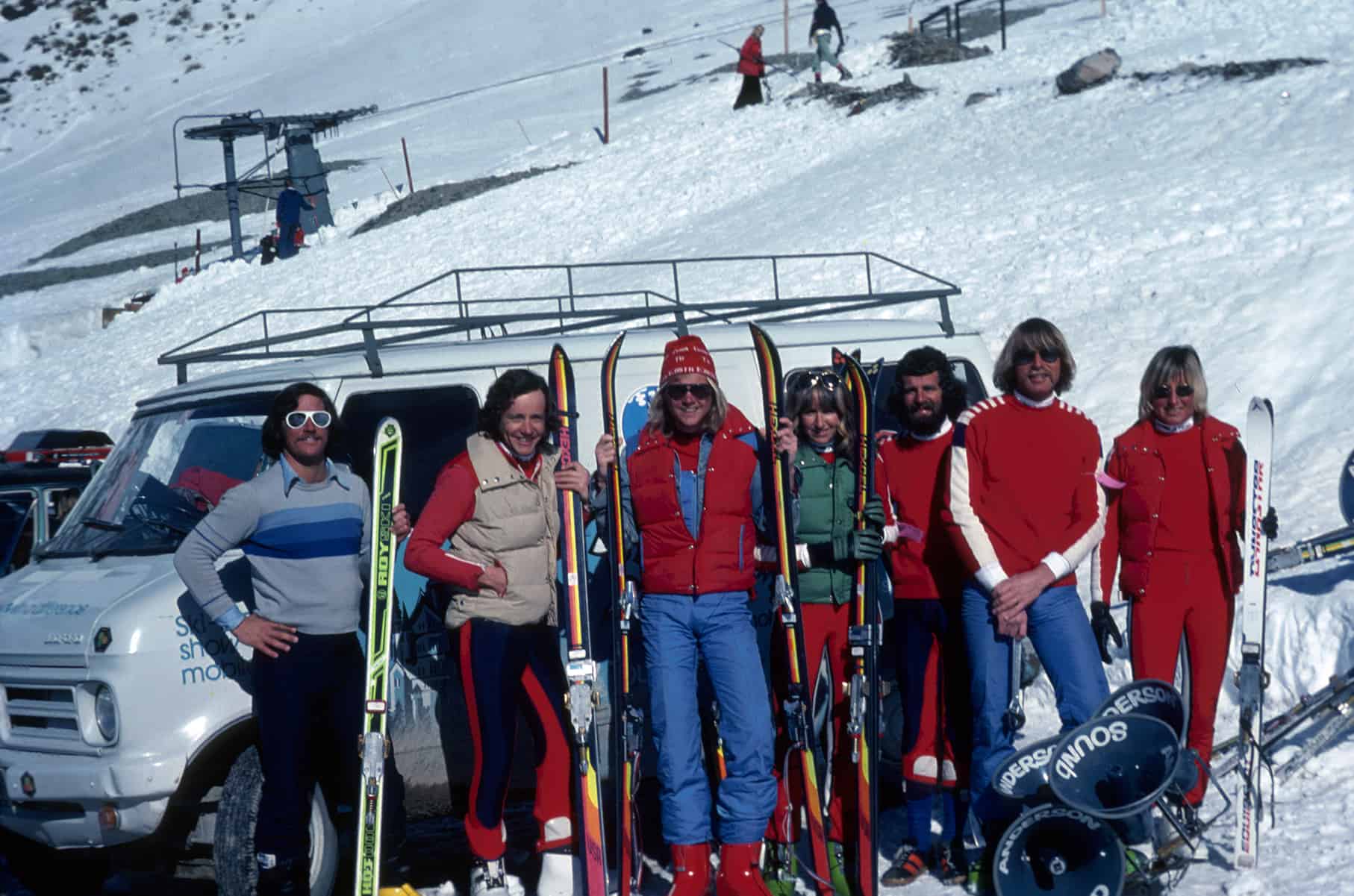 Later that season, Dr. Tony Delaney, from Charlotte's Pass, came to Davos where I bunked with Michael Hill Smith in a condemned building of twelve empty apartments. When the Freestyle Tour came to town we put them all up! Soon after I was offered a job at the Kosciusko Chalet and made my first journey to Australia.
The snow was late arriving that year so the staff hung out every afternoon drinking and telling jokes – my introduction to Aussie culture. Finally, the snow arrived and I was out till dark building jumps – I averaged six flips a day for three months and practiced ballet every day.
While the Hot Doggers of Europe lazed on the beach, my year-round training saw me take out the 1976 Europa Camel Hot Dog Trophy.  I was flipping further than anyone and could hear spectators 'aaahing' as I hung upside down. In conjunction with the Davos Ski School, I set up the first Hot Dogging skiing classes in Europe, traveling every other weekend to compete.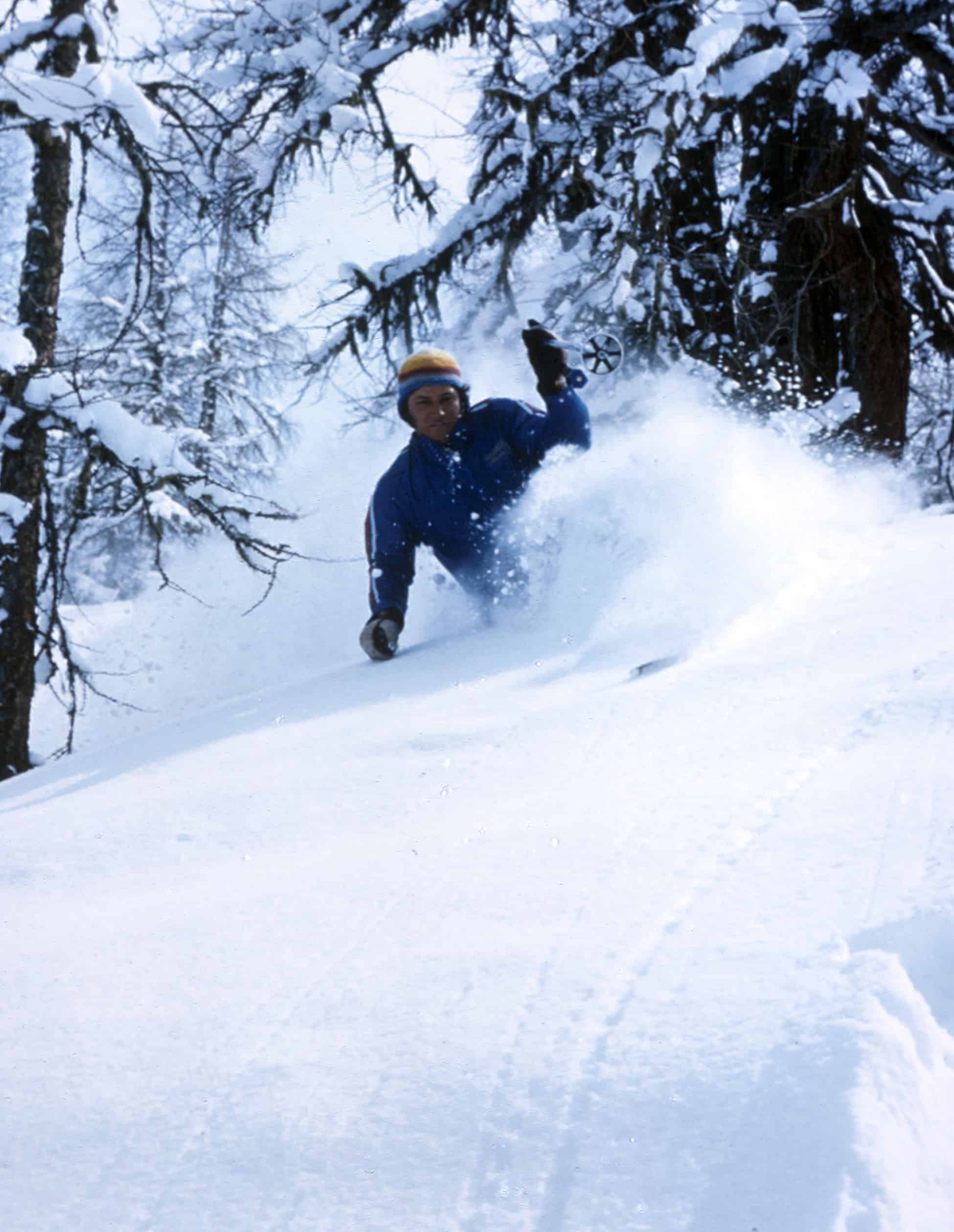 By now I was sponsored and on a victory schedule.  There was cash to be won as well as random prizes like a cured, smoked leg of ham that lasted all winter! Gary Bigham and I were the featured skiers when Dick Barrymore came to Davos to film his movie, White Horizons. The Camel Trophy finals were in Chamonix and I won a motorcycle as first prize. I had to fly out to the US the next day, so I sold the bike for half its value.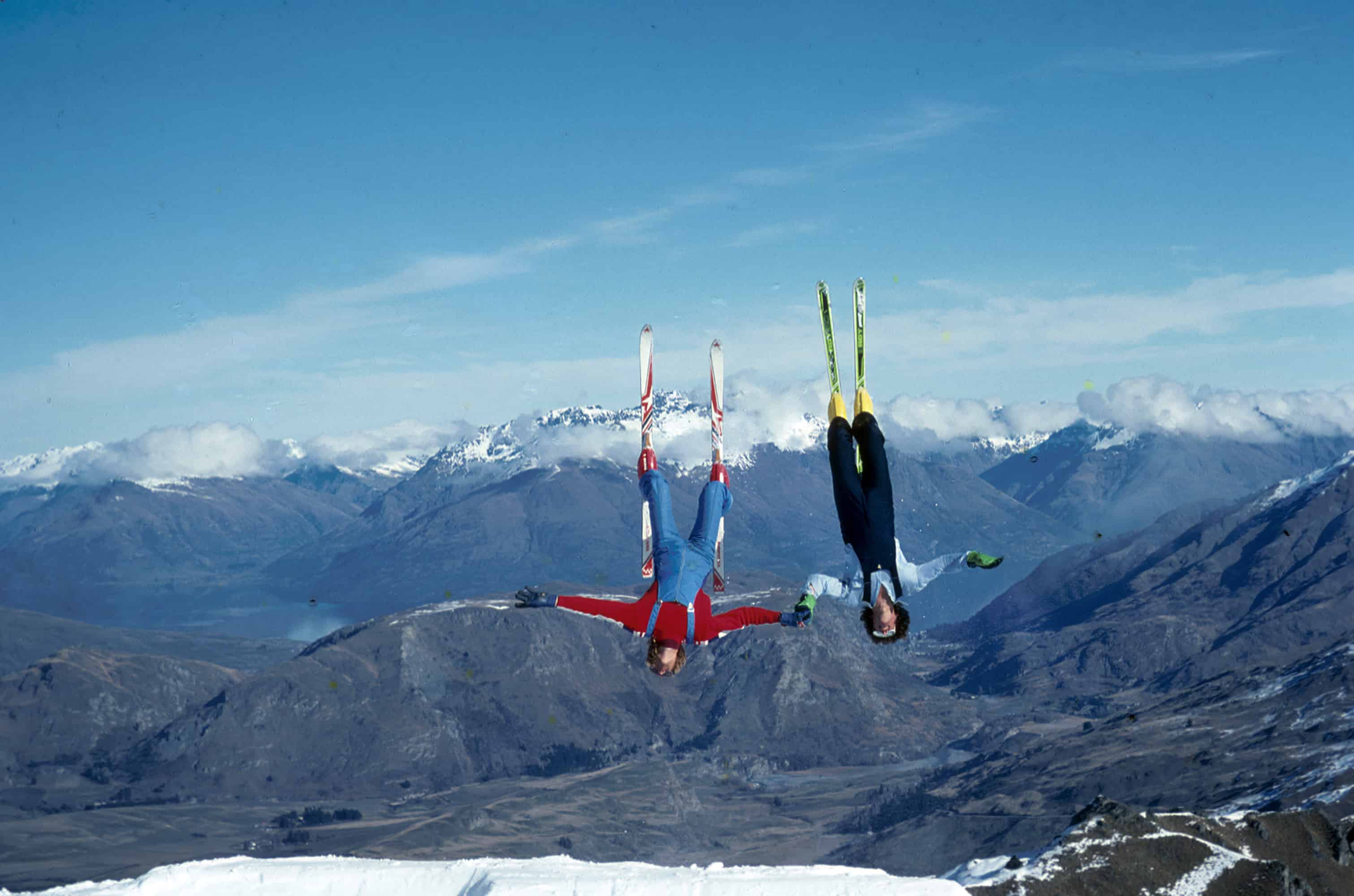 After a six-week trip across America, I ventured to New Zealand to win the Cornet Peak Freestyle comp. With five Kiwis and Bigham we travelled the country putting on wild freestyle shows and making a movie called Flare, A Ski Trip directed by New Zealand's legendary actor Sam Neill in 1977. While the rest of the team filmed and skied the active volcano of Ngauruhoe, I ducked across the Tasman to compete in Australia's first Hot Dogging event in Perisher.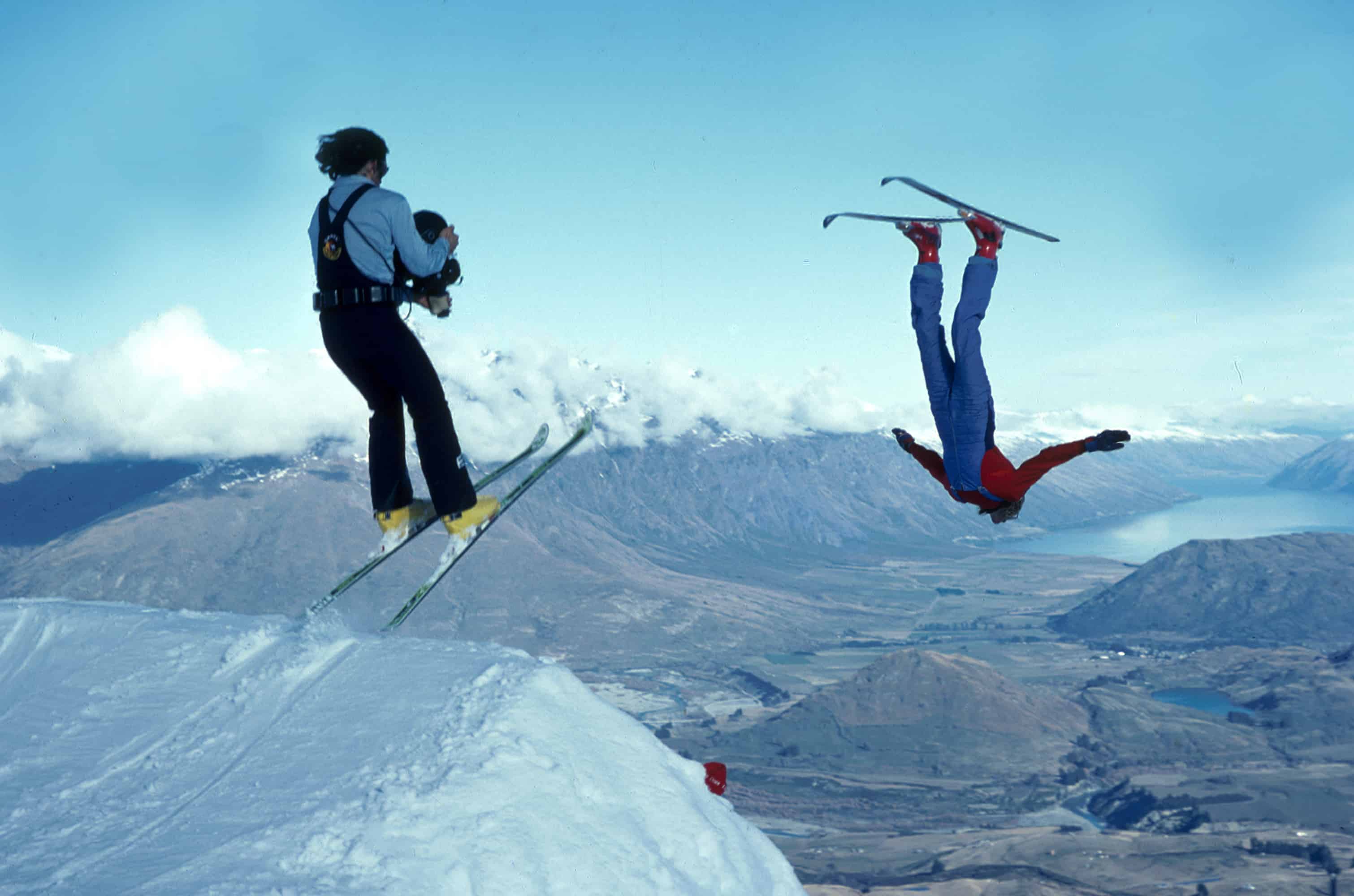 As Hot Dogging had been previously banned, most Aussies had no idea, so I won all the disciplines and left with all the cash.  Channel 9 produced a 1.5 hour special that year on our sport which was shown on Wide World of Sports. I'm not sure most Aussies had ever seen anything like it.
By 1977 Freestyle had gone ballistic with specialists dominating each discipline. Frankie Bear took aerials to new heights putting his gymnastic expertise to flipping and spinning on skis.  He would later do the first triple twisting quad on snow.
I returned to Australia for a job at the Thredbo Ski School where I taught freestyle to those who dared give it a go, performed weekly shows and competed in Thredbo colors. 1977 saw competitions in Falls Creek, Thredbo and Perisher. In the finals, I landed the first double somersault in Australia to win $1000 and the overall title.
Ad agency J. Walter Thompson created an iconic commercial for 7Up with seven of us flipping holding hands as seen at the Perisher final bringing Hot Dogging to mainstream TV.
I took a break from competition that next northern winter, driving across the US and Canada for 5 months in a motor home visiting 51 ski resorts while writing my book, "Freestyle Skiing". I returned to the Thredbo Ski School and my last season of competition.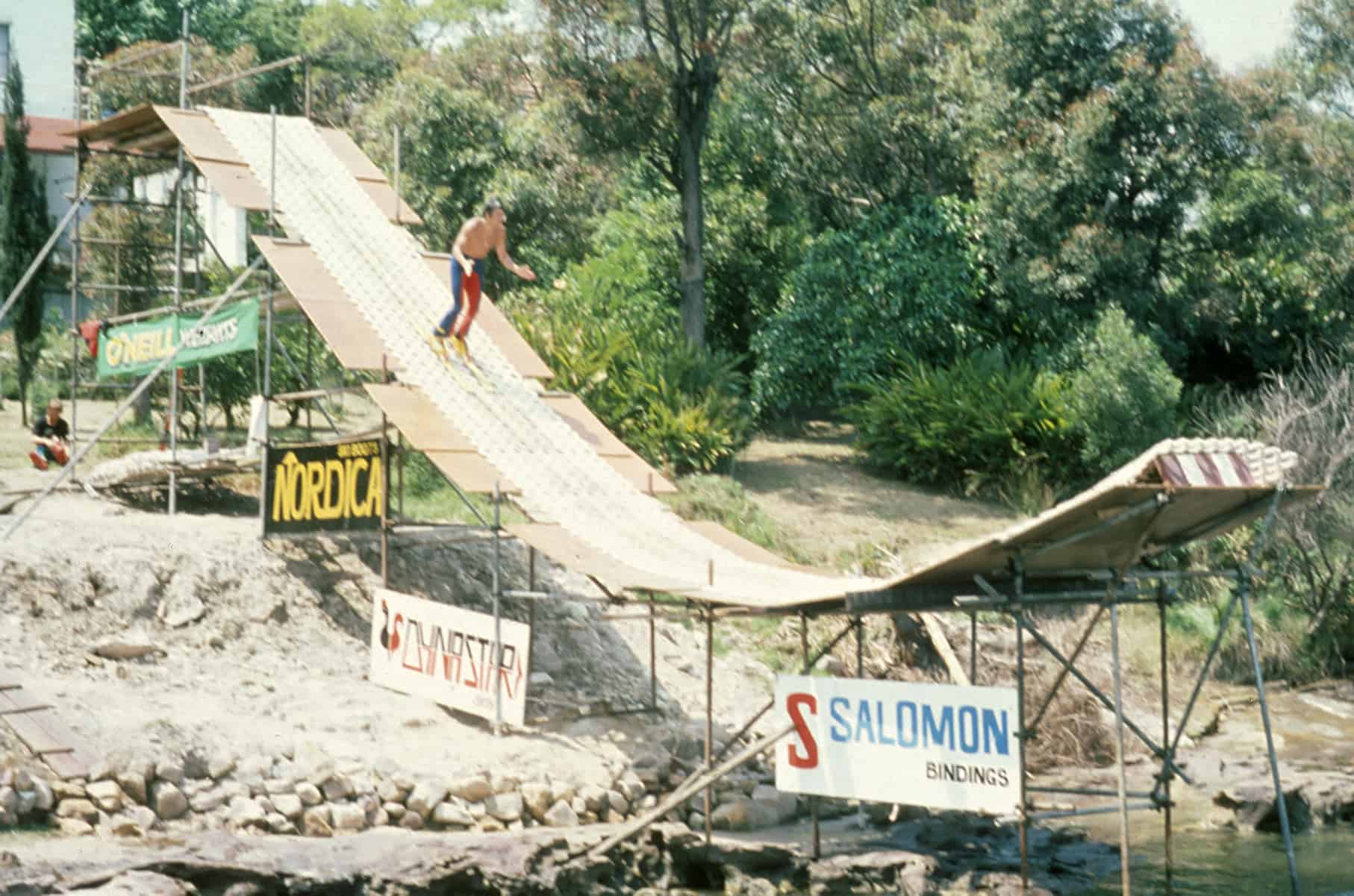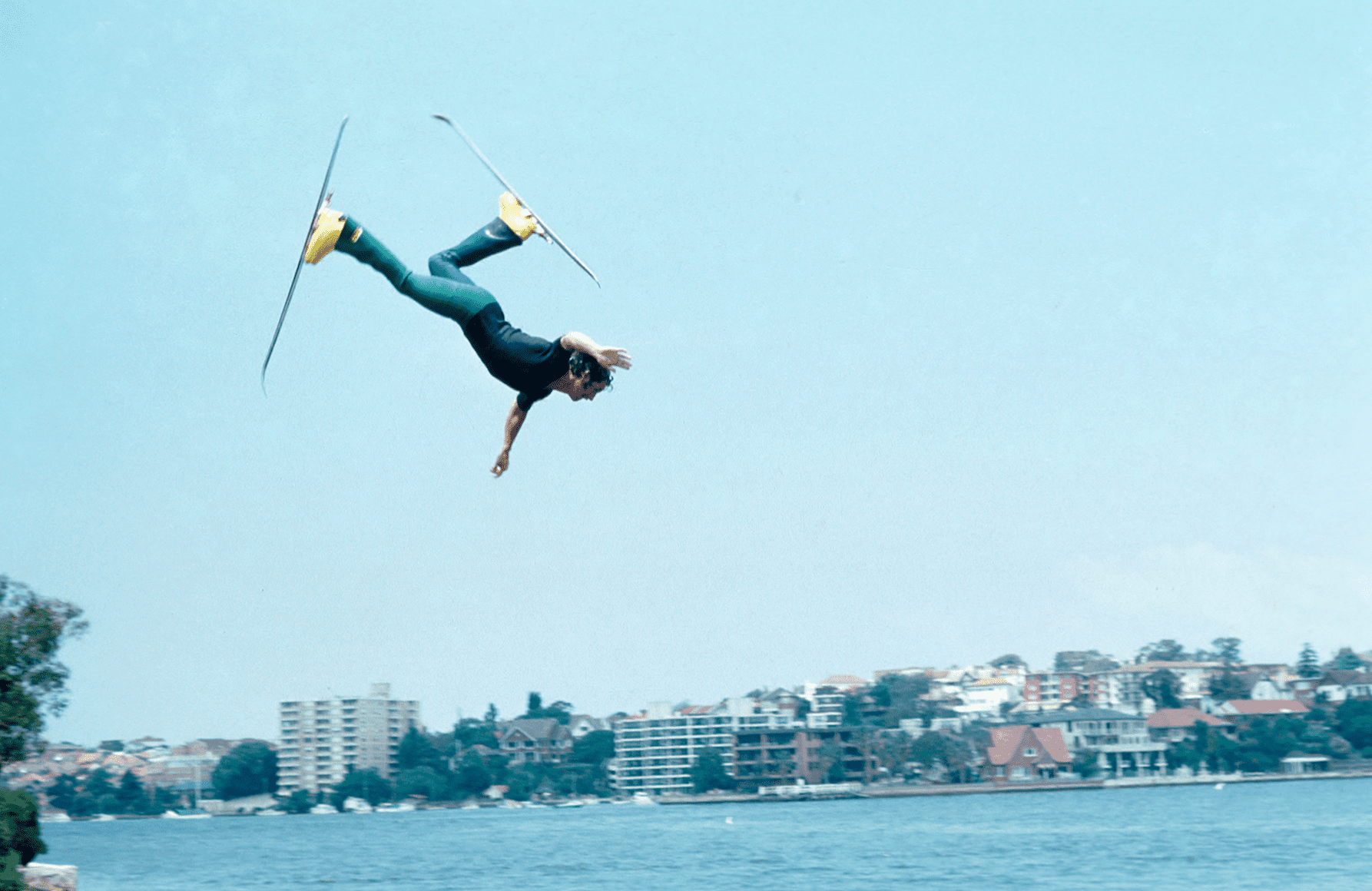 I needed to learn a new ballet trick, so one rainy day I tried doing a pole flip onto my bed. After making it several times, I headed onto the slopes in the wet slush landing it enough times to include it in my routine. There were a lot more competitions in Australia that final winter. A group of Freestylers in Falls Creek built a jump landing into a pile of hay. Stevie Dunn learned doubles on grass skis, also landing into hay. At the AMCO finals in Perisher, seven competitors attempted doubles but due to varying snow conditions, all fell bar one. I opted to do a single that day and won the Australian overall title for the third time.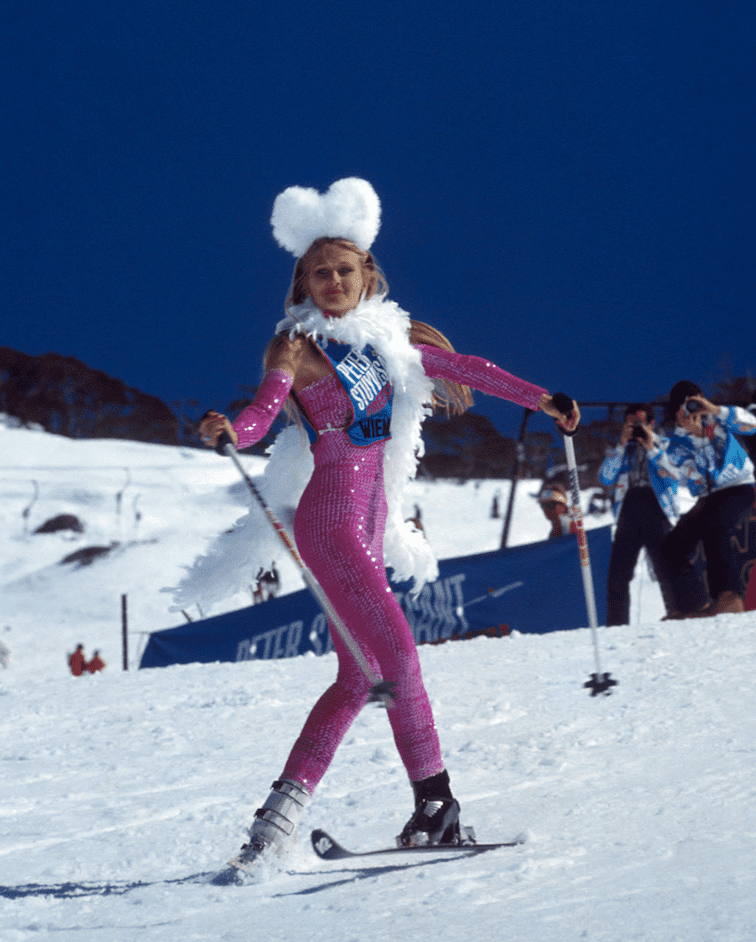 The Peter Stuyvesant Tour took over for the next five years with the World's best Freestylers coming to Australia. John Eaves and Greg Athens were the stars of 1979. John landed his first full, double full on snow. The next year Rick Bowie did the first triple seen in Australia. In 1983 Jean Corriveau executed a lay, full, full, a double twisting triple on a massive jump built above Merritt's. World Champions Peter Judge, Jan Bucher, Frank Beddor, and others added a lot of color to the events and the 30-minute TV specials every year. It was the heyday of Aussie freestyle skiing.
In 1983 the 34th FIS Congress came to Sydney and for the first time, Freestyle Skiing was included under the FIS umbrella marking the end of professional Hot Dogging. Moguls and Aerials would become Olympic disciplines with Ballet and Combined rendered extinct.
The Hot Dogging spirit is still thriving in these new forms but for those of us who were around in the wild pioneer days, those crazy and formative years will never be matched. We were so lucky to be there at that time and part of a colourful chapter.
This story appeared in the 2019 issue of Chillfactor magazine, the magazine that celebrates Australian freeskiing culture. For newsletters, podcasts and to subscribe go to  www.chillfactor.com