RIP CURL FREERIDE PRO Run & Won Today!
August 16th, 2011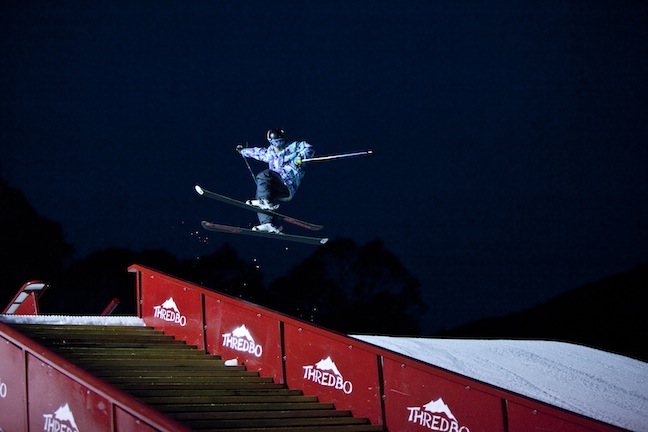 Rip Curl rider and Thredbo local grom Sam Tomasi. The under-lights night time ThrowDown gives the riders the chance to show some impressive manoeuvres. Image:: Rip Curl
Rip Curl Freeride Pro
The 2011 Rip Curl FreeRide Pro and ThrowDown events presented by Nature Valley are set to run at the hotly anticipated slopes of Thredbo today, Tuesday August 16 under bluebird skies
Conditions dictate the event will be held at the legendary Bluff run at the top of the mountain where riders will be put through their paces. The steep slopes ensure plenty of thrills, spills and massive manoeuvres.
"We've chosen the best spot on the mountain. We've got some awesome jump features built into the natural terrain, riders will have multiple opportunities to display their full potential," commented Internationally renowned course designer & Thredbo's key snow shaper Charles Beckinsale.
"Weather conditions dictate that we are going to run both components of the event in the one day. We are looking forward to running the FreeRide at the top of the mountain and then coming down the bottom for the ThrowDown night time event in front of a big crowd," said Rip Curl Events Manager Mark Flanagan
The park crew have been working dusk till dawn creating unique features so that the riders can showcase what makes them the hottest riders in Australia. Nate Johnstone, two times FreeRide Pro winner (2008 & 2009) has his sights set on a third win in 2011. Last year's Open Men's Ski winner Watkin McLennan is looking to take the event out again.
The 2011 Rip Curl FreeRide Pro and ThrowDown events are presented by Nature Valley with major partner XXXX Summer Bright Lager and media partners Banzai (Yahoo!7), Mountainwatch.com, Transfer & Chill Factor magazines.
Thredbo forecasts,
snow reports and
live snow cams.