Rossignol Ladies Day at Mt Buller
August 5th, 2010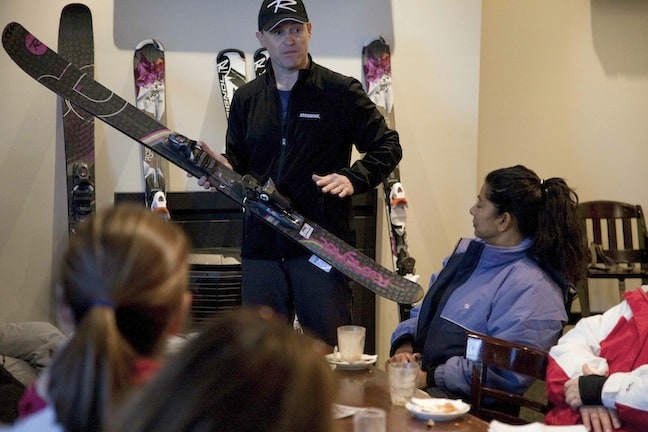 Rossignol National Sales Manager Rob Fuleky shows the Rossignol skis. Image:: Elle Cook
Words | Tess Cook
Any day that begins with pastries and coffee and finishes with champagne and chocolates is going to leave a girl smiling, add in the chance to test drive a selection of the latest Rossignol skis, an in-built group of ski buddies, some professional instruction, a charming ski butler and one over indulgent lunch and you have a one great time.
This is the Rossignol Ladies Day, a Mt Buller institution and a great way for ladies to take stock of the ski options available for them and enjoy a day together on the slopes, with some excellent food and plenty of wine thrown in for good measure.
The day begins at Apres Bar in the Mt Buller Chalet, coffee orders are taken, muffins and croissants are served and Rob Fuleky, Rossignol's National Sales Manager introduces the day's instructors – sisters Catherine and Caroline – and gives a quick talk on the skis everyone will be testing.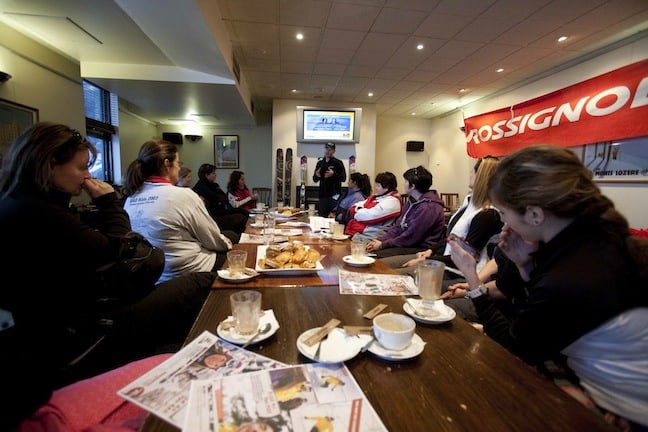 The day begins with coffee and pastries. Image:: Elle Cook
Rossignol puts a lot of effort into being a leader in ladies skis. The brand devotes a whole factory just to producing their female product lines, which are crafted to suit the female build and centre of gravity. Rob shows the heel lift plates in Rossignol ladies bindings, which are designed to to complement the female hip position, and explains that Rossignol ladies skis have the dynamic turning point – the narrowest part of the ski – 2cm further forward than men's skis, to allow for the female stance.
The testing quiver today includes the Attraxion 8, Rossignol's new high end all mountain ladies ski, the S80W, a women's freeride ski with extra width underfoot for those off piste adventures, the unisex Z76, which Rob describes as the Ferrari of the day because it's a high performance ski and the auto-turning Alias, which uses reverse camber technology to make turning effortless.
The Rossignol Ladies Day has many selling points – the combination of female camaraderie, skiing with instructors (no lift queues!) generally useful ski butler and indulgent lunch is hard to beat, but what really makes the day is the opportunity to try out all the different skis.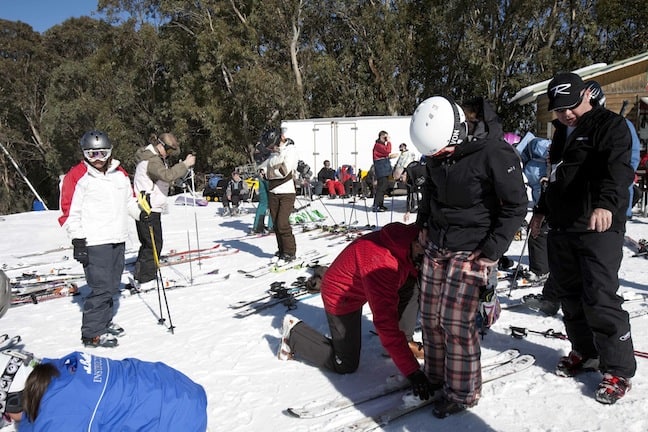 Rob assists with the on snow ski swap. Image:: Elle Cook
Some of the group are searching for their first or second ever pair of skis, experiencing the enormous difference there is between different models helps them find just exactly what they're looking for. Others are seasoned ski buyers and taking the new technology for a test drive makes them want to upgrade or add to their ski collection! With several ski swaps through the day, everyone has a chance to find their ideal ski.
But of course, the indulgent lunch is also a highlight Caroline and Catherine, it turns out, are Browns – as in Brown Brothers wines. They switch from instructor mode to sommelier mode and serve up a delicious sparkling for everyone, which is followed by a red or a white to accompany the 'I've been skiing all day so I deserve this' sized serves of pasta. Everyone is decidedly stuporous when the group heads back onto the slopes. It takes a quick run on new skis to shake off the food comas.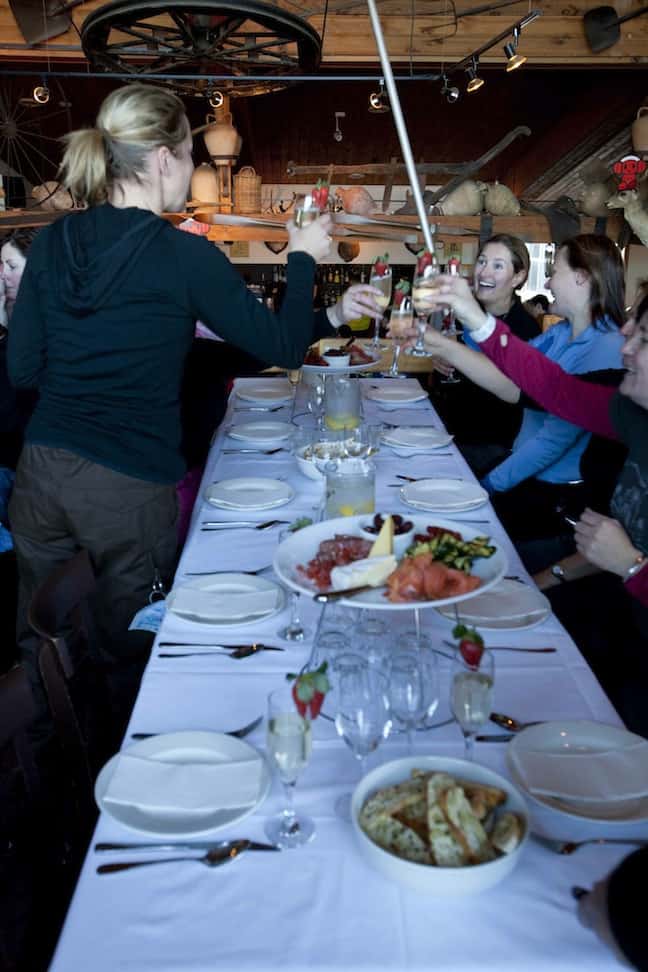 The bubbles flow at the Ladies Day lunch. Image:: Elle Cook
The afternoon winds up back at Apres Bar, where chocolates and yet more sparkling are on hand to soothe tired legs. Ben from Buller Sports comes to offer everyone super special deals should they want to purchase any of the skis they've tried, the ladies are quick to take up the offer and several follow him to get themselves set up while the rest of the group take just one last glass of sparkling.
Phil the ski butler hands out boxes of chocolates and everyone says their farewells. It's been an altogether fabulous day.
_The Rossignol Ladies Day was $129, which included a two-course champagne lunch, tuition from expert instructors, demos of the latest skis, morning coffee, seminars and Rossignol gift. Visit www.mtbuller.com.au for information on the Rossignol Ladies Days
Mount Buller forecasts,
snow reports and
live snow cams.