Season Outlook 2014 – September Update – Australia
August 29th, 2014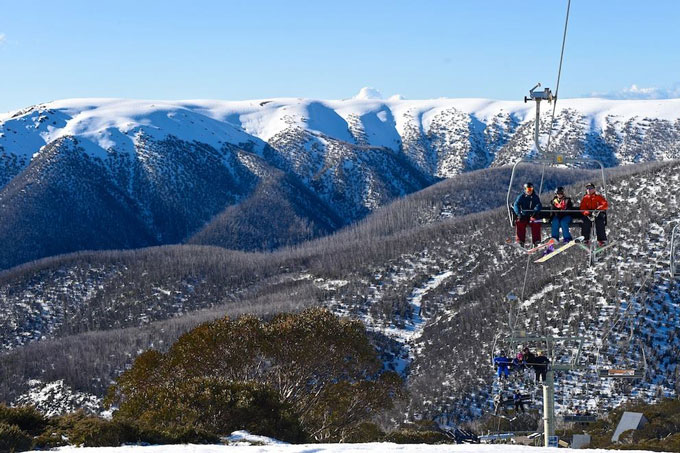 Spring in the high country, does it get any better? Image:: Falls Creek
Australian Seasonal Snow Outlook | The Grasshopper
Brought to you by ESS Boardstores
It's time for our final seasonal outlook of the season, and I have to admit this is probably my favourite one to write. We get to look back over the season, get all nostalgic about the good bits and the bad bits, and prepare ourselves for one final assault on the hills before we swap boots and boards for bikinis, boardies and budgie smugglers. So let's take a look at what September will bring.
The Long Run
It's been quite a season. You can say one thing for certain, it's been a winter of extremes and the weather has kept us guessing. Possibly more so than in recent years, in my opinion anyway. We started, of course, with a very dry situation during early June. The official opening date of 7 June was once again, a tad optimistic, and around 12 June folks were getting a little panicky. Then POW. Snowmageddon hit, and nearly two metres of snow in a fortnight had the snow base sitting on around 130cm by early July.
July was a very good month as well. I can't be bothered going back and adding it all up, but we had several more large events that added up to about a metre of snow. The interesting thing, however, was that as the fresh snow kept on falling from the sky, the stuff on the ground kept compacting more and more and so the snow base didn't leap ahead like we might have expected.
By about 20 July, we hit our peak of 169cm for the season, and since then there's only really been a few borderline events. High pressure systems have definitely been the dominant weather pattern through August. Those of you who have been following my "Wrong'un" vs "Classic" El Nino discussion since April can note that after Wrong'un conditons during June and July, we've switched to a "Classic" situation during August that has really limited the chances of further snow.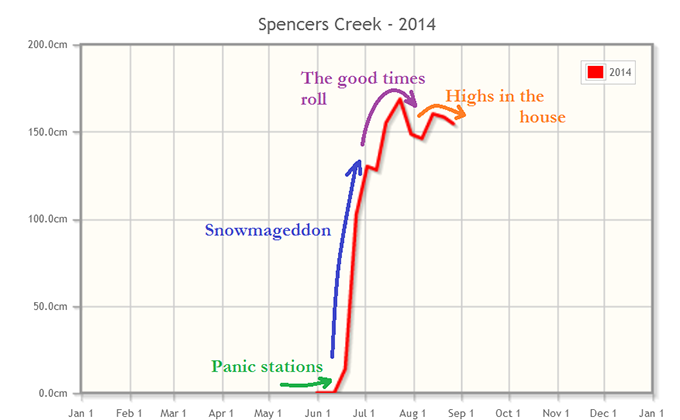 We haven't hit the heights of the last two years, but we've had a nice plateau above 150cm. Source:: Snowy Hydro
The Heat is On
The first thing to come to terms with in September, is that at some point we're going to start to lose snow very, very quickly. Sooner or later temperatures will rise above zero degrees for a week, everything starts melting, and we can easily shed 25cm to 40cm of base in a week.
We get an early taste of this over the next few days with several warm afternoons and more limited overnight freezes.
Take It to the Limit
But there's some very good news on the horizon, with a cold front set to blow through the Alps on 1 September, bringing a burst of spring snow, and helping to maintain winter-like temperatures for another few days.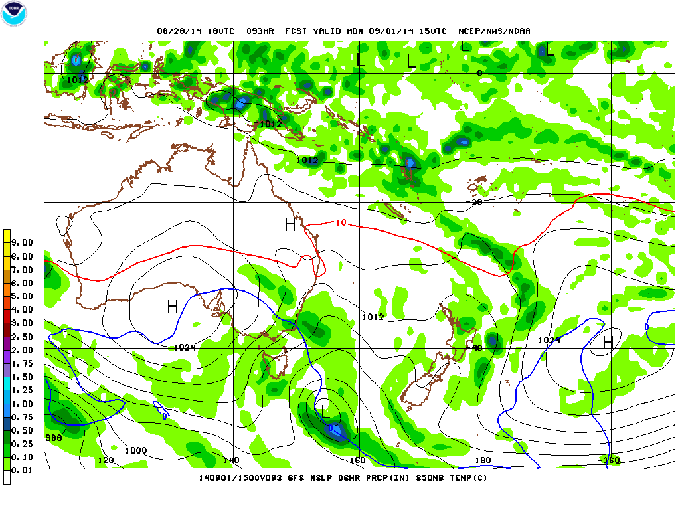 A great start to spring. Source:: NOAA
This is good news in itself, but it gets even better, because models are hinting at another cold change in the second week of September that should also be worth a bit more snow, but, more importantly, will keep those temperatures nice and low until the middle of September.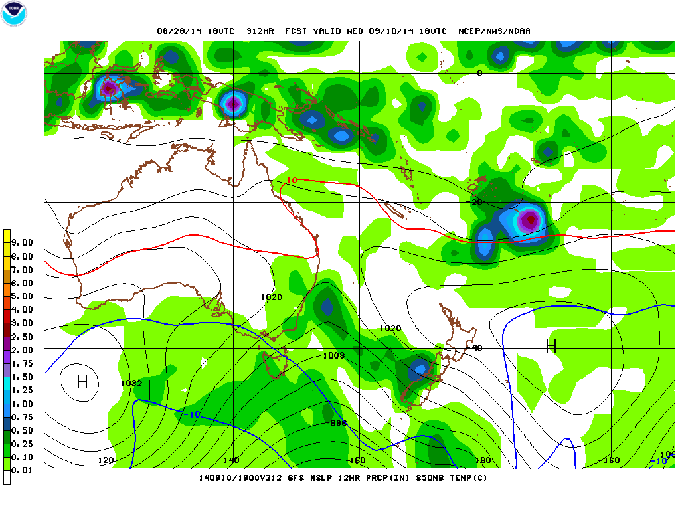 And a bit more cold air in the second week of September. Source:: NOAA
From the middle of September, the odds of a big high pressure system and some warm air sitting over the Alps are going to increase, so the day of reckoning will be near. But until then, the situation to me looks about as good as we can expect at this time of year. The image below contains my guess of how we're going to see the snow depth at Spencers Creek fall away this month. The big thing to note is that conditions are likely to hold on much better than they did last year, when we lost 65cm in two weeks.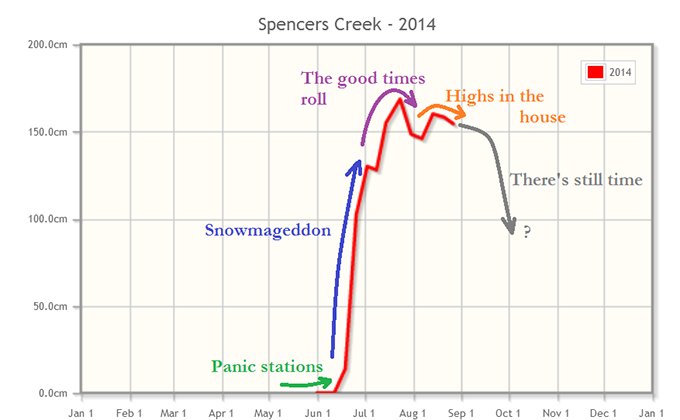 Here's a rough guess about where that snow depth will track. Source:: Snowy Hydro
So all you folks who have been asking me how long the season will last… here is your chance. Get up to the snow, ride it like you stole it, and take it to the limit one more time.
You'll miss it when it's gone.
That's our final seasonal outlook for the season, but you can follow my daily forecasts until October 2, when I'll say sayonara until next season. If you've got a different idea on what's going to happen during spring, or just want to provide feedback, then please join in the discussion below, or hit me up at grasshoppermw@gmail.com or join the discussion below.
Don't forget to subscribe to my weekly Weekend Forecast email (which will continue all season):