SEASON SNOW OUTLOOK – Canada
November 2nd, 2010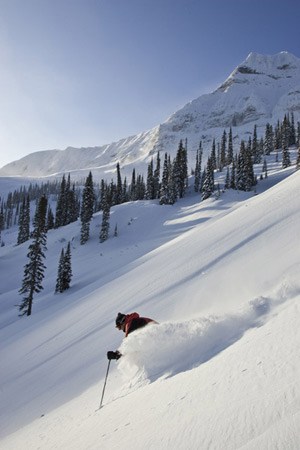 A bumper year for Fernie? Image:: Fernie
Forecast | 'The Grasshopper'
If you've been paying attention to weather outlooks for the season you will have been hearing all about La Nina and how it's great news for snow in Canada this winter. That would be about right. Rather than say exactly the same and lose your attention before you get to the next full-stop, let's take a look at exactly why this is the case.

The Girl Child – La Nina
You've probably heard that a La Nina event is firmly established in the eastern Pacific Ocean. But what does that mean?
The point is that during La Nina colder sea surface temperatures thousands of miles away in the eastern tropical Pacific have a big effect on the pattern of high and low pressure systems that deliver weather to North America.
During La Nina atmospheric pressures are much higher than normal across the northern Pacific and slightly lower than normal over Western Canada. This pattern is also apparent at higher levels of the atmosphere, and the result is that Alberta and BC get more cold, westerly or north-westerly outbreaks than normal. Not all the weather will come from this direction – just more than normal.
Not only do these cold outbreaks deliver more cold arctic air, they also deliver stronger winds, which come into play when they push large amounts of moist air up against mountain ranges, generating copious amounts of snow.
The thing to take away from all of this is that we should see more cold air for western Canada during La Nina.

Plenty of snow please, hold the rain
Not only are we expecting a La Nina this year, but it's going to be a fairly strong one. That's a good thing, because as the maps from environment Canada below show, it really takes a strong La Nina event to deliver above-average rainfall to BC and Western Alberta.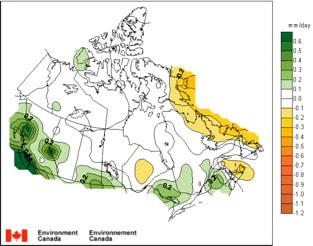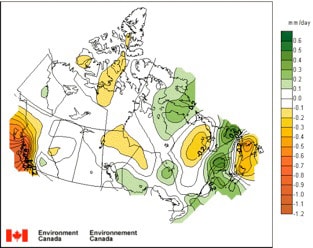 Rainfall anomaly per day for strong La Nina events (top) and Moderate La Nina events (bottom) compared to neutral years.
Obviously we like it when a lot of precipitation falls. But it's also a bummer when it's too warm and it all falls as rain. And so one of the benefits of La Nina is that even if there is not more precipitation in total, more of the precipitation falls as snow because it is colder. What's more, if it's snowing, then it's not raining, so the snow pack is going to stay in better shape.
That's what the map below from Environment Canada is showing. During La Nina years, by the time March rolls around, on average there is an extra 150mm of snow on the ground. That might not sound like a lot, but given that this includes ALL La Nina years, not just the strong ones, it's a very clear signal that during a strong La Nina, when we also expect the extra rain, the odds are going to be stacked in favour of a better than normal snowpack.
So if you've been trying to decide whether that season pass or Canada holiday will be worth it this year the answer is "go for it", because you'll be unlucky if the snow isn't better than normal.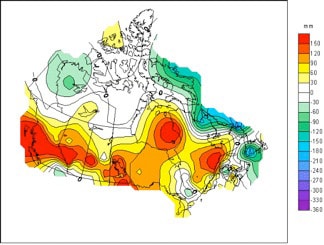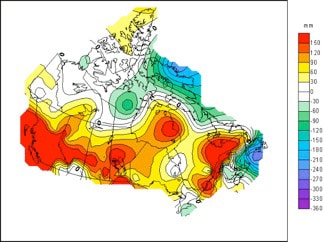 Anomaly in maximum snow depth during January (top) and March (bottom) – La Nina years vs neutral years
Read The Grasshopper's Western United States season outlook here
Lake Louise forecasts,
snow reports and
live snow cams
Big White forecasts,
snow reports and
live snow cams.
Whistler  forecasts,
snow reports and
live snow cams.
Fernie  forecasts,
snow reports and
live snow cams.
Sun Peaks forecasts,
snow reports and
live snow cams.
Silver Star forecasts,
snow reports and
live snow cams.