Mountainwatch Guide to Shiga Kogen – Japan's Highest and Largest Interconnected Ski Area
November 23rd, 2022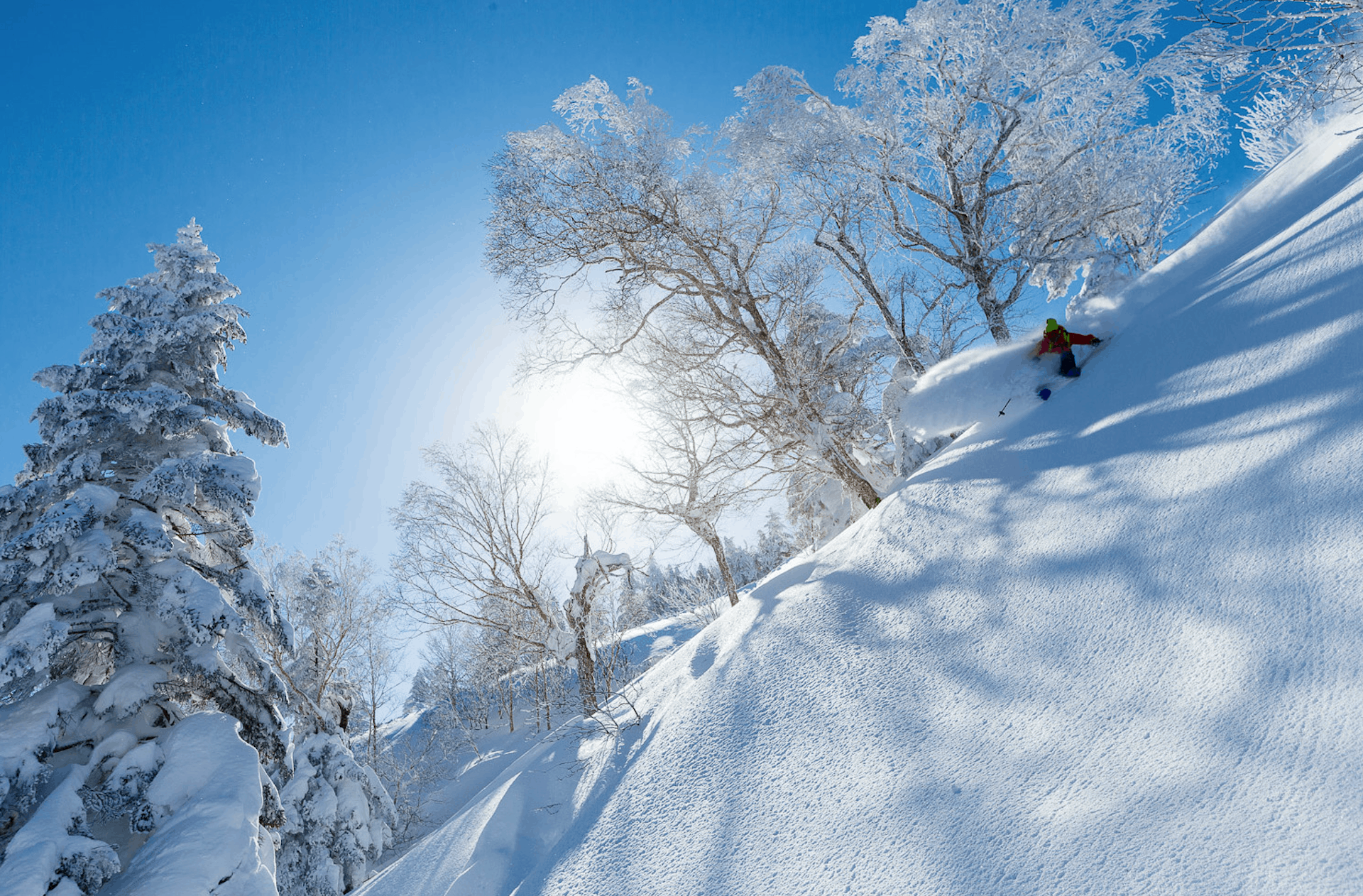 Mountainwatch |  Jimmy Wacher
Located in the Nagano prefecture on the island of Honshu, Shiga Kogen is Japan's largest interconnected ski area and with a peak altitude of 2305 metres is home to the highest-lifted point in Japan.
The ski area is made up of 18 resorts covering 600 hectares with 50 lifts, including a number of high-speed quads and four gondolas and it has a big vertical of 980 metres. Naturally this provides guests with a vast, powder-filled ski experience with no shortage of tree runs and wide-open spaces, all accessible with one ski pass.
One thing Shiga is lacking, however, is crowds. Untracked, accessible powder with no lift lines? You can count me in. I've spent two full time winters living and working in Shiga Kogen as well as having travelled to a number of ski resorts around both Honshu and Hokkaido. I can say with certainty that Shiga provides the best experience for everyone from the seasoned pro to the first-time skier.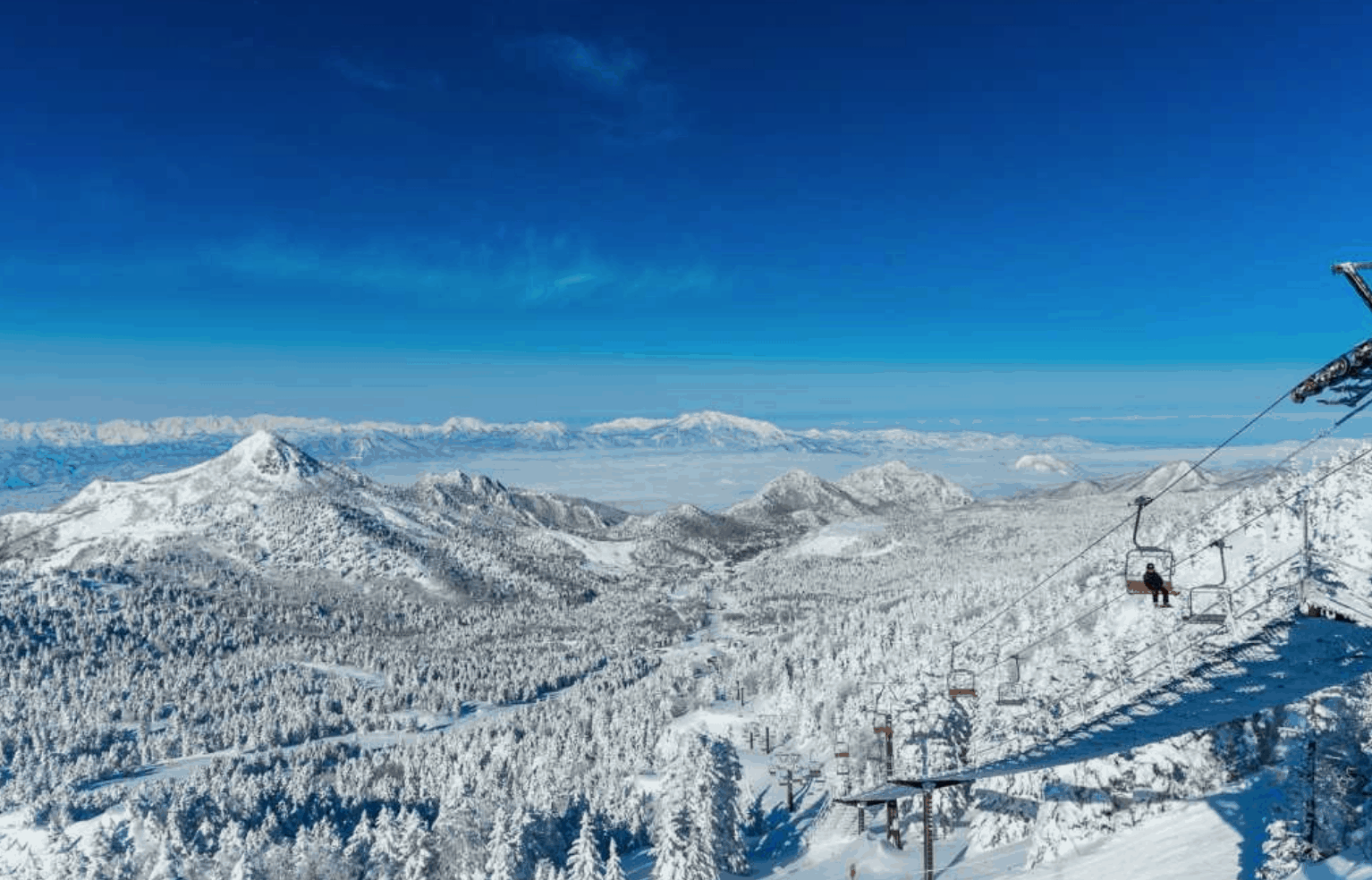 Largest Ski Area in Japan
Being the largest interconnected ski area in Japan, Shiga had a plethora of options when it comes to exploring the resort. There is a free shuttle bus with stops at each resort area or, if skiing is more your style, you can make your way between each of the areas on snow (with a couple of exceptions.) There is more than enough terrain to keep you entertained on even the longest of trips. From the gentle flats of Yokoteyama through to the long, winding groomers of Higashidate and the expansive steeps of Yakebitaiyama, Shiga truly has it all.
Nestled high in the Joshinetsu Kogen National Park, Shiga Kogen has expansive views across the Japanese Alps. On a clear day you'll be able to spot Myoko Kogen and Nozawa Onsen and, if you're lucky, you may even catch a glimpse of Mt. Fuji. Another perk of being situated in the national park is the sparsely developed landscape. There is plenty of space for skiing with a handful of buildings at the bottom of each run and almost no developments on the hill. Be sure to check out the sunset from the aptly named 'Panorama Carpark' at Ichinose and take in the spectacular scenery of the Japanese Alps.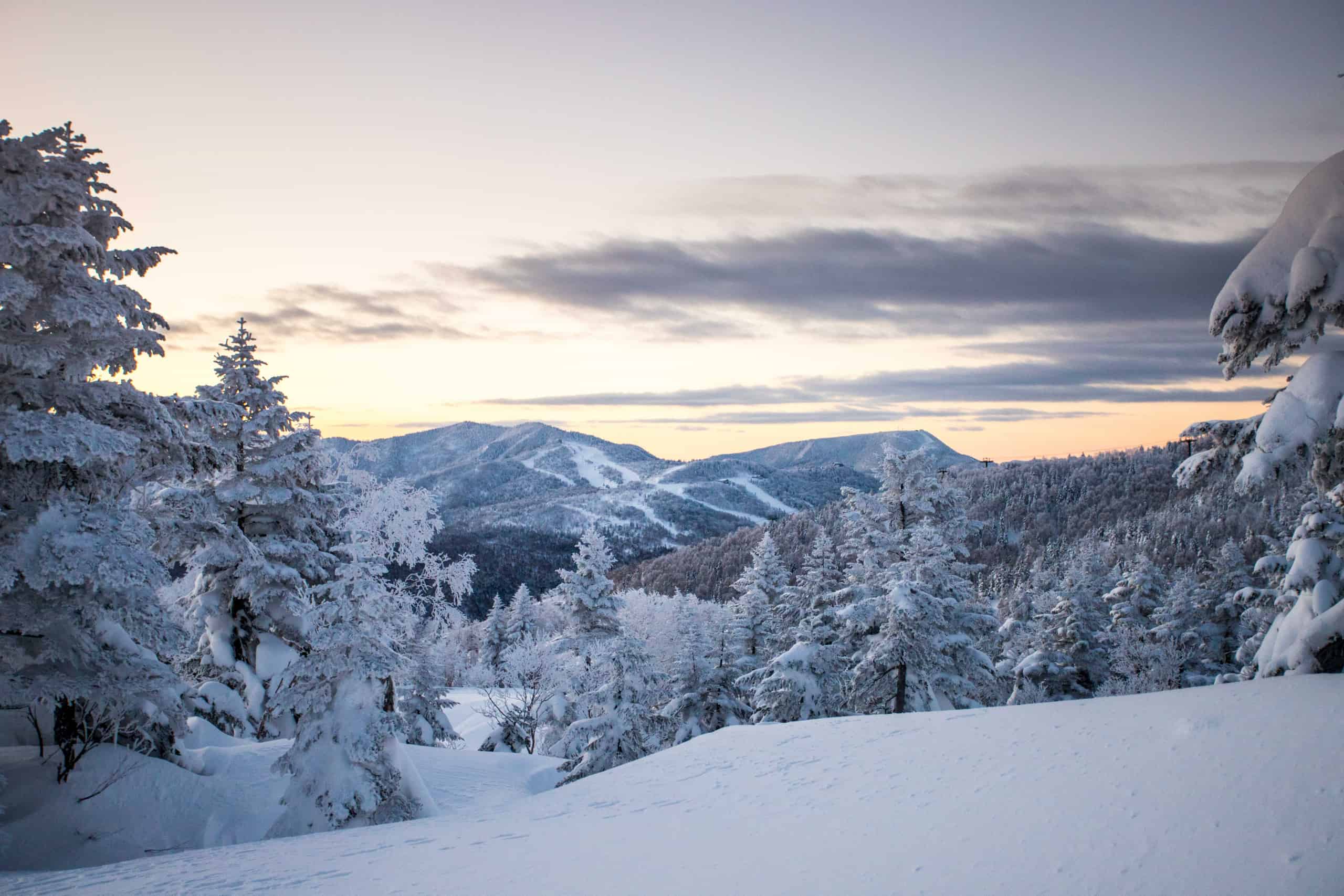 Quality Snow and a lot of it
 Shiga Kogen has 80 on-piste runs spread across the different resorts, perfect for long cruisy runs on the corduroy, the longest at 6km. There is a good mix of terrain with 30% beginner, 40% intermediate and 30% advanced. For me Japan is all about the powder and you can bet that Shiga Kogen gets it, with an average snowfall of 12m a season.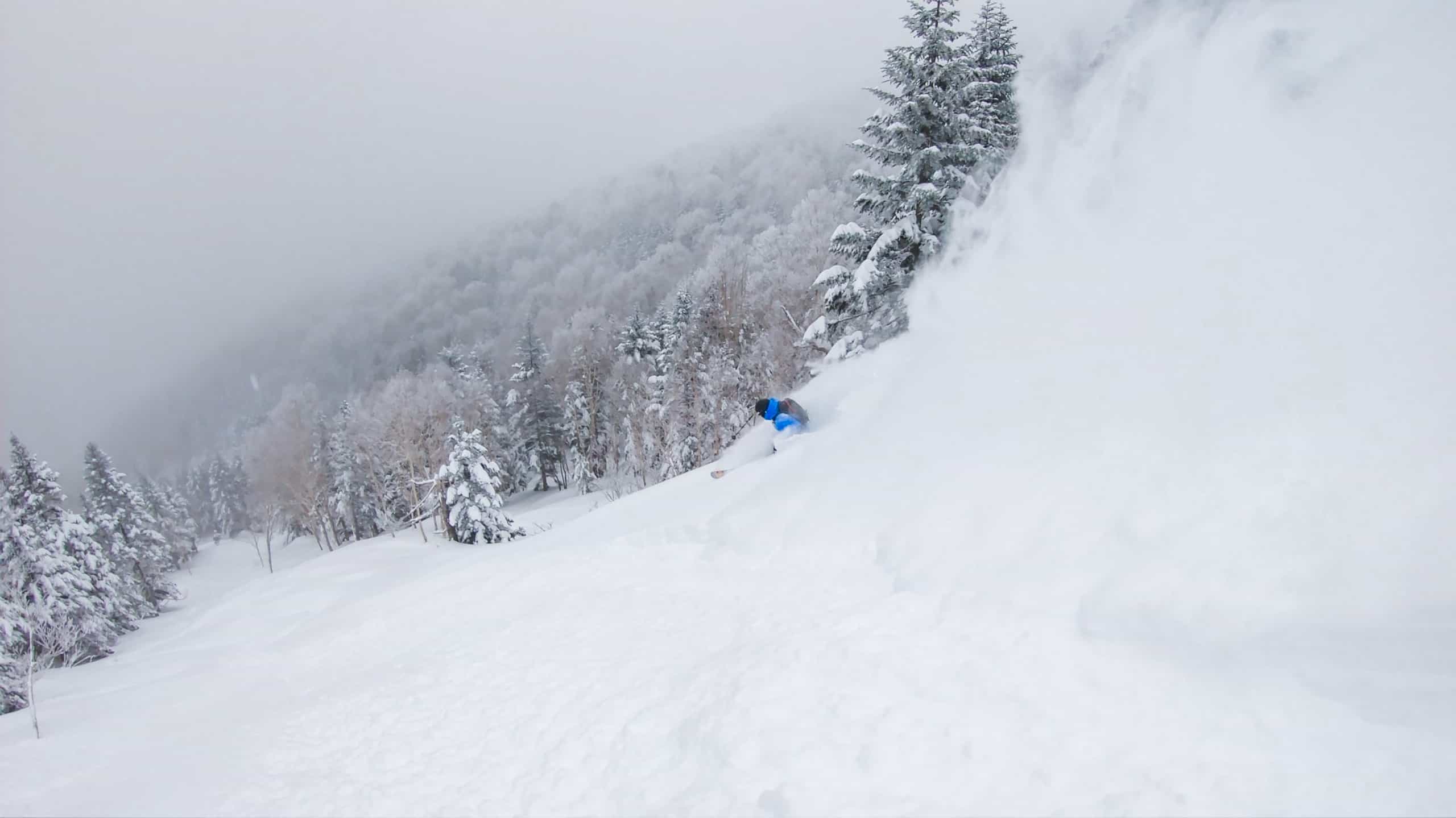 Okushiga Kogen, at the northern most end of the resort, is where you are going to have the best time on those deep days. With a recently implemented 'gate system' Okushiga is the only area in the resort with dedicated off-piste riding. With up to seven access gates to drop in from there are plenty of lines to explore through classic birch forests as well as more unique pine tree skiing.
The crew who were lucky enough to be on the Japan Powder Tour in 2020 scored some epic powder in Okushiga  and for obvious reason Shiga Kogen is on our schedule again for the 2022/23 winter.
There is no shortage of terrain in Okushiga and after two winters skiing this area almost every day I still manage to surprise myself by  finding a new zone every now and then. 'The Valley' funnels into a gully with a single exit point, making it difficult to get lost. Avalanche safety is enforced and if you happen to be caught without your avalanche pack or a buddy your pass may be confiscated.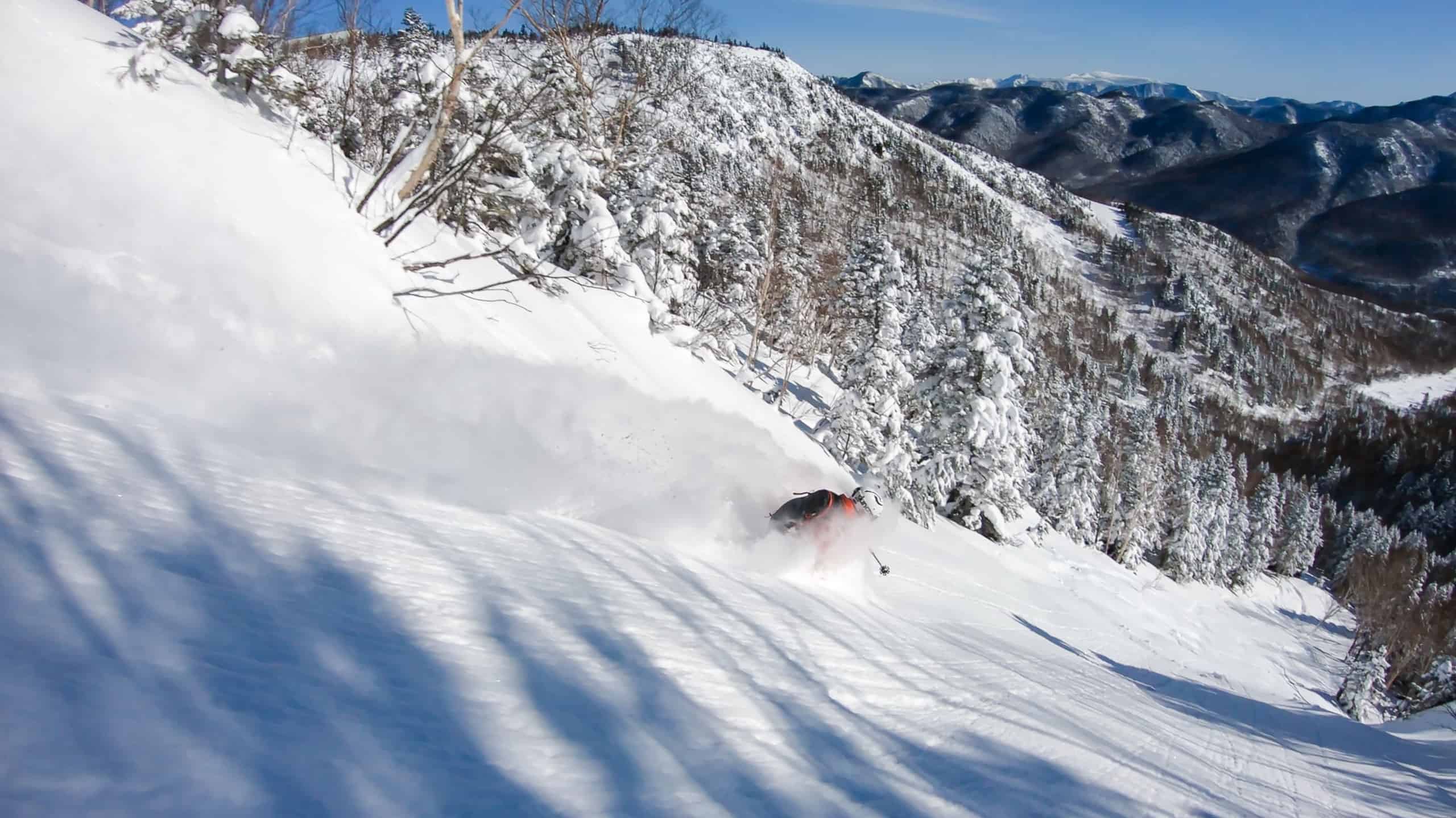 With so much terrain on offer your best option might be to book a guided resort tour with Shiga International Ski School, located in Okushiga. Its guides can take you to the best powder spots in the area, show you around the entire resort and they can even come and meet you wherever you wish to start your session.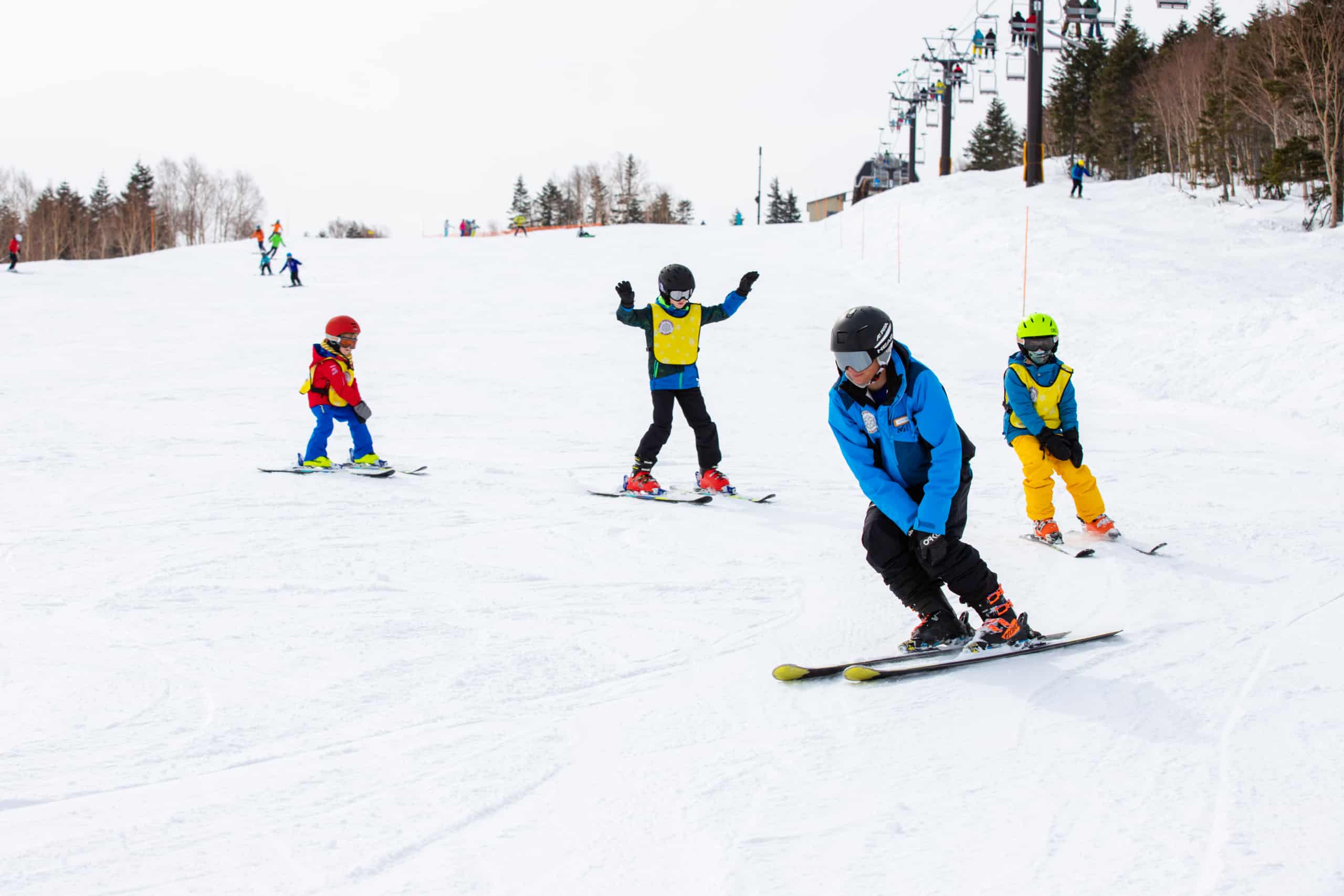 Shiga International Ski School also offers a range of private and group ski and snowboard lessons. No matter what level you are at these instructors will be able to look after you or your kids. With friendly, knowledgeable instructors on hand, you are sure to learn a thing or two and they'll make sure you're always on the most appropriate terrain for your ability.
Accommodation and dining
There is a huge variety of accommodation spread across the villages throughout the ski area with traditional Japanese Ryokans and Western-style hotels available and many are ski-in ski-out locations. Another plus is that many have onsens and most offer packages that include breakfast and dinner options.
Mountainwatch Travel offer some great value accommodation and  Shiga Kogen ski packages, check them out here. 
Now if you like you're into your European style Après Shiga might come as a bit of a shock to the system. Being in a national park development is difficult and the few bars and restaurants are found tucked away in the bottom of hotels. The best place to grab a drink and a bite to eat is Ichinose village which is centrally located. Here you will find a few spots to recharge, all down one street. My pick of the bunch is Traveller's Bar for cocktails, the Yakiniku below Hotel Japan Shiga for a traditional Japanese BBQ and the Teppa Room for the full selection of locally brewed Shiga Kogen craft beers.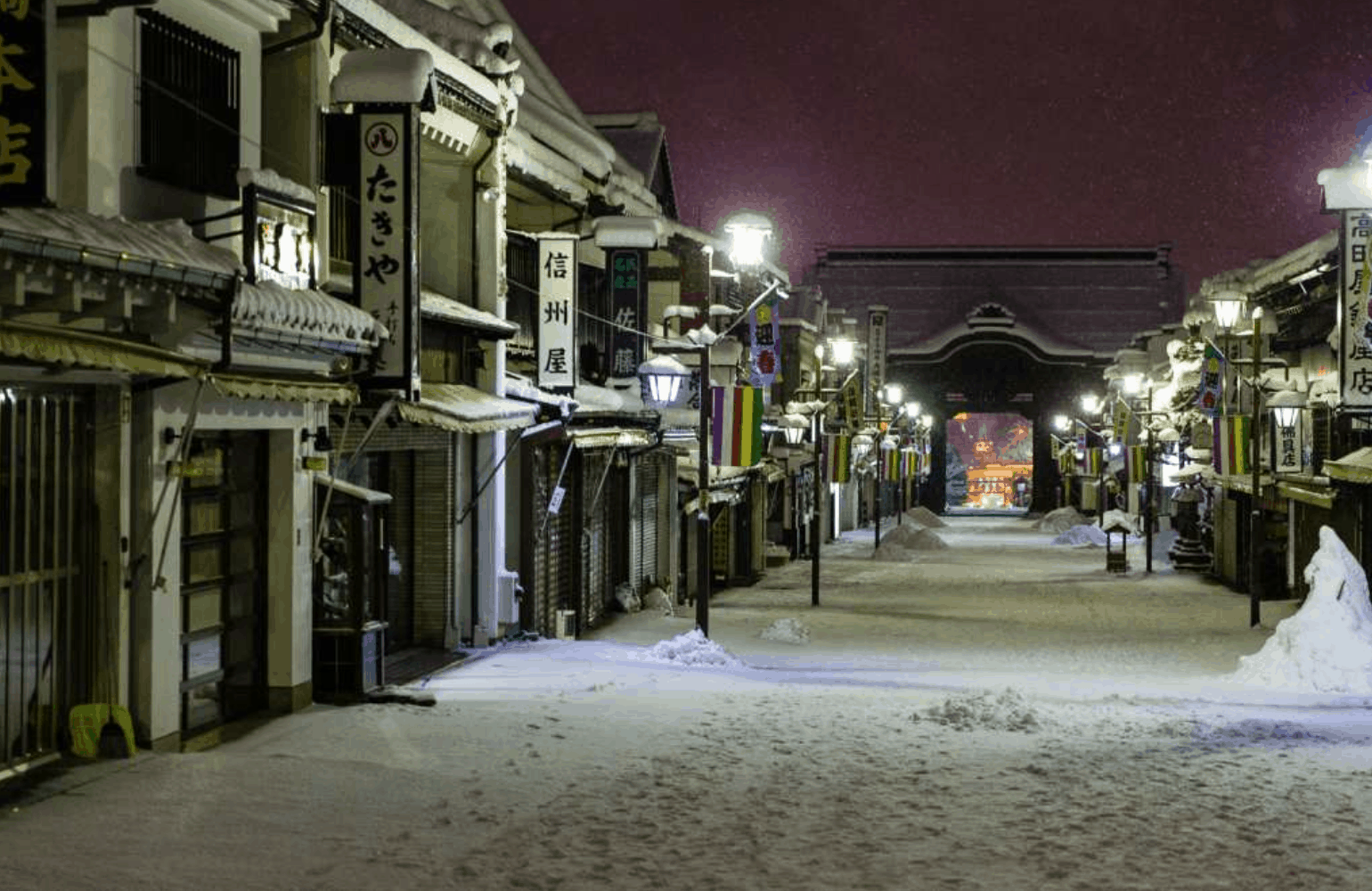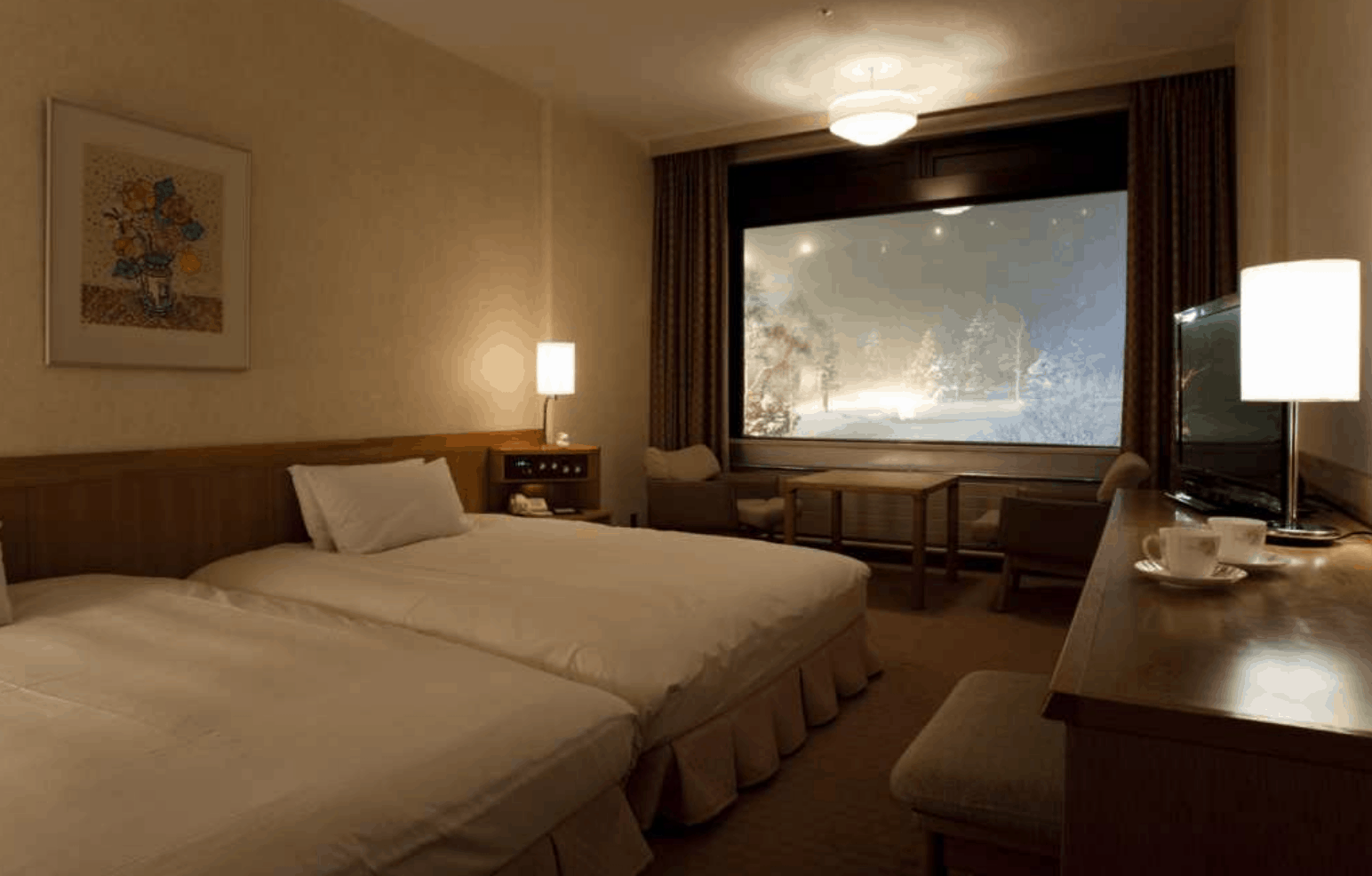 A few options not to miss during the day are Ramen Corner at the bottom of the Prince West slope and Restaurant Aspen Shiga, at the base of the Giant slope, which serves a delicious apple pie with local Nagano apples. If you are after a good expresso coffee head to Lift Up Coffee at the Higashidate gondola top station. Shiga Kogen also features Japan's highest bakery at Yokoteyama, a perfect spot for a lunch break and to take in the beautiful views.
Off snow experiences
Shiga is perfectly situated for some incredible off-mountain experiences. Shiga is the closest ski resort to the famous Jigokudani Snow Monkey Park, located only 30 minutes away via car or public bus. The wild Japanese macaques visit the park to bathe in the onsen and are the only known troop with this unique behaviour. You are sure to have a close encounter with the snow monkeys as they run past.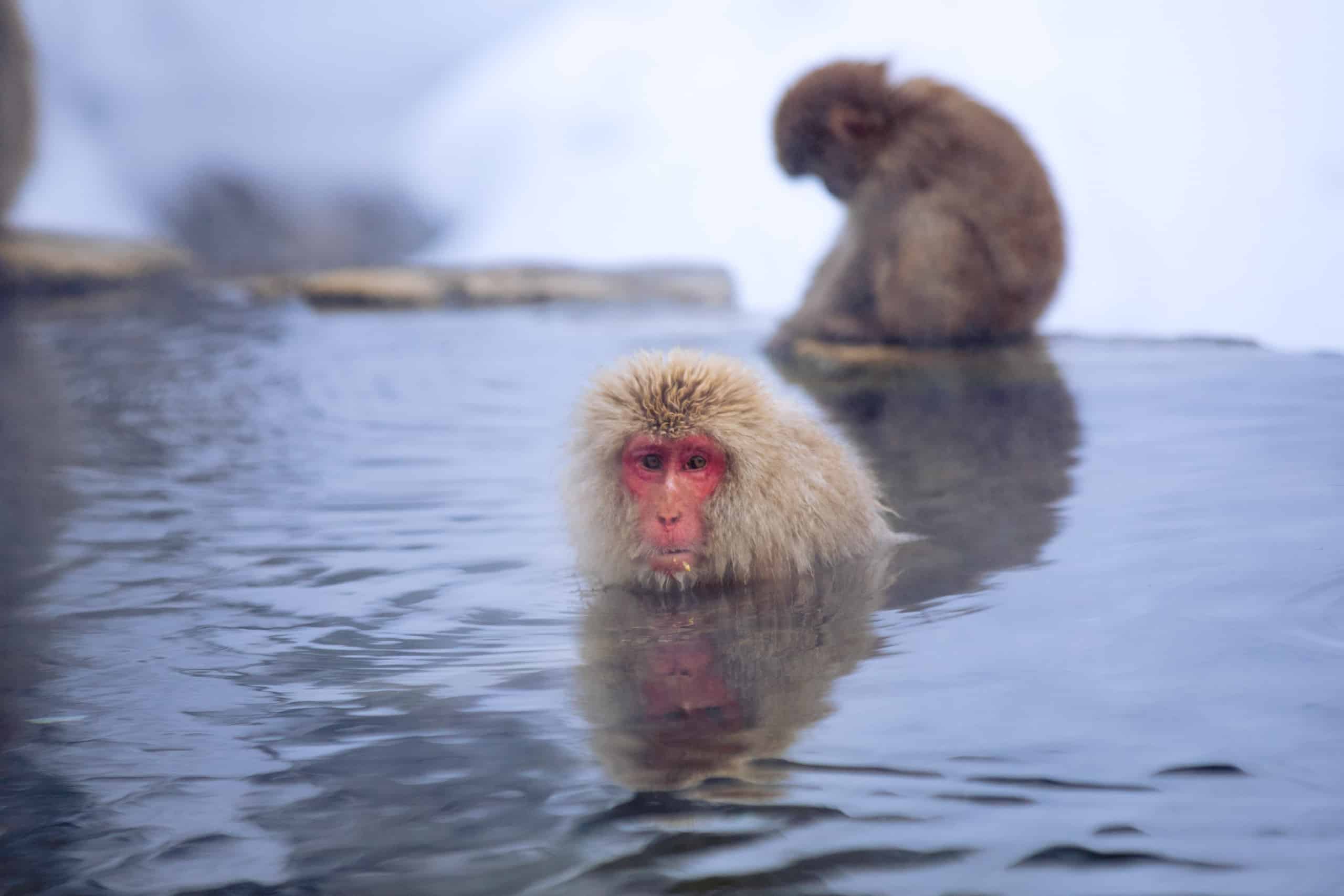 Once you've seen the monkeys and feel like relaxing in an onsen yourself, head 10 minutes down the road to Shibu Onsen town. Indulge in over 1000 years of Japanese history as you wander the stunning cobblestone streets in traditional geta (wooden sandals) and yukata (bathing robe.) Staying the night in one of the many ryokan here unlocks the key to all nine of the public baths, each with their own minerals and temperatures.
If you'd like to take a break from skiing and snowboarding but still want to have some fun in the snow you can jump on a snowmobile tour at Yakebitai or immerse yourself in the natural beauty of a snow shoeing tour.
As you've probably gathered, the beauty, terrain and high-quality snow of Shiga Kogen has got me hooked. If you like the sound of Shiga Kogen and want to visit this amazing resort check out the latest Shiga Kogen ski packages at Mountainwatch Travel.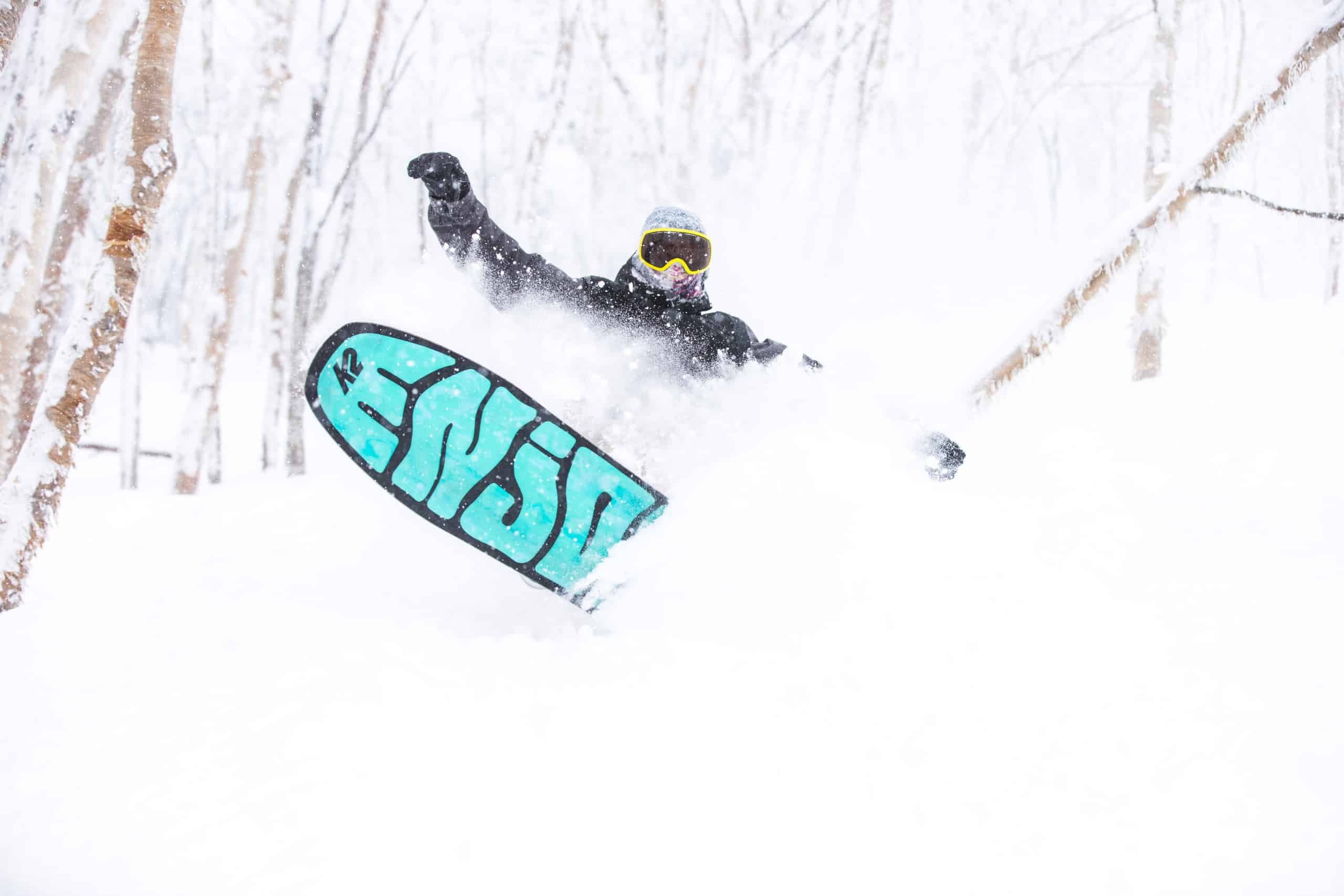 Getting there
Shiga Kogen is easily accessible from Tokyo. You can fly into either Haneda or Narita International Airports in Tokyo and then you take the famous Shinkansen bullet train to Nagano station for a connection with the Nagaden bus to Shiga Kogen.
Mountain Statistics
Ski Season:
December 1 – May
Summit Elevation:
1,350 – 2307 metres
Snowfall Average:
12 metres
Longest Run:
6 km
Vertical Rise:
982 metres
Number of Lifts:
52
Terrain:
Beginner: 45%, Intermediate: 40%, Advanced: 15%