Ski Gunma: The Perfect Family Destination For a Snow Holiday in Japan
February 11th, 2021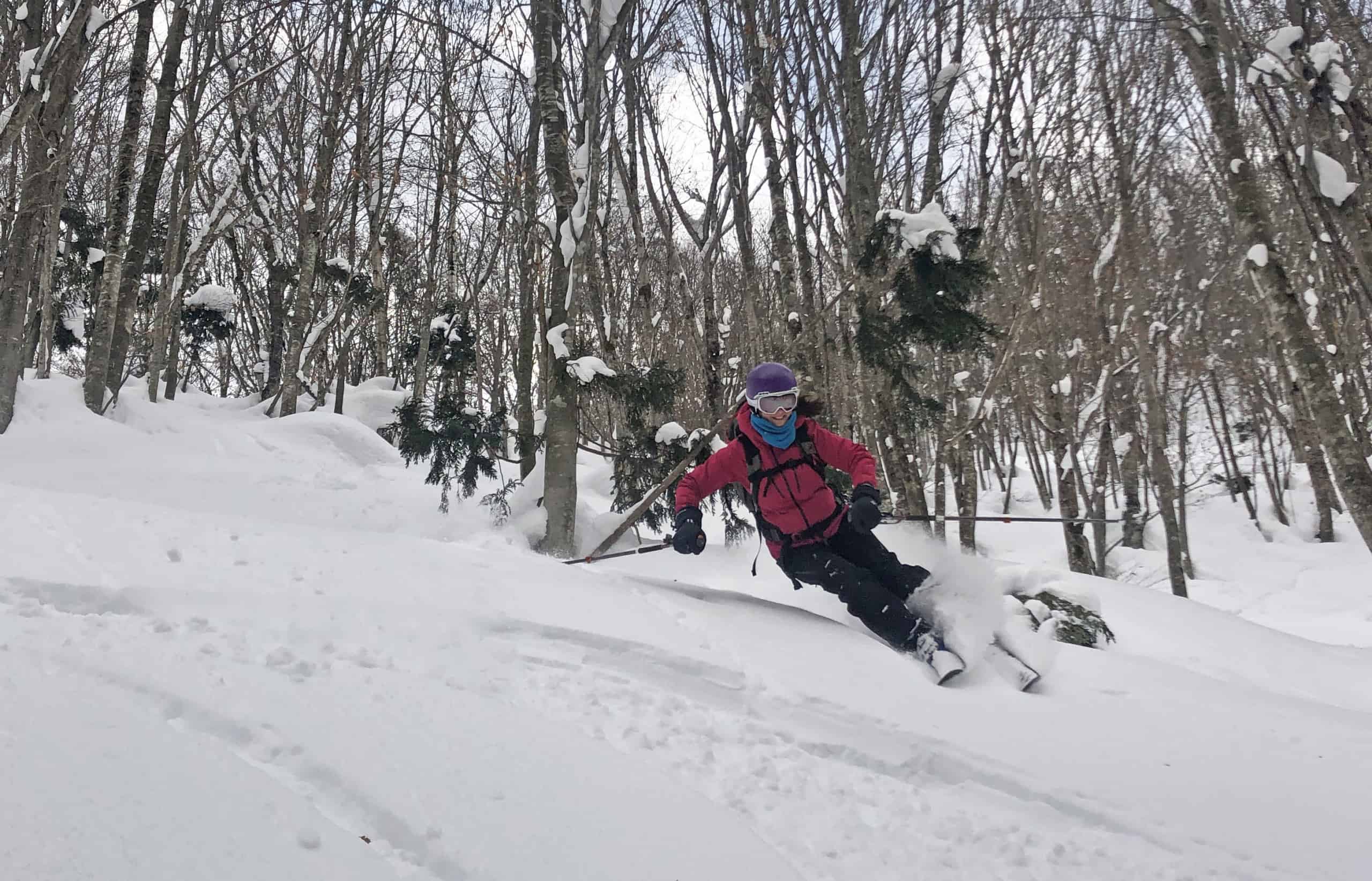 Mountainwatch| Nadine Robb
The key to a successful family ski holiday is choosing the right destination. A positive first ski experience can instil a lifelong love of snowsports, paving the way for decades of fun and adventure to be had.
On a family trip where ages and interests can range so widely, it is crucial to select somewhere that will facilitate easy travel with children, make learning to ski or snowboard fun and approachable, and provide non-skiing alternatives close by. We were fortunate enough to find such a place on a recent trip to Minakami Kogen Resort 200, in Gunma Prefecture, which served as the perfect backdrop for our best family ski trip to date.
As a former Prince Hotel with an adjoining golf course, Minakami Kogen has reinvented itself as a snow resort like no other. As a hotel and resort combined, it differs from conventional ski areas, most notably in that it's focus is on the overall snow experience, and not exclusively on skiing (though indeed, you could not ask for a better environment in which to learn). With the hotel as the centerpiece, ski runs, snowmobile tracks, tubing slopes and snow raft courses surround the hotel on all sides, meaning that you are never too far from warmth, facilities – or your room. As we made this trip with our two and four-year-old in tow, for this were grateful.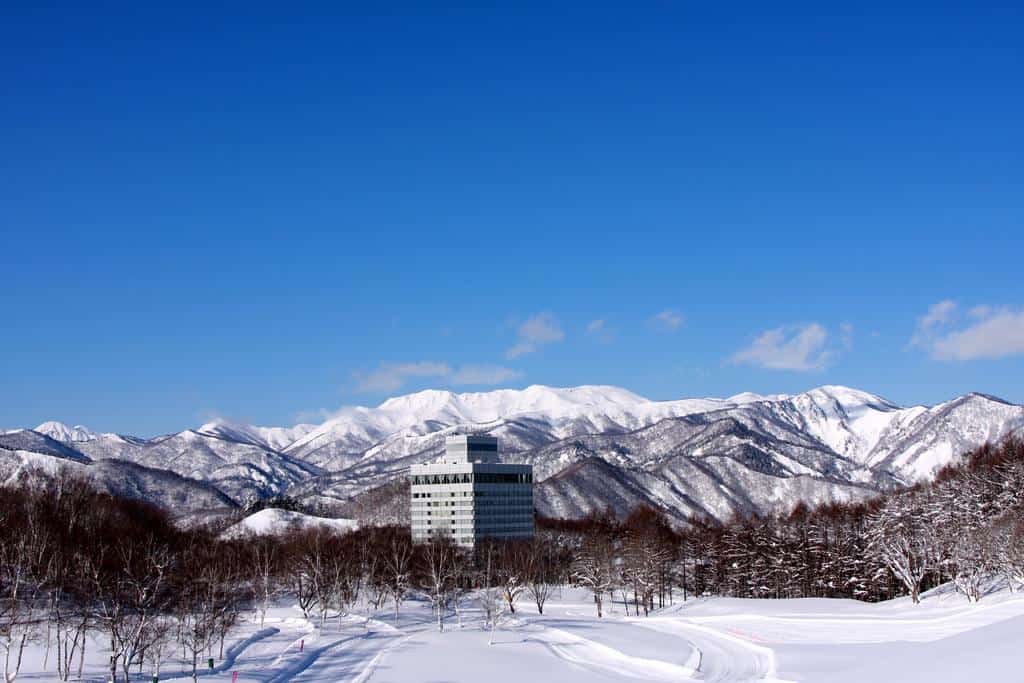 Without the need to drag our ski equipment any distance or to endure a shuttle bus or car ride, the kids were fresh and full of energy when it was time to ski. A modest 17 steps stood between the ski room where we kitted up, to clipping into our skis on the snow; achievable even for a two-year-old in ski boots. After years of teaching children how to ski in the roles of ski instructor and mother, I have finally clued in to the necessities that exist with family skiing: avoiding long walks or delays, building familiarity with the terrain, and having facilities close by. Unsurprisingly, Minakami Kogen enabled us to do all of these – going above and beyond in creating a positive and stimulating atmosphere in which to learn and play.
Once skiing, the slopes were easy to navigate, wide open and meticulously groomed; perfect terrain for any beginner or novice, adult or child. A stroke of creative genius saw the sides of the runs lined with fun features to keep kids engaged and motivated – bells to jingle as you ski by, balls to bat and poles to weave in and out of – I can't recall the last time my daughter lapped the same run so many times.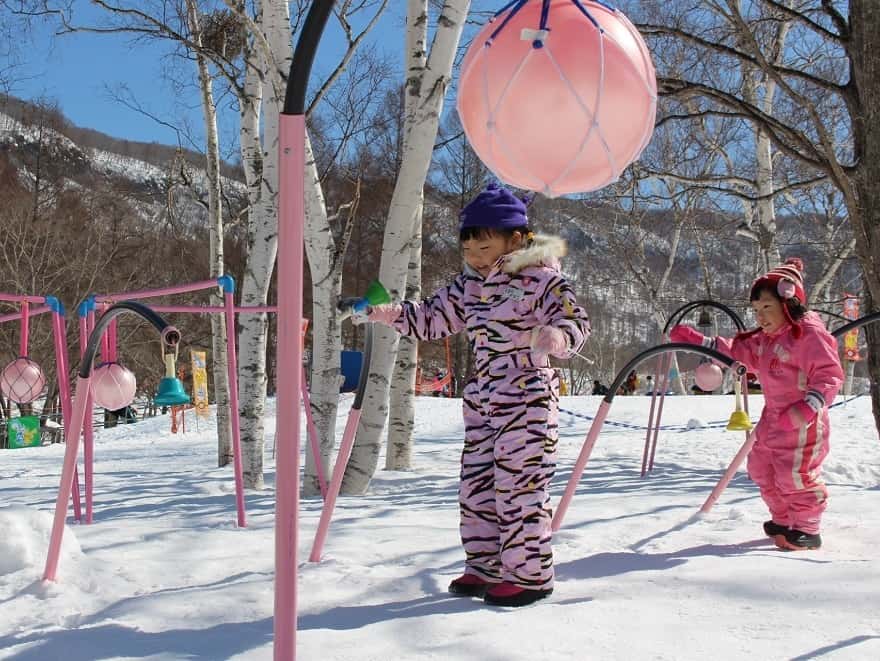 After a quick lunch of hearty Japanese comfort food from the hotel's restaurant (a few steps away), the fun continued as we tried some of the other activities available. Punctuated by squeals of delight from the kids (okay, and us) the snow raft sped us over snow-covered fairways where waves and banks had been mindfully created to increase the thrill factor. A ride on the snow carriage proved to be less tame than I had imagined (there may have been some frightened squeals amongst the playful ones), and we were all able to try our hand at snowmobiling; they even had miniature ones for the kids.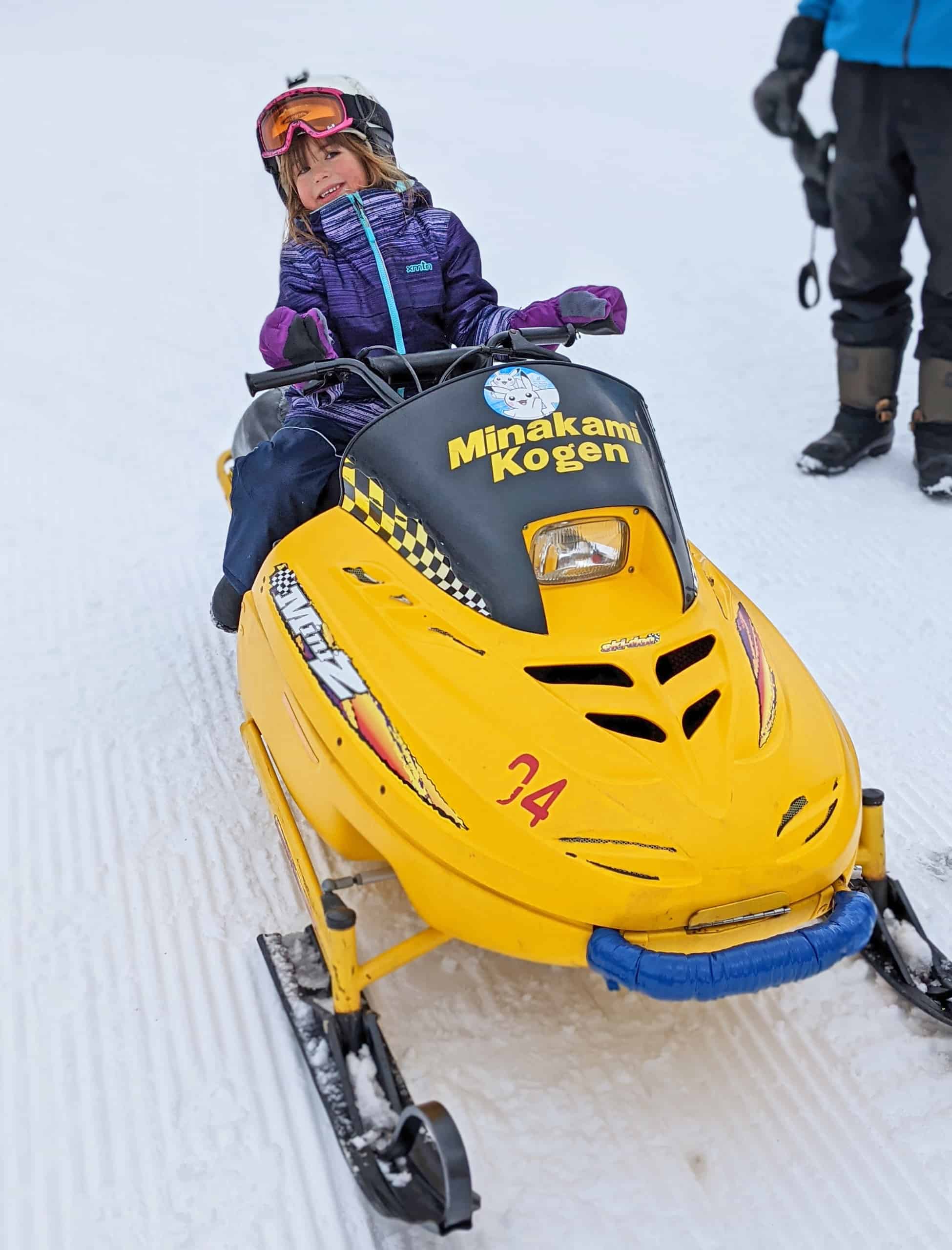 We were losing light before we realised that we were getting cold and tired; a soothing onsen followed by a lazy saunter to the restaurant for an excellent shabu-shabu dinner was the perfect way to draw the day to a close.
It would be easy to spend a few days there, and should you be travelling with more experienced skiers, there are a handful of intermediate and advanced slopes – as well as Hodaigi Ski Resort just ten minutes down the road. Complementing Minakami Kogen, the majority of slopes at Hodaigi are best suited to advanced skiers in that they are steep, and mostly north facing.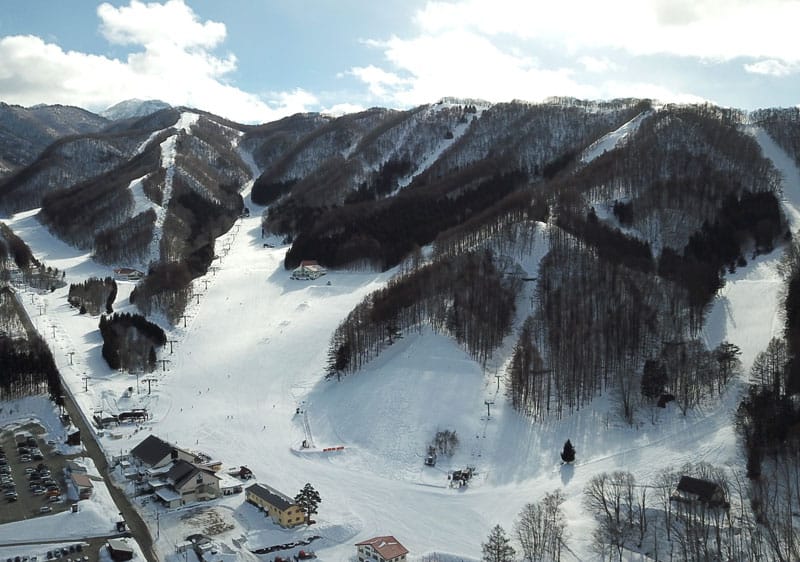 Though slopes of a northern aspect typically see more shade and therefore better preserve snow through cooler temperatures, they do tend to be firmer and less forgiving,  demanding a higher skill level to navigate. Between the two resorts, opportunities exist for all levels of skiing.
With Gunma Prefecture being such a cultural hot spot, we balanced our snow time with sightseeing and journeyed an hour and a half south east to the town of Ikaho Onsen, a great day trip in its own right, but even better if you are able to spend a night. Perched on the slopes of Mount Haruna, we found our way to Ikaho Rotenburo – a natural outdoor hot spring. The milky mineral rich waters were silky on the skin, and the crude bamboo fence marking the perimeter, combined with the absence of overt commercialism, gave way to a wholly authentic onsen experience.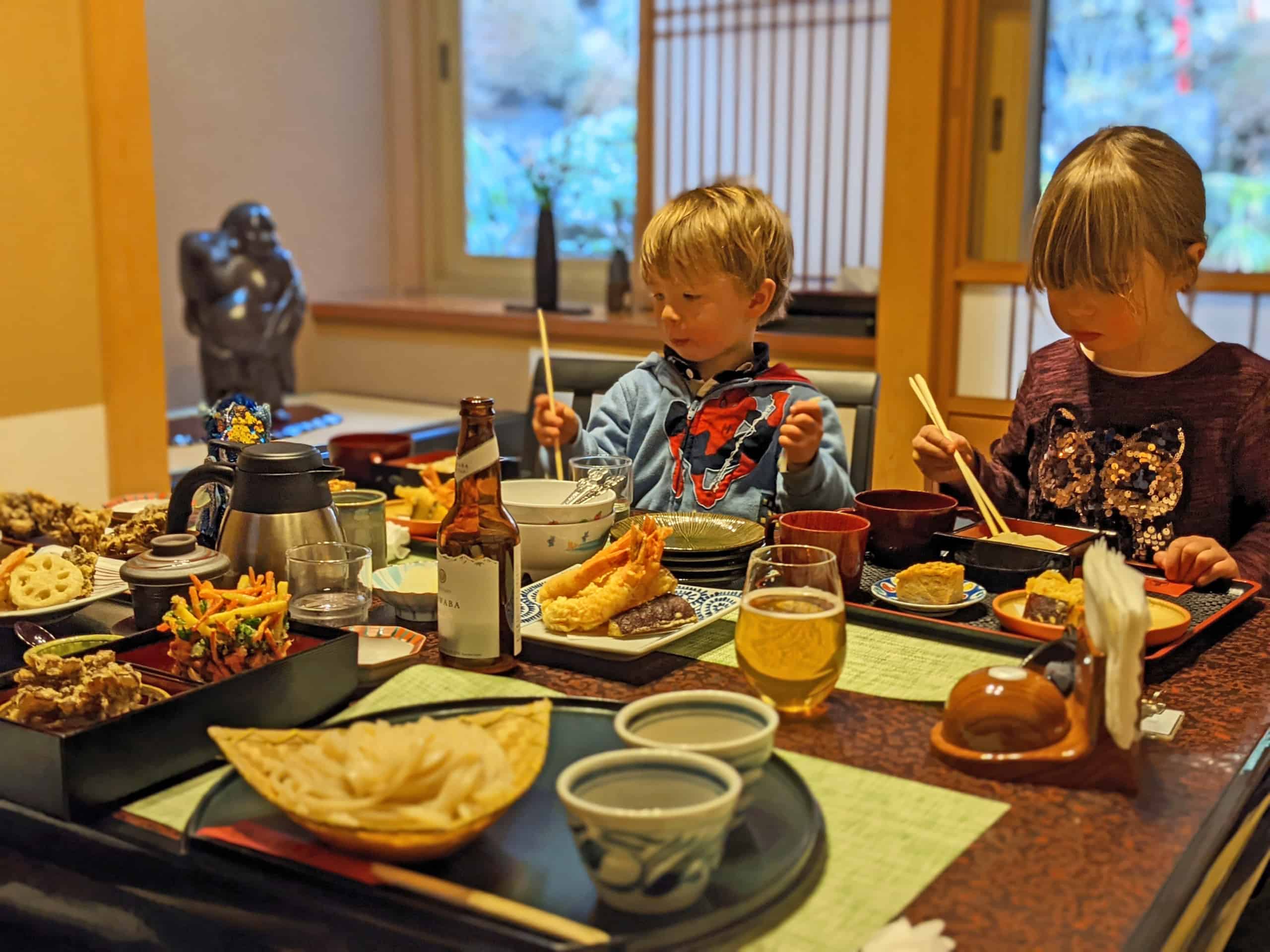 We followed our soak with a lunch at Mizusawa Udon – 15 minutes away, and incidentally the birthplace of this noodle variety – and our bellies were left full of the best Udon I have come across in Japan. And should you find yourself there on a busy day, there is an entire street of Mizusawa Udon restaurants and shops,  each dedicated to producing the finest noodles in the region.
We finished the day with a stop at Shorinzan Daruma-ji Temple in Takasaki, famous for its Takasaki Daruma Dolls. As one of Japan's most iconic and recognisable tourist trinkets, it may be surprising to learn that they very much remain a cornerstone of Japanese tradition and superstition. Serving as daily reminders to persevere until one`s goals come to fruition, many businesses participate in the Daruma Doll culture to bring prosperity and good fortune to their endeavours.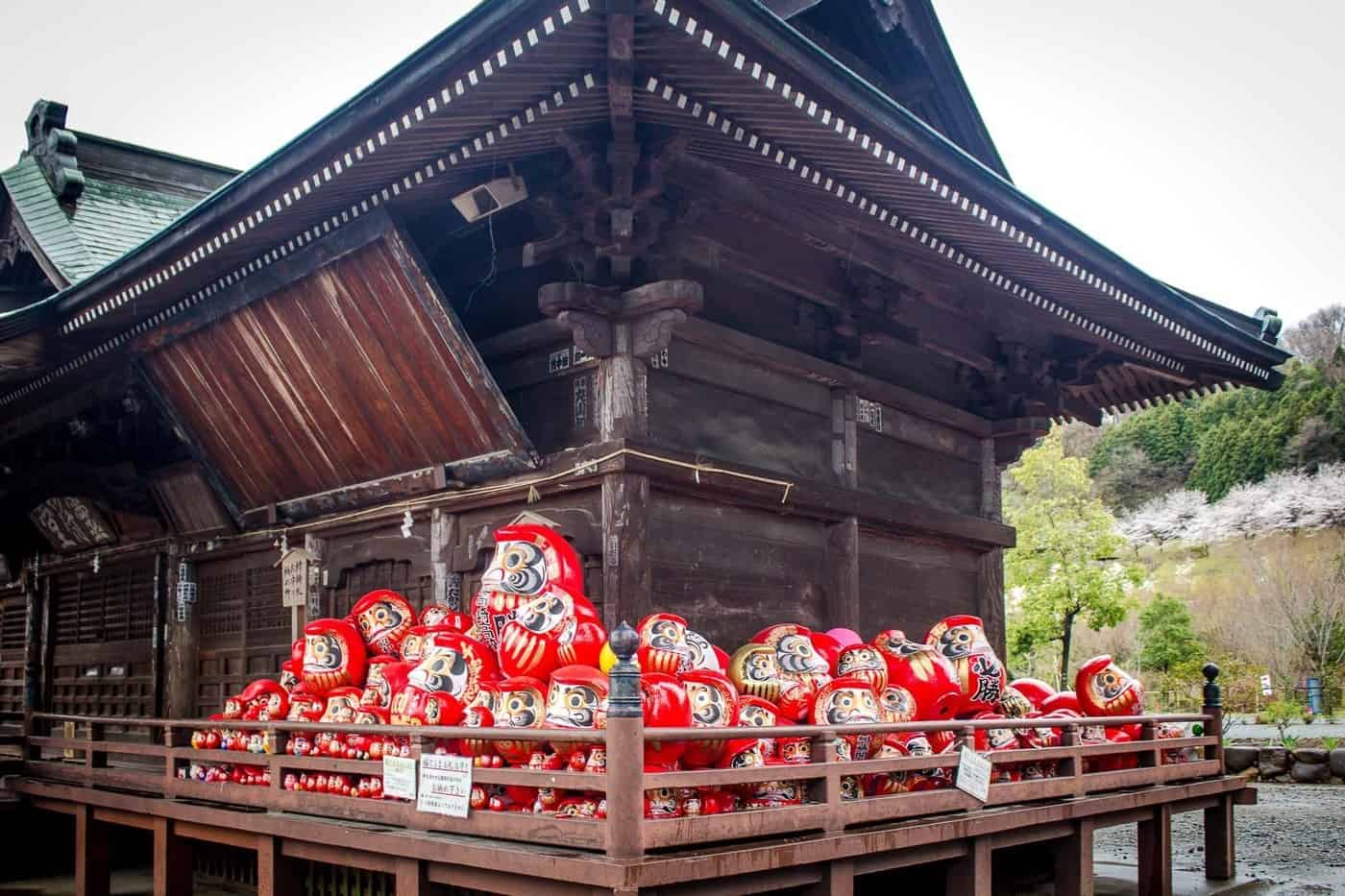 This region of Takasaki produces the highest number of Takasaki Daruma Dolls in the country and they remain as relevant and popular today as they did hundreds of years ago. Having the opportunity to paint our own Daruma Dolls at the temple was therefore as much a treat for us as it was for the kids; their little hands clutched tightly to them long after they had fallen asleep on the drive home.
Learn more about Gunma's endless attractions here.