Skiing Canada Next Season? How About Adding on the Northern Lights in Yellowknife
June 28th, 2022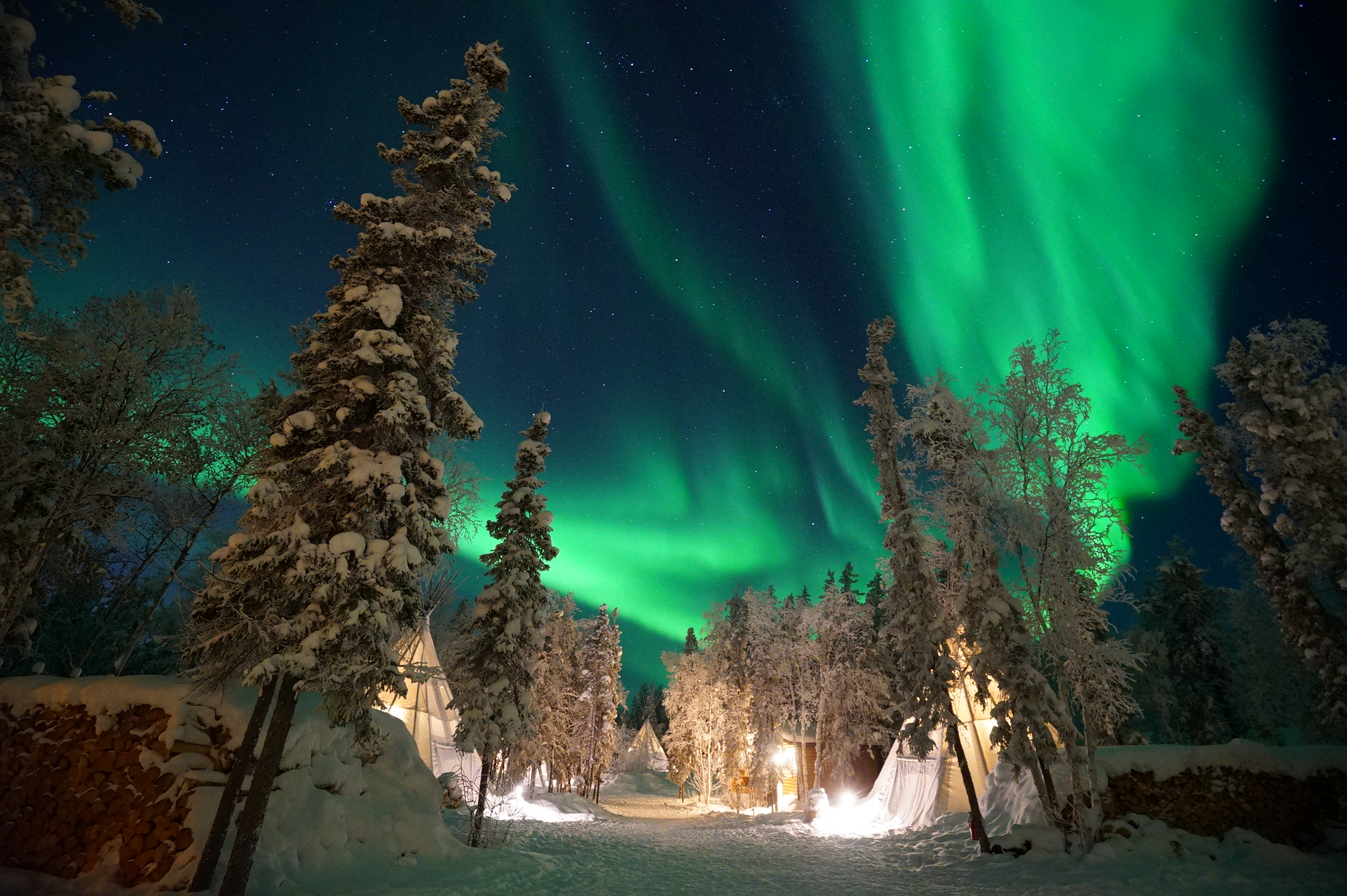 Sponsored content
Mountainwatch | Travel
Only a two-hour direct flight north of Vancouver, Calgary or Edmonton is the Aurora Capital of the World – Yellowknife in the Northwest Territories of Canada. Here the winter season for viewing the Northern Lights times perfectly with the Canadian ski season, making it an easy add-on to a Canadian ski holiday in British Columbia or Alberta.
Air Canada flies directly from Vancouver to Yellowknife and Westjet flies directly from Calgary or Edmonton. It's cheaper to book your flight to Yellowknife when you book your international airfares from Australia.  Air Canada flies direct from Sydney to Vancouver with connections onto Yellowknife. Qantas also fly direct from Australia to Vancouver and align Westjet as their domestic partner.
Yellowknife is blessed with subarctic crystal-clear nights, ultra-low humidity and the perfect location beneath the Earth's band of maximal aurora activity – the "Auroral oval".  The aurora is known to dance in winter from late December through to March and visitors are recommended to stay a minimum of four nights to witness this natural phenomenon.
Aurora viewing options in Yellowknife range from fly-in, fly-out wilderness lodges to unique Yellowknife-based viewing stations with Indigenous owned heated teepee experiences.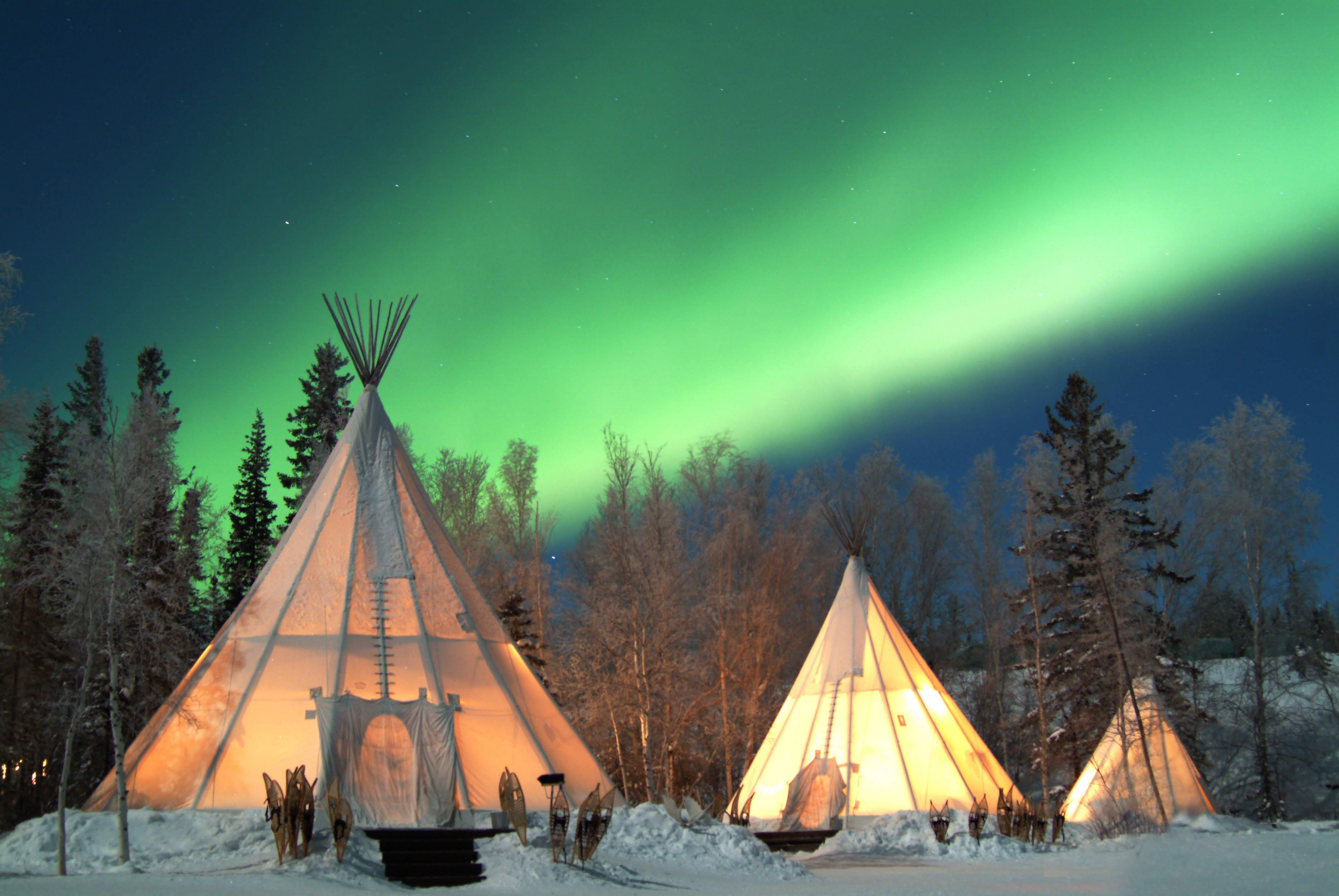 Located 20 minutes from the downtown core, Aurora Village is a well renowned viewing location in Yellowknife.  The location features multiple heated teepees for guests to sit by a fire waiting for the Aurora.  Or guests can book a VITeepee Dining Experience including a private three course meal in a teepee.  Aurora Village also has a licenced dining hall where guests can have dinner and drinks, plus a gift shop.  Guests can also book 360-degree revolving swivel chairs that are heated to watch the Aurora.
There is no overnight accomodation at Aurora Village and visitors need to stay in one of the downtown Yellowknife hotels from where Aurora Village will collect guests. Popular downtown hotel choices include The Explorer Hotel or Capital Suites for apartments. Aurora Village also rents out winter clothing which is essential as standard ski gear won't keep guests warm enough.  Guests can also book dogsledding, snowshoeing, and ice fishing at Aurora Village, which is a lot cheaper than doing it at many ski resorts, so it's definitely worth adding on these additional activities when booking.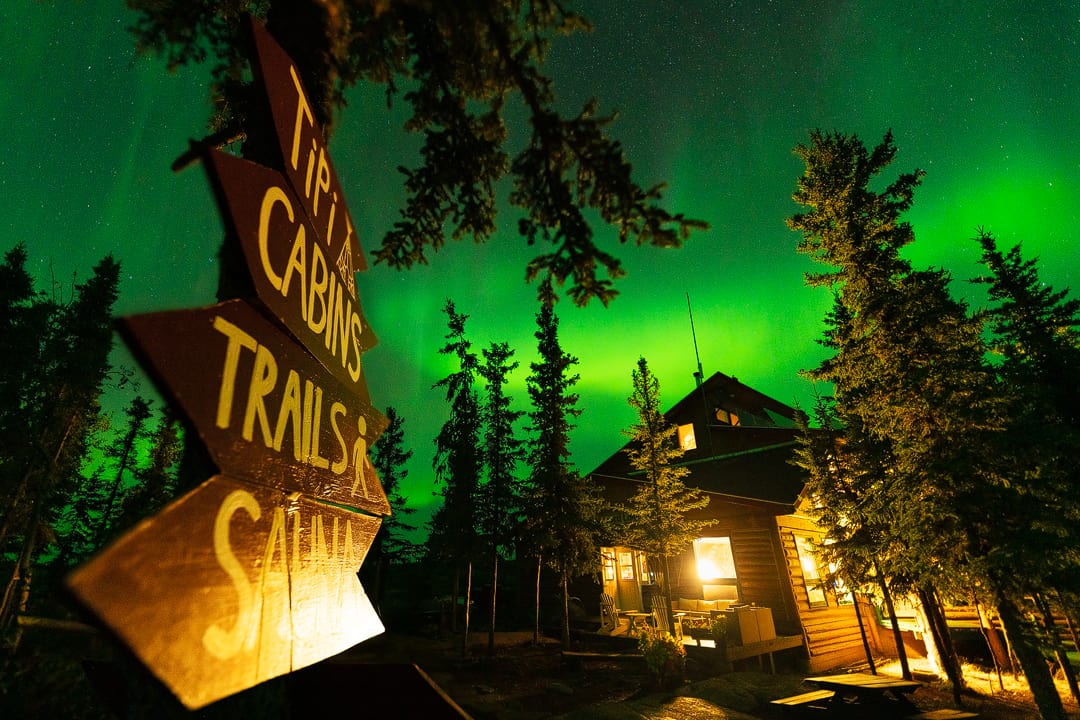 Guests looking for a premium experience in the wilderness may like to choose Blachford Lake Lodge for their Aurora Viewing experience.  The property features a main lodge and rustic log cabins.  It's the experience vs the accommodation that is considered premium as the property offers all the bells and whistles required for the ultimate Aurora experience.  This lodge is a 25-minute bush plane flight from Yellowknife into the wilderness.  It's off grid and everything is flown in.  The lodge's sole purpose is to host guests for viewing the Aurora.  There are two accommodationtypes, in the main lodge or individual rustic cabins.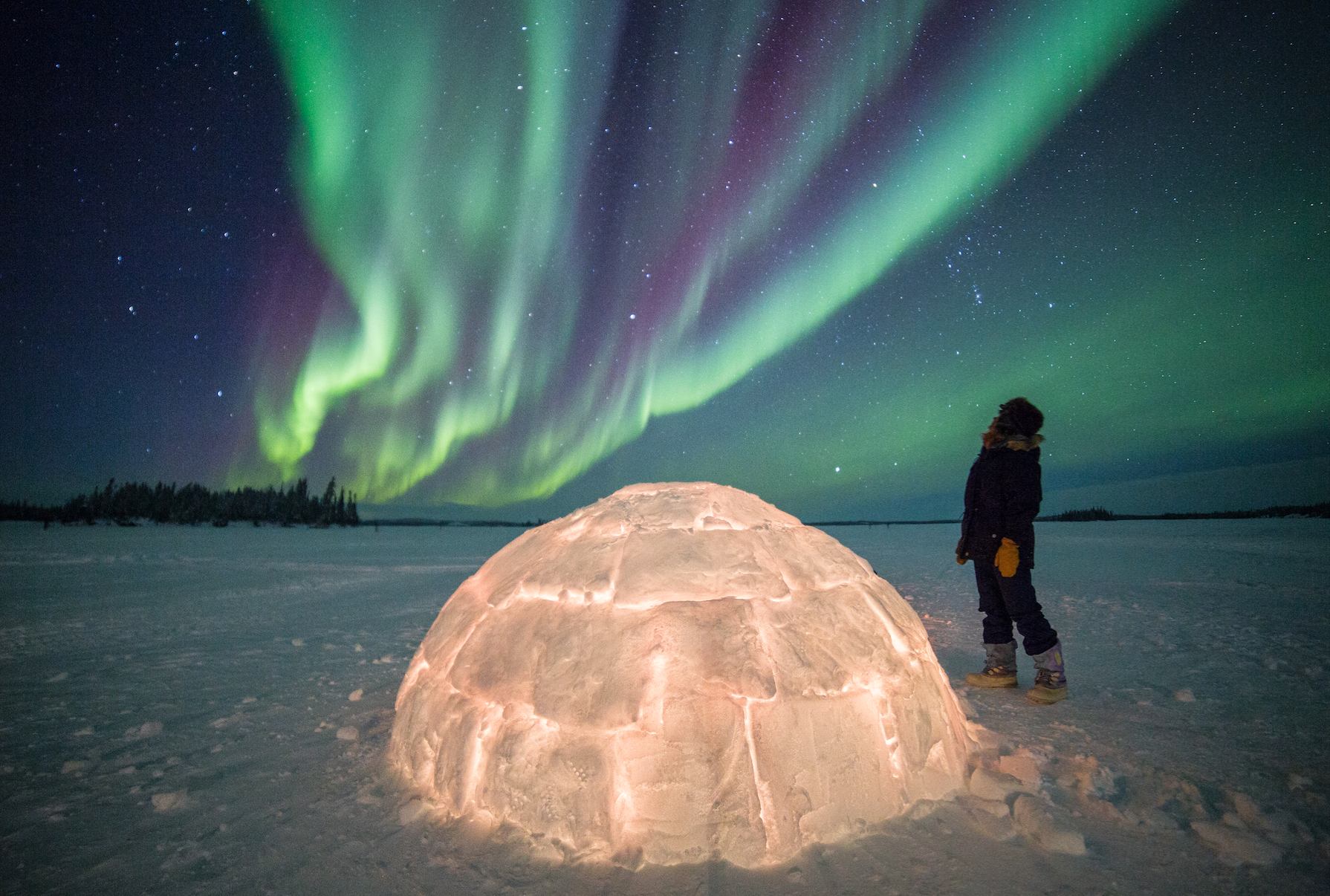 Blachford Lake Lodge also features an onsite chef who cooks three gourmet meals per day included in the packages.  Blachford fly guests from Yellowknife out to their lodge at 10am and return at 11.45am. It is therefore recommended that guests have a pre and post stay in Yellowknife at one of the hotels, and maybe go out to Aurora Village on those nights, as most of the flights on Air Canada or Westjet don't align with the Blachford bush plane's arrival and departure times.
Blachford Lake Lodge also offers winter clothing rental, which is essential for the very cold temperatures.  Guest need to bring a smaller day bag in their luggage almost like an overnight bag to travel to Blachford Lake Lodge, as the Bushplane has a luggage limit of 18.14kg on flight check in and 3.6kg in carry on. Blachford Lake Lodge will store suitcases or gear that cannot go on the plane at the airport or guests may choose to rent a locker at Vancouver or Calgary airports and leave extra baggage there.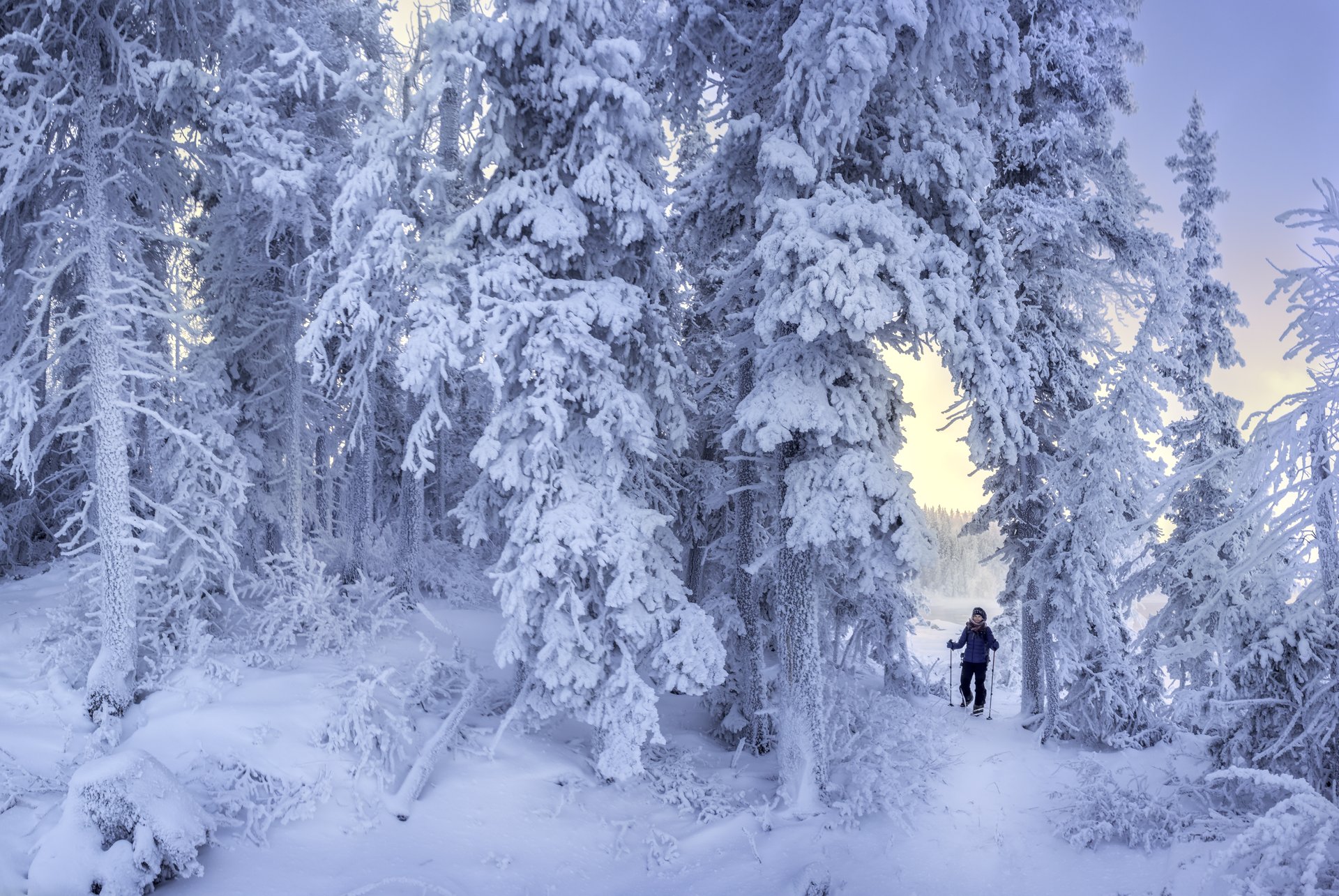 As the Aurora comes out usually between 11pm and 1am, guests will need to sleep in the day to catch up on energy, but if travellers are looking for something to do in the daylight hours, there is plenty on offer including Yellowknife city tours, dogsledding, ice fishing, snowmobiling, cross country skiing, fat tire biking, ice cave tours, ice road tours, snowshoeing, or dogsledding.  The options are endless, and don't think just because Yellowknife is in the sub-arctic that it's a sleepy city.  This town has all the amenities of a thriving tourist township with many shops, restaurants and local pubs to choose from.
For more info or to book a Yellowknife add-on, head to mountainwatch travel