Snow Alert Aus – Another 60cm expected
June 25th, 2014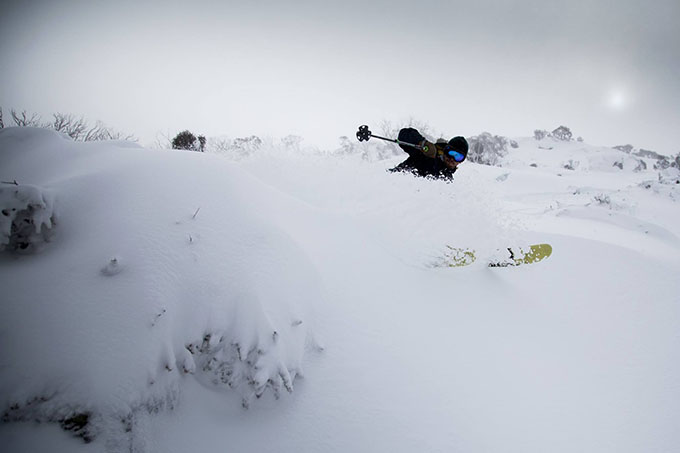 Bam. June 2014 Powder day – Check Image:: Thredbo
SNOW ALERT
 Have you looked on those cams? They're nearly buried… 
Updated: June 25 2014
This storm is the gift that keeps on giving… An update on the snow alert, plus another front in the distance…
So it's safe to say that we're all pretty stoked on the 90-100cm that has already fallen this week, but by the look of those models it's only the beginning. We asked The Grasshopper to explain what we can expect over the next few days, "It's not long before another front comes through," he told us excitedly. "You can see it lining up south of the Bight in the image below. The problem with this feature is that it's struggling against that high to the north and freezing levels are going to end up somewhere around 2000m when the heaviest precipitation arrives tomorrow morning."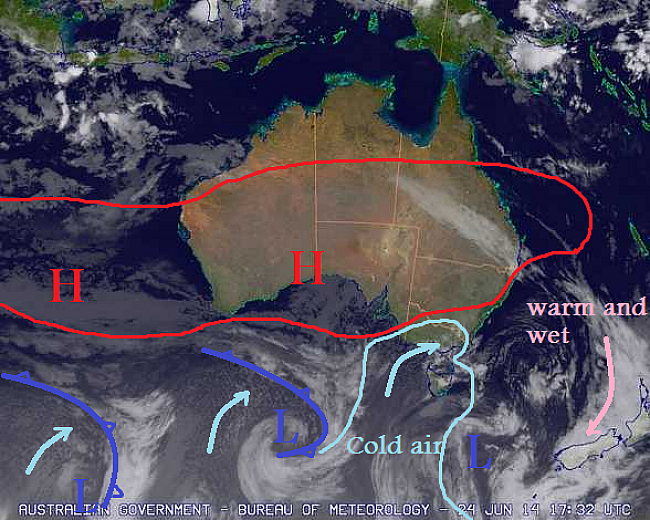 Snow showers continue, but this first batch of cold air has nearly runs its course, and gets pushed away by north-westerlies today. Source:: MetServiceNZ and BOM (vandalised by the Grasshopper)
So we'll be getting a bit of rain tomorrow, but then what? "All of the action is on Saturday/Sunday when another big low comes through and we do it all again. You can see him down there in the bottom left of the image. Seriously, this fella looks almost as good as his big brother: The freezing level drops before the rain arrives (tick), the initial north-westerly burst on Saturday is followed by strong south-westerlies on the Sunday (half a tick – moisture uncertain) and there's a final flick on the Monday to top things off (half a tick, looking a bit iffy)."
Keep your eye on The Grasshopper's daily forecast over the next few days to see how this one tracks. And don't forget to jump onto that email database to get the Weekend Forecast delivered straight to your inbox.
The Breakdown:
30 to 45cm across Saturday (June 27) to Monday (June 29) that could go to 60cm across the 48hrs. (Alert level: Looking for a reason not to high-five my snowman.)
Another front is due on July 9/10 with up to 30cm (Alert level: Intense interest mixed with disbelief and a lot of uncertainty.)
Are you in the mountains this week? Tag a #mountainwatch on your photos on Facebook and Instagram or email your shots to alexh@mountainwatch.com.