SNOW TRAVEL – A List of LA PLAGNE
August 9th, 2011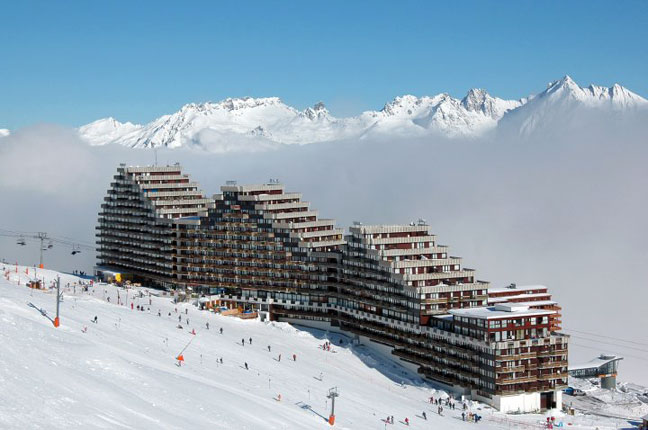 The Aime La Plagne 2000. known as the 'snow steamboat' the building was designed in 1970, the dawn of mass tourism. Image:: La Plagne
Skiing France | Alf Alderson
Alf Alderson offers some inside advice on La Plagne, including a top bedtime reading option.
Having spent four months of last winter in La Plagne – well, in the satellite village of Champagny en Vanoise to be precise – I guess I can make a vague claim to know the region quite well, so it seems only right and proper that I should pass on some useful advice for those who don't have the luxury of spending a season there.
First off a list because everybody seems to like lists these days…
As with any list it's purely subjective of course, and it's very much focussed on my base of Champagny. Champagny has the advantage of being the prettiest of La Plagne's many villages (most of which, to be frank, are downright ugly in their seventies Brutalist French mountain architecture style) but the disadvantage if you're a party animal of being inaccessible to the main night life of the resort once the lifts close.
But if bars and clubs are less important to you than skiing I'd recommend Champagny since not only is it the most attractive place to stay it also tends to have quieter slopes.
But back to the list – in no particular order, here we go:
TOP BLUE RUN (green run in Aussie-terms) Le Levasset from Col de Forcle to the Borseliers chair – fast, wide and undulating and great for hooning home at the end of the day
TOP RED RUN (or blue run as the Aussies call them) Les Inversens – a great warm up at the start of the day, spoilt only by the slow chair back to the top. There's also some fun off-piste either side of it
TOP BLACK RUN Mercedes – often stays in condition when many other slopes are shot to pieces and has a variety of pitches to tempt you
BEST OFF-PISTE There's so much to go at from the top of the Bellecote bubble, my advice would be to head up there and find your favourite line – ask the ski patrollers by the top station for advice, they're pretty helpful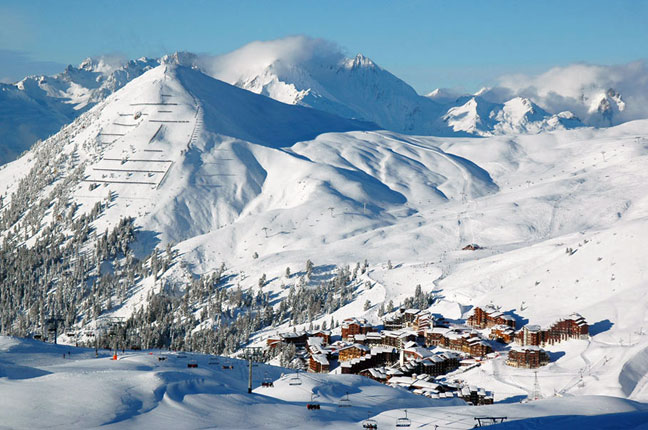 La Plagne. Image:: La Plagne
BEST MOUNTAIN RESTAURANT It's a toss-up between the restaurant at the top of the Bellecote bubble for its magnificent views, friendly staff and idiosyncratic décor (its expensive though and I'm afraid to say the name of the establishment escapes me for the moment) or the Café Inversens, mainly because you can hop out the back of the deck and access the off-piste above the Les Inversens (see above) from here
BEST SKI SHOP Ski Set in Champagny couldn't be more helpful or friendly – check them out for everything from ski hire to repairs – and of course new kit
BEST BAR Le Pitchou in Champagny is small, friendly, has a good happy hour and does fine take away pizzas
BEST RESTAURANT We dined at Les Rochers at the bottom end of Champagny a number of times and always enjoyed good food and good service
Right, list over, here's another top tip for those if you looking to make the most of La Plagne's extensive and underrated off-piste. Get yourself a copy of 'Les Cles de Paradiski' by Didier Givois, a local mountain guide and photographer. This handsome tome ain't cheap at €40, but if you plan to ski off-piste in the Paradiski area, of which La Plagne is part, it's a 'must' . And even if you don't it's worth considering just for the beautiful skiing and mountain images that adorn its pages.
Even better, the routes are described in English as well as French and there are also useful chapters on everything from mountain safety to the ski history of the area. Unlike the various ski touring guides that will also direct you to the region's best backcountry terrain, you don't need ski touring equipment for most of the routes in the book since they're accessible from the Paradiski area lifts (you will require ropes, crampons and ice axes for a few of the tougher descents, however).
Indeed, it struck me that for skiers this 'good book' has much in common with the original 'good book' in that it provides succour to the faithful in times of need, and if you follow its instructions carefully you too may find yourself in Paradiski…
Sorry….
TRAVEL QUICK TIPS
La Plagne is part of the enormous Paradiski area high in the Northern French Alps, combining Les Arcs, La Plagne and Peisey Vallandry into a 225km snow-mecca with well over 100 lifts and a 2000m vertical rise. 70 per cent of the resort is classified as 'easy', but with several peaks, endless valleys and extensive off piste there's still plenty to challenge.
Flying in: The closest major international airport is Geneva, 200km away, though Chambery, Grenoble and Lyon are all also nearby. Airport shuttles run from all and hire cars are available.
Eurostar and the Snowtrain: La Plagne is well serviced by trains, the Eurostar runs a day and overnight service from London and there are overnight services from Paris.