Taking The Piste – The 2009 Ski Season Wrap Up
September 30th, 2009
Taking the Piste – Rachael Oakes-Ash
By Rachael Oakes-Ash
Australia loves an underdog, so theoretically we should have loved this winter. There were moments of greatness when the snow came early in May and Mt Buller won the competition for headlines by opening for a weekend and Perisher turned on the snow guns onto the advanced terrain of Mt Perisher for the first time ever.
But Mother Nature likes to tease and while the marketers were talking up an epic winter she had other ideas. July saw powder and we managed a cheeky blue sky backcountry powder day in the Main Range with Chris Booth at Thredbo . But come August and the world turned upside down with tropical temperatures, torrential rain and gale force winds before temperatures dropped and powder spit storms returned to try to heal the damage done.
Then, just when the lifties were packing their bags and flexing their thumbs to hitch a ride home the 'storm of the season' dumped a ton of snow on the closing week. I am told by Mr Ed, Russell Holt, that it was his best riding for 09, sigh. True to marketing form, Mt Buller won the competition for headlines by talking up a storm (pun intended) and extending their season by a week. (Mt Buller now closes on October 5)
Across the ditch in New Zealand things were promising early winter when the white stuff wouldn't stop falling. But a pre-season fall followed by a thaw and more falls created one of the most unstable snow layers in their leisure snow history. With added snow in July avalanche risk was at an all time high and three people lost their lives in three separate and tragic backcountry incidents.
Taking the Piste arrived in NZ mid August in time for the rain. We managed a bluebird day at Mt Hutt skiing the Rakaia Saddle Chutes and another at Heli Park (Read the Heli-Park story here) before spending forty-eight hours at Temple Basin playing cards while the heavens opened. Not a turn was made and the seventy minute walk back down to the carpark was done in gale force winds and rain and the rest of the club fields were shut for the week due to wind and blue ice.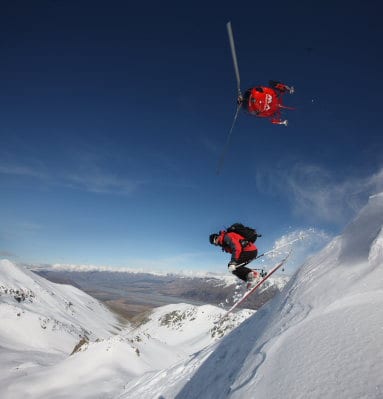 The new Heli Park is the cheapest way to go heli-skiing in NZ.
Every cloud has a silver lining and all that. The rain had managed to soak through the unstable snow layers and bonded them reducing the avalanche risk considerably so when the next snow storm came through in early September we skied some of the freshest driest snow around. Treble Cone's back saddle was pure heli-ski style bliss with fifty centimetres of fresh up high but a twenty minute wait on the lift queue down low.
Even with Falls Creek's MTV Snow Jam, Mt Buller's Dew Hut Jam and Perisher's Boost Mobile Sno Show, New Zealand won the event calendar this season by international names alone. The Winter Games, the Volkl New Zealand Freeski Open and the NZ Burton Open lured the big names including Jon Olsson, Shaun White, Jossi Wells, Simon Dumont, Colby West, TJ Schiller, Kelly Clark, Andy Finch and our own Anna Segal and Russ Henshaw. Shaun White put in the snowboard halfpipe run of the season, if not all time, to win the NZ Burton Open and our video coverage went mad with hits.
Andy Finch stayed on in Wanaka for the three day World Heli Challenge that lucked out on the weather with a multi day snowstorm providing primo conditions for the athletes. Finch won it for the snowboarders and Ted Davenport for the skiers. There was a moment when Taking The Piste wished we'd had the $3000 entry fee. With thirty odd male competitors and only three female skiers I could have done a Steve Bradbury. One wrong move on one of their runs and even if I just straight lined it I could have got a podium alongside Janina Kuzma who took out the overall title for the chicks. You can't lose when last is third.


Instead a week later we coughed up $48 for the last night skiing of the season at Coronet Peak and were pleasantly surprised. Soft spring snow debunked the Concrete Peak myth and a good six runs (we got there late) under the lights with a DJ blasting tunes on the deck worked out at $8 a run. With an All Blacks South Africa game on we pretty much had the mountain to ourselves and it was one of the most fun ski days of my challenging season. It was also my last as I hung my ski pants out to dry and pulled out the beach towel in preparation.
Taking The Piste gives our 'tips up' this year to:
– Perisher resort For the new snowmaking on Mt Perisher.
– Hotham Resort For the First Resort restaurant at Hotham proving it's not hard to provide good food with good service this far from metropolis.
– Merritt's Mountain House restaurant at Thredbo for understanding we don't all want to eat high sugar, high processed, high fat foods when at the snow.
– Alpure Peaks for being the best kept secret cat skiing operation in New Zealand's McKenzie Country where the farmer drives the snow cat. Read The Story from our visit to Alpure Peaks here
– The NZ Winter Games for an international styled professional run event that kept athletes, spectators, media and organisers happy.