The Best of Winter 2010 – Editor's Reflection
October 11th, 2010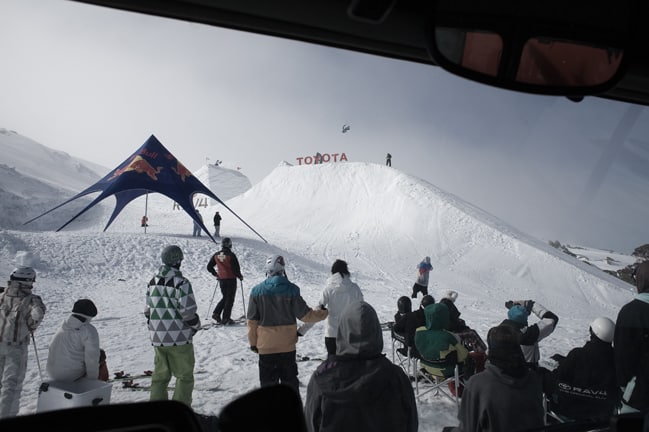 Chillin' at the Toyota One Hit Wonder – it was just one of the events that exemplified the stoke of the Aussie snow community. Image:: Andrew Fawcett
Words | Tess Cook
Yesterday (Sunday 10 October) Thredbo flicked the switch on the Basin t-bar, thereby ending the 2010 season and prompting me to consider the winter that was…
Shaun White said it succinctly "it's not just a sport, it's a lifestyle", this winter the devotion to the lifestyle seen from this editor's desk was phenomenal.
Frothin' – it's the go-to verb, adjective and adverb of our subculture. I don't use it often, but in this instance, as I recall the people I've encountered and the moments I've experienced this winter, I find it's the word that perfectly and completely captures the enthusiasm I've seen. Our snow community is small, but perhaps that works in the favour of the grassroots passion that has lunched successes like our own Transfer Snowboard Magazine and propelled concepts like SoO AirTime into being.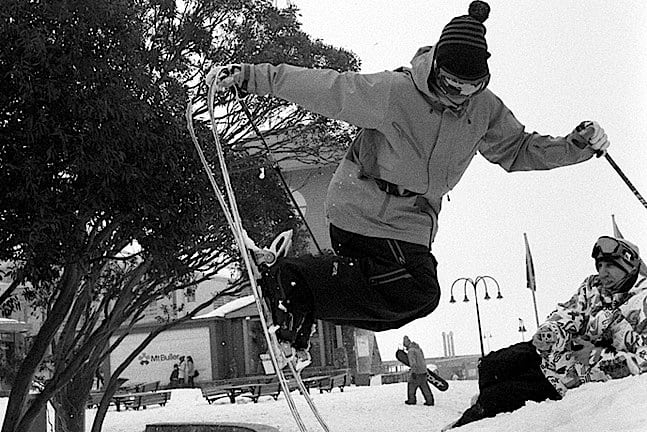 The SoO AirTime prompted all sorts of creativity, this shot of Chris Booth (with Christian Sirianni in the background) was taken using black and white film. Image:: Rory Gardner
The McLennan Brothers and their crew of Buller faithfuls are my perfect example. From a half-baked idea dreamed up in the early hours of the morning – or the final hours of a long night, depending on how you look at it – to a competition that birthed two exceptionally produced ski video edits featuring the crème of Aussie ski talent, the SoO AirTime was 2010's most remarkable achievement. It brought out the best of our community, not only in the on snow performances but in the camaraderie that united the skiers, filmers and photographers, all eager to be a part of an ultimate passion-project.
Then there was the Toyota One Hit Wonder. Tim Myers – can organise an event. When The Today Show is inspired to give us lines like "These are the bravest tricksters in the world on skis and snowboards," you suspect you have a phenomenon on your hands. But for me the success of the OHW – acronyms are fun – wasn't the media 'frenzy' it was the crew that came together to help Timmy pull it off, that's the heart and soul of our community, the guys and girls for whom working walks a fine line with living the dream.

Robbie Walker at the Toyota One Hit Wonder. Image:: Andrew Fawcett
That's not to say I didn't see just oh so much passion from the wider snow community as well. I have technology to thank for the insights I have had into the overwhelming enthusiasm Aussie skiers and snowboarders have for their hobby. I'm just in love with the way people like to talk to our snow resorts on facebook as though they're another person; "Hey Perisher, how's it going, save me some of that fresh for the weekend please!" The social media sensation has created an unprecedented self-awareness for the snow community, now we're all linked, frothin together on facebook.
Dues also to the thousands of young, and old, kids who each year take themselves off to the resorts to be the lifties, ticket sellers, instructors, bar staff and babysitters that form the backbone of our snow experiences. Having been an instructor I know no one is in it for the money but the love they have for the lifestyle puts smiles on their faces. I'd like to acknowledge my old friends Rob and Mary here, who for the second year running swapped their lovely Coogee house for a caravan in Jindabyne and put a law practice on temporary hiatus for ticket selling and Thredboland – and loved every minute of it.
As I said, we're a small snow community, but you'd be hard pressed to find one more committed to the lifestyle. I have no doubt we're all now eagerly awaiting the arrival of the Northern Hemisphere winter so we can next indulge our passion. Someone said to me recently, even if we had no snow in Australia, we'd still have a snow community. How true, we're all too in love with this life to imagine any other and some of us are so in love with it we make it our life's work – thereby propelling our little community ever forward. That's what I love. So thanks everyone and thanks 2010 for an amazing year.
Mount Buller forecasts,
snow reports and
live snow cams.
Thredbo forecasts,
snow reports and
live snow cams.