The SoO AirTime Winners Announced
September 22nd, 2010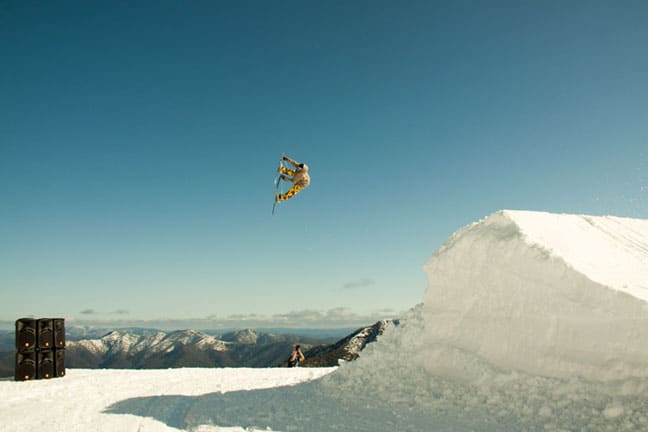 Team Victoria's Johnny Lipzker. Image:: Joey Corcoran
SoO AirTime | Watkin Mclennan
It's Official! Victoria is victorious. They got ahead by only 155 votes, but in the end the real winner was Australian skiing.
The two films were seen by over 50 countries, even Lebanon, and collectively over 10 000 people. Australian skiing has never looked so good. The team at Mt Buller worked tirelessly to get it off the ground, with help from huge snowfalls the week before, Global Snow Travel and the Victorian Snow Sports Association, we got it done.
Check out both edits
VIC



Filmed and Edited by Hugh Jenkins, Chalie Ford and Karim Sarhan.
Music by Monte Morgan and Harvey Miller.
NSW



Filmed and Edited by Sean Balmer, Lucas Wilkinson and Boen Ferguson.
Music by Harvey Miller.
The Open Edit
The OPEN EDIT was the sidekick to SoO AirTime, a video based competition open to the public. The rules were simple: make a short edit of your Australian snow adventure. The prizes were awesome. Thanks to the Victorian Snow Sport association, Global Snow Travel, LINE, Ride and Quicksilver, the winners get to go to Japan, shred on some new planks and wear some band new gear.
The top three were decided on public votes and the result couldn't have been better. A truly mixed bag, from backcountry to jib the eXtreme. Check out the other videos at SoO AirTime.
1st: Aaron Ralph


2nd: John Waddell


3rd: Will Purcell, Hugh Bertalli and Zack Burns
Thank You everyone who watched and voted. Thank you especially to those that told their friends.
Mount Buller forecasts,
snow reports and
live snow cams.