Thredbo's 2021 Snow Series Kicks off With the Rail Jam
July 20th, 2021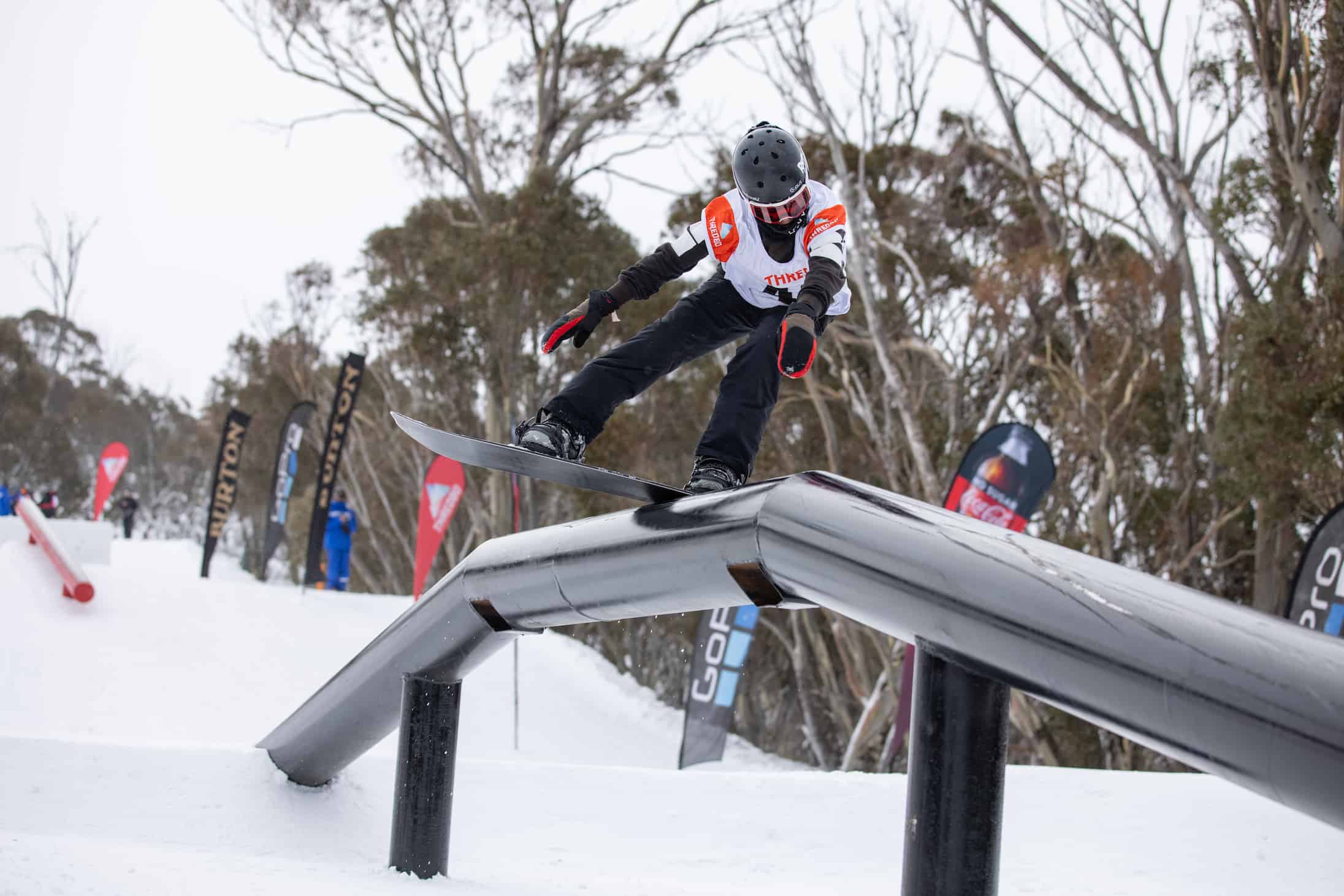 Mountainwatch |Events
The 2021 Thredbo Snow Series kicked off yesterday with the Rail Jam, the first comp of the five-event series. The Thredbo park crew built a great set-up in the Merritts park, with the choice of two lines with a variety of features and degree of difficulty.
There were over 80 competitors across three divisions, male and female, snowboard and skiing, with the winners and place getters throwing down some progressive performances. There was a fun vibe and everyone was stoked to see the series kick off again after last year's lay off.
The Snow Series is a Thredbo staple and has been running for over 15 years, making it one of the longest-running snow events in Australia. Snowboard and ski contestants enter five big competitions during the season, hoping to take home a piece of the $65,000 prize.
The five big events incorporate different disciplines – rails, ridercross, freeride, slopestyle and big air. Participants can choose to register for each individual event or for the full series. Registration for future events can be made at
The next event is the Rider Cross, scheduled for Monday, August 2.
Results
Female Junior Snowboard
1 Lily Jekel
2 Halle J McRae
3 Bella Caddy-Gammell
Female Grom Ski
1 Tessa Paxton
Female Junior Ski
1 Daisy Thomas
2 Victoria Gelbak
3 Sophie Paske
Male Grom snowboard
1 Dakoda Smith
2 Juan George
3 Gabe Hardwick
Male Grom Ski
1 Coen Sloan
2 Tor Paxton
3 Kaden Gibbons
Male Junior Snowboard
1 Allen Kirby
2 Gus Bald
3 Sunny Steele
Male Junior Ski
1 Joey Elliss
2 Angus Falconer
3 Jamie Ashcroft
Female Open Snowboard
1 Mela Stalker
2 Josie Baff
3 Jade McJannett
Female Open Ski
1 Abi Harrigan
Male Open Ski
1 Bailey Johnston
2 Jai Hunter
3 Martin Longhitano
Male Open Snowboard
1 Jye Kearney
2 Ryan Cafferkey
3 Thomas Dewar
You can check out the full results here.