Tohoku – Home to Some of The Best Skiing in Japan
January 17th, 2022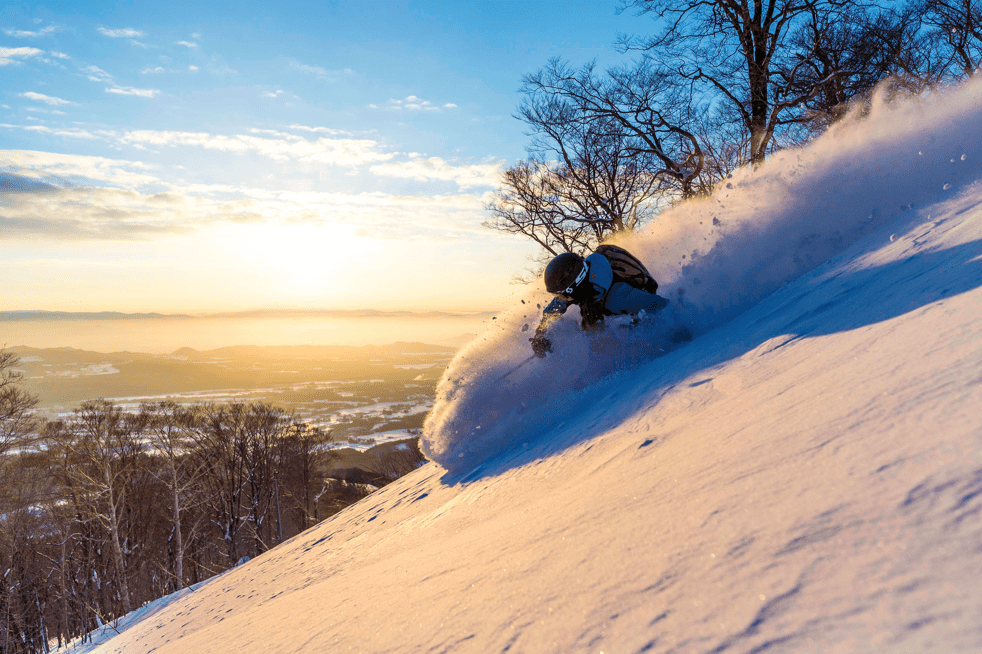 Mountainwatch | Reggae Elliss
Over the past decade Japan has become a premier snow destination for skiers and snowboarders from all over the world, the better-known resorts in Japan attracting more people year. It's hard to believe that only 15 years ago even Niseko was a basic Japanese resort with few foreigners, no English menus or signs, and no luxury apartments.
Of course, that has all changed with large influx of overseas visitors each year, and the result is the fabled Japanese powder at the better-known resorts is tracked out by mid-morning and the influx of westerners has also diluted the Japanese experience.
The answer, of course, is to look further afield and with over 500 ski resorts in Japan it is still very possible to find that enticing mix of authentic Japanese culture and deep, light powder. One such area worth the extra effort is the region of Tohoku located in the northeast of Honshu, Japan's main island.
The Tohoku area can be reached from Tokyo in around 1.5 hours at the fastest.
Tohoku is a mountainous region made up of six prefectures, its coast on the Sea of Japan, exposing it to the cold Siberian-sourced winter storms that draw up moisture as they cross the ocean and drop a lot of cold, dry snow.  The result is deep powder and lots of it, the ski resorts in Tohoku boasting some of the highest snowfall in Japan each year, but without the crowds you'll experience elsewhere.
Tohoku is blessed with a number of ski resorts, but here are four of our picks where you'll enjoy untracked powder and a true Japanese experience.
Tazawako Snow Resort            
There are a number of ski resorts in the Akita prefecture with Tazawako Ski Area is one of the best. It is not a huge resort with 100 hectares of on piste and 13 groomed trails, but with a base at 578m and the top at 1186m has a healthy vertical drop of 608m.
Tazawako offers a wide variety of terrain for all levels of skiers and snowboarders with good beginner runs and fun blue-level groomed runs for advanced and intermediate skiers. On a powder day, which happens a lot, some sections of the on-piste runs are left ungroomed, making fresh tracks easily accessible.
However, for most of us, the trees and off-piste powder are the attraction, and there is a good amount of both. There are some open glades on the upper terrain, which get tighter as you drop lower, and the sidecountry is easily accessed. As you drop through the birch and beech trees the terrain is pretty mellow, but hooking through the birch trees is always fun, especially in knee to waist deep powder.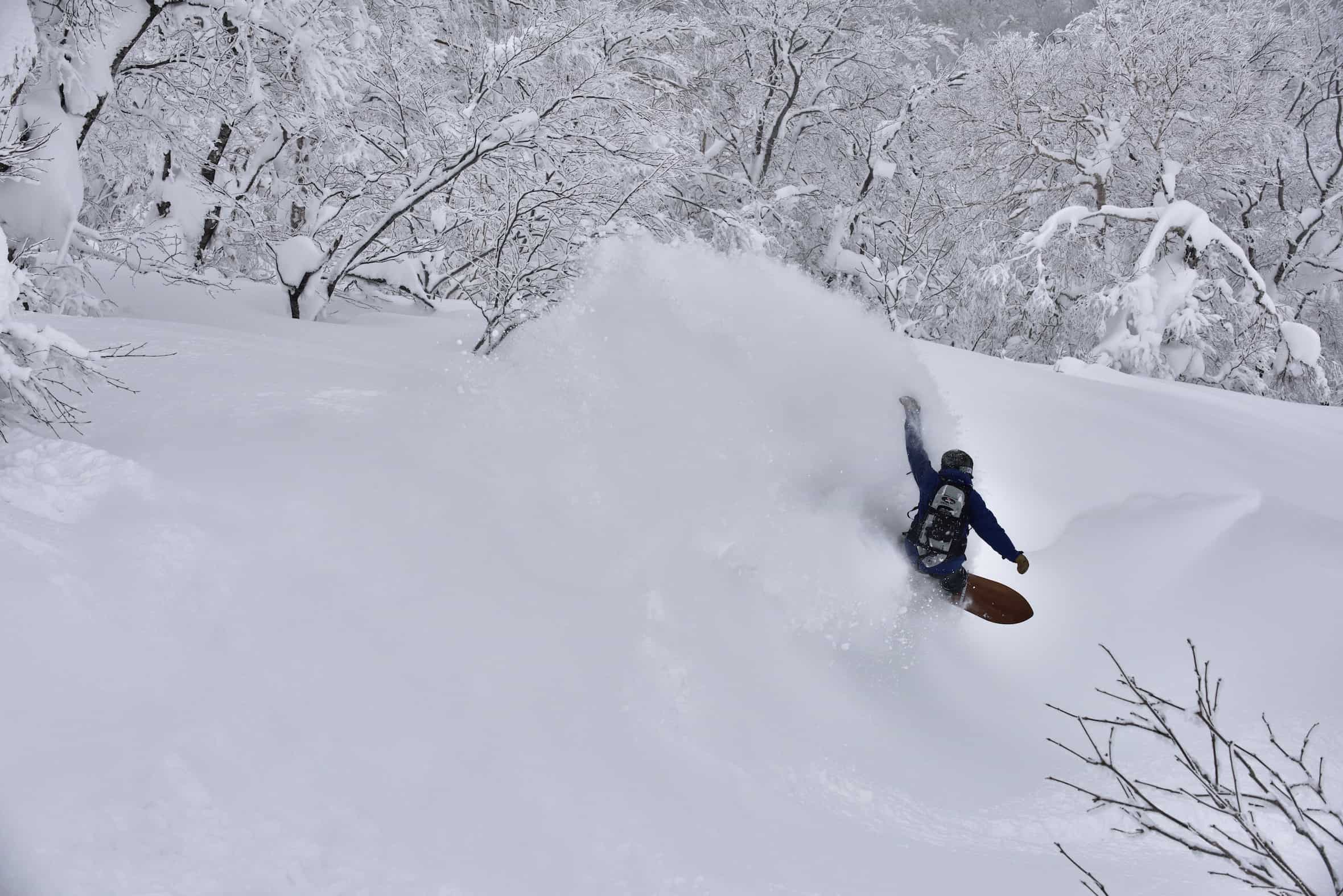 There is some great backcountry terrain above the resort's boundary on Mount Komagatak, but it is open alpine terrain so best on a fine day with good visibility. You can hire backcountry gear and book a guide at the ski shop in the base lodge.
The resort overlooks Lake Tazawa, Japan's deepest lake, which does not freeze during winter, and if you are lucky to get a clear day, the views are spectacular.
Accommodation: There is no village at the base of the mountain but there are a number of accommodation options nearby, including the Tazawako Kogen Village (3kms distance) and the Nyuto Onsen (6 kms). The choice ranges from luxurious hotels to small pensions and traditional ryokans. Many of the hotels have onsens, perfect for unwinding after a day of ripping through the powder. Of course, the food, local sake and warm hospitality all contribute to a memorable experience.
Getting there: Tazawako is off the beaten track and a rental car is not a bad option, but you can also get there from Tokyo by air or train, the Shinkansen delivering you to Tazawako station in three hours from Tokyo. The ski resort is 11kms from the station and there are regular buses that take about 30 minutes. If you fly, there is a shuttle service from Akita airport to Tazawako.
 Shizukuishi Ski Resort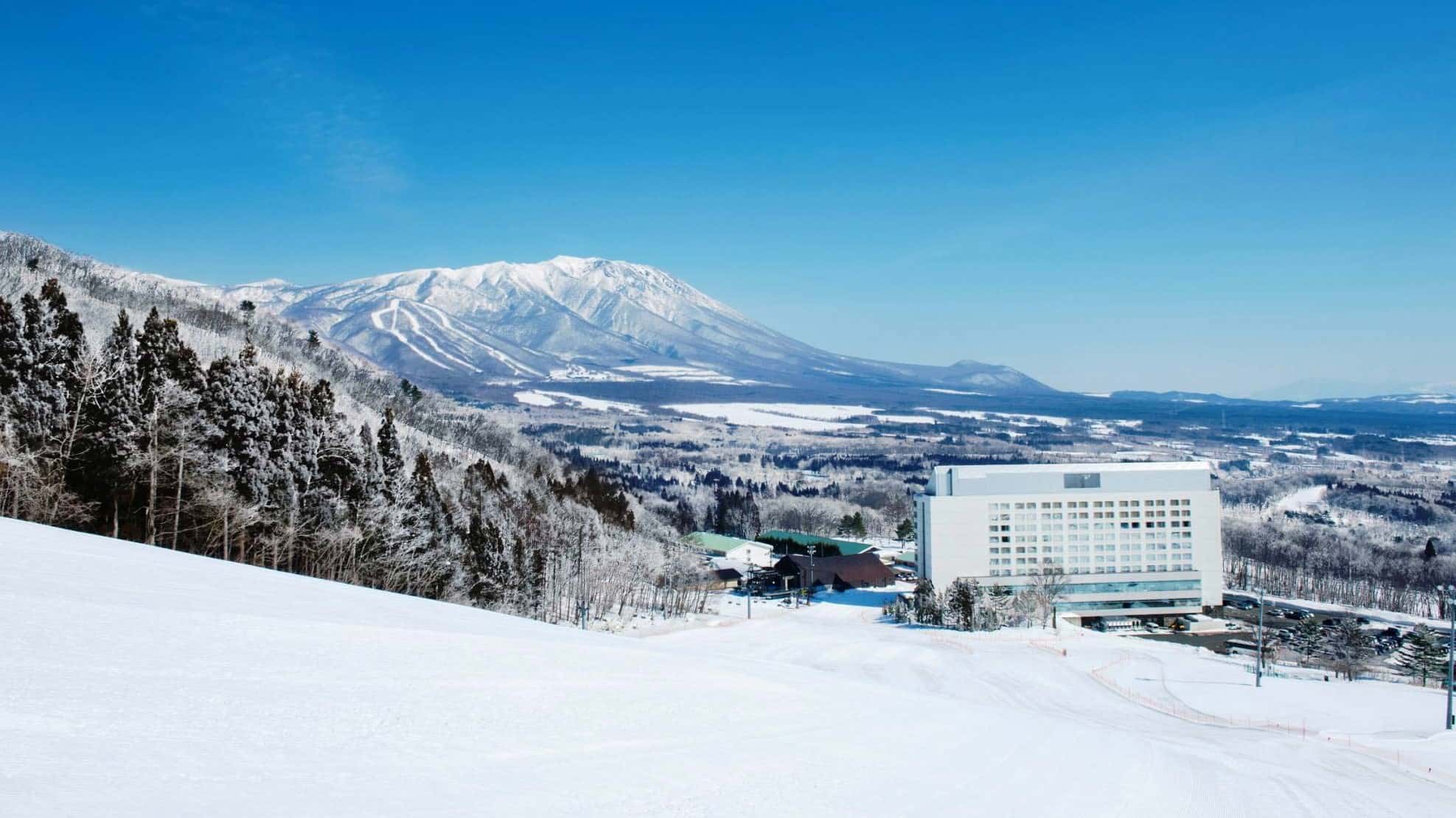 Located in the beautiful Iwate Prefecture, Shizukuishi is a true Japanese hidden gem. There's no village, just a large Prince Hotel at the foot of the mountain that services just about all the visitors, though it's certainly not crowded.
Shizukuishi Ski Resort hosted the FIS Alpine World Ski Championships in the early '90s, and the Men's downhill course is a popular on-piste run and offers an impressive 4.5km of consistent vertical, whilst the women's Super-G trail has since been converted into a Cat Skiing zone – and a very affordable one at that! A single run will cost you a mere ¥4000 ($40AUD) – even less if you're doing multiple runs, and let's be honest, you'll want to do more than one.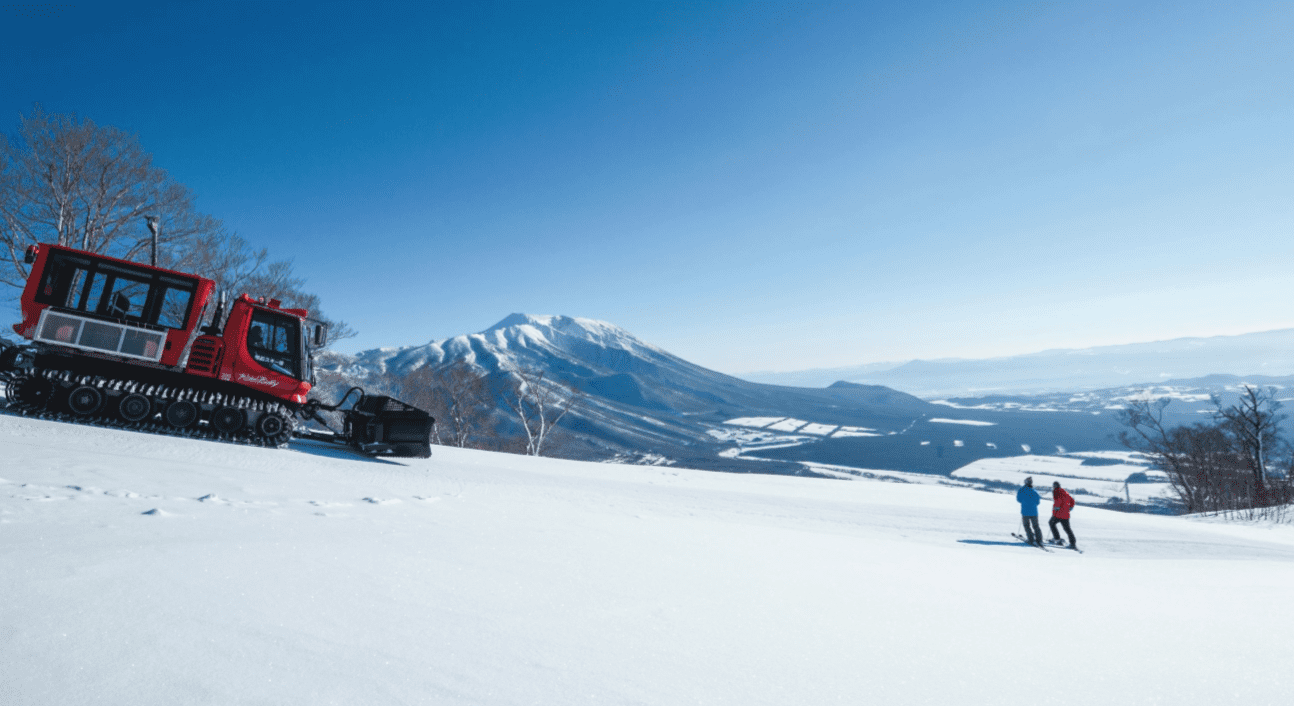 While the cat skiing only operates on Saturday's, Sunday's and National Holidays and the skiing is confined to the piste, if you're lucky and Saturday is a powder day (a fairly regular occurrence Tohoku) you'll have over 700m of open pow- filled vertical laid out before you.
11 trails (or courses) are spread over just 65ha and more advanced skiers and boarders will find enough terrain to entertain themselves for an extended stay including some great tree skiing.
Accommodation: There is no ski village or many other accommodation options to speak of at Shizukuishi aside from the Prince Hotel. The hotel has all bases covered though, with several internal restaurants, a rental outlet, retail outlets and more. Undeniably the biggest attraction here is the Takakura Onsen, a natural hot spring serviced by the hotel that has deservedly been recognised as an onsen heritage site.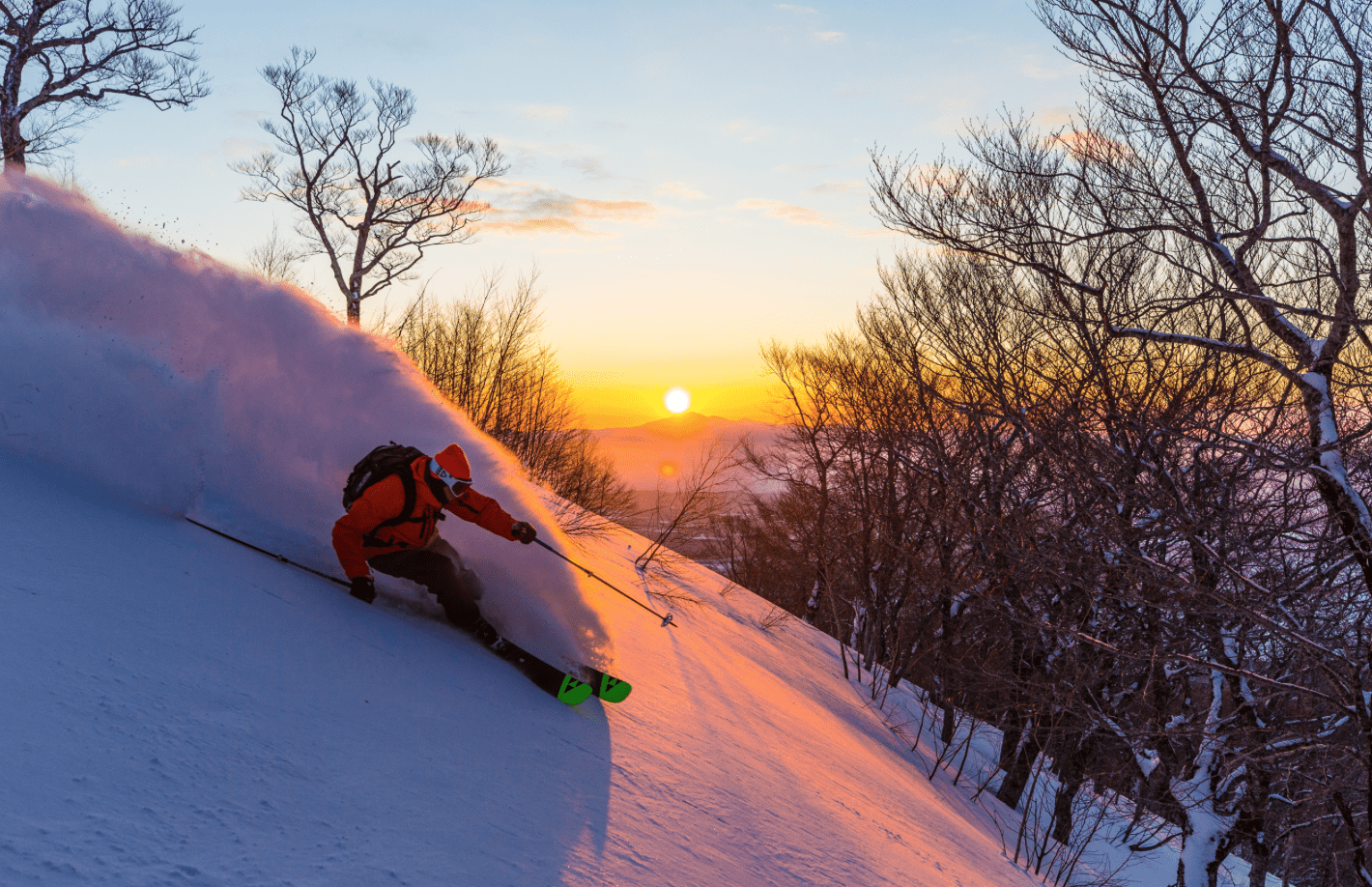 Getting there: Shizukuishi Ski Resort is located in the northern Honshu prefecture of Iwate. There are two trains from Tokyo and both are an easy trip, either the Akita Shinkansen (bullet train) or the Tohoku Shinkansen. The Akita Shinkansen stops at Shizukuishi Station and takes around2.5-hours.A short 20-minute taxi ride will then take you to the resort. Alternatively, the Tohoku Shinkansen stops at Morioka Station after around a 2.5-hour trip and then it takes 40 minutes by taxi to reach the resort. There are also buses from Morioka to the Shizukuishi Prince Hotel.
 Appi Kogen Ski Resort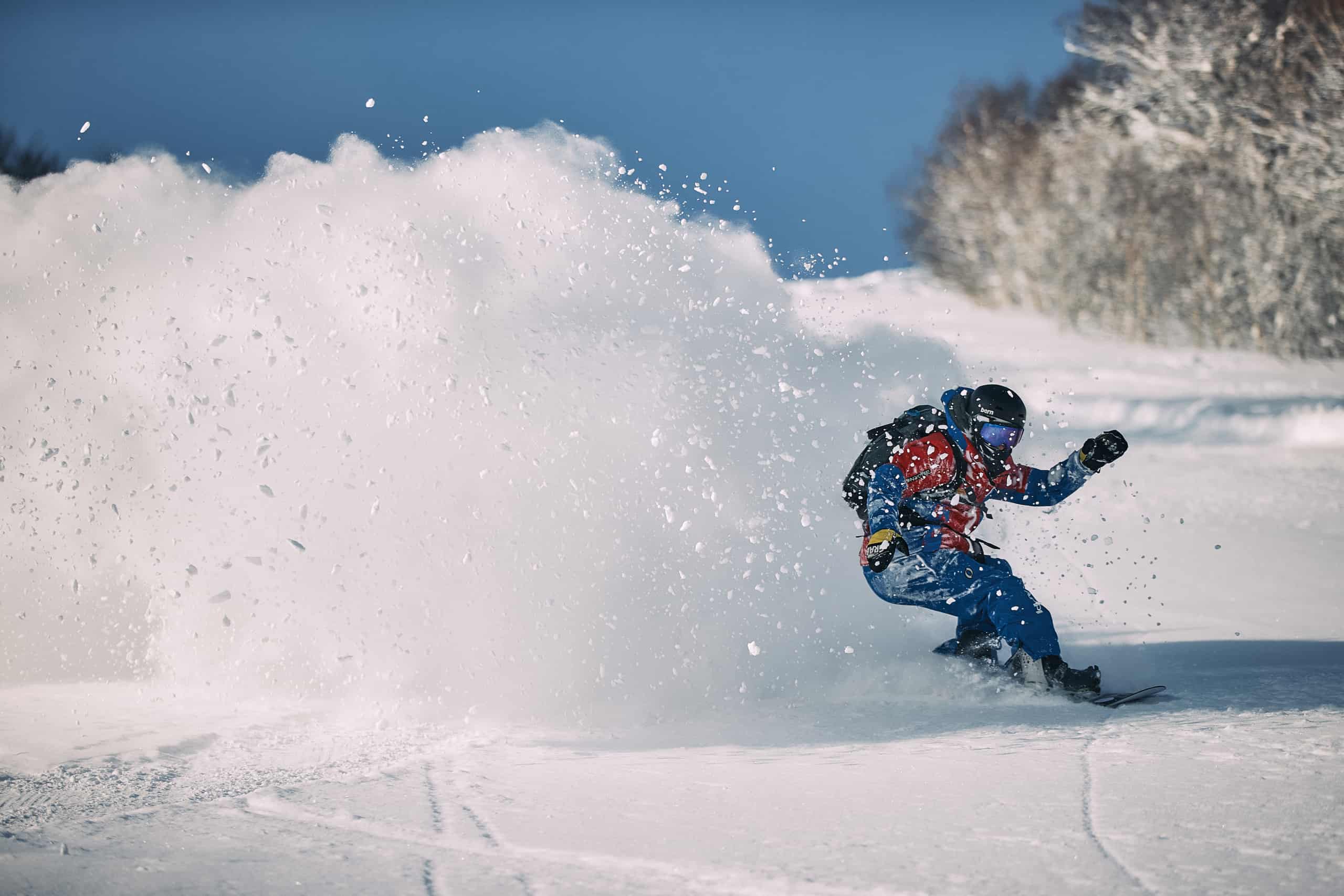 Appi Kogen Ski Resort, or simply Appi, is a ski resort located in Iwate prefecture and is famous for its 'powder perfect' snow. The resort's north-facing slopes keep the significant annual snowfalls in primo condition throughout the long season. The mountain summit is 1328m with a vertical drop of 828m and encompasses two mountains, Mt. Maemori and Mt. Nishimori and there is plenty of terrain for a long stay.
The resort has 21 trails with an average run of 2km and the longest at 5.5km, and with 16 lifts across the slopes all trails are serviced. Appi is a perfect resort for families, offering exceptional customer service, a dedicated children's area, a snow park and excellent on piste runs for riders of all levels.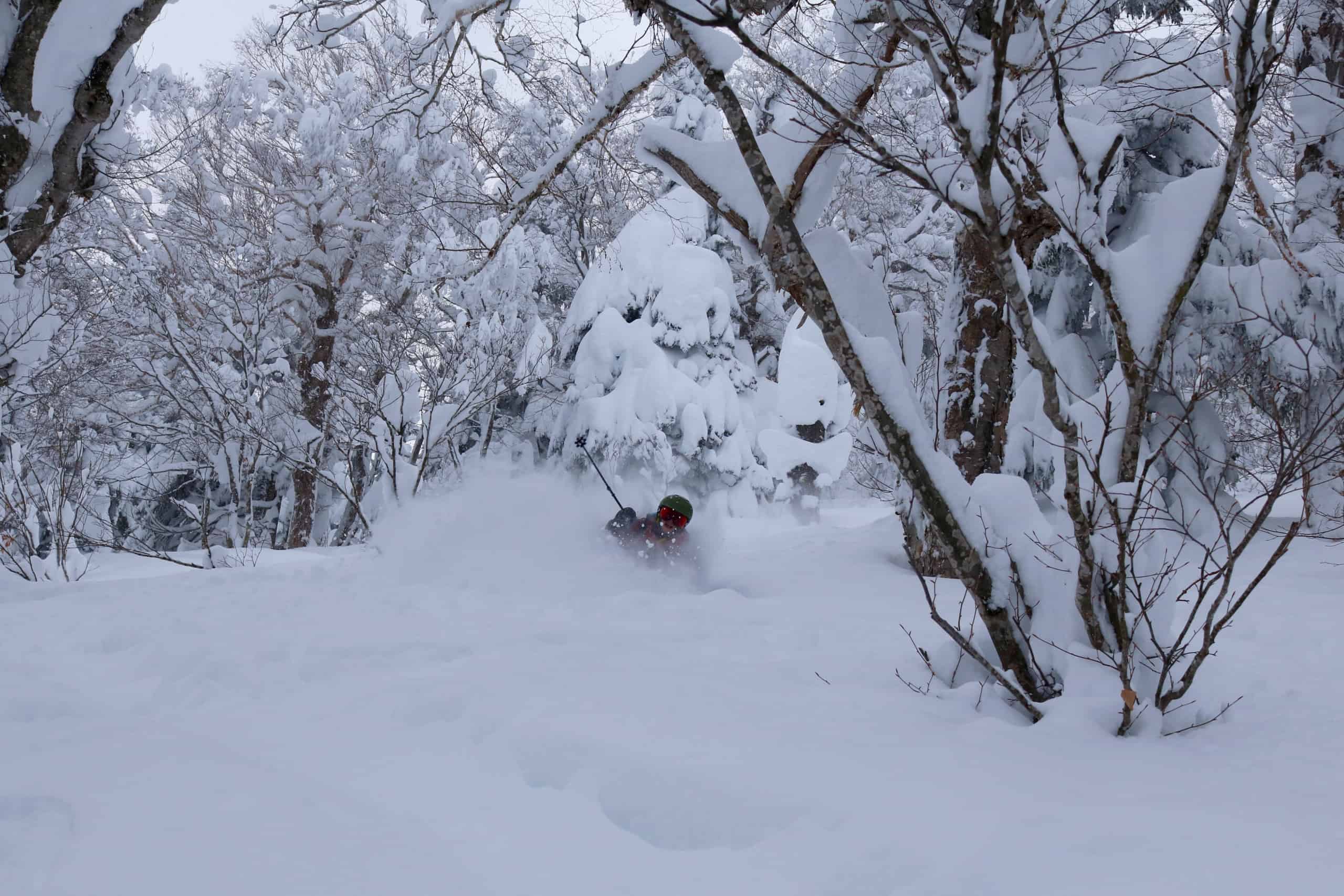 Appi is renowned for its tree skiing and there with different zones across the resort, accessed through a number of gates. The zone accessed from the resort's highest lifted point on Mt Nishimori is the pick on a powder day and mid-week you'll have it to yourself. the picks. Appi also has a reputation for perfectly groom and when it's not a powder day a few top-to-bottom runs on the perfect corduroy is a good way to start the day.
Accommodation: The ski-ski ski-out Hotel Appi Grand is replete with a pool, multiple onsens, quality restaurants serving a variety of cuisine and even tennis courts, as well as a top-notch breakfast buffet. There are also a number of guest houses located just a short drive away from the slopes.
Getting there: Appi is easily accessible from Tokyo. Take JR East's shinkansen bullet train line to Morioka. When arriving at Morioka station, take the Hanawa line for Appi Kogen station(takes around 60 minutes), then finally hop onto the free shuttle from Appi Kogen station to the resort buildings.
Also, there are buses from Morioka to Appi Kogen ski resort (takes around 60 minutes).
Aomori Spring Ski Resort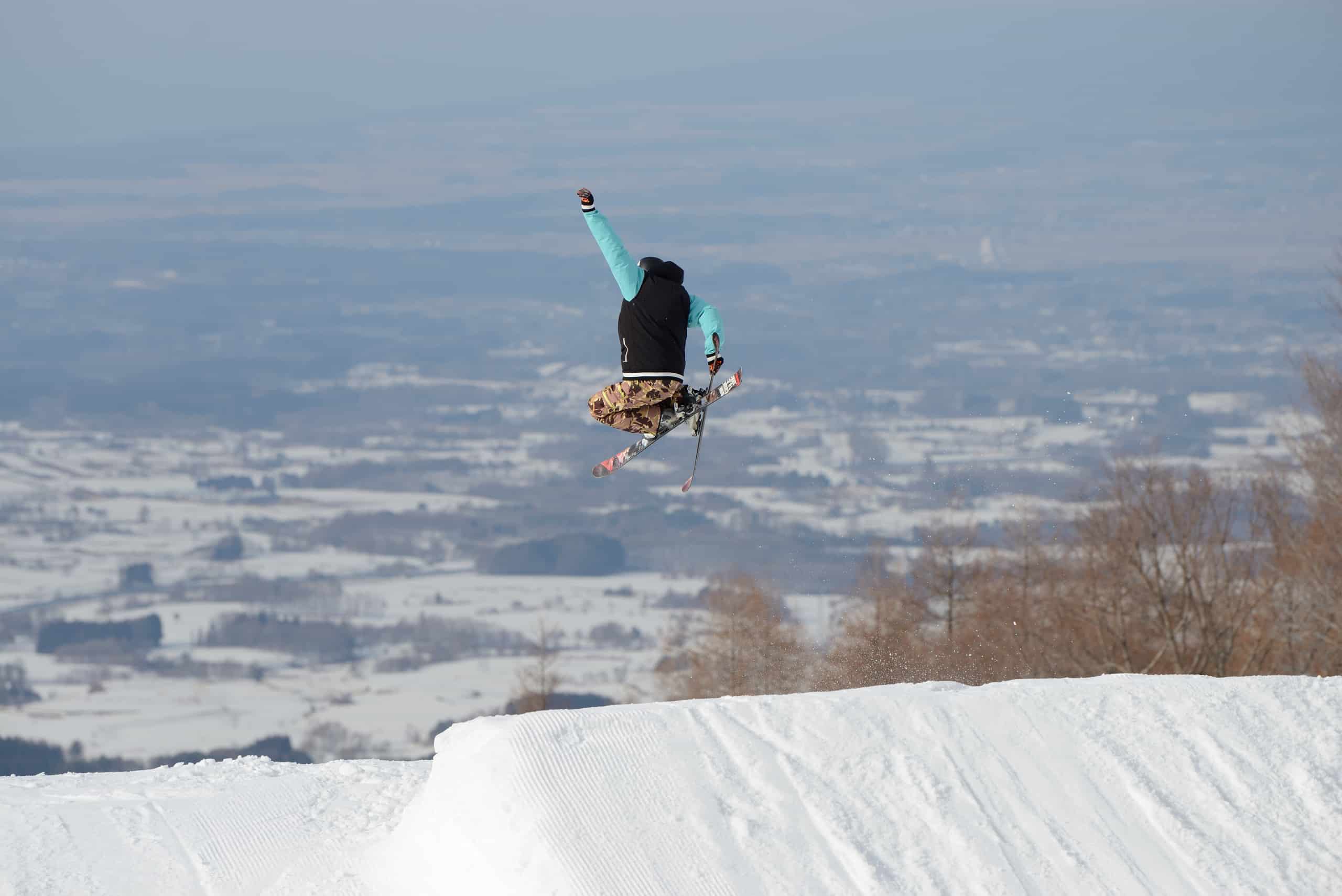 Located in Aomori, the most northern prefecture of Tohoku, Aomori Spring resort is the northernmost ski resort in Honshu, 45ks southwest of Aomori city, regarded as the snowiest city in the world. Aomori Spring resort is located on the northern slopes of Mt Iwaki, it's north-facing slopes holding quality dry snow and after a storm Aomori offers some of the lightest powder in the world.
Aomori Spring has four lifts – a gondola, two detachable quads and a double – which access a variety of terrain classed as to 50% beginner, 30% intermediate and 20% advanced. The steeper terrain is on the upper mountain and the gondola runs to an altitude of 921 metres, offering a lifted vertical of 545m. The best inbound terrain is in the trees, but the wide groomed runs are perfect for intermediates or on those rare days when there is not fresh snow.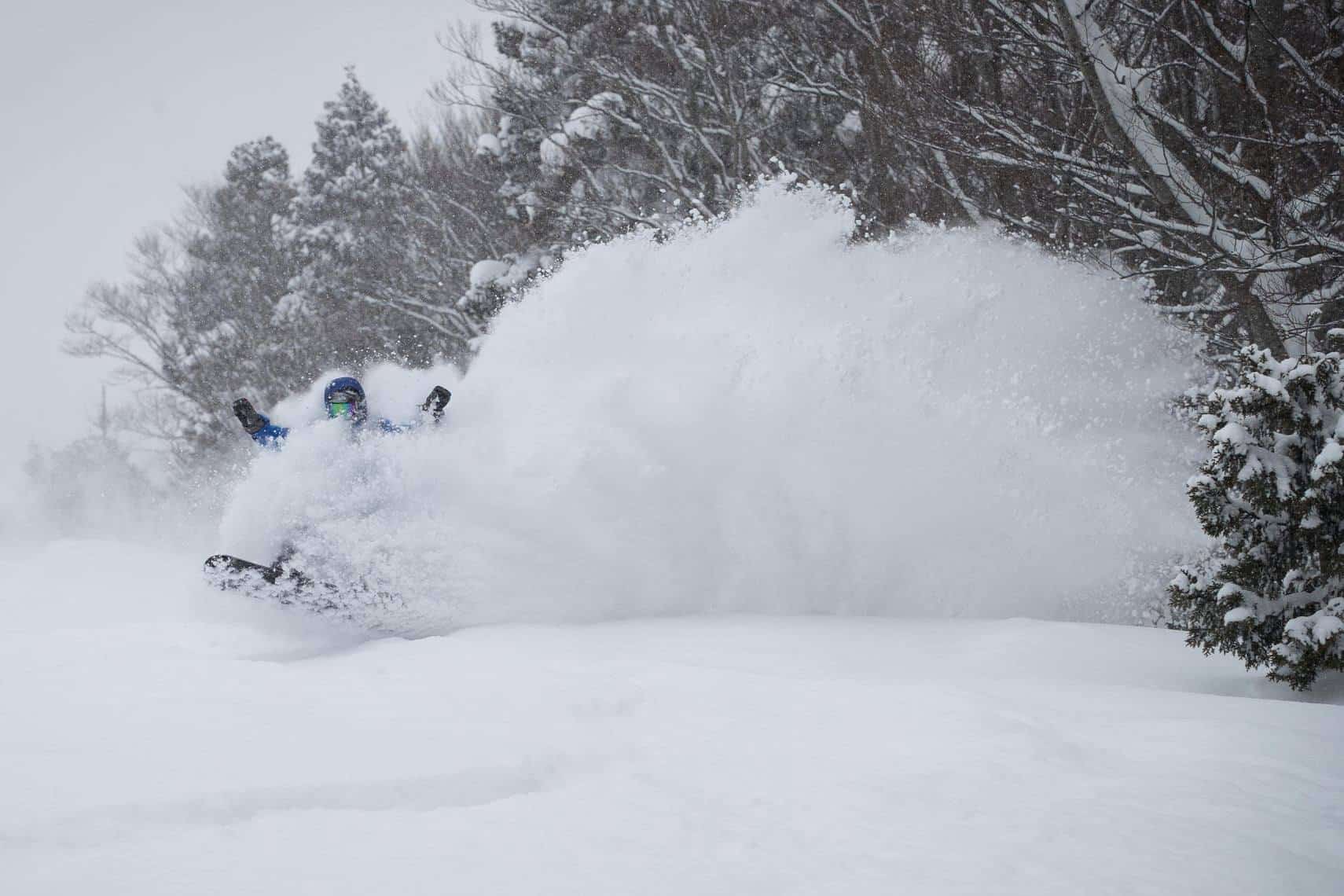 However, there is some steeper terrain accessed by a short hike from the top of the gondola with the side country holding some nice gladed tree skiing. The nearby backcountry has it all form mellow snow showing terrain to more challenging open alpine bowls and you can book a backcountry guide through the resort.
Night skiing is also popular with a number of trails under floodlights. Aomori is also positioning itself as a freestyle hub and has one of the best terrain parks in Japan which includes an Olympic-sized 22-foot halfpipe which is also open at night.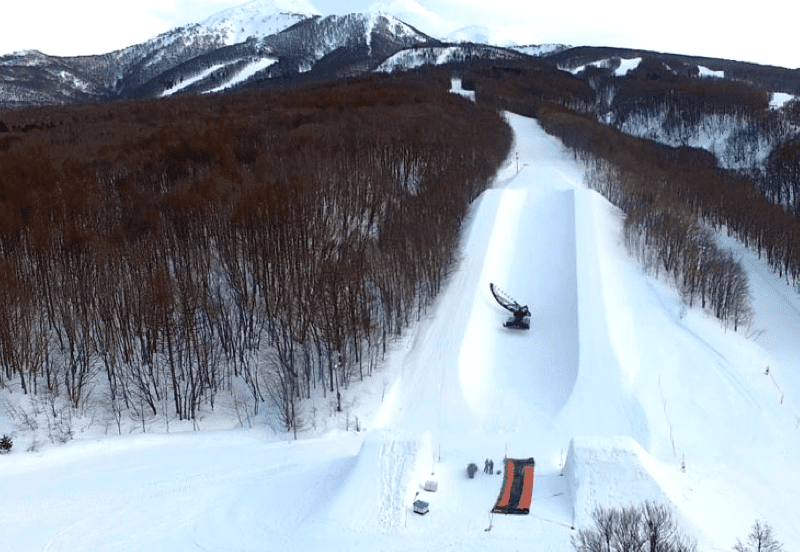 Accommodation: There is no village at Aomori Spring, with the only on-mountain accommodation being the fully ski-in ski-out Rockwood Hotel. This deluxe hotel has lovely western style rooms, an amazing onsen including an outdoor hot spring bath, and a couple of great options for dining.
Getting there: Getting to Aomori Spring is a relatively painless exercise with the options a domestic one-hour flight from Haneda to Aomori Airport or alternatively, take the Tohoku Shinkansen from Tokyo to Shin Aomori Station (3 hours). You can also fly into Aomori Airport from Seoul Incheon Airport, around 2.5-hours). There are scheduled shuttles from both the airport and the train station to the Rockwood hotel and the resort, but you need to pre-book. Taxis are also available on demand.