Tohoku – Honshu's Northern Region, Deep Snow and Small Crowds
December 18th, 2021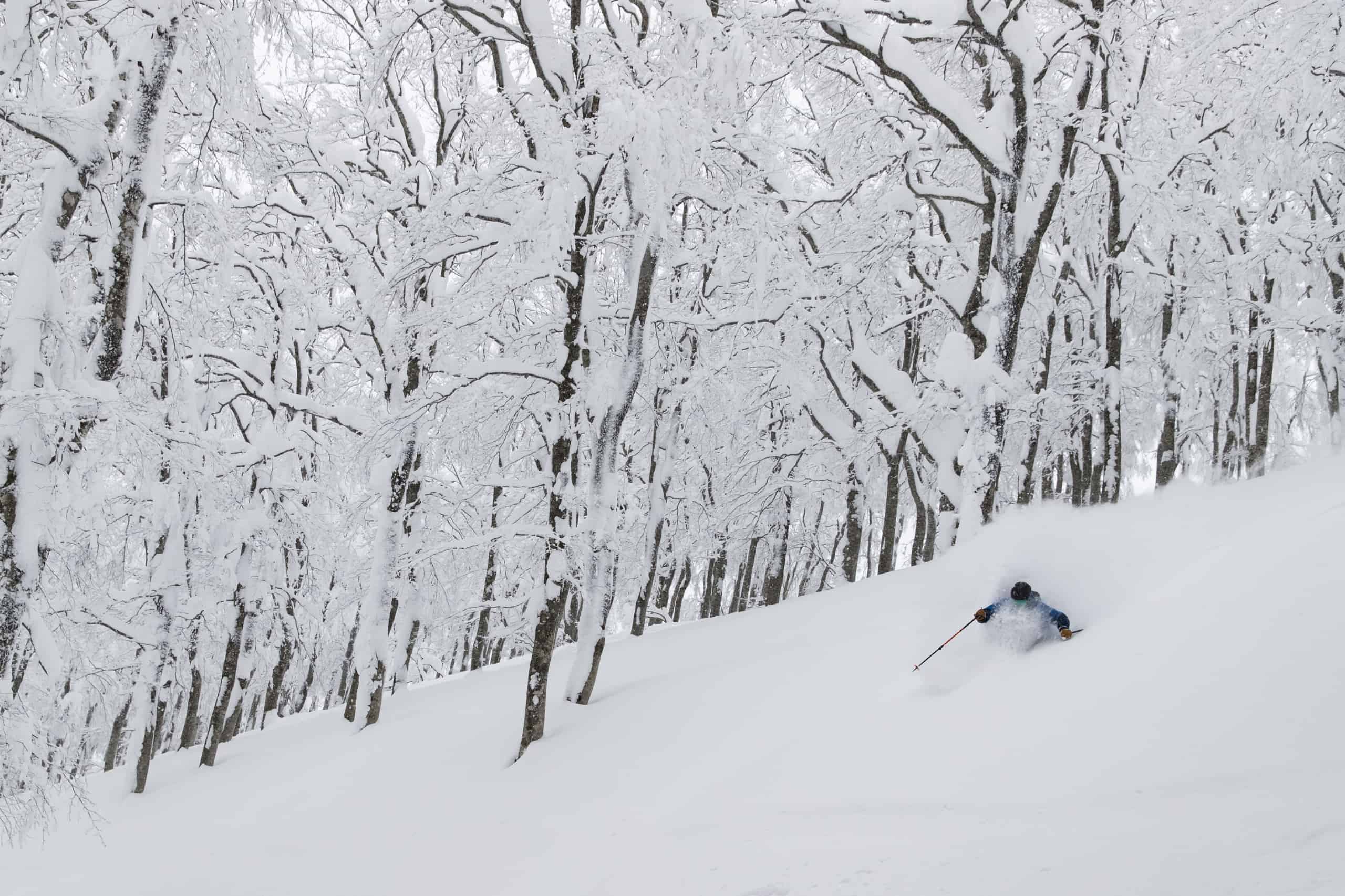 Mountainwatch | Reggae Elliss
Japan has been the number one destination for Australian skiers and snowboarders for well over a decade with the popular, better-known ski areas like Niseko and Hakuba attracting visitors from all over the word each winter.
Of course, the lure of Japan is the consistent quality snow and cultural experience, and as those resorts become increasingly popular each year many are looking elsewhere to find the legendary Japanese powder.
For those who like to explore off-the-beaten-track Tohoku is a destination for those who seek culture and deep powder with minimal competition for fresh tracks (i.e., none).
The region covers the northernmost area of Japan's largest main island Honshu, and consist of six prefectures: Akita, Aomori, Fukushima, Iwate, Miyagi and Yamagata.  The area is renowned for its reliable powder snow, and uncrowded slopes, while off snow the region is famous for its rich culture, heritage and onsen.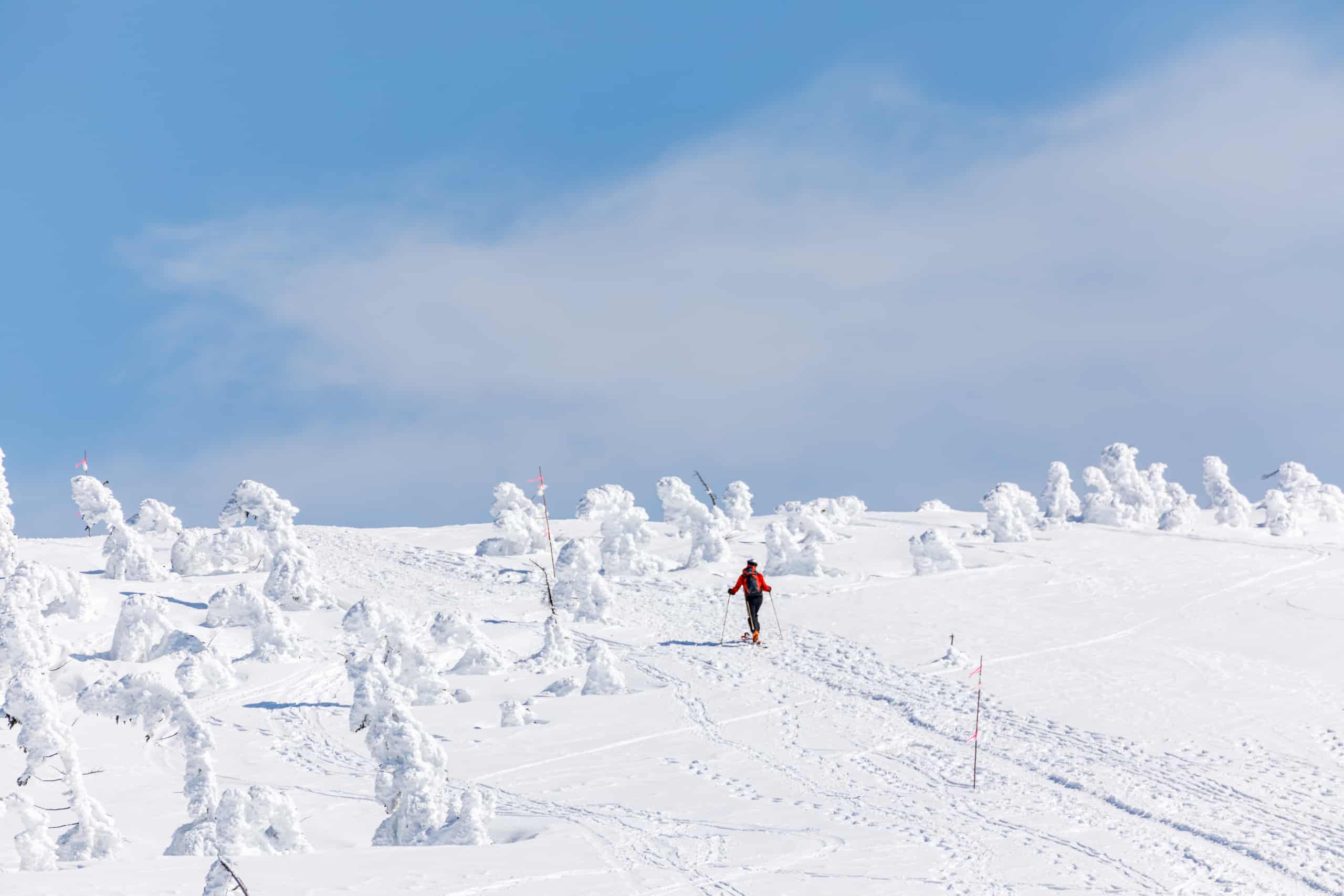 Tohoku is one of the bigger regions in Japan but also one of the less-densely populated, a traditional rural area where the main industries are rice farming, forestry, fishing and tourism, with visitors attracted year-round by the mountains and natural beauty.
The winters are harsh but for skiers the storms that move in from the Sea of Japan and hit the Ōu Mountains dropping huge volumes of snow are the attraction. The Ōu Mountains is a range that stretches 500km north to south through Tohoku and is the location of a number of ski resorts in Aomori, Iwate and Akita prefectures.
The resorts enjoy a season average snowfall of 8-10 metres, deeper in backcountry areas. The area is renowned for its deep, light powder, tree skiing and juhyo(snow monsters) which are formed whencold, westerly Siberian winds blow across the Sea of Japan and hammer the conifers with rime ice and snow.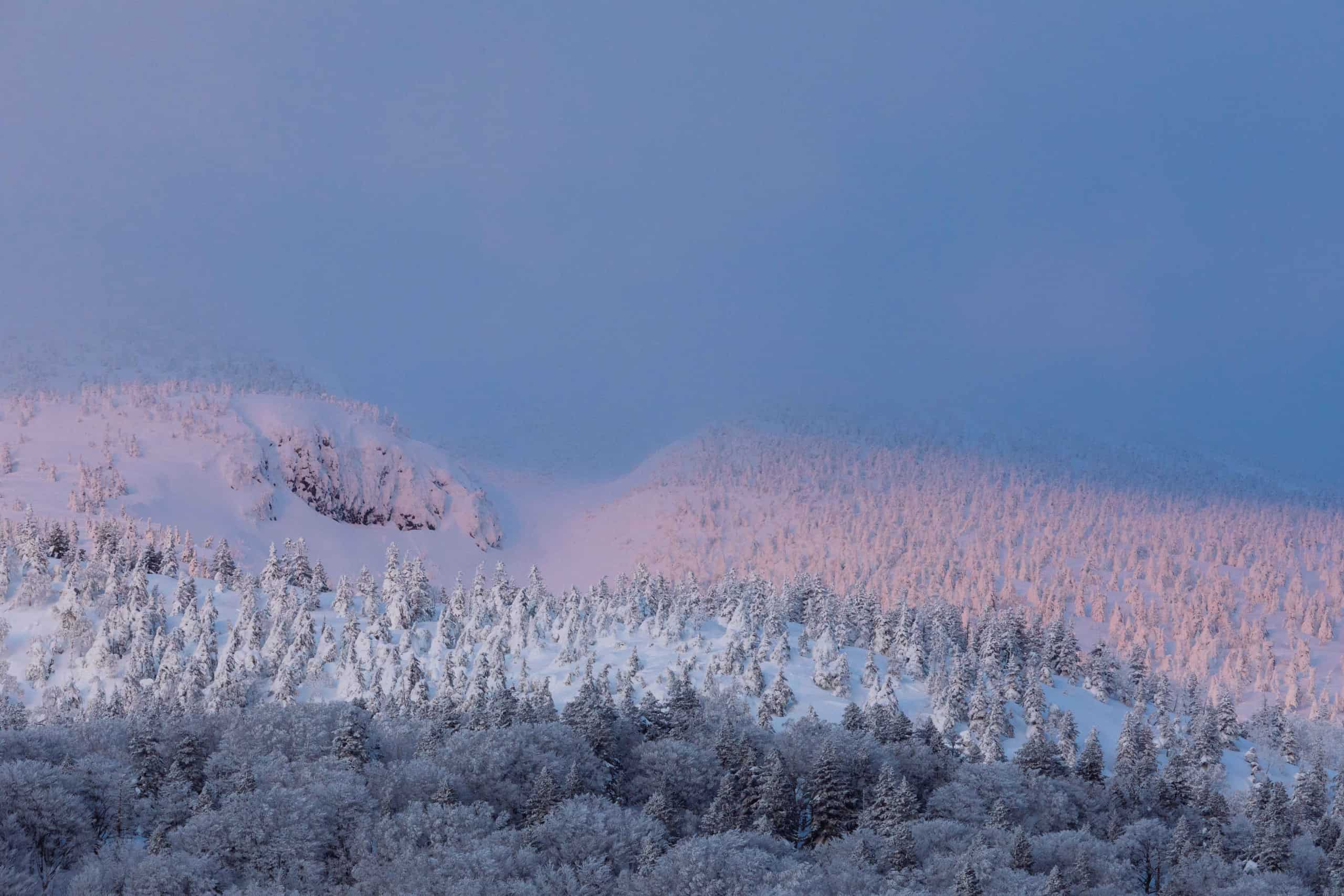 Tohoku boasts a wide variety of resorts, ranging from small, local day resorts to larger well-serviced destination ski resorts. The smaller resorts have mainly intermediate terrain and limited off piste options while some of the bigger resorts are a powder nirvana for advanced riders.
One thing they do have in common is the lack of international travellers and while weekends may be a little crowded with locals, most are empty mid-week. The lack of international visitors not only means fewer crowds and more untracked powder, but also less western influence so you'll experience a taste of real Japan.
If you are thinking of exploring Tohoku there are plenty of options but the following three resorts are among our favourites: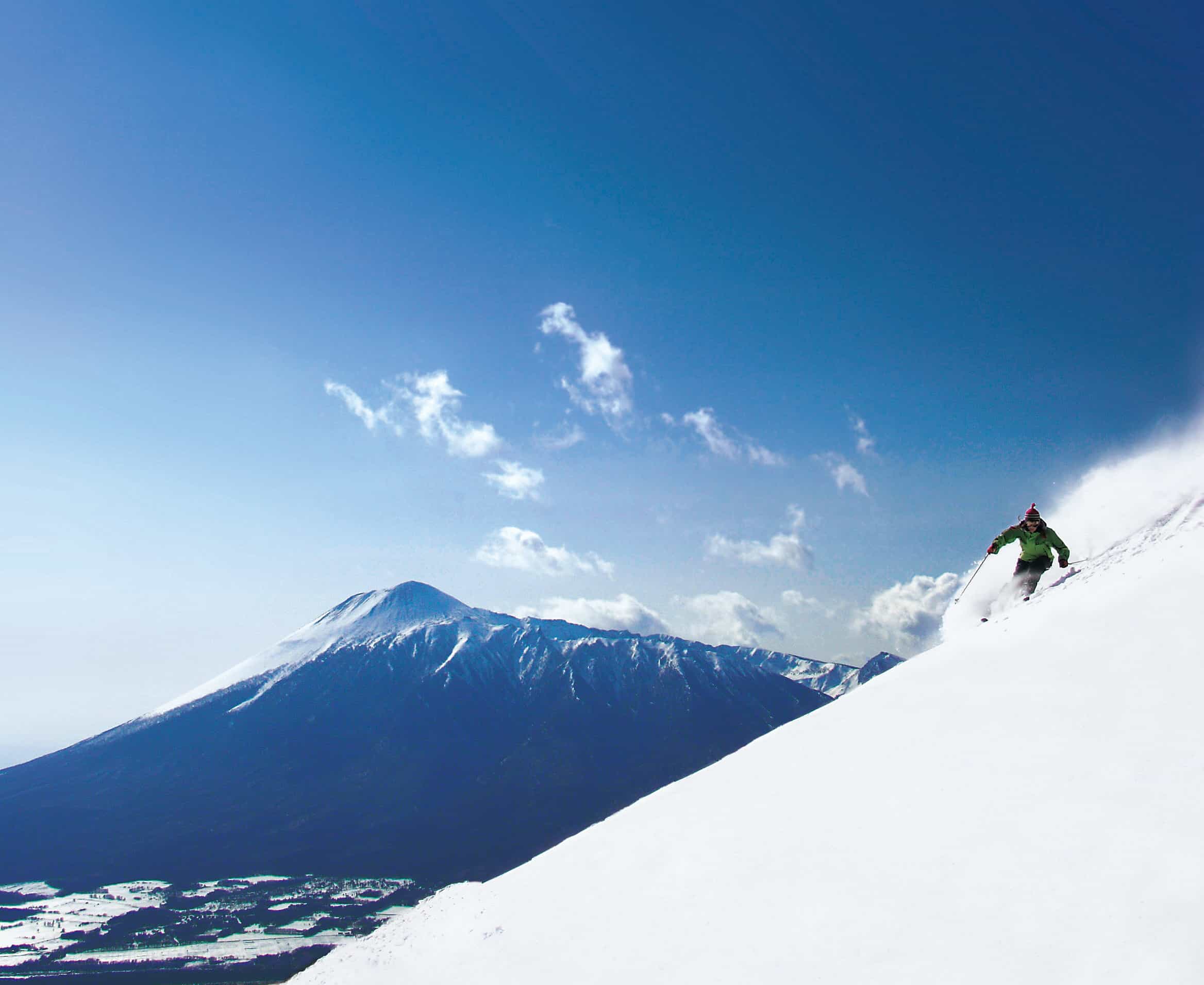 Appi Kogen
Appi Kogen is a well-known and popular resort in Iwate Prefecture, plus the biggest resort in Tohoku. It offers some epic tree runs and pockets of fairly steep side country, along with a terrain park, long cruisy groomers, a good beginners' area and an array of resort facilities. It is serviced by ten lifts, including one gondola and three high-speed quads which makes it easy to get around the mountain.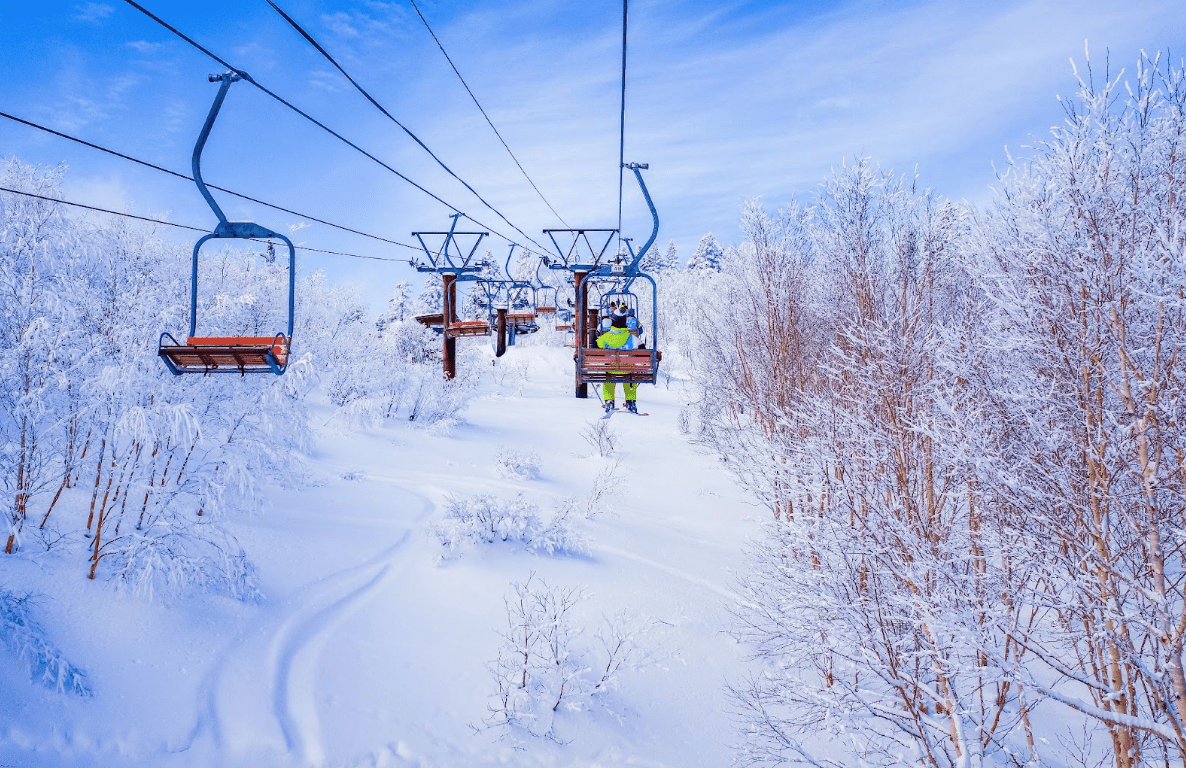 The 282-hectare ski area boasts over 800m of vertical skiing. More than half of Appi's 21 trails are also longer than 2km and its longest a positively leg burning 5.5km. There is a huge variety of terrain for all standards and the resort caters well for families, with well groomed trails, dedicated children's ski areas, snow parks, child care and a plethora of ski school options.
Appi has been labelled the Aspen or Deer Valley of Japan with not only great customer service, but also a reputation for high-quality groomed runs. If it's not a powder day the perfect corduroy from the top of the gondola to the base is the perfect way to start the day.
Appi receives an abundance of snow with an average seasonal snowfall of over eight metres and its north-facing slopes ensure the snow quality lasts well after a storm. On a powder day, as the saying goes: head for the trees. The resort's off-piste policy has relaxed over the past few years, but like many Japanese resorts Appi has a gated off-piste policy accessing a number of different zones.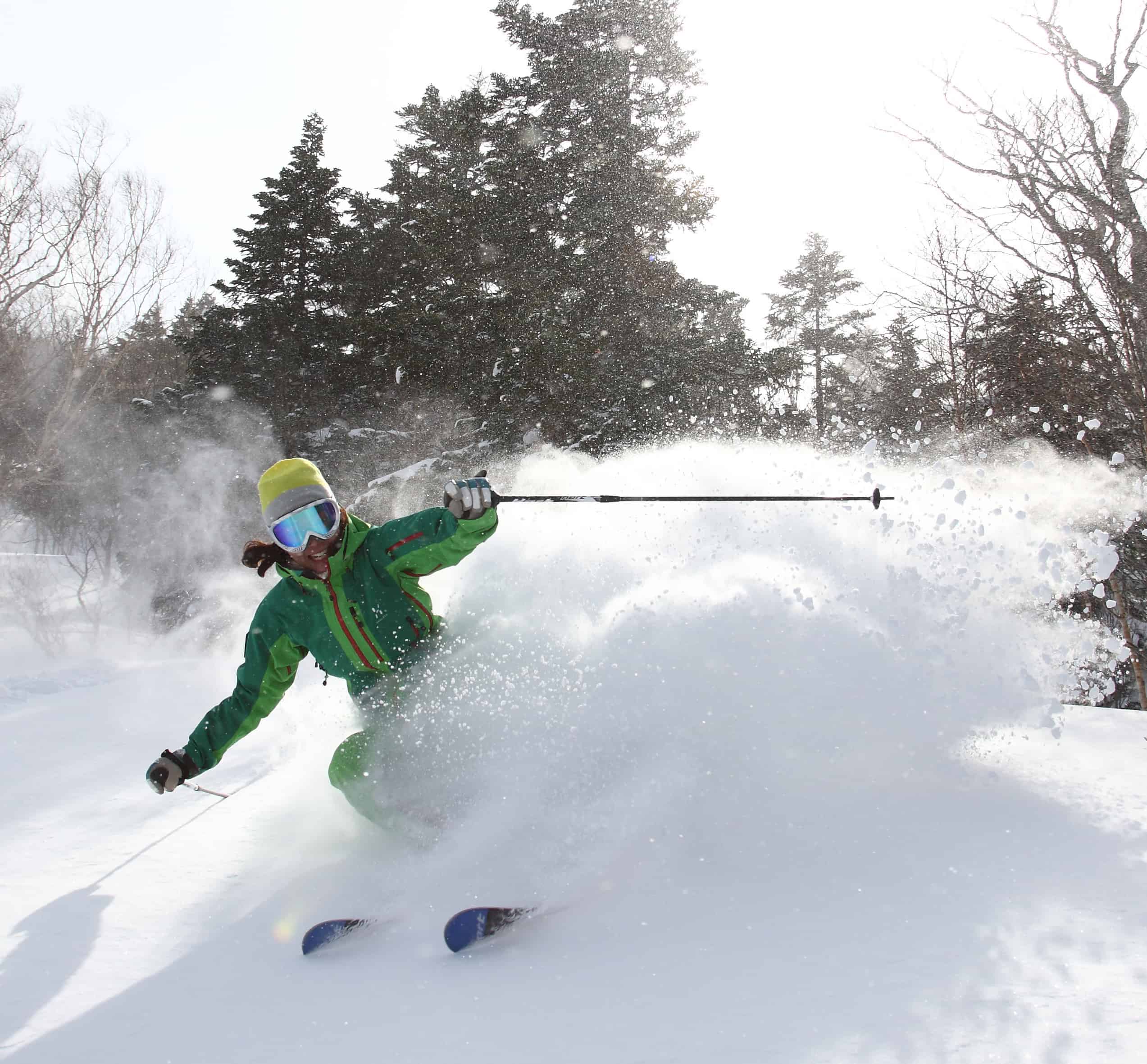 The tree run zone accessed from the highest lifted point at Mt Nishimori consists of some beautiful glade lines and as the majority of the skiers stay on piste, you'll enjoy plenty of untracked runs; just venture a little wider each time. If you are there mid-week, you'll have it to yourself, something I experienced with my family in February 2020.
Appi simultaneously is a well-serviced family resort and a place for serious skiers and snowboarders. There are three hotels at the base of the resort for that ski-in ski-out convenience. The hotel Appi Grand is replete with a pool, multiple onsens, a variety of restaurants and even tennis courts, as well as a top-notch breakfast buffet. There are also a number of guest houses located just a short drive away from the slopes.
Getting there: From Tokyo the easiest way to travel to Appi is via Shinkansen (Bullet Train) (2 hours) to Morioka Station and then catch the bus directly to Appi resort (60 minutes). Appi is one of the biggest and the most developed resorts in Tohoku making it worthy of a multi-day visit.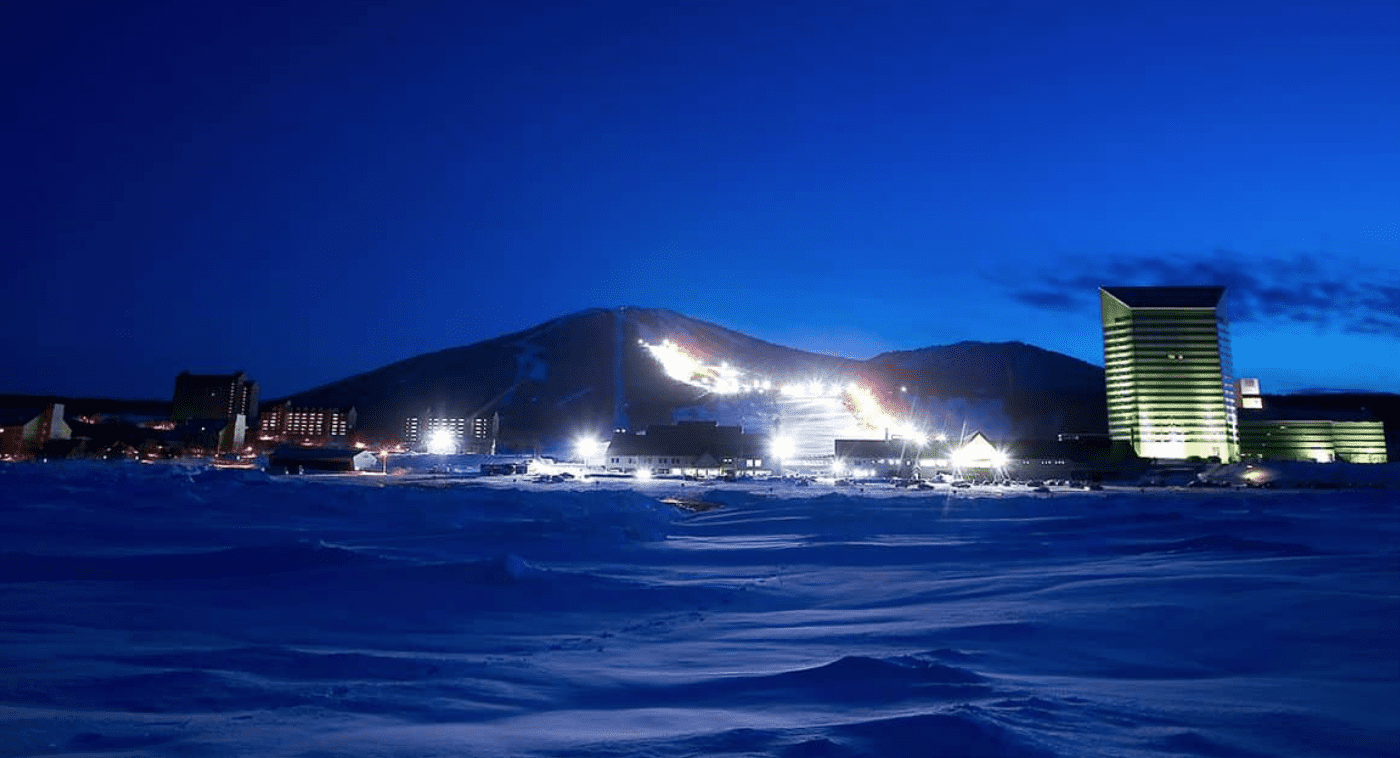 Ani Resort
Situated on the slopes of Mt. Moriyoshi in Akita Prefecture, Ani is a powder nirvana that is well and truly off the mainstream radar.  It is a relatively small resort with one gondola and two double chairs servicing the majority of the 537m vertical but here you'll find some of the best tree skiing in all of Japan. A mixture of Japanese Beech trees and mature pine forests are in abundance, and minimal crowds another plus.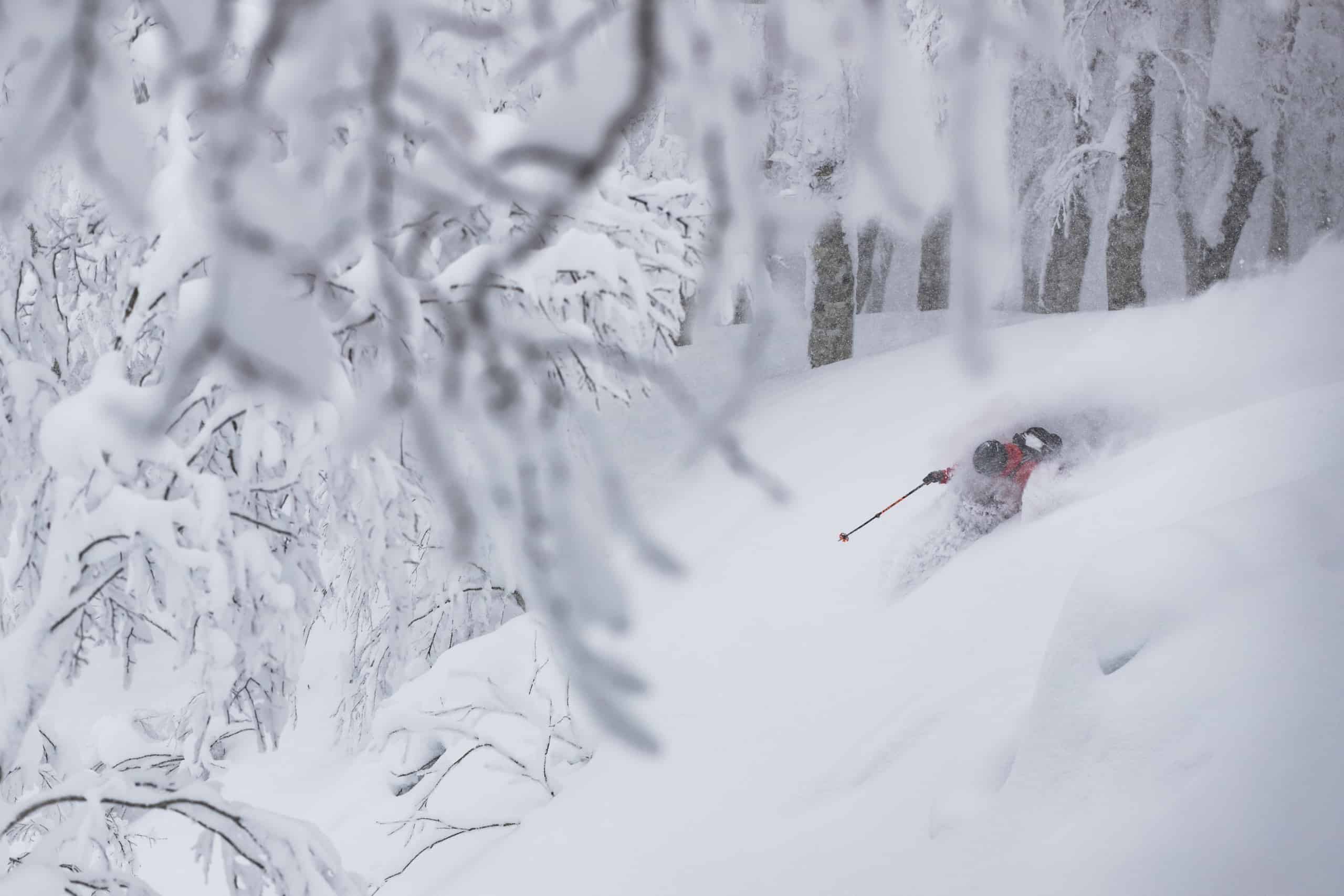 For backcountry enthusiasts the options are many and varied with easily accessible side-country. As with all backcountry travel, assess the conditions and carry all the appropriate equipment.  If new to the area, it's a good idea to hire a guide.  We enlisted the services of Riki Japow Guide@rikijapowguide and he ensured we skied some of the deepest powder we've ever had, with fresh tracks each run.
Snow Monsters:  At the top of Ani you will find the famous Snow Monsters.  Tohoku's harsh winter climate produces Hoar frost, a key ingredient, and Ani is one of the top three locations in all of Japan to view these frosty trees and tours can be arranged through the resort (www.aniski.jp).
Accommodation: We stayed at Hotel Fusch, a cool little hotel with western and Japanese style rooms. It's located near the base of the resort and they offer the choice of western or traditional Japanese breakfasts and dinners, plus shuttles to transport guests to and from the ski resort and the nearby railway station.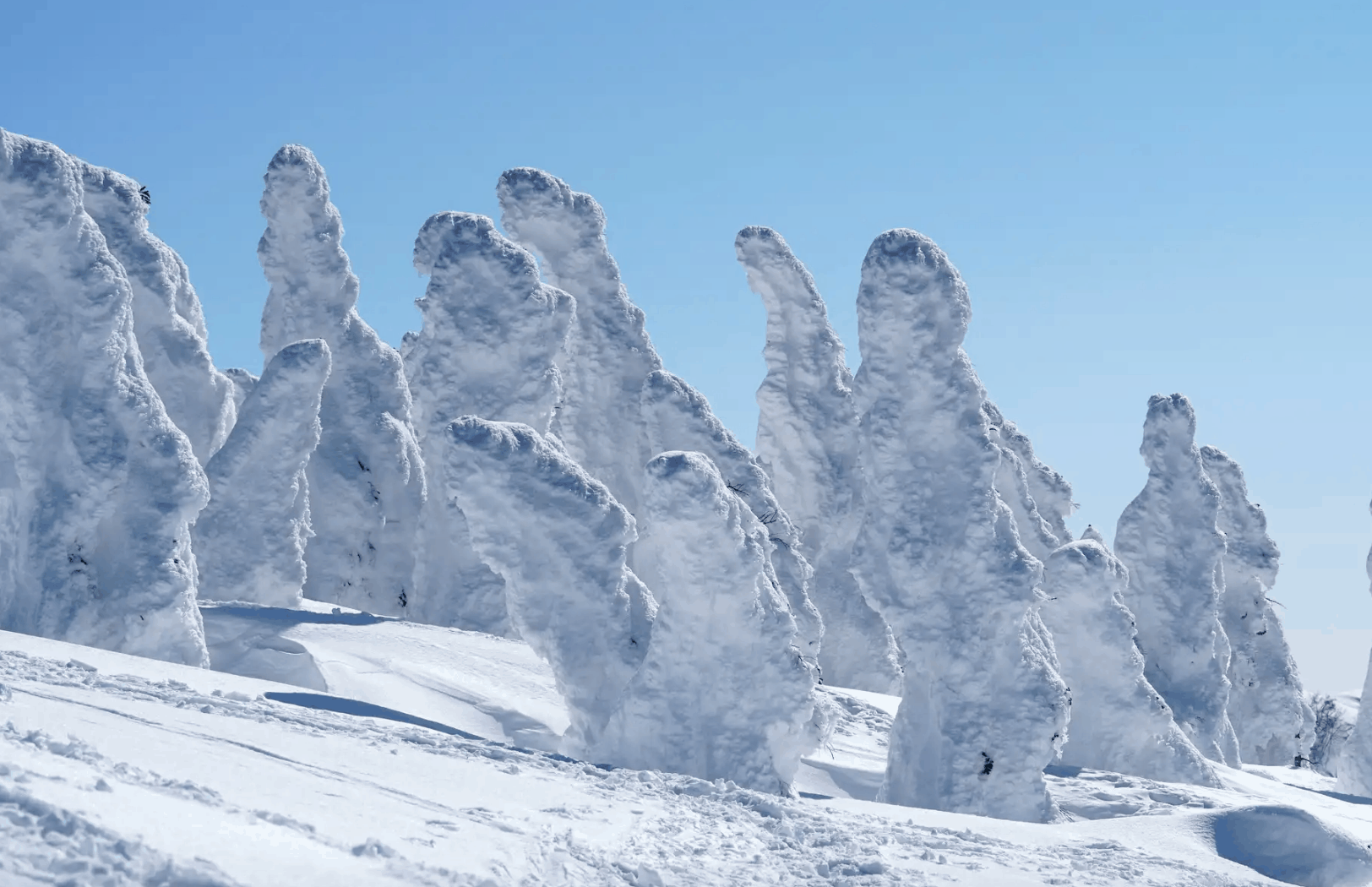 Getting there: Odate-Noshiro Airport is just 42km to north of Ani and you can fly direct from Tokyo Haneda Airport. The Ani Resort coordinates reasonably priced shuttle buses from the airport to the ski area or Hotel Fusch
Alternatively catch the train from Tokyo on the Akita Shinkansen to Kakunodate Station, then there is a very scenic local train to Aniai Station that takes about 70 minutes.The resort is around 14km from the station and shuttles are available from Aniai Station to the resort, Hotel Fusch and nearby pensions.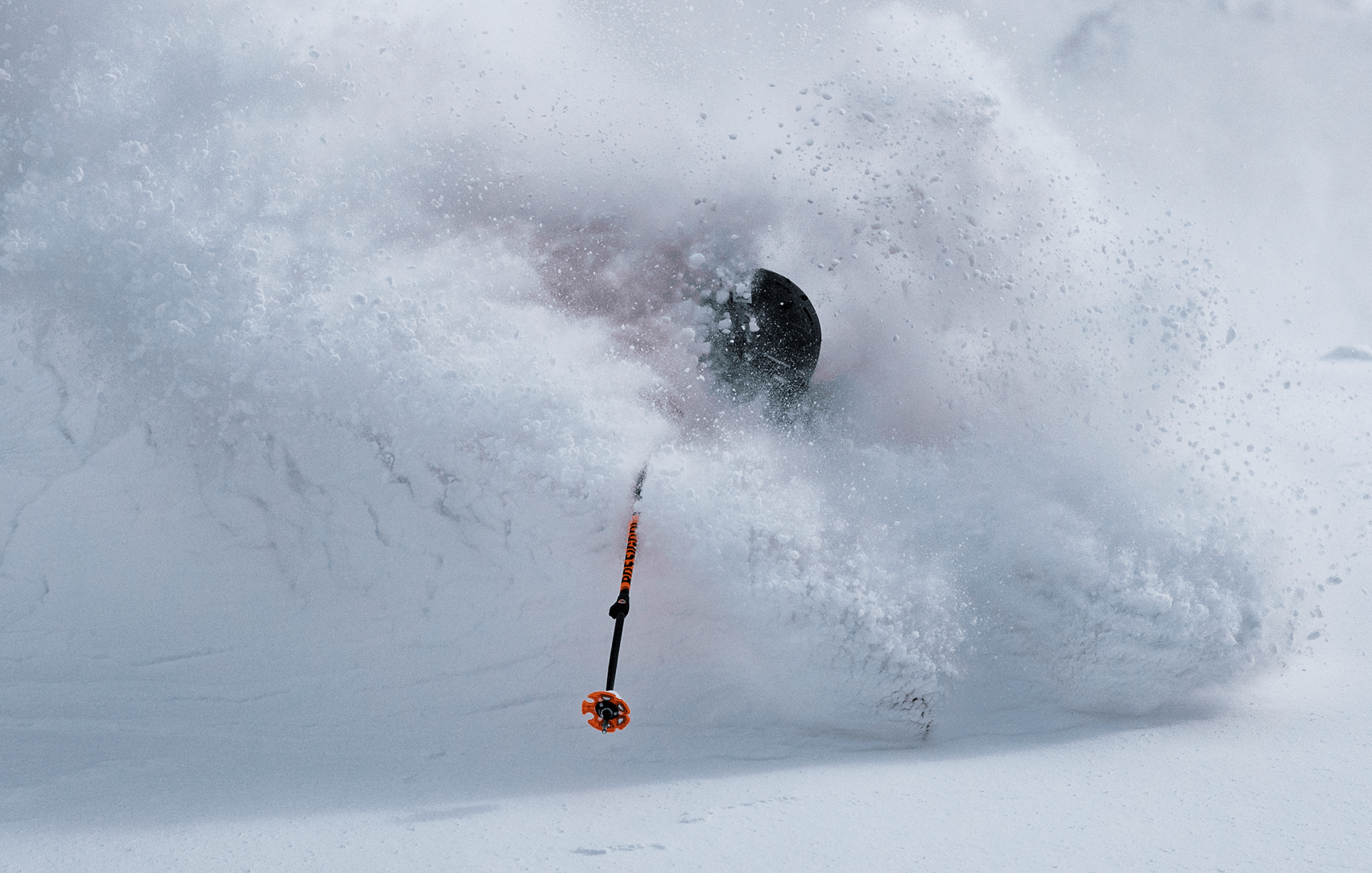 Hakkoda
Located in the northern prefecture of Aomori, Hakkoda is one of the most unique resorts in Japan, probably the closest thing to backcountry skiing you can have where a lift is still responsible for getting you to the top.
Serviced by a 2459m long ropeway (tram) to the top of Mt Tamoyachidake, Hakkoda's in-bounds terrain is seemingly limitless and the views from the top are amazing, taking in the city of Aomori and the ocean at Mutsu bay.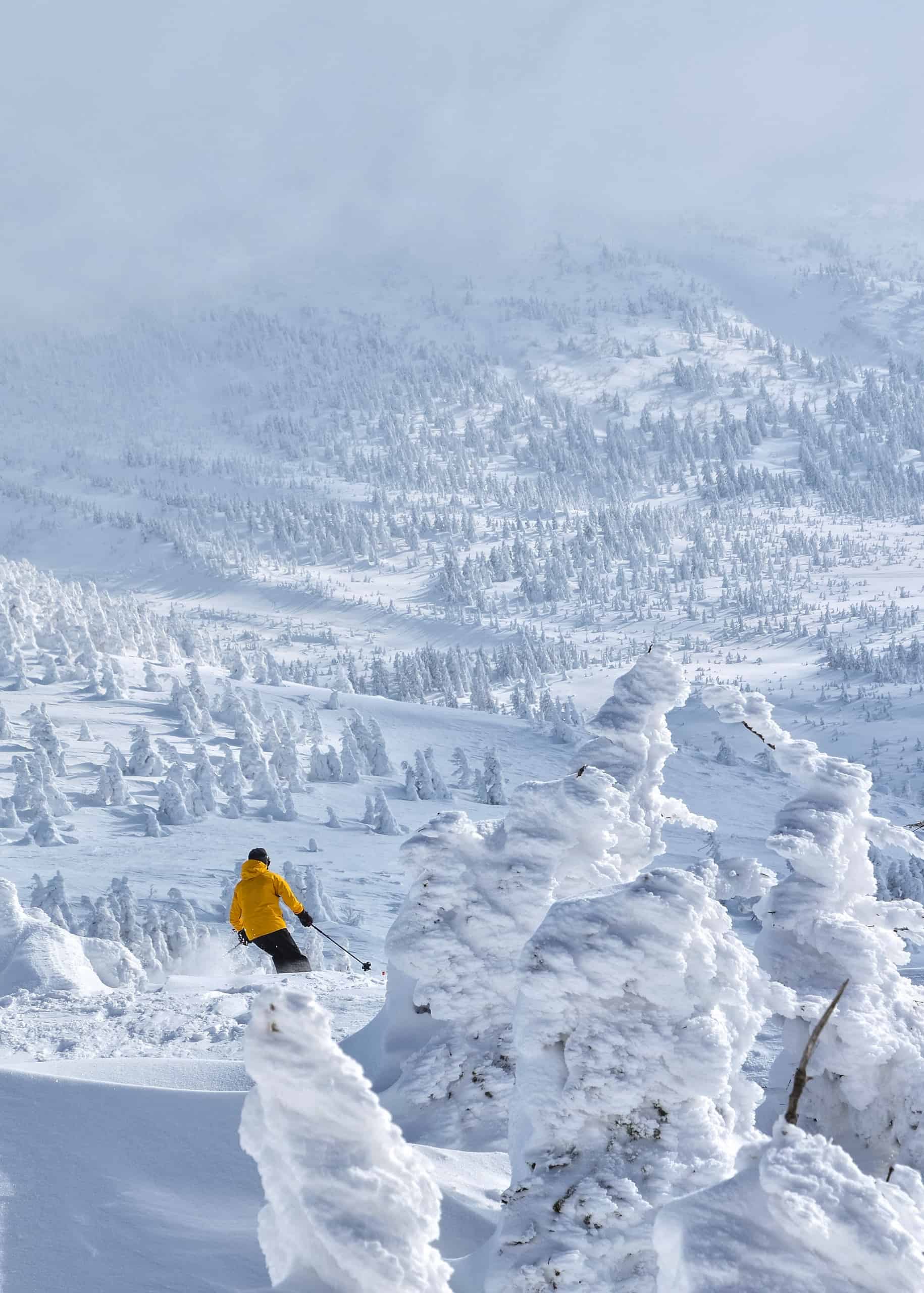 On the frontside of the mountain, the options are both limited and endless. Two designated trails diverge from the 1,324m peak where the ropeway concludes its 10-minute, 650m vertical ascent. There's a 5km forest course and a 3.5km direct course that both hem in the frontside of the mountain which are not groomed. In between the two lay countless acres of skiable terrain, all of which you'll have practically to yourself.
As well as the ropeway there is also a double chair which access three short, intermediate groomed runs and come into its own if the Ropeway is closed due to long winds.
The resort is a freeskier's playground,but the ropeway also accesses incredible backcountry terrain with ten peaks to choose from in the Hakkoda Mountain Range.  There is almost limitless amount of terrain, enough to keep a backcountry skier busy for weeks, if not years.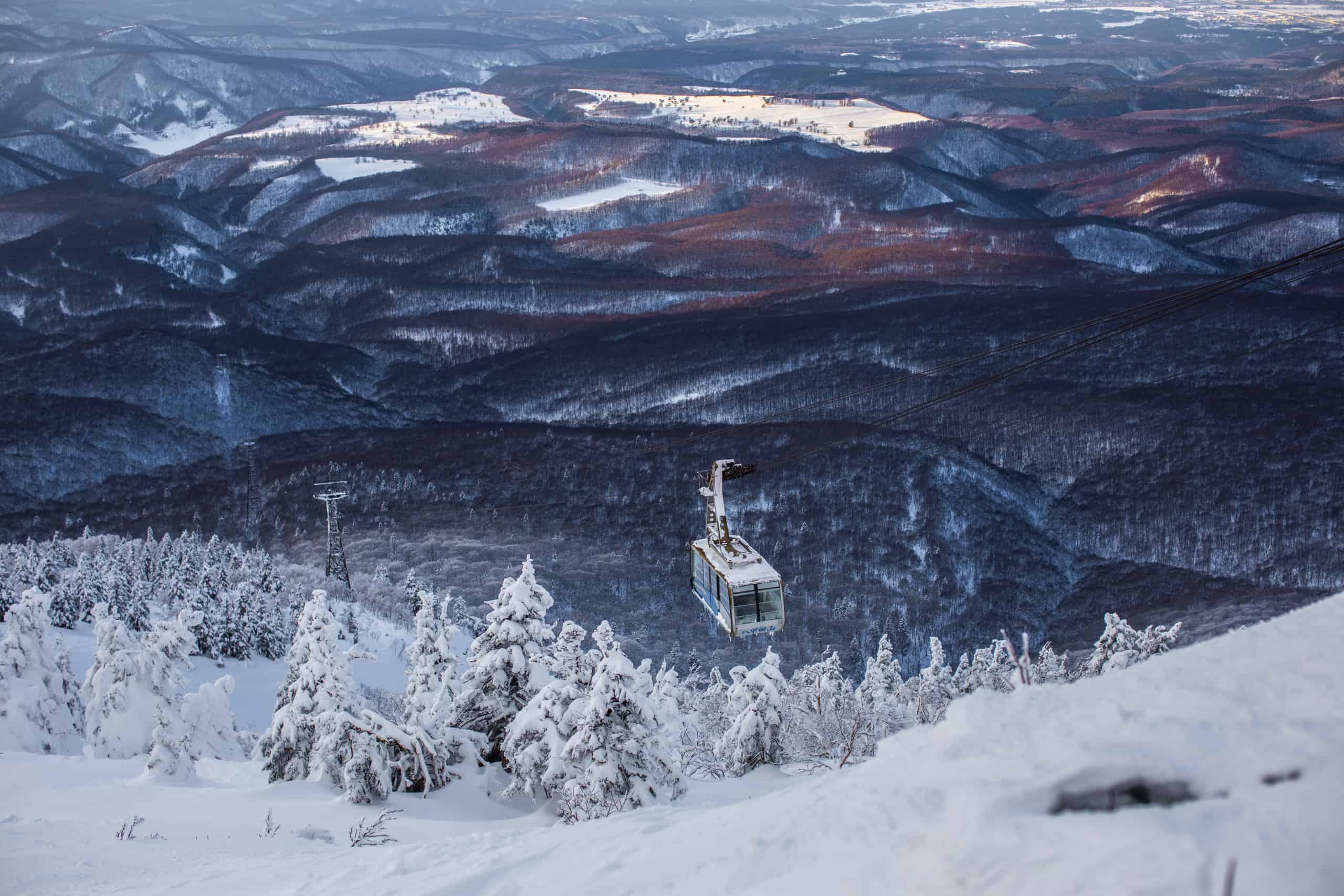 Naturally, we recommend hiring a guide and heading out to discover it for yourself. There's also terrain out there to accommodate even a beginner or first-time ski tourer, with some shorter tours possible and a road at the bottom of the popular runs where you'll be met by one of the guiding outfits' own vehicles, so you're saved skinning back up. It's backcountry skiing on a silver platter.
We were lucky enough to be taken beyond the resort boundary by experienced local guide Kudo Masakazu of Hakkoda's Mountain Academy. Hiring an experienced guide like Kudo-san will not only lead you to the deepest snow on the hill via the path of least resistance on the ski track but you'll also get there in very good spirits. Kudo-san's stoke and love for skiing powder personified Hakkoda as did his accommodating, albeit broken English.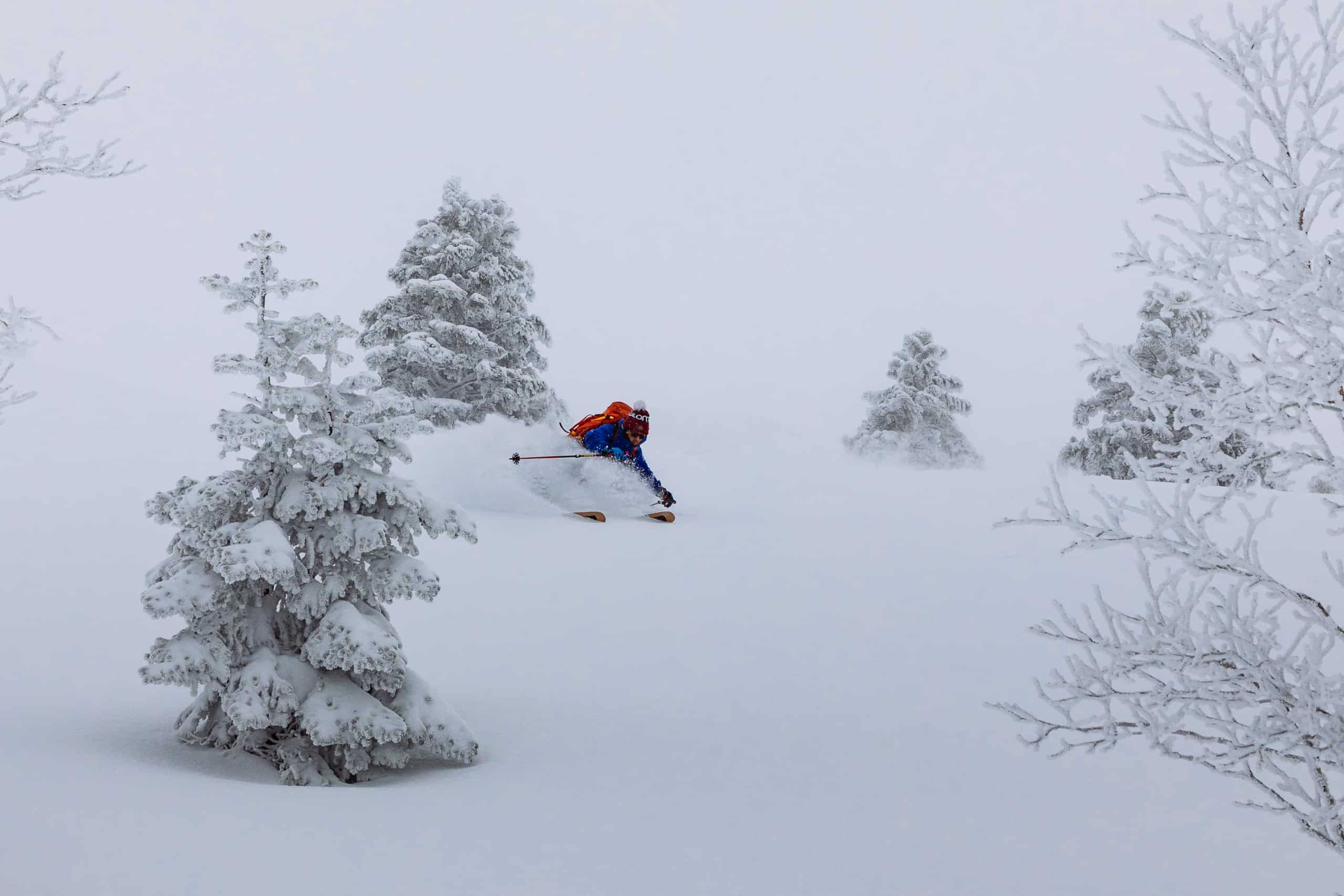 There is no "official" annual snowfall statistic for Hakkoda, but estimates are around 15metres. A good indication is the fact that Aomori is known as the snowiest city in the world with an average snowfall of 8 metres, so doubling that for Hakkoda seems reasonable.
If you love deep powder and backcountry skiing, Hakkoda is the place for you.
Accommodation is available at the Hakkoda Resort Hotel, located at the base of the adjoining ski resort, and is practically ski-in ski-out. The hotel comes fully equipped with both Japanese and western room options. The Hakkoda Hotel is a five-minute bus ride from the resort. While the hotel comes equipped with a beautiful in-house onsen, it's also only 650m from the famous Sukayu Onsen.
Getting there
Take the Shinkansen from Tokyo to Shin-Aomori Station which takes around 3 to 3.5 hours. From Shin-Aomori Station it is a 45-minute drive to the Sanroku Ropeway Station at the base of the Hakkoda ski area, or a 60-minute bus ride.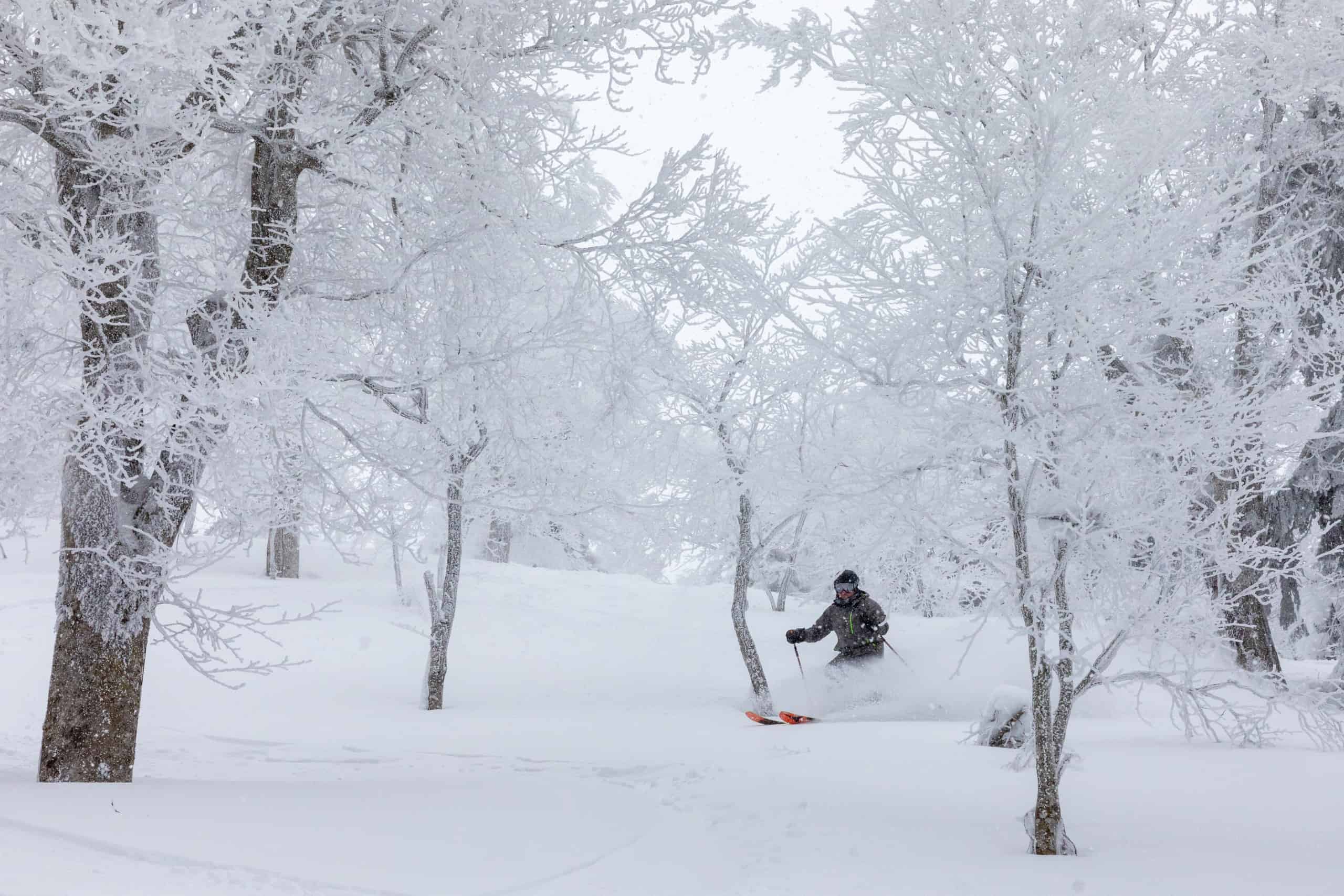 For those seeking an alternative holiday to the more mainstream resorts, Tohoku offers everything one could ask for.  By searching off-the-beaten-track around the corner or taking the train to the next stop, you will be rewarded with some of the deepest powder snow imaginable. Couple this with Tohoku's rich culture and history all the key ingredients are here, and when you visit Tohoku you will be richly rewarded.
Find out more at about winter in Tohoku at  www. japan.travel