TRAVEL KASHMIR – Bill's Trips
September 20th, 2010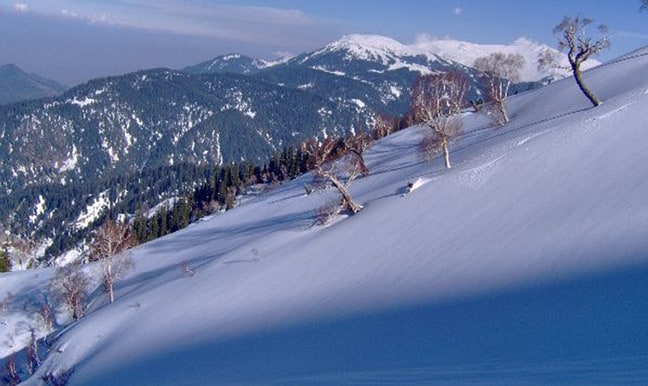 Aussie Legend Steve Lee tasting Gulmarg. Image:: Courtesy Bill Barker
Riding Gulmarg | Tess Cook
If I'm venturing into the heart of Kashmir, India, I want Bill Barker at my side. The intrepid mountain man has been exploring the snow roads less travelled for over 20 years, in the last five he's made the snow town of Gulmarg his home away from home, establishing the local ski patrol and discovering all the secrets of this hidden snow gem. Now Bill has launched Bill's Trips, 14 day guided Gulmarg skiing and snowboarding adventures, giving those of us who wish to venture off the beaten track the chance to experience snow travel with a difference.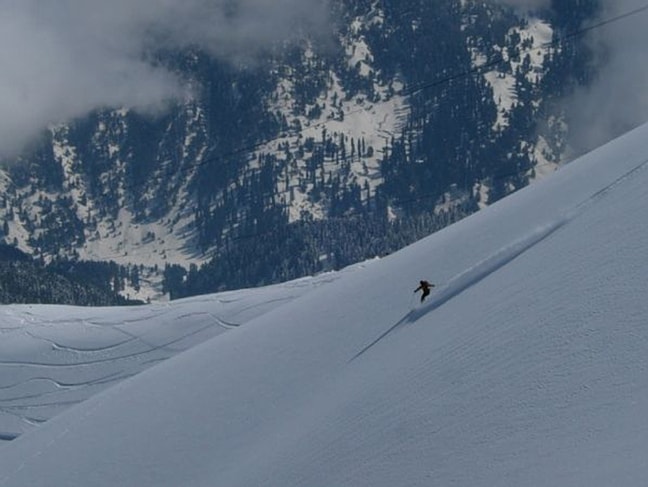 The Gulmarg experience is something else. Image:: Courtesy Bill Barker
I catch up with Bill in Hotham, where he is Assistant Ski Patrol Director and resident Snow McGyver. Everyone in Hotham wants to ski with Bill, a local whispers to me as we all ride the chairlift together, his skiing and his mountain knowledge make him a legend in this town. We chat about Gulmarg – Bill first visited the remote mountain town in the late 80s, when it captured the imagination of the extreme skiing trailblazers. He had to wait out 20 years of political instability that virtually brought the region to a standstill, but in 2005, when the first stage of what is now the world's highest gondola opened Bill was there and there he has been every winter since.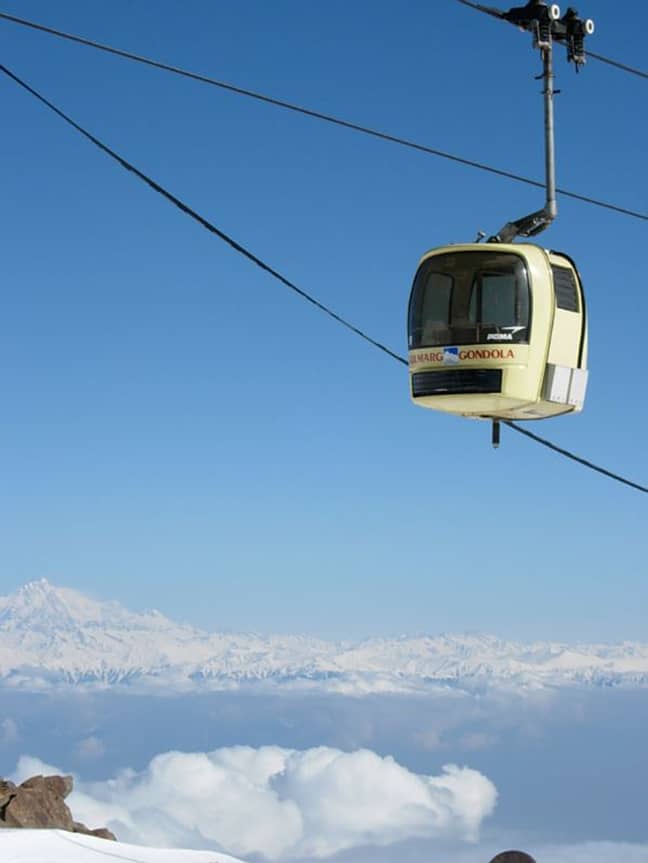 The world's highest gondola. Image:: Courtesy Bill Barker
It's clear from the way he talks Bill is in love with Gulmarg and just delighted he's now able to introduce it to others with Bill's Trips. He becomes almost poetic, enlivening his description of the place with every synonym for beautiful and extolling the virtues of both the riding and the cultural experience. It's easy to be won over, especially as Bill's program sounds like the ideal introduction to adventure riding – He's had many years to consider what works best in guided snow trips and the result is what Bill believes will guarantee the best experience for everyone.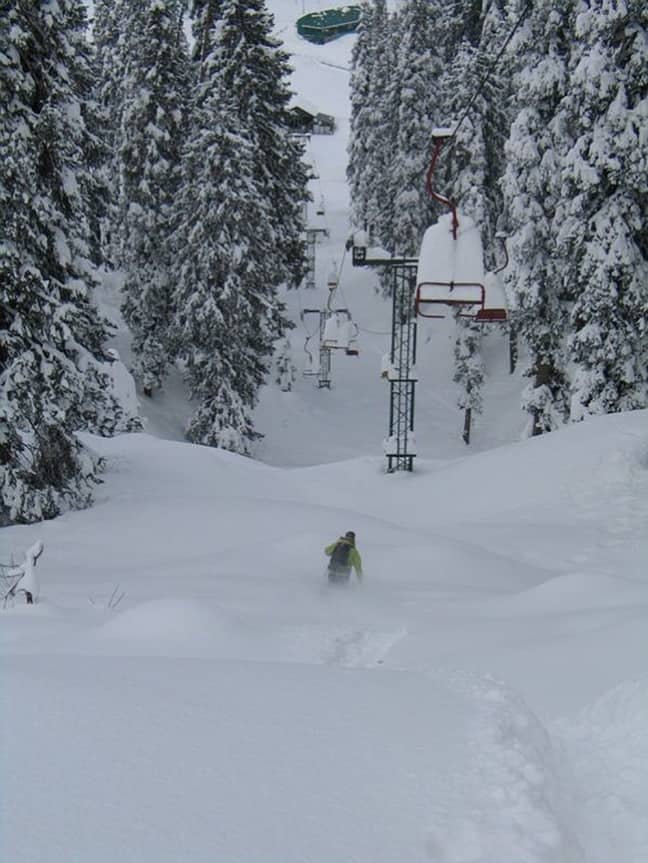 Bill skiing the old lift line. Image:: Courtesy Bill Barker\
The Trips
Bill will only play host to 12 guests on each 14 day trip, ensuring a ratio of four guests to each guide, the lowest ratio on offer and something he believes is integral to the guests' enjoyment. Each group will be carefully selected to ensure everyone is with like minded adventurers, not that there will be too much discrepancy in ability, Bill is screening every inquiry carefully with a good phone chat about riding ability and even having some potential guests send in action footage, to ensure no one will be out of their depth in the Gulmarg terrain.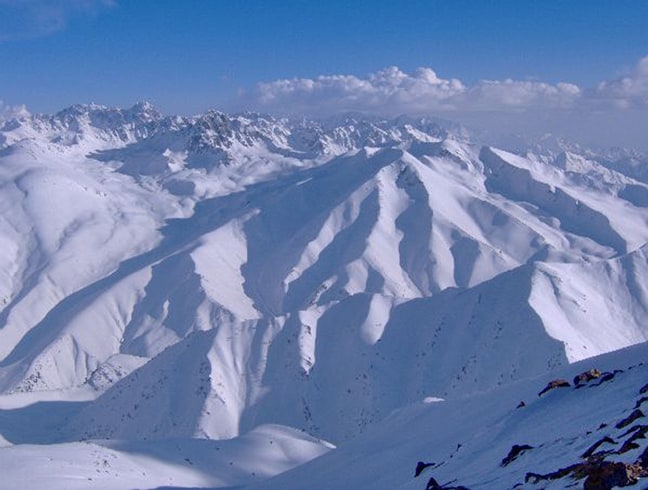 The view. Image:: Courtesy Bill Barker\
Each day will bring something new, with each snowfall there can be days of fresh tracks straight off the gondola, Bill explains, but as the snow gets tracked out the guests may like to strap on skins to traverse – he's quick to emphasize these walks will be across, not up, the slope – out to find more freshies. There will be opportunities to ride to the surrounding villages to meet the locals and experience the culture of the region and for those interested in going further than the introductory presentation there will be avalanche awareness and rescue training on offer.
The guests will be the driving force behind each day's activities, Bill explains, with the different groups choosing their own adventure. Skiers and snowboarders will generally be separated, so each can experience the best terrain for them.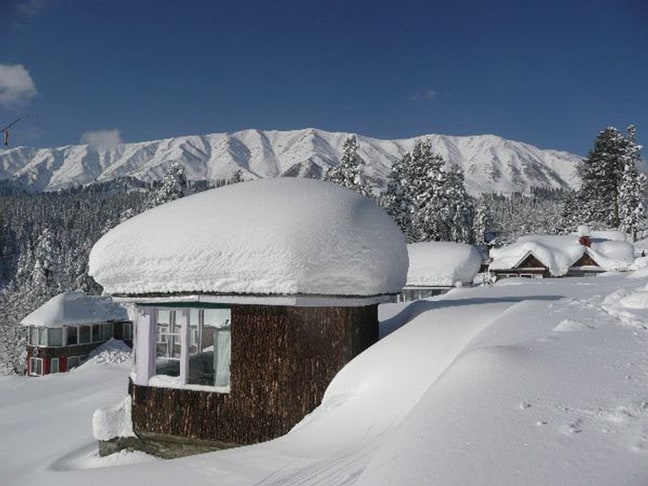 The cottages of the Highlands Park Hotel. Image:: Bill Barker
To complement days of wild snow exploration, Bill has a standing booking with the region's best hotel, the Highlands Park Hotel. It's a Grande Dame of a place, Bill assures me, with spectacular views of the terrain – the day's routes can be planned from the breakfast table – and exceptional dining. I ask about things like warmth and electricity – feeling a little parochial – and he assuages my concerns, the hotel is very comfortable in every way.
To finish, the trip heads to Dal Lake for a night on one of the deluxe houseboats. These boats, Bill explains, were built by the British ex-pats as holiday homes in the early part of the 20th century when the British were not allowed to own land in Kashmir. The old world luxury of the house boats and the cultural pageantry of Dal Lake is the ideal way to finish the two weeks.


So much snow and barely anyone to share it with. Image:: Bill Barker
As our winter comes to a close and I cast about for the next snow opportunity I can't get Gulmarg out of my mind. I dream of being called an intrepid snow adventurer in my own right and this sounds like the ideal place to start.
The details
Bills Trips will run from 9 January to 5 March, in 14 day blocks.
Guests will need to make their own way to Sringar Airport to meet Bill for the two hour road transfer to Gulmarg. There are numerous domestic flights from Delhi and Mumbai to Sringar each day and several international airlines fly into India from the Australian and New Zealand capital cities.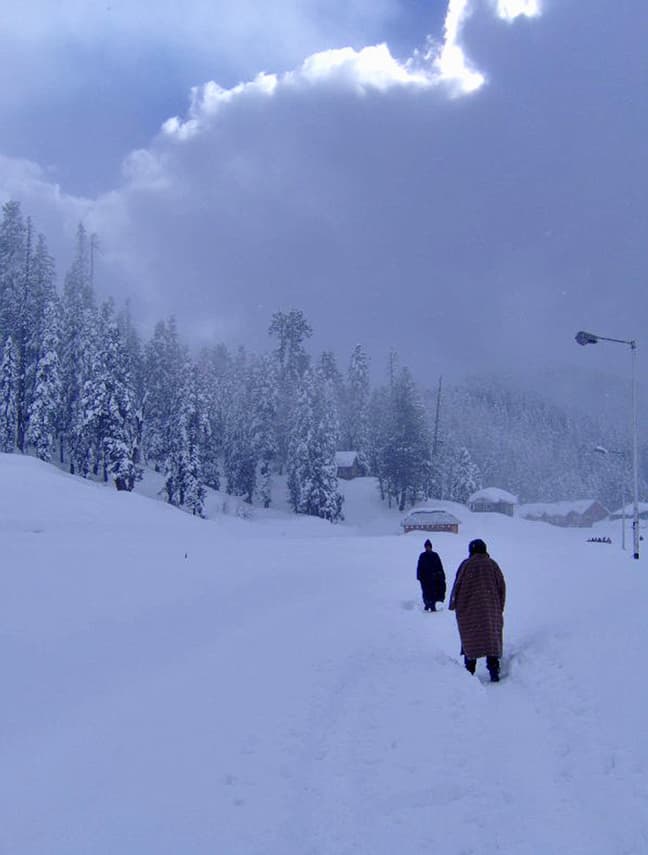 Another snow storm approaching. Image:: Bill Barker
All guests will need touring equipment, snowboarders can use snowshoes, and an avalanche safety kit with an avalanche transceiver, pack, shovel and probe. Bill can arrange for the hire or purchase of all equipment; there are some great deals on touring equipment available for Bills Trips guests.
For everything you need to know about Bills Trips, visit www.billstrips.com
Hotham forecasts,
snow reports and
live snow cams.