TRAVEL TIPS – Put Compression Gear on Your Snow Trip Shopping List
October 21st, 2011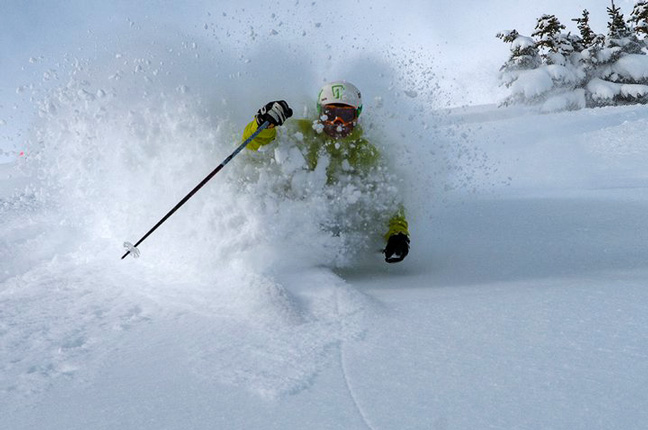 No one wants sore muslces to bring them down on a powder day. Image:: Carl Scofield
Travel Tips | Tessa Cook
If you're running a pair of four-year-old Skins tights, or worse, some saggy thermals , put 'new compression gear ' on your overseas-snow-trip-shopping-list.
There's a lycra revolution going on. What began a few years ago as a humble pair of tights and a concept borrowed from medical rehabilitation has become a phenomenon; the compression garment phenomenon, with a wealth of new technology and innovative snow gear .
The core concept is still the same; circulation-enhancing clothing that improves physical endurance, but the range of products and their capacity for performance improvement has grown exponentially – meaning no more leg burn and longer days on the slopes!
The evolution
The pioneering compression brand Skins launched the first run of unisex tights back in 1996. The brainchild of a former Australian ski racer, the idea of these tights was to increase blood flow through the muscles, helping them work better and recover faster. Before long the black lycra had a devoted following of professional and amateur athletes. If you wear compression snowboard gear you'll know why; the stuff works.
Better performance for better performance
But if you thought your old tights were doing a good job it's time to check out what Skins, and the other major compression bands – 2XU and Body Science – have been up to in the lab. At the forefront of the compression progression is Skins new A400 range, a collection arising from some pretty rigorous research into muscle movement. Skins studied how muscles behave while in motion – all previous studies have been carried out while athletes were standing still.
"The new A400 range is a far superior range from the original unisex range," says Skins' Matilda Raynolds. "It has been developed using a 3D body scan of over 500 athletes that resulted in a better fit and more importantly, more precise targeted Dynamic Gradient Compression, which accelerates your blood flow to deliver more oxygen to your active muscles. In addition, it is also made up of bio-mechanically placed Memory MX fabric around the knee, the ITB band and TFL muscle group to provide constant, controlled compression and unrestricted movement to help you to avoid the muscle damage that you sustain while training and/or racing."
Keeping up with the curve, brands 2XU and Body Science are also offering very clever garments; the basic principle of each is to improve physical endurance and enhance muscle performance by promoting blood circulation and supporting muscles during and after exertion.
"Compression has gone from just tight pants to being a scientific work of art," says Body Science Project & Human Performance Specialist. Selsai Berdie. "We utilise patent pending design that actually targets muscle groups via panels and seams so compression is applied to individual targeted muscle groups. What this results in is a garment that can move efficiently and effectively with the targeted muscle groups through flexion and extension."
Read more about the compression research here.
More styles for more activities
The major brands now all have snow specific styles with extra insulation. "The SKINS snow thermal long tights are a new addition for the 2010/11 winter season," says Raynolds. "The lightweight and flexible fabric uses a special blend of hollow core fibres and spandex, with a thermal rating over 190% higher than SKINS standard fabrics and other active products."
But with everything from removable sleeves for early morning cycling to recovery-specific stirrup tights for post workout recuperation you can compress yourself for every kind of activity. Raynolds and Berdie agree you can use the same garments for a range of activities, including recovery, if you balk at the idea of over-buying on lycra.
Getting the gear
Being in need of replacements for my five year old tights I hit the internet for some retail indulgence and ended up at skins.net. Being an internet shopping devotee I have no qualms about ordering online – where the biggest range can be found – and found all the information on the different ranges, styles and fits very helpful.
Fit: The compression only works properly if the fit is right. Each brand gives a very specific sizing guide based on height, weight and measurements. If you're right on the cusp of sizes "going down in size is generally the better option as you don't want to lose any benefits of the scientific levels of graduated compression," advises Berdie.
Style: The more coverage the garment offers, the more effective the compression, says Berdie. Moisture wicking fabric helps draw sweat away from the skin, which alleviates the problem of working out in long sleeves and tights, but there are plenty of styles. I opted for ¾ tights, which I find more comfortable for training and skiing – I don't like having the cuffs inside my ski boots – and a singlet, which is totally versatile.
Purpose: Determine when you'll be wearing your gear. I couldn't go past the regular (ie not thermal) A400 range, so I can train as well as ski but if you'll just use it for skiing the not yet in Australia S400 snow range looks very impressive (check overseas websites).
The verdict
The arrival of my Skins had me excited about my afternoon run and as soon as I put them on I felt a spring in my legs and I honest to goodness finished my run in record time. At boot camp I gave the boys a run for their money (literally) during the hill sprints and the morning after my weights session I felt so pain free I worried I hadn't worked hard enough!
I'm far from the first person to discover the brilliance of the latest compression gear – perhaps if I paid more attention to footballers thighs I'd have been in the know ages ago, a pair of Skins shorts seems to peep from beneath every pair of ruggers on the field – but now that I have I'm stoked. I can't wait to test them out on the slopes in January.
Snowboard Gear including thermals and more available from Melbourne Snowboard Centre, Melbourne's biggest online snowboard shop