Travel to – Hakuba Japan – Part 1
July 6th, 2009


Hakuba Japan – Part 1
By Lee Ponzio
Whilst the Niseko powder and extremely fun terrain are all-time, there are hundreds of other shred areas to be explored around Honshu (The main Island of Japan). One such area that is garnering increasing international attention is Hakuba, in the Nagano prefecture.
Hakuba is probably the most popular snow destination on Honshu due to its close proximity to Tokyo and easy access. Why it's taken this long to attract the attention of the masses of yearly Japan snow tourists is a bit of a mystery, considering the 1998 Winter Olympics were held there.
In January 2009 Transfer Snowboard Magazine took a crew of pro riders (Mikey Williams, Alex Kustiov, Jake McCarthy and Kieran McLaughlan) to Hakuba to check it out.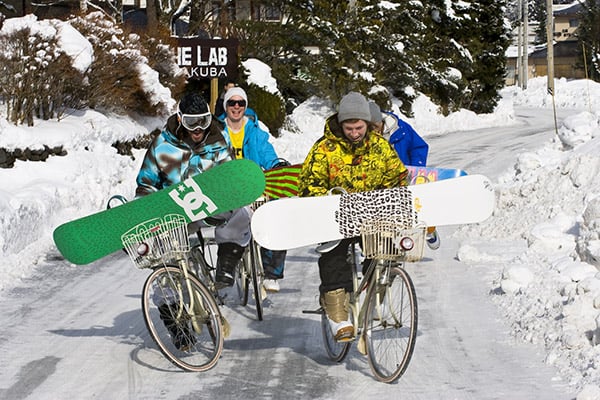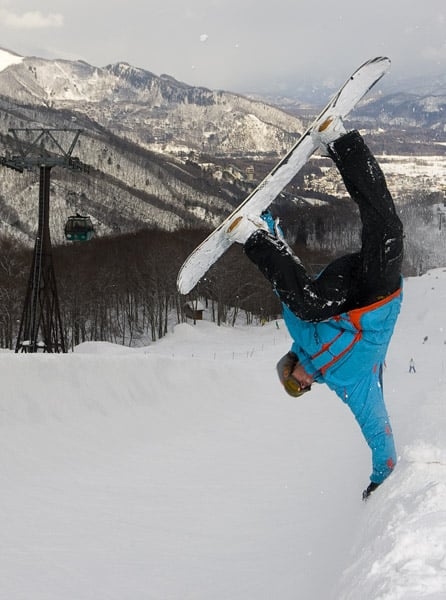 Jake McCarthy planting hand in the Hakuba 47 pipe.
How to get there
Buses depart from Tokyo's Shinjuku station that take you directly to Hakuba in about 4-hours.
Train: Get yourself a trip on the Asama Shinkansen to Nagano station (90 minutes) and then take a bus for the remaining hour of the trip.

It's probably best to think of Hakuba not as a 'village', but rather a region, located one hour from Nagano city. There's no real central village as we would associate with our resorts in Australia, but rather a widespread group of 'towns' surrounded by resorts. This is because Hakuba is not built around the snow industry, there just happens to be an amazing mountain range towering over their little towns. These will probably be the first things you notice that are very different from Niseko, the size of the mountains and the lack of a cozy, very 'foreignised' resort village. Travellers get it pretty easy in Niseko, or rather Hirafu Village, as the lifts are at most a short walk from our accommodation, and getting around is basically easy. Unlike Niseko, Hakuba is still like taking a cultural trip to Japan and going snow-sliding whilst you're there.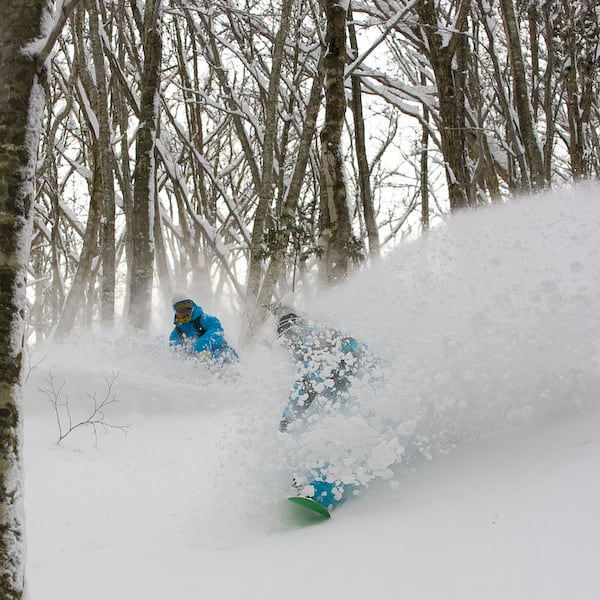 Mikey Williams and Kieran McLaughlan getting some Tanuki tree powder
Getting around Hakuba
Getting yourself around the Hakuba area is made exceptionally easier if you're able to hire a vehicle. As I mentioned, it is quite a spread out area, with over a dozen resorts dotted around the 30km radius from 'central Hakuba'. There are buses that service the area, but they're not overly convenient if you like a bit of flexibility in your day. Also, with towns being spread around, a vehicle makes it much easier to get yourself around to restaurants and all the other off-snow amenities you need during your stay.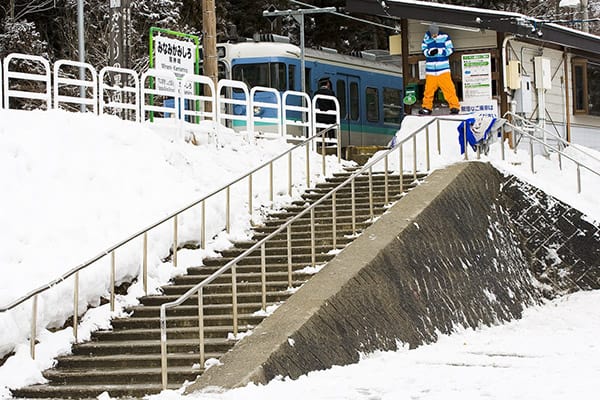 Alex lining up a sick street rail set up at the local station. Did he make it? Check out Part 2 of the Hakuba story, online soon.
Japanese food
There are definitely some places you want to be going to eat during your stay, such as Zeebrick Ramen on the shores of Aoki Lake near Yanaba resort for a huge bowl of the best ramen Hakuba has to offer. Don't miss out on their handmade jumbo gyoza (Japanese dumplings) while the potbelly stove and log cabin atmosphere bring out your rustic side.
The Resorts
There are a lot of other food options along the main street fronting Hakuba station, from other ramen joints, yakitori (grilled stick foods) restaurants, izakayas (Japanese pubs) and even those damn golden arches.
Now, you're probably a little interested in what the resorts have to offer before you get to stuffing your face with mysterious food. The resorts in the Hakuba area range from ones with just a few lifts (local Japanese ski field feeling places) to expansive resorts joined together like Hakuba 47/Goryu

If you're going to spend more than a few days in the area, I'd suggest not locking yourself into just one, or even two resorts. Lift tickets are amazingly cheap compared with resorts here in Australia, it's good to check out as many places as you can. Make sure to grab a lift map at each resort, as the lift placement can sometimes be a little mind-boggling. Hakuba 47/Goryu and Happo One are the most well-known and easily accessed resorts, and a couple of the biggest in the area. There's enough varied terrain across both resorts to keep most members of your trip happy.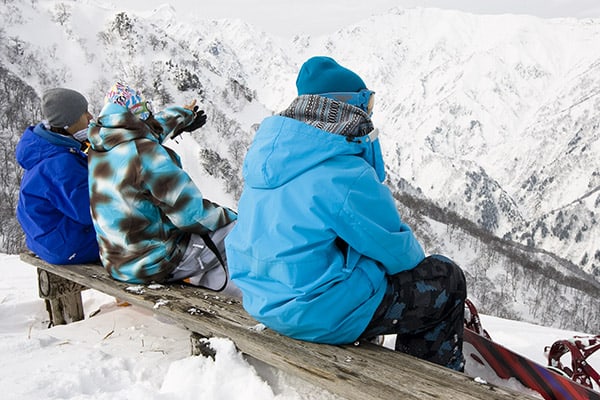 Mikey and Alex mind-shred some lines in the Hakuba Backcountry.


Ski Patrol Nazi's

Ski Patrol in Hakuba take their jobs and the out-of-bounds rope lines very seriously. With amazing terrain and abundant annual snowfall, there's good reason for this, as we saw some scary avalanche sites and heard numerous stories about people being buried in the out-of-bounds areas. If you plan on going out-of-bounds, make sure you know what you're doing. As for night skiing, it doesn't seem to have taken off in the area, aside from at Yanaba who light their park up until 9:30 and a tiny (not really worthwhile) area at the base of Happo One.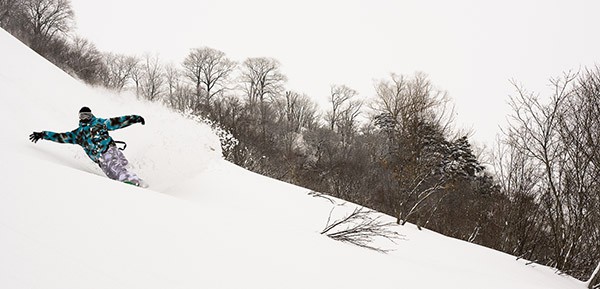 Mikey Williams laying down some fresh pow turns, Tsugaike Kogen.
Keep an eye out for Part 2 of our story coming soon…
When in Hakuba Transfer Snowboard Magazine stayed at The Lab with travel and arrangments organised by Liquid Snow Tours .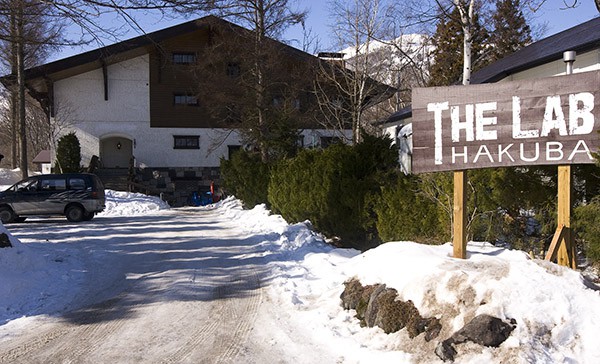 Forget a holiday home, get yourself a lodge and some wheels in Hakuba.
Hakuba forecasts,
snow reports and
live snow cams.