TRAVEL USA – the Star Treatment in Park City
January 6th, 2011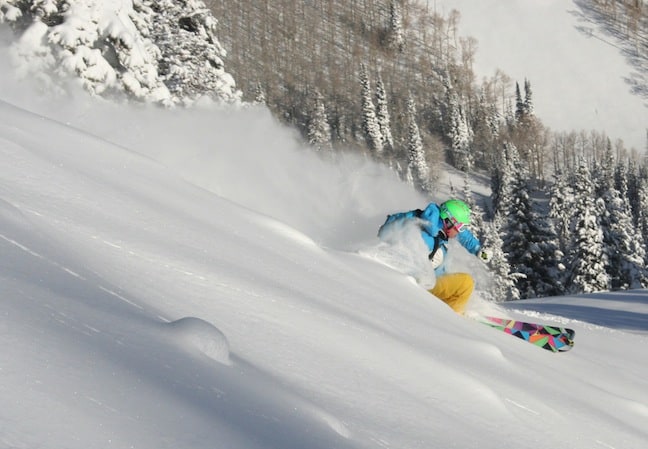 World Cup skier and Park City local Ted Ligety skiing powder at Park City Mountain Resort on December 23, 2010. Image:: Park City Mountain Resort
Skiing Utah | Tess Cook
Arriving at Deer Valley for the day I could believe I'm a film star. Or perhaps a pop diva, certainly a personage of some importance. My door is opened for me as we pull to the curb, my equipment is conveyed snow-ward by a smiling attendant and my gloves are placed by a roaring fire to warm while I partake of a breakfast featuring Atlantic smoked salmon and fresh-prepared eggs Benedict – a far cry from the jostling locker room and hasty bites of stale muffin one usually equates with ski mornings.
But Deer Valley isn't your run-of-the-mill ski resort, voted North America's number one resort four years in a row (2008 – 2011) by the readers of Ski Magazine, Deer Valley – one part of a resort trio clustered together in the Park City region of Utah, Park City Mountain Resort and Canyons Resort being the other two – is the ski resort approximation of a five star hotel; even the public bathrooms exude luxury – marble and brass finishes anyone?
For our visit Deer Valley seems to have turned on the weather also. A genial sun shines on superb grooming – the world's best apparently – and thanks to limited daily lift ticket sales the slopes are crowd-free. Even better, those we are sharing the resort with tend to stick to that superb grooming, leaving the stashes of famous Utah powder virtually untouched; taking a tree run feels like being in our own private ski resort and the I'm-a-film-star feeling persists at every lift where, it seems, the resort has stationed attendants with the sole job of wishing skiers a lovely day.
And yes, I use the word 'skier' – Deer Valley is one of the few resorts left in the world with a no snowboarder policy. Fortunately for my one-plank friends Park City Mountain Resort is a freestyle Mecca, known world-wide for its innovative terrain parks. The resort rises straight out of the town of Park City, famous for hosting the Sundance Film Festival every January.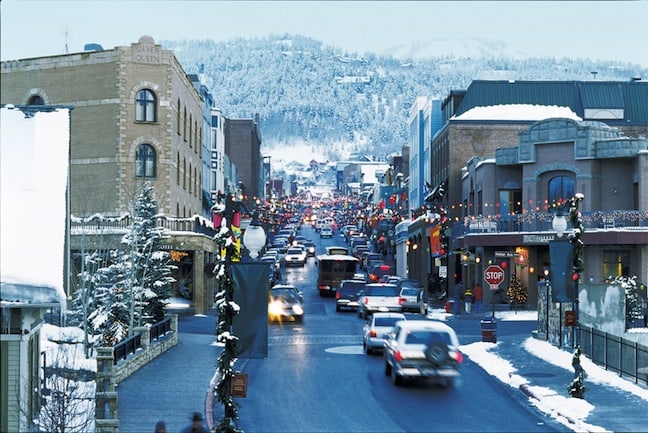 Two parts alternative, three parts glamour – the town of Park City. Image:: Park City Mountain Resort
On our Utah trip we opt to stay in Park City in order to soak up some of that festival vibe. The town is two parts alternative, three parts glamour and just a little bit old-west, ideal if you want to keep things low key, but there's luxury accommodation by the bucket load slope-side at all three resorts. We alternate days at Deer Valley, out-the-door-on-the-lift days at Park City and several visits to Canyons. Even if you're car-free it's easy to traverse the three resorts on public transport – and there's complimentary overnight ski storage at each resort base to make it pretty much painless.
At all three resorts the skiing is a crowd-pleasing mix of gentle groomers and back country bowls – quite frequently filled with that champagne dry pow. Being intrepid thrill seekers we track down the best of the backside at each resort. At Deer Valley we find some short hike-able lines that offer entertaining drop offs, at Canyons we explore some virtually deserted gullies and at Park City we get our jib on in the parks.
If I needed an excuse to return, the Park City resorts are offering several this season. Canyons has just flicked the 'on' switch on it's USA-first bubbled chair with heated seats and the resort is opening up 300 acres of new terrain accessed by yet another new quad express. But what's really got me salivating (literally) is news of Aussie Chef Pete Evans' (of Hugo's restaurants fame) March visit. Evans will be 'cheffing' his way round the three resorts, serving up everything from Aussie BBQ at the new Canyons Ski Beach to a five course Vintners dinner at Eriksen Lodge Deer Valley.
In fact, I'm off to check out flights to Salt Lake City now… see you at Evans' seafood buffet in Deer Valley.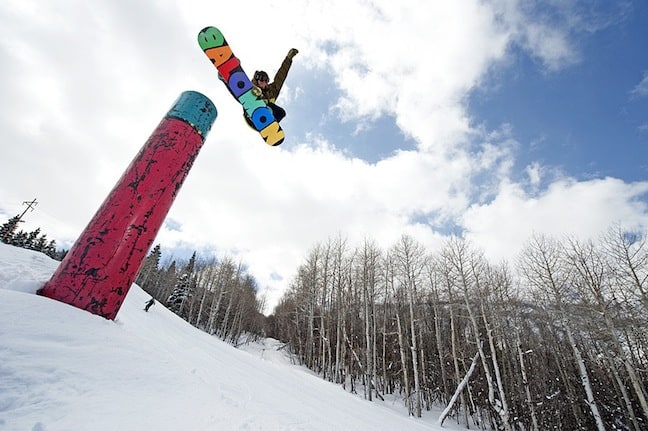 Park City's innovative terrain parks. Image:: Park City Mountain Resort
Need to Know:
Getting to Park City is easy. A quick jump across the Pacific into Los Angeles or San Fransisco then into Salt Lake City International Airport – which sees over 700 flights a day. From there it's a 35 minute easy drive straight to Park City
Park City is a sizable town, while Canyons and Deer Valley are purpose built resort bases. All three are within a few minutes drive of each other and busses run frequently
The three resorts have separate lift tickets. There is a multi-resort ticket, the Silver Passport, which must be pre-purchased, it cannot be bought in the resorts
The Sundance Film Festival 2011 will take place 20 – 30 January in Park City
The FIS Freestyle World Championships 2011 will take place in Deer Vally 2 – 5 February. Featuring the two newest additions to the freestyle event list – ski halfpipe and ski slopestyle
Yes, Utah is a Morman state, but no, it's not hard to have a good night out. You'll just need to purchase a temporary membership at any club (about $4) and you and up to seven guests can visit as many times as you like for up to three weeks
Park City Easy 10
1. Vertical Rise : 972m at Canyons, 914m at Deer Valley and 945m at Park City Mountain Resort
2. Inbound terrain: 3744 ha over the three resorts
3. 56 lifts over the three resorts
4. Parks and pipes: 4 terrain parks and 2 halfpipes over Park City and Canyons resorts
5. Annual snowfall: Over 9m annually
6. On mountain accommodation? Yes, extensive at all three resorts. Accommodation for lesser budgets available in Park City
7. Vibe: from luxe deluxe at Deer Valley and Canyons to eclectic and exciting at Park City
8. Best for: families, park rats, powder hunters, anyone really
9. Not for: well Deer Vally isn't for snowboarders but other than that, no one
10. Top tip: have dinner at the Viking Yurt, the night begins with a sleigh ride through the snowy darkness!
Park City forecasts,
snow reports and
live snow cams.