Utah – Where To Go For The Greatest Snow On Earth – Travel
August 4th, 2017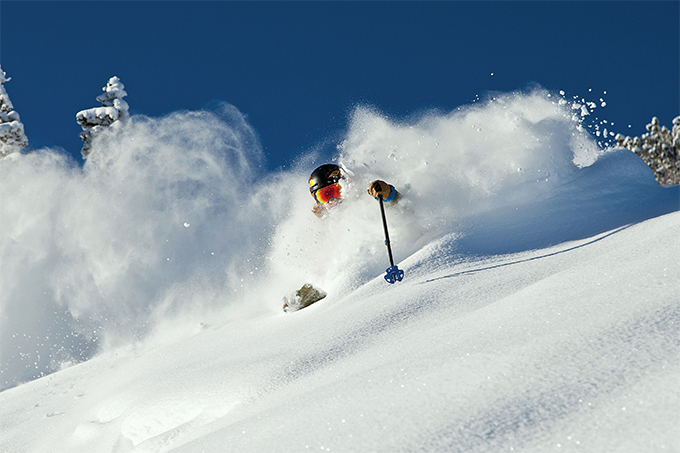 Pro Skier Johnny Collinson approaching snorkel worthy depths at Alta. Image:: Adam Clark/Ski Utah
Mountainwatch X Ski Max Holidays | Matt Wiseman
Drive around Utah and you'll notice they have "The Greatest Snow On Earth®". It won't be the snow piled up on the side of the road that leads you to this conclusion alone though, it's also the fact that every car has those very words stamped on their number plate. After a week or so skiing there you'd be inclined to agree though. From December through March, more than a foot of snow falls every five days.
To complement such consistent snowfall, Utah also boasts an astounding amount of so called 'monster dumps' – 18 on average. Such dumps are had when 12 inches (30cm) or more fall within a 24hr period.
While the powder skiing capital of the USA might have some competition in this department in the likes of Hokkaido, it's the near 300 sunny days and the terrain beneath the 12.7metres of average annual snowfall that sees Utah leave Hokkaido in its powdery dust.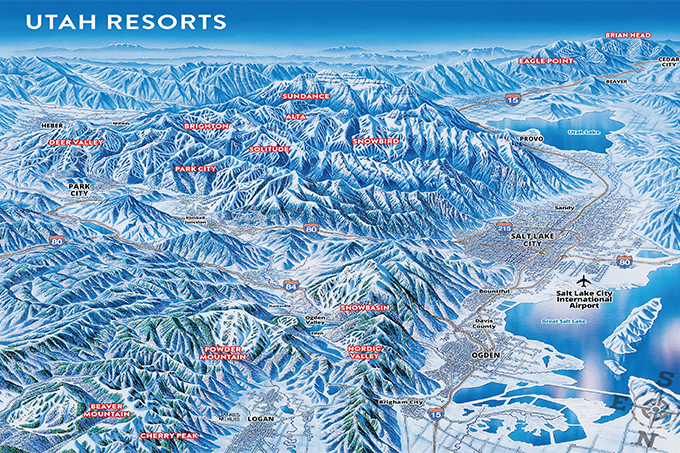 No less than 10 of Utah's 14 resorts are within an hour drive of Salt Lake City. Image:: James Niehues/Ski Utah
Steeps, cliffs, bowls, gladed tree runs and terrain parks are all scattered liberally within a short drive from Salt Lake City.
Now here's where to head to get the best of each….
Alta

This is what opening day looks like at Alta… Image:: Chris Pearson/Ski Utah
The Numbers
Annual Snowfall: 13.1m
Season: November – April
Time/Distance from Airport: 41 minutes – 32 miles/51km
Elevation: 10,550ft/3216m
Vertical Drop: 2,020ft/615m
Ski area: 2,200 acres
Number of Runs: 116
Ski Lifts: 7
Terrain Parks: 0
Terrain: 25% beginner – 40% intermediate – 35% advanced
In Deep
Before I go on, I probably should have put a warning before listing Alta's very impressive numbers… To all the snowboarders reading, maybe go straight to no. 2 on this list because unfortunately – or fortunately, depending on who you ask, Alta remains one of three US resorts that still don't allow snowboarders on the hill. If that doesn't rule you out, then one of America's oldest ski resorts – founded in 1939 – could be for you!
The snow that blankets Alta typically has a water content level of around 5-7%. In other words, it's the driest snow in the entire United States. You might compare this to the equally dry powder of Hokkaido that also hovers around the 5% range or contrast it with the wet cement that tends to fall in Australia with its 35% water content and not to mention artificial snow that's more in the region of 50-60%.
Obviously a destination for the discerning skier, there's a reason why you see so many Alta stickers on helmets in lift lines.
See here for more information and deals on Alta.
Park City

Park City does an amazing impression of a snow globe. Image:: Dan Campbell
The Numbers
Annual Snowfall: 9.1m
Season: November – April
Time/Distance from Airport: 40 minutes – 32 miles/51km
Elevation: 10,000ft/3048m
Vertical Drop: 3,190ft/972m
Ski area: 7,300 acres
Number of Runs: 336
Ski Lifts: 41
Terrain Parks: 8 parks, 14 bowls, 6 natural half pipes, 1 super pipe and 1 mini pipe
Terrain: 13% beginner – 48% intermediate – 39% advanced
In Deep
Where Alta made the conscious decision to remove their terrain parks in 2006, Park City, as the name suggests has more than enough to go round.
They also have more than enough terrain to keep you occupied for many, many ski trips. When ski resort superpower Vail purchased Park City Mountain Resort a few years ago, they also merged it with the neighbouring Canyons area (which they also own). The result? A 7,300 acre resort – the largest in the United States. Despite Vail also investing $50 million into the resort, Park City retains its classic western ski town vibe.
Park City also ticks all three boxes when it comes to shopping, cuisine and nightlife. If the skiing and shopping doesn't excite you enough, you can always visit the ski-in/ski-out distillery or give bobsledding a go at the same circuit used in the 2002 Salt Lake Winter Games.
Stand in Park City's historic Main Street and look up and not only will you likely see snow falling but there's a good chance you'll also see the bases of someone's skis as they ride the chair above you.
See here for more information and deals on Park City.
Deer Valley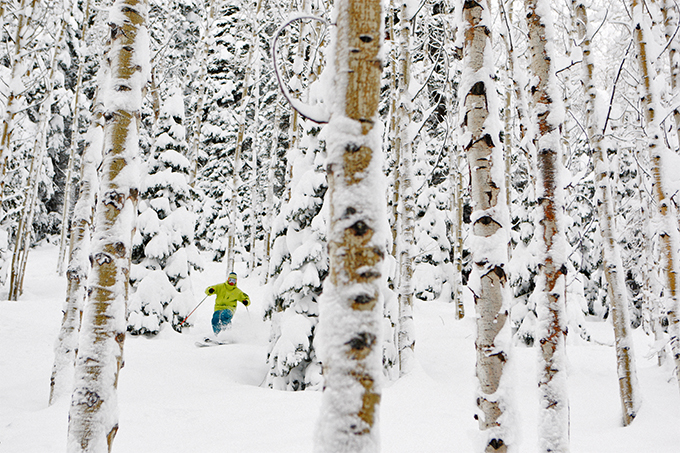 If trees are skied in a forest and no one is around to see it, were they really skied? Image:: Dan Campbell/Ski Utah
The Numbers
Annual Snowfall: 9m
Season: December – April
Time/Distance from Airport: 43 minutes – 36 miles/58km
Elevation: 9,570ft/2917m
Vertical Drop: 2,074ft/824m
Ski area: 2,026 acres
Number of Runs: 101
Ski Lifts: 21
Terrain Parks: 0
Terrain: 27% beginner – 41% intermediate – 32% advanced
In Deep
Just two miles up the road from downtown Park City, Deer Valley is all about service. Think white glove service, attention to detail and 5-star accommodations. For this it is consistently ranked #1 in the individual areas of guest service, grooming, dining, lodging and on-mountain food by the readers of SKI Magazine.
Deer Valley is a skiers-only mountain and to provide exceptional guest service, they cap the number of skiers each day. It follows that you can be looking to pay a bit more for a week in Deer Valley than a week down the road at Park City.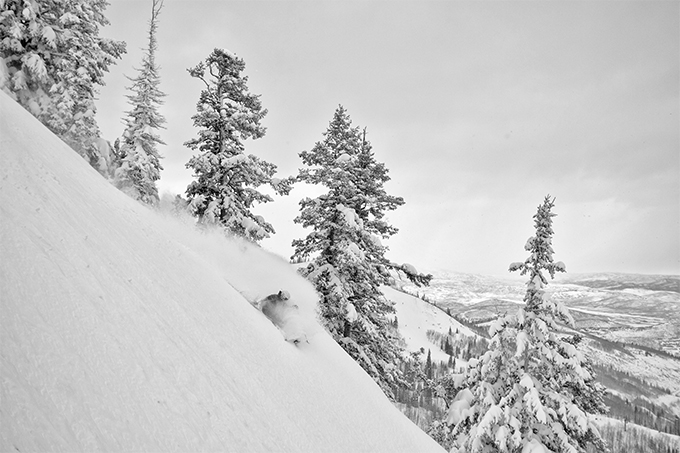 Deer Valley cap the amount of skiers to 7,500 per day so you're more likely to have runs like this to yourself. Image:: Chris Pearson/Ski Utah
As for the skiing, it is particularly suited to intermediates given the vast array of incredibly well manicured groomers, but advanced skiers should have no trouble staying occupied in the trees. With most of the clientele visiting Deer Valley as families and for the quality piste, as an advanced skier you're also more likely to find the fresh stuff for longer.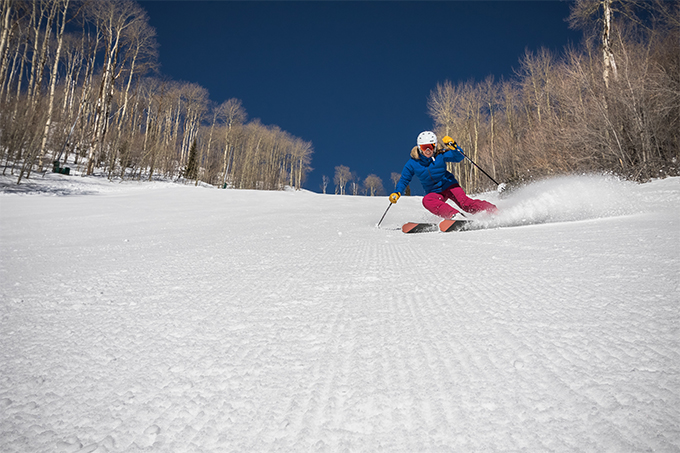 You can really put your foot down on Deer Valley's perfectly maintained piste. Image:: Chris Pearson/Ski Utah
See here for more information and deals on Deer Valley.
Snowbird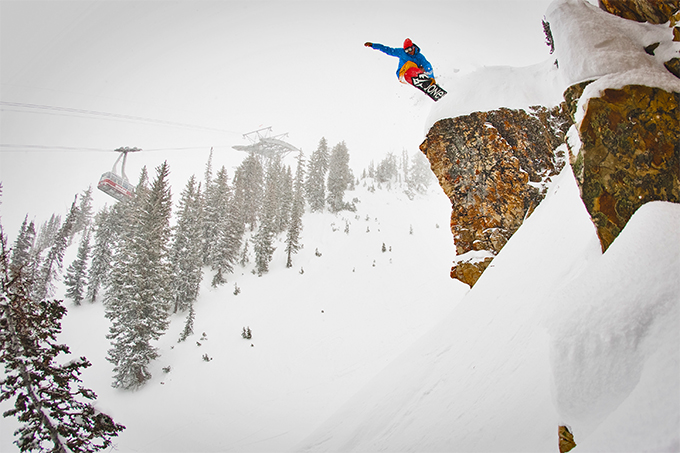 Snowboarders rejoice, you're more than welcome at Snowbird, just ask snowboarder Forrest Shearer. Image:: Andrew Miller/Ski Utah
The Numbers
Annual Snowfall: 12.8m
Season: November – May
Time/Distance from Airport: 40 minutes – 29 miles/46km
Elevation: 11,000ft/3,353m
Vertical Drop: 3,240ft/987m
Ski area: 2,500 acres
Number of Runs: 169
Ski Lifts: 1 Tram, 10 lifts and 2 conveyer lifts.
Terrain Parks: 1
Terrain: 27% beginner – 38% intermediate – 35% advanced
In Deep
Being neighbours with Alta, Snowbird unsurprisingly also sees its fair share of deep, dry Utah powder. It also boasts some of the steeper more challenging terrain out of the resorts on this list. This combination means you're sure to see some seriously talented skiers and snowboarders while you're there – you'll also probably leave as one, if you're not one already.
Unique to Utah, Snowbird also comes equipped with The Summit Tram, which fits 125 people and ascends 2,900ft in no more than 7 minutes. Put otherwise, it means you can ski a lot of vertical for not a lot of effort and in little time. Being adjacent to Alta, it's even possible to ski both resorts on a single ticket.
Other attractions include a tunnel through the mountain that swallows skiers on a conveyor belt and serves as a 'ski through' mining museum. Snowbird can also boast perhaps the most impressive views on this list, with panoramic vistas from 11,000ft.
Snowbasin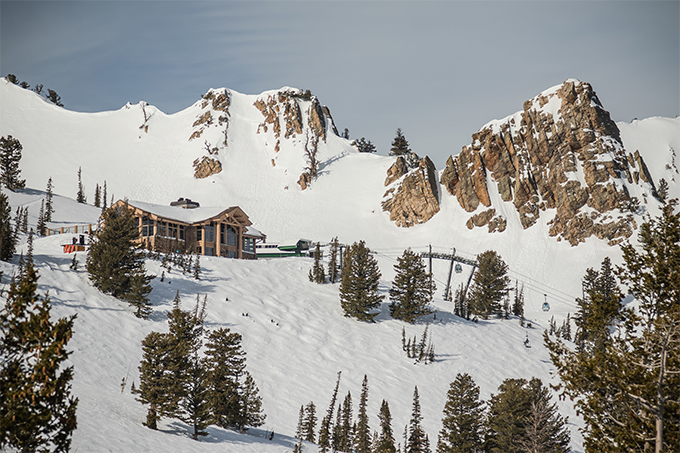 Feast your eyes on Snowbasins varied terrain and then feast for real at Needles Lodge. Image:: Chris Pearson/Ski Utah
The Numbers
Annual Snowfall: 10.2m
Season: Late November – Early April
Time/Distance from Airport: 50 Minutes – 45 miles/72km
Elevation: 9,350ft/2,850m
Vertical Drop: 2,950ft/899m
Ski area: 3000 acres
Number of Runs: 107 trails
Ski Lifts: 11
Terrain Parks: 5
Terrain: 10% beginner – 60% intermediate – 30% advanced
In Deep
Snowbasin often takes a backseat to the better-known resorts of Park City and Alta, but this isn't necessarily a bad thing. The result is that Snowbasin's amazing terrain is largely left to Ogden locals. However, the 2002 Winter Olympics did put Snowbasin on the skiers map, albeit briefly, with the resort hosting the Downhill and Super G events. The mere fact Snowbasin was the stage for such events speaks volumes as to the terrain to be found there. You'll find some 900m of vertical and plenty of room in which to sink your edges into the corduroy – assuming it's not covered in a foot of fresh.
As to facilities, the day lodges such as Needles Lodge pictured above, are incredibly luxuriant, with grandiose chandeliers, wood fireplaces and enormous timber beams, the likes of which you'd expect to find in swanky European enclaves or the set of Game of Thrones.
Perhaps one of the reasons Snowbasin's powder is largely left to locals is that there is no on-mountain accommodation offered. Instead lodging can be found in the nearby Ogden Valley in Huntsville of Eden, or the town of Ogden itself, some 45 minutes away. With regular public transport on offer to all of the above resorts, you'll be glad there are no towering hotels at the foot of the piste after you and your friends/family ski straight onto lifts and off into fresh powder all day long.
Salt Lake City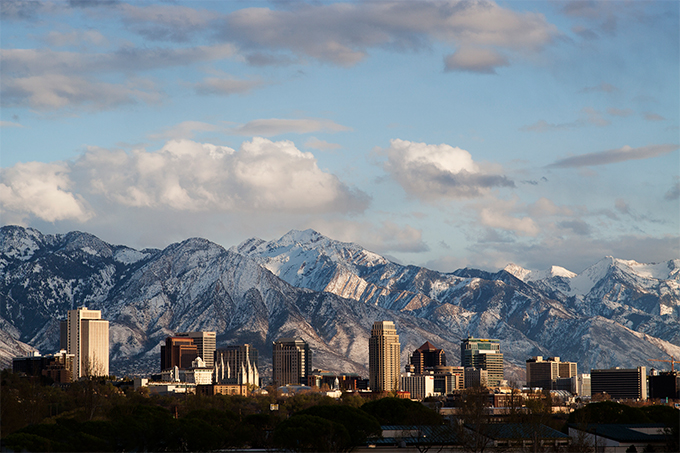 Salt Lake City and the imposing Wasatch mountain range. Image:: Chris Pearson/Ski Utah
What would a list on Utah ski destinations be without it mentioning its snowy nucleus, Salt Lake City? If somehow you still have energy after skiing The Greatest Snow On Earth® day in and day out, you'll be pleased to know Salt Lake City is only a half-hour drive down the mountain from the resorts nestled in the canyons North East of the city and no more than 50 minutes away from any of the other resorts listed here.
There you'll find enough après, restaurants and nightlife activity to see you through an entire ski season, and don't forget how long those are in Utah…
To find out more about The Greatest Snow On Earth® check out Ski Utah and for travel deals and packages Ski Max Holidays .