Vail Resorts Wants You – What the Deal Really Means – Explainer
March 31st, 2015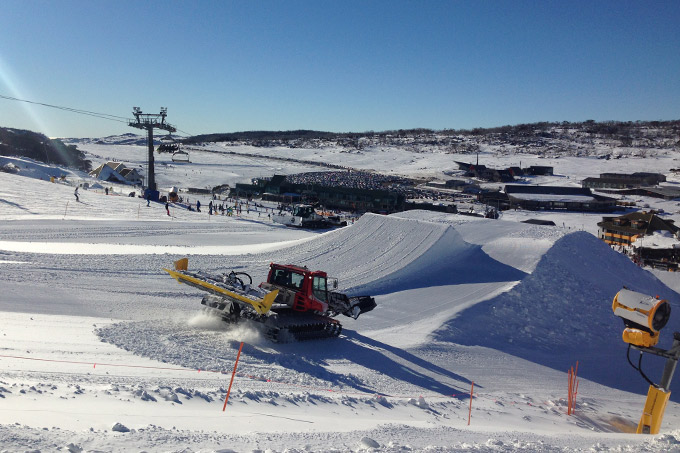 Just think, this is what Perisher looked like before it became 'EPIC'. What do you think they're going to have in store for the future? Image:: Andrew Fawcett
Mountainwatch | Chris Booth
Vail Resorts just bought Perisher for $176.6 million, or roughly 431 million Lil' Orbitz donuts. This is a really big deal.
Why this is a really big deal.
This is a really big deal because it means that from today you can buy a Perisher Freedom Pass at $749 and get unlimited skiing not just in Perisher this winter, but also in Breckenridge, Keystone and Arapahoe Basin in Colorado; Park City and the Canyons in Utah; and Heavenly, Northstar and Kirkwood in the Lake Tahoe area. For the first year, you also get 10 days of free skiing and riding at Vail and Beaver Creek. It's a combination of Perisher's Freedom Pass and Vail's Epic Local Pass (let's call it the Epic Freedom Pass). That kind of value is a world first in the ski industry, and you dear cherished customer, are the winner.
>Why would Vail Resorts do this?
Vail are buying the sheep to get to the lamb, you are that lamb.
Perisher expects to earn $20 million this year, or 49 million Lil' Orbitz Donuts. On a $176 million investment, that's an earnings multiple of close to 9 times, which I'm told is a good investment decision. Now I'm obviously no finance guy, but that still doesn't sound like the investment decision of a company listed on the New York Stock Exchange who delivered a 40% return to investors last year. The earnings alone don't explain the investment. There must be something more to it.
Yes, it's a bit more strategic than that. Vail aren't just acquiring Perisher, Vail are acquiring its customers. That's you. Here's what Vail's CEO Rob Katz said: "Australia is one of the most important international markets for ski resorts across the Northern Hemisphere, generating an estimated more than 1 million skier visits annually to resorts in North America, Japan and Europe. We see this as a ground-breaking acquisition that will dramatically enhance the connection between our Company and Australian skiers and riders."
You see that? He said North America.
What's going on here is this: Firstly, we are Colorado's number one inbound market and our behaviour is changing. We are travelling overseas more than ever and spending more time on the hill once we get there, but – and here's the problem – we are visiting the USA, Canada and Europe a lot less and Japan a lot more. Vail knows this. Secondly, Vail is so big that to achieve the kind of corporate growth it needs to please its shareholders it has to think bigger than other ski resorts. So what do you if you are Vail? You find a way to have a bigger say in where we decide to go skiing overseas. After all, why throw dollars against the wall with traditional promo (and lose to Japan) when you are big enough to just buy a ski resort in Australia and change the rules of the game?
You see Vail hasn't just bought a ski resort, it has created a new pathway for Australian customers to go and ski at its resorts in the US. This is next level thinking.
Now, by owning Perisher, Vail can deliver superior value at pretty much the same price as its competitors. The Epic Freedom Pass is the killer app that brings this strategy to life.
Yeah, but what does it all mean?
Vail's move on Perisher is both a tremendous sign of confidence in the viability of Australian ski resorts, and the value of the Australian ski and snowboard customer.
You can probably finish up here and know enough, but if you read on, things get much more interesting. Come on you sexy lamb, let's get really aroused.
Today's news represents a strategic shift in how ski resorts sell skiing to Australians, because Vail knows the difference between low-cost and value. It's really expensive to run a ski resort in Australia and the low-cost approach can only go so far before things start feeling desperate, I think a lot of the excitement on the internet right now comes down to how refreshing it is to be offered something that isn't just cheap. We have been wanting big ideas for a while now and it's really gratifying to see something actually happen. If anything though the Epic Freedom Pass is too cheap – I'd have paid a grand for it.
Vail is a beast of a company and their move to buy Perisher raises a couple of flags. Firstly, Vail is publicly listed, so its primary duty is to act in the interests of its shareholders (by delivering them the growth and dividends they forecast). When it comes to ski resorts, like any community, this corporate mentality can be dangerous because there is a tendency there to look for synergies by cutting costs. Secondly, Vail has also copped some heat for its aggressive corporate tactics when it acquired Park City Mountain Resort and neighbouring Canyons resort in, let's just say, "strategic" circumstances. This company has teeth. But hey, business is business, right?
The natural question to ask then is: ok, so Vail's strategy will be good for its resorts in the US, but will Vail be good for Perisher?
Fortunately, Vail's track record is good in this area. In fact, Vail's big thing is good infrastructure. You don't have to look hard to see evidence of that, just visit any one of their resorts. And you know that Park City acquisition? They just got approval to connect it up to the Canyons Resort to create the biggest ski resort in North America. With this kind of form who knows, maybe they'll even take on the Charlotte Pass master plan? That's a very Vail-worthy project, don't you reckon? More likely, is that they will take another look at the Perisher Master plan and launch the resort's non-existent summertime business (which currently costs it around $18 million a year). We could see competition with Thredbo, who already makes a pretty good fist of its summer business, in the not too distant future.
The biggest question remains though, how will this affect the price of 'Lil Orbitz Donuts? Only time will tell.
Perisher forecasts,
snow reports and
live snow cams.