VIDEO Icy Plunge at Falls Creek to Bargain for Good Season
June 1st, 2011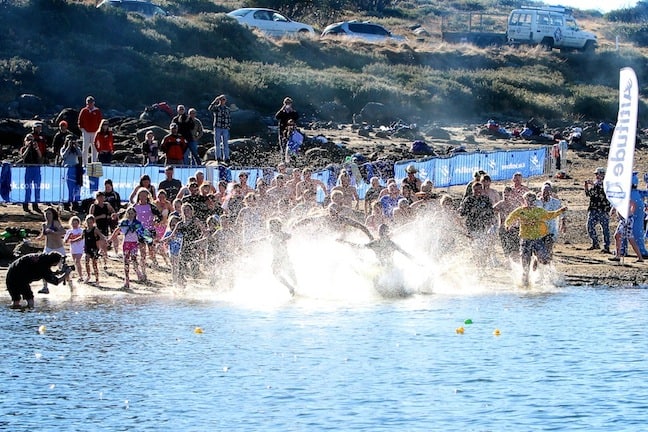 Plunging into Rockey Valley Lake. Image: Chris Hocking
Press Release
Each year Falls Creek Alpine Resort celebrates the first day of winter with a mass Ice Plunge into the mile-high Rocky Valley Lake.
Between 150-200 resort residents and any guests (who were 'persuaded' to take part in this somewhat bizzare ritual) at the alpine resort joined together to acknowledge the onset of the annual snow season.
This method of celebrating the change of seasons has been carried out in the northern hemisphere for many, many winters. It is a more recent addition to Falls Creek's line-up of events and it reminds everyone involved the official start of the resort's winter season is looming.
Queen's Birthday holiday weekend, the official start to alpine resort's winter season, is just 11 days away.
CEO of Falls Creek Resort Management David Herman (who led by example this morning) said:"It is a great community event event. It raises money for the local SES and it is a fantastic way to celebrate the start of winter.
"There's a supersition amongst the alpine resort's residents that by throwing themselves into the lake on the first day of winter it guarantees a good season."
Barry Jones, who owns and operates a ski lodge at Falls Creek, said:"It was a gorgeous morning I was the at the back of the Ice Plungers, the slowest to go in and when it was a metre deep I just ducked my head in the lake and got out."
Another resident of Falls Creek Peter Munday said: "The lake was like glass this morning, it was cold but there was an excellent turn out."
Snow is forecast to fall from Saturday and there will be sub zero temperatures after the weekend.
Falls Creek forecasts,
snow reports and
live snow cams.