VIDEO – South America Part 2 – Chile – Santiago Mountains
August 12th, 2011
Snowboarding South America – The Mountains of Santiago, Chile – A Freerider's Paradise
Transfer Snowboard Magazine | By Russell Holt, Video by Nick Gregory, Photography by Johnny McCormack
In September 2010 an ANZAC snowboarding crew – Will Jackways, Roland Morley Brown, Nick Gregory, Russ Holt and Johnny McCormack, with Chilean (honorary kiwi) Pablo Azocar, undertook a South American mission of epic proportions through Chile and Argentina… This is part 2 of the 3 part video series where they check out the local mountains of Chile's capital Santiago.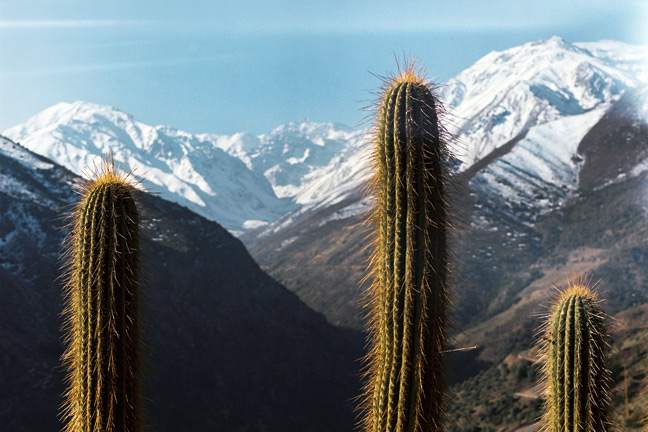 Cacti litter the landscape on the road up to the resorts outside of Santiago. Photo: Johnny McCormack
Just 40km drive from the city through a dry arid landscape full of cacti imaginary cowboys and Indians and what seem to be 5000 switchbacks we arrive at Farellones. This is the gateway town to the 3 main resorts just outside of Santiago, it's about an hours drive and it's been about 55-minutes since we've seen a tree.
The peaks are huge here and the resorts start at an elevation of 2400m – that's the same as the peak of Mt Kosciusko and higher than the top of Treble Cone in NZ. From the car park the terrain kind of seems smallish, but the illusion spell is shattered once you jump on a lift and go up and up and up for 20 minutes.
The top lift at Valle Nevado is 3670m and is one of the most spectacular scenes I have ever seen in my 15 years of traveling the globe snowboarding. It's a freeriders paradise from here. Bowls and Bowls of wide open terrain, cliffs, windlips and if you're up for it – backcountry hikes lead you to lines that make dreams come true. Towering escarpments of red rock hide chutes and lines that are heaven on earth.
Check out part 1 of the South American videos here where we explore Southern Chile at a resort called Nevado De-Chillan.
A huge thnks to LAN Airlines who helped us travel to South America and throughout.
www.lan.com